From the high-end restaurants to the amazing street food, the city of Mumbai is known to serve some of the best food possible. From sizzlers to pizzas, here is a list of 10 chicken items to try in 2019 in Mumbai.
1. Butter Chicken Mac & Cheese At 1BHK, Oshiwara
Imagine the combination of two of our favourite things – Mac N Cheese and Butter Chicken! 1BHK in Oshiwara serves the sinful Butter Chicken Mac N Cheese to give you the ultimate foodgasm. If you're looking for a filling dish, nothing beats this one! With a base of butter chicken, Mac N Cheese is blended into the dish and with each bite, you'll be able to taste the goodness of both dishes. Enjoy this dish at ₹555.
Address: 1BHK Ground Floor, Next To Meera Towers, BST Colony Road, Oshiwara, Andheri West
Phone: +91 7710027104, +91 8838815010
Approx cost: ₹1,000 for two people
2. Butter Chicken Pav At Pack-A-Pav, Bandra
Pack-A-Pav, a tiny joint in the suburbs of Mumbai offers an impressive lot of non-veg and veg favourites, the standout being The Butter Chicken Pav. This yogurt-and-spice-marinated chicken dressed in a velvety red bath comprising butter, onions, ginger and tomatoes, scented with garam masaladressed in a pav priced at ₹130 is a must try on the menu.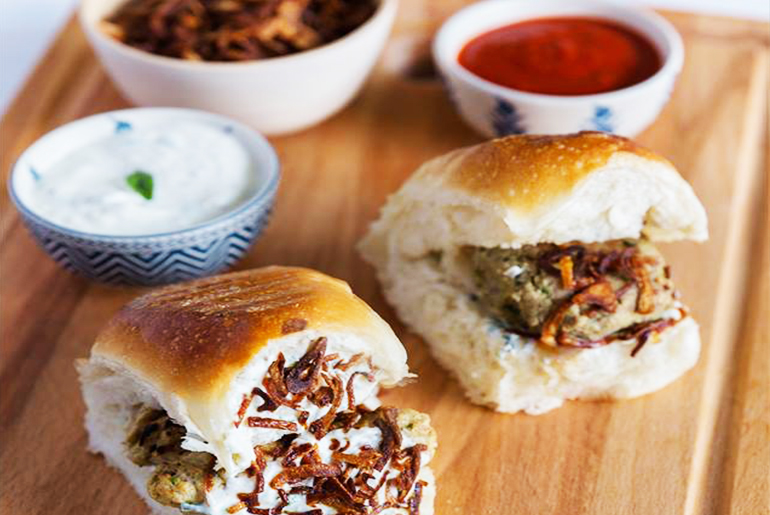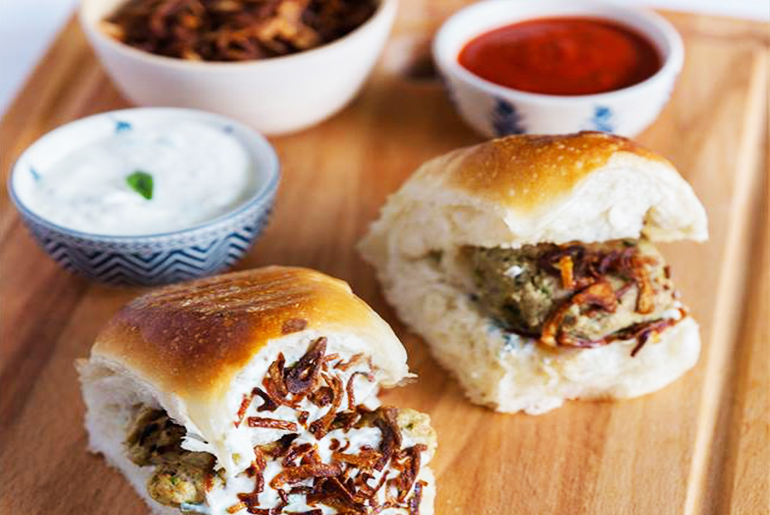 Address:
Bandra West: Shop 2, St. Andrews Road, Near New India General Store, Pali Hill.
Juhu: Room 6, Javed Manzil, Kishore Kumar Marg, Juhu Tara Road.
Andheri West: Shop 3, Meera Apartment, Versova Link Road, Opposite Versova Social.
Kemps Corner: Shop 5, Chinoy Mansion, Opposite Saint Stephen Church, Warden road.
Costs: ₹500 for two people
Timings: 12 PM to 12 AM
3. Chicken Tikka Garlic Bread At Breadkraft, Lokhandwala
Making their garlic bread right from scratch, this bakery is winning the game. The warm buttery bread just melts in your mouth and is perfect to have on a lazy day. The warm Chicken Tikka Garlic bread topped with tons of cheese is our personal favourite. The vegetarians can go for the simple Cheese garlic bread because you can never go wrong with basic.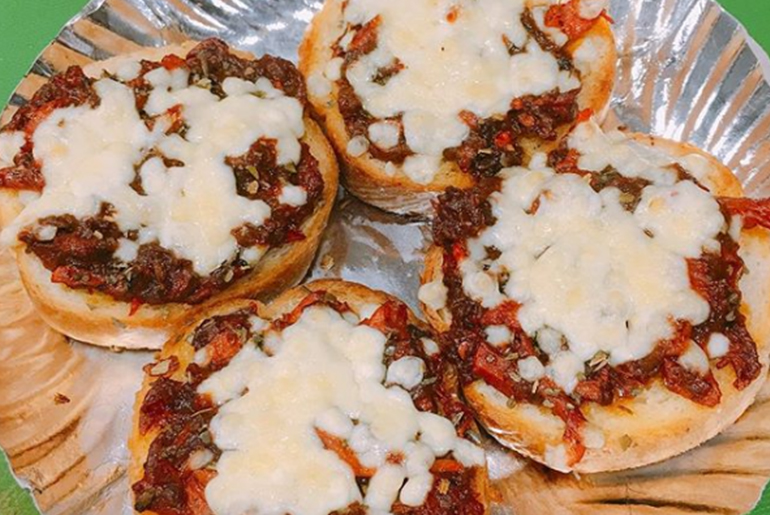 Address: 15, Sun Swept Building, Lokhandwala Complex, Andheri Lokhandwala, Andheri West
Timing: 9:15am – 11:30pm
Costs: ₹300 for two people (approx.)
4. Butter Chicken Pizza At Joey's, Andheri
Oozing with the goodness of dripping cheese, this pizza is a delight for those who cannot compromise on 'mummy de hath da butter chicken'. Joey's takes this combination to a different level as every bite is full of butter chicken and cheese. Not to forget, the regular pizza sauce is elevated with tandoori sauce!
Address:
Andheri: 6 & 7, Upvan Building, Near Indian Oil Colony, DN Nagar, Azad Nagar
Malad: Shop 1, Plot D, Samruddhi Complex, Chincholi Bunder Road, Mindspace, Malad West
Timing: 11am – 12:30am
Costs: ₹800 for two people (approx.)
5. Jawbreaker At Jimi's Burger, Malad
How can you have a list about burgers and not mention Jimi's? Aptly named, the Jawbreaker burgers at Jimi's are quite a feast and a feat. You can choose from the smaller challenges like the Double Threat with its double tenderloin patties, double cheese and egg, french fries, chicken sausages and jalapeno popper. Fine, not a threat enough? The Hybrid it is. You'll be devouring on three patties – chicken, pork and beef, four cheese, bacon and egg and chorizo jam. Oh well, you need a real challenge now, don't you? The 7 Incher is the ultimate, biggest, baddest burger you can gorge on. Make way for four classic chicken patties, four salamis, four cheese, bacon and egg. Though a meat lover's paradise, herbivores won't be disappointed with their own jawbreaker – two patties, grilled paneer and jalapeno popper.
Average Cost: ₹700 for two people
Timings: 1 PM to 11 PM
Address: 13-14, Pleasant Park, Off Link Road, Opposite Movie Time Cinema, Evershine Nagar, Malad West, Mumbai (Another Outlet in Andheri)
6. BBQ Wings At Fire Wings, Andheri
Indulge in BBQ wings that are highly recommended here, the BBQ sauce is delicious and the wings are a perfect balance of sweet and smoky flavour. The Ghost wings are for the brave hearted, they are insanely spicy but, amazingly delicious. Just keep 3-4 bottles of water near you while you're downing that one.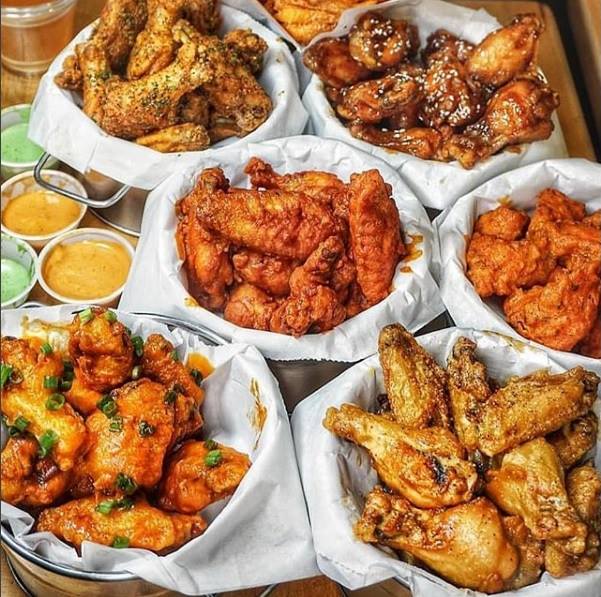 Address: Fire Wings, Shop 1, Okaz Shopping Centre, Near Gate 3 Millat Nagar, Oshiwara, Andheri West, Mumbai
Phone: 022 33956030
Cost for two: ₹500
6. Chicken Shawarma At Apna, Colaba
Apna in Colaba serves Shawarmas, Keema, Bhuna Rolls, Baida Roll and Mutton Keema Ghotala, all at reasonable prices. Although, this eatery has limited seating; you can grab a chair and enjoy a chicken roll made in Afghani style.
Address: Apna, Shop 4/C, Kamal Mansion, HNA Azmi Road, Near Radio Club, Basal, Colaba, Mumbai
Phone: 022 33126893
Cost for two: ₹300
7. Angry Birds At The J, Multiple Outlets
The J, spread across all over the city, specializes in gob-smacking french fries that will tantalize your taste buds. With those crispy fries accompanied with some delicious sauces, you are definitely in for a treat. The vegetarians should definitely go for the pizza fries. Calling all the Mexican lovers! Don't give their Burrito Fries a miss. Their Angry Birds is the perfect combination of chicken nuggets, fries and cheese and we are here for it. While you are there you can also gobble on their wraps. The cherry on the cake is that it also serves Jain fries and wraps. Serving Jain fries and wraps, The J is giving all the other fries places a run for their money.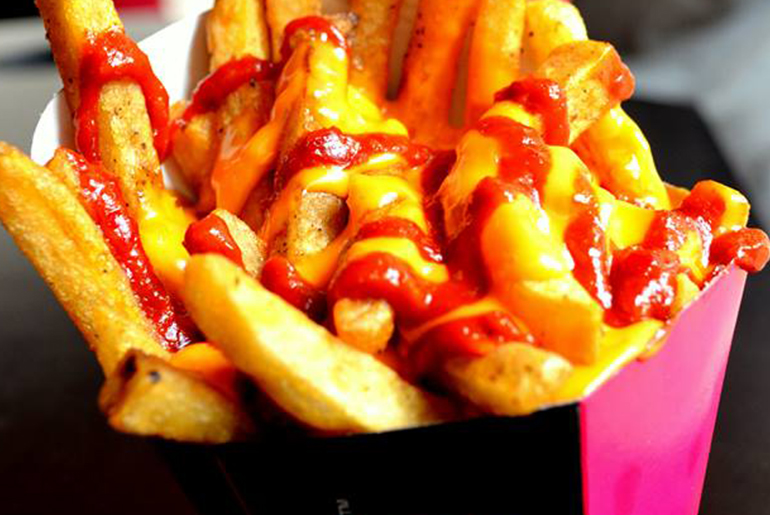 Where: Churchgate, Powai, Andheri, Chembur & more.
Timing: 8am – 12midnight
Costs: ₹450 for two people (approx.)
8. Chicken Satellite At Yoko Sizzlers, Multiple Outlets
Yoko Sizzlers, located all over the city, specializes in gob-smacking sizzlers that will tantalize  your taste buds. With those juicy steaks accompanied with aromatic flavors, you are surely in for a treat. The restaurant serves you delicious chicken, mutton, steak, sea food, and vegetable sizzlers. Their Sizzling Chicken with sauce and mushroom and the Chicken Satellite sizzlers definitely should go in your 'must have' list.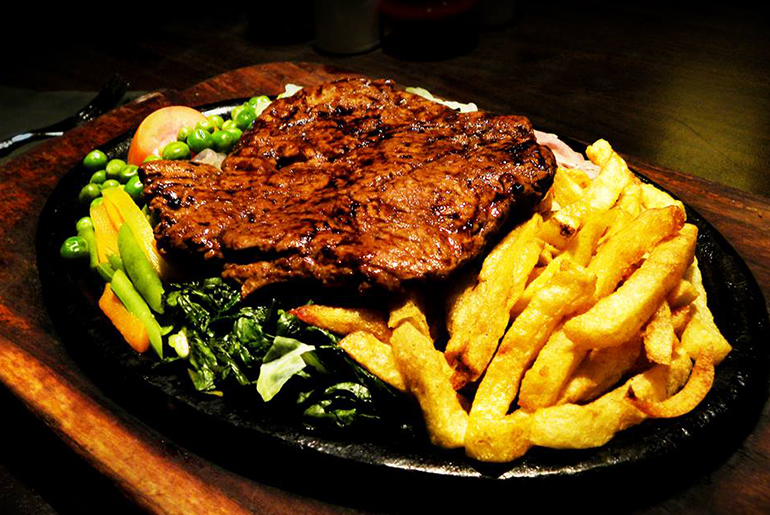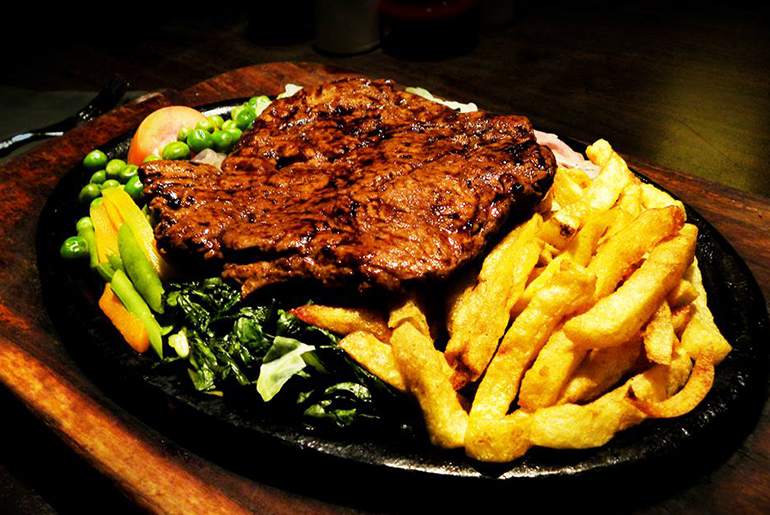 Address:
Bandra: 34, Shazaan Rizvi House, Hill Road, Bandra West
Fort: Fatima Manzil, Rustom Sidhwa Marg, Behind Citibank, DN Road, Fort, Mumbai
Chembur: 1, Hotel Bahri Residency, Opposite Diamond Garden, Sion Trombay Road, Chembur West, Chembur, Mumbai
Santacruz: 10/11, West View 309, SV Road, Near Akbarallys, Santacruz West, Mumbai
Andheri West: 8/9 Mhada Shopping Complex, New Link Road, Oshiwara, Andheri West
Andheri East: Shop 1, Under Airport Metro Station, Andheri Kurla Road, Marol, Mumbai
Timing: 12noon – 11:30pm
Costs: ₹2,100 for two people (approx.)
9. Butter Chicken Slider At SardaarJi, Juhu
Craving North Indian delicacies? SardaarJi serves sliders with stuffing in them. Basically, a slider is a cheese naan with a stuffing. You can choose to order for a veg or a non-veg slider. From the veg options, you could go for the veg makhanwala, tawa paneer or kadhai paneer slider. From the non-veg options, nothing beats the butter chicken naan slider, chicken baghdadi slider, mutton bhuna or chicken tikka masala.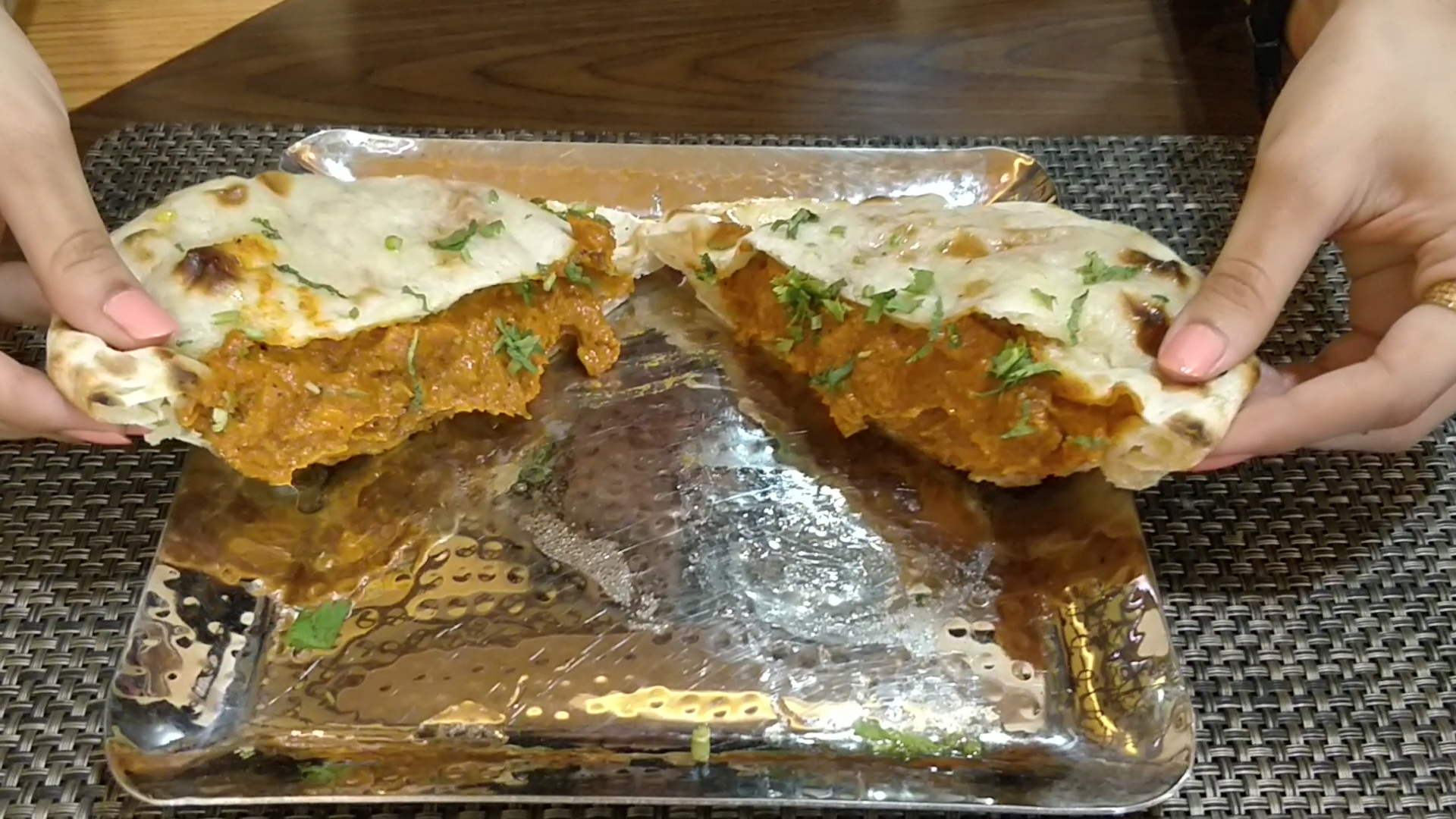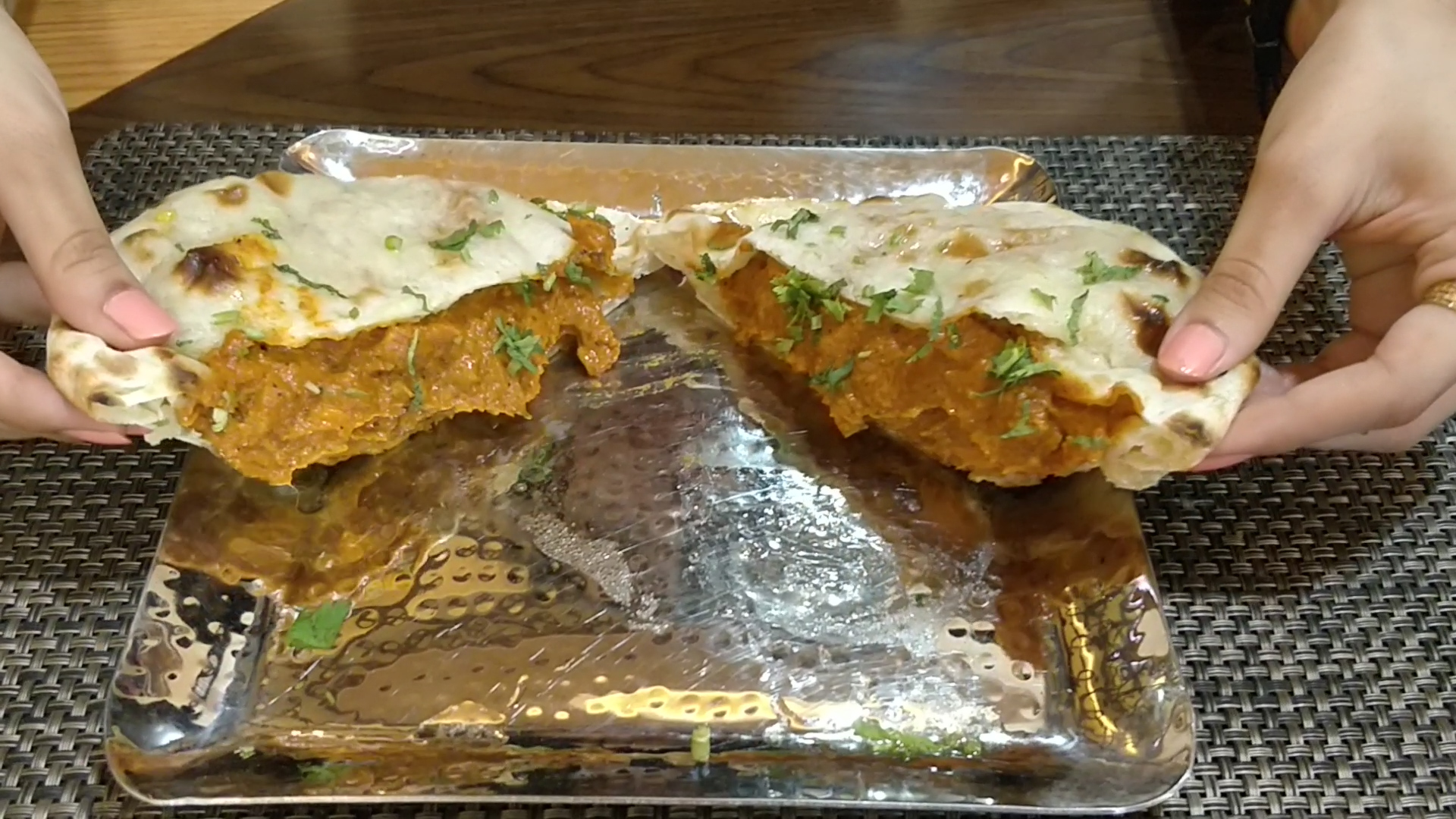 Address: All across Mumbai
Juhu: Shop 14, Juhu Ekta CHS, Next to Mohan Medical, Juhu Versova Link Road, Juhu, Mumbai
Andheri: Shop 6, Sab TV Lane, Next to Pishu's, Andheri Lokhandwala, Andheri West
Bandra: 160/A, 29th Road, Mel Milap, Abbas Compound, T.P.S. 3, Near Grand Residency, Bandra west, M-400050
Approx cost: ₹500 for two people
10. Chicken Roll At Bademiya, Colaba
Bademiya in Colaba serves the best rolls & kebabs in the city. Currently, Bademiya is not just a food joint for the public, but also a tourist attraction. Bademiya is famous for its seekh kebabs. Open until 3 am, their most relished delicacies are the chicken kebab, mutton boti kebab and chicken reshmi kebab. Everyone loves their rumali roti too! Hop in here for some great food with your meat-loving friends after a long night of partying!
Address: Bademiya, Tulloch Road, Behind Hotel Taj Mahal, Apollo Bandar, Colaba, Mumbai, Maharashtra 400039
Phone: 022 22021447
Approx cost: ₹900 for two people