Just a short flight away from India lies a destination filled with adventure, culture & great cuisine. Say hello to Singapore – a melting hot pot of cultures and one of Asia's most popular destinations! The city is packed with non-stop fun, energy & everything a millennial is looking for. To put it simply, the city is Unstoppable!
To match the unstoppable spirit of the city, Singapore Tourism Board partnered with VH1 India to come up with a music video 'UNSTOPPABLE' featuring both GRAMMY Award-nominated Indian-American rapper, singer and songwriter Raja Kumari, the Chemical Brothers of India 'Midival Punditz' and popular Singaporean B-Boying crew 'Radikal Forze'. They have come together to pool their unique talents and common passion for creativity, music, sounds, dance and entertaining audiences. This makes STB the first tourism board in India to come out with its own, cross-border collaborative English music video. Shot against the urban landscape of Singapore, it incorporates the distinct sounds and pulse of everyday life in Singapore.
Here are our top reasons why Singapore must be on every millennial's bucket list:
1. The Food
You cannot call yourself a true foodie if you haven't visited Singapore. To put it simply, there are even hawkers here who have Michelin Stars. Imagine a city, which has entire events dedicated to food!
Events:
Head for the World Gourmet Summit (1 April – 12 May 2019) which is all about fine dining and the city's most celebrated restaurants. Look forward to various programmes and highlights, where gourmands can get up-close and personal with the world's most renowned chefs at exclusive dinners and wine tastings.
Cap off a hearty meal with some drinks during Singapore Cocktail Festival, (10-18 May 2019) a celebration of the city's hottest watering holes and best mixologists both in and out of town.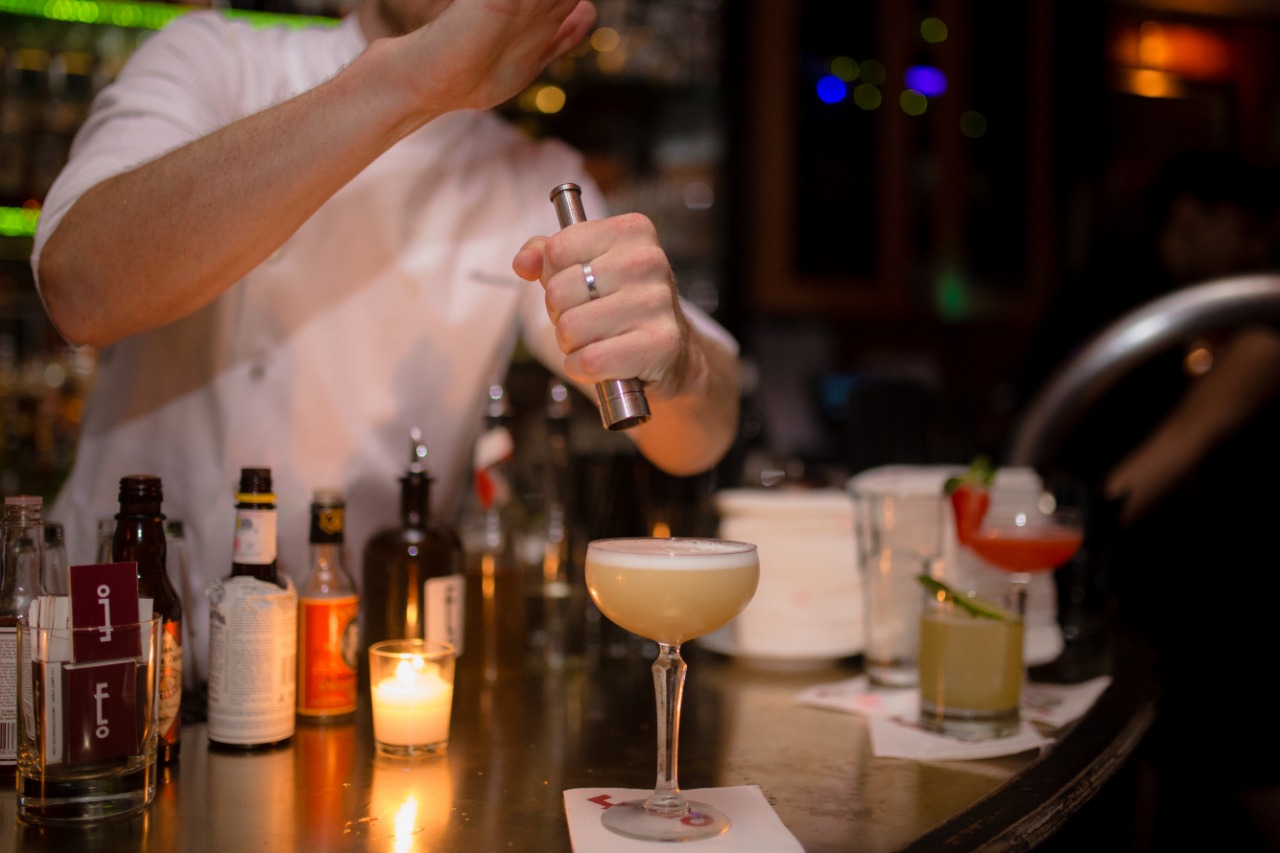 Another option for Foodies is the Singapore Food Festival (12 Jul – 28 Jul 2019). With a slew of pop-ups and events taking place around the island, including dining hotspots run by the country's most eminent chefs, STREAT is Singapore Food Festival's signature event which sees a gathering of vendors who serve both local and Mod-Sin (modern-Singaporean) gastronomic creations.
Award Winning Hawker Food: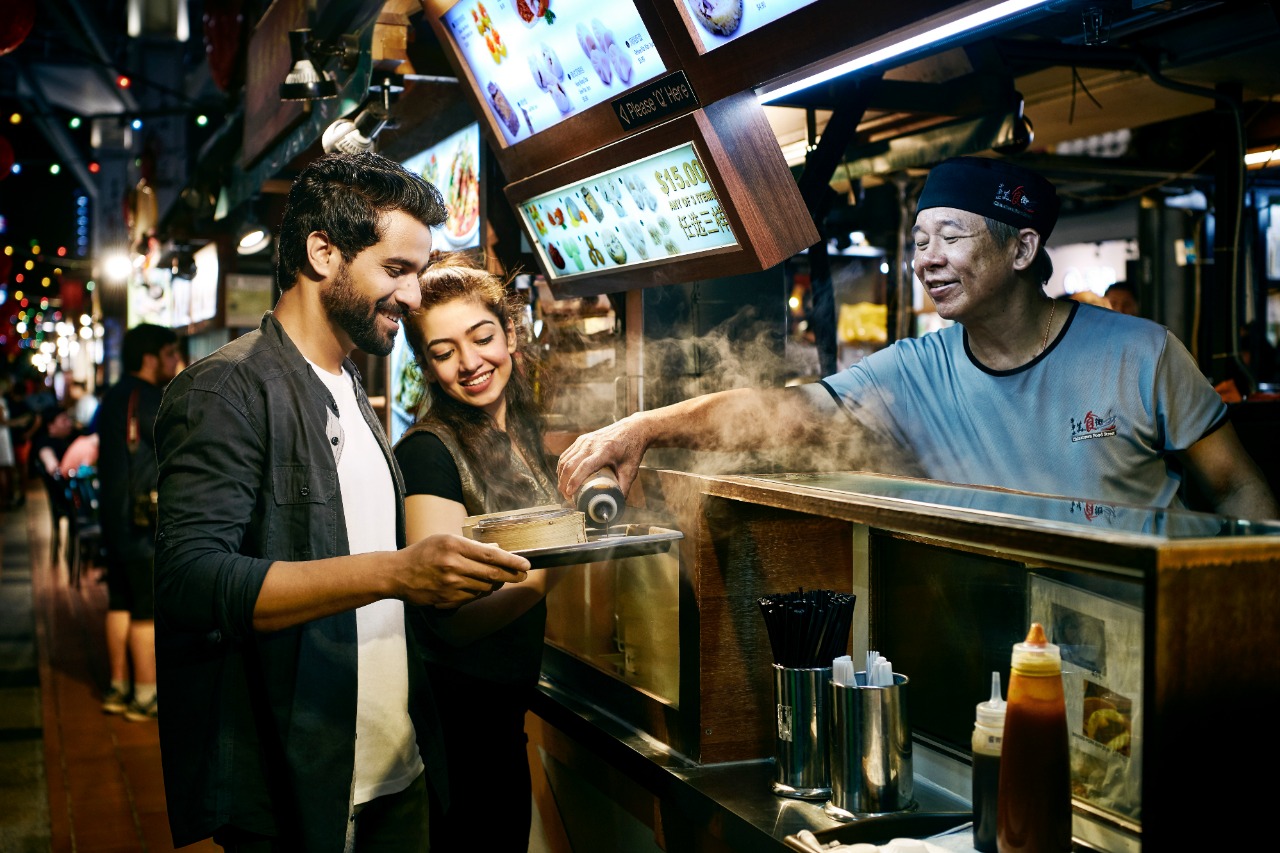 Chinatown Food Street
In Singapore, hawker food isn't ordinary. No sir, its award winning and not just a local award either. We're talking Michelin Star status. Here are 3 of our favourite picks:
Maxwell Food Centre is located at the foot of Club Street and Ann Siang Hill. Tian Tian Chicken Rice, one of the most popular stalls within this food centre, is recommended by the Michelin Guide's Bib Gourmand. Don't forget to try the Eurasian meals like Shepherd's Pie & Devil's Curry (spicy curry flavoured with candlenuts and vinegar) by Popo & Nana's Delights.
Located in the CBD area, Amoy Street Food Centre is an absolute food paradise which houses both Michelin Bib Gourmand awardees and noteworthy stalls. Wanton noodles, a hawker stalwart of barbecued pork, egg noodles and a light soya sauce base, gets a modern makeover at this popular stall in Amoy Street Food Centre called A Noodle Story which is run by two fresh-faced local boys. They take their cues from Japanese ramen, layering their dish with sous vide marinated pork belly, a soft-boiled egg, two plump pork dumplings and a sauce so rich in umami you'll be licking your bowl clean. Last year, A Noodle Story won a Bib Gourmand award in the inaugural Michelin Guide Singapore, adding further creditability to its craft.
A perfect balance of old and new, Chinatown is one of Singapore's hottest dining enclaves. The list of choices is endless, from hip cafes to local stalls serving up legendary bites. What one needs to visit is Chinatown Complex Market & Food Centre – which is home to classic dishes like chicken rice, fried oyster omelette, laksa and more.
One should also not miss out on Hawker Chan's delectable black soya sauce chicken noodles and Tai Hwa's acclaimed minced pork noodles for around S$5 which is considered as the cheapest Michelin-starred food in the world.
Michelin-star Eateries:
If you prefer to dine at restaurants, Singapore has its fair share of Michelin star mid-priced and high-end eateries too. There's Candlenut helmed by local chef-owner Malcolm Lee & it's the world's first and only Michelin-starred Peranakan restaurant. Recommended: Buah Keluak ice cream and Westholme Wagyu Beef Rendang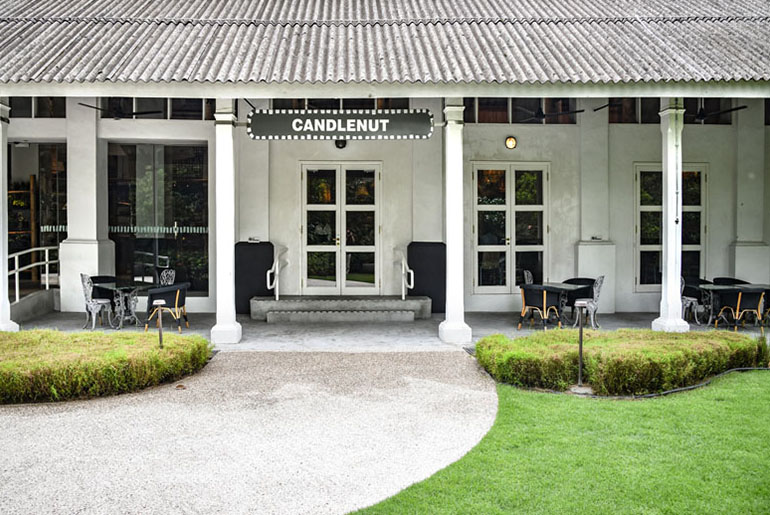 Another great option is True Blue Cuisine, which has been dishing out authentic Peranakan delicacies (without pork or lard) since 2003. The décor is absolutely Instagram worthy. Recommended: Minced Chicken Ngoh Hiang (meat rolled in beancurd skin) and Udang Ketak (crayfish fried in spicy paste).
You cannot skip The Corner House run by chef-owner Jason Tan located in a 1910 bungalow amidst the greenery of the UNESCO-listed Singapore Botanic Gardens. The cuisine is 'gastro-botanica' inspired.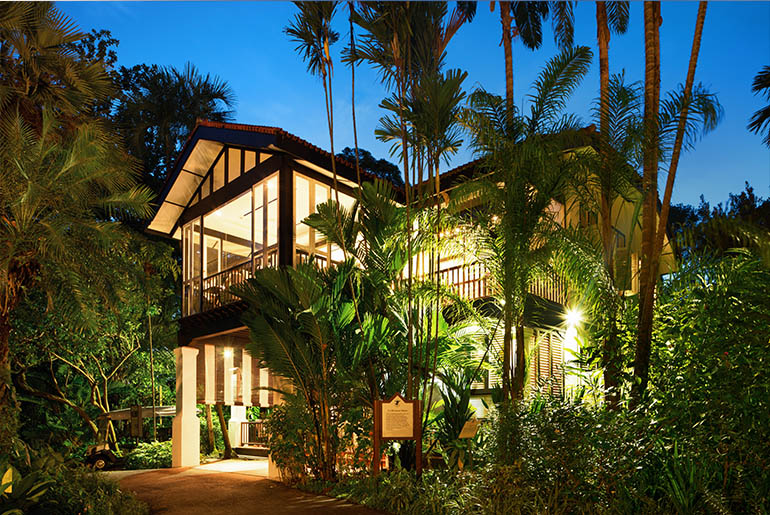 The Corner House
Labyrinth is a playful take on Singapore's traditional cuisine. This Michelin-starred restaurant has a new menu that fuses much-loved local flavours in whimsical modern ways. Recommended: Rojak (a sweet and savoury salad of vegetables, fruits and dough fritters) made from edible garden herbs, stingless bee honey and soy bean curd made with bird's nest.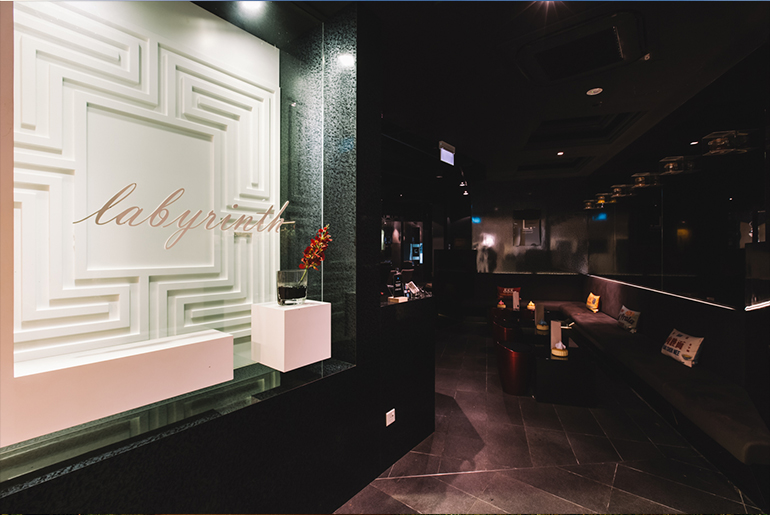 2. The Nightlife
What is a holiday without a fabulous night scene! Speaking for myself and on behalf of a better part of millennials, the nightlife of a city is very important. Luckily, Singapore is the hub for a fabulous party scene. Whether you like to sip on a quiet cocktail or dance the night away – Singapore has options for everyone!
Award-winning bars and lounges:
In Singapore, awards are a way of life. If your love for human connection matches your appreciation of a good tipple, here are our top 4 recommendations:
NATIVE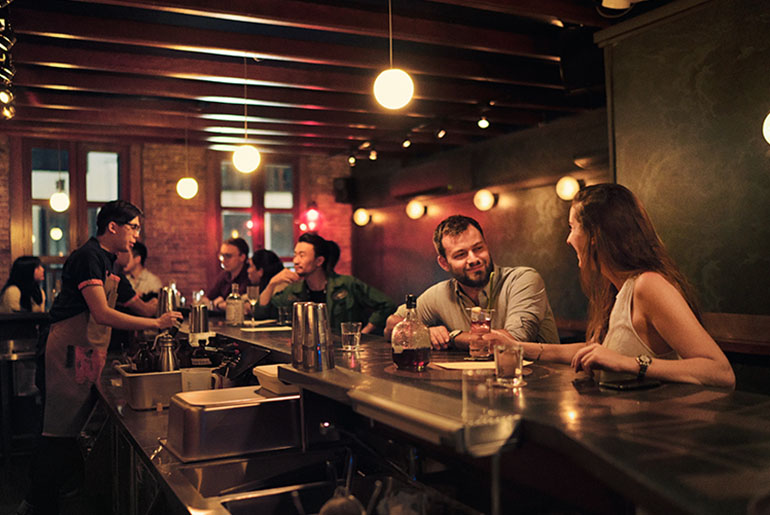 Native is the passion project of award-winning bartender Vijay Mudaliar and focuses on creating cocktails made with locally foraged ingredients.
Details: Address – 52 Amoy Street, Singapore 069878. +65 8869 6520
Timings – Mon-Sat 6pm-midnight
Zouk
Dance the night away at Zouk, the granddaddy of Singaporean nightclubs. The club's massive main room holds up to 1,500 party goers. The award-winning club plays host to some of the world's best DJs, and was ranked number four on DJ Mag's Top 100 Clubs list in 2017.
Details:
Address – 3C River Valley Road, The Cannery, Singapore 179022
Timings – Wed-Sat, 10pm-4am
Manhattan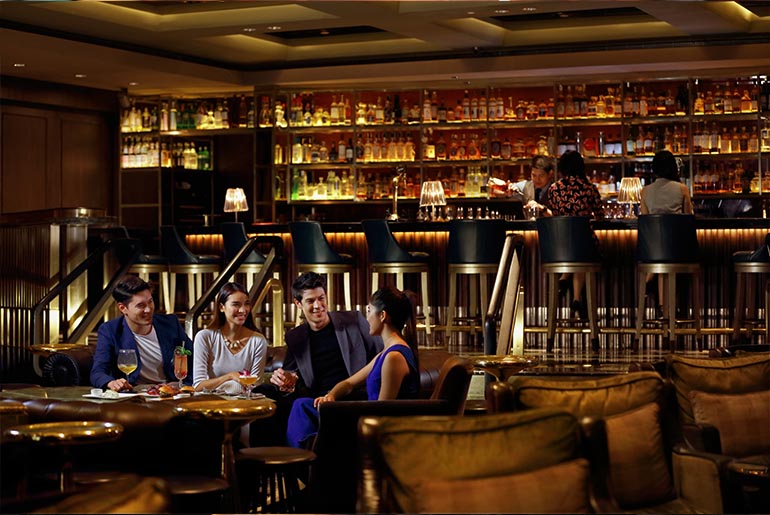 Dubbed the number one bar at Asia's 50 Best Bars 2018, Manhattan is a must-visit for cocktail connoisseurs. A mix of old-school tunes, electro swing and indie hip-hop, this classy little hideout is a great place to soak in the vibes and get social.
Details:
Address – Regent Hotel. 1 Cuscaden Road Level 2, Singapore 249715. +65 6725 3377
Timings – Mon-Sat 5pm-1am; Sun noon-3pm, 5pm-1am
Operation Dagger
Keep your eyes open for Operation Dagger which is a basement bar that plays a mix of low-key electronic and hip-hop music. If you're the kind of person who likes to sneak in a little conversation while chilling out, this might be the place for you. Oh and a special tip? Do try the omakase cocktail options, chosen for you specially by the bartender.
Details:
Address – Operation Dagger. 7 Ann Siang Hill #B1-01, Singapore 069791. +65 6438 4057
Timings – Tue-Sat 6pm-midnight
Music Festivals:
ZoukOut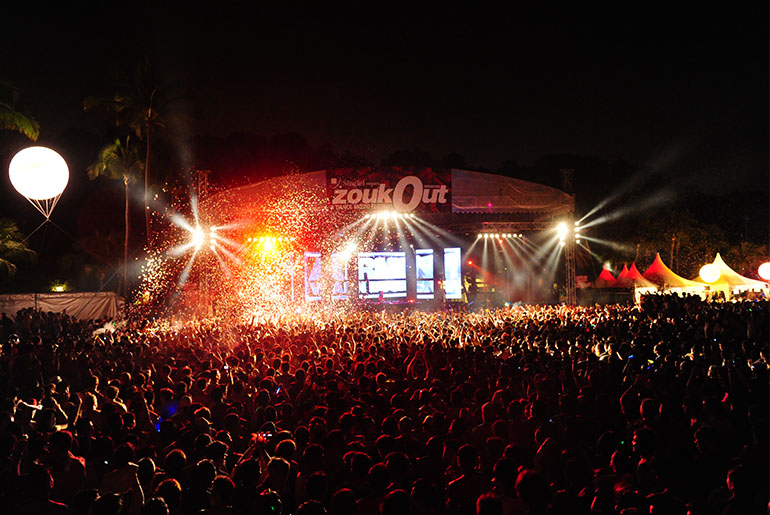 ZoukOut is one of the biggest and longest running music festivals in Singapore, with the party lasting from dusk till dawn. It's particularly famous for its brilliant festival design and stage production, accompanying a line-up of incredible DJs. In 2018, they had Dimitri Vegas & Like Mike, Galantis and Timmy Trumpet playing! Talk about big names!
Dates: 1st Dec 2019
Ultra Singapore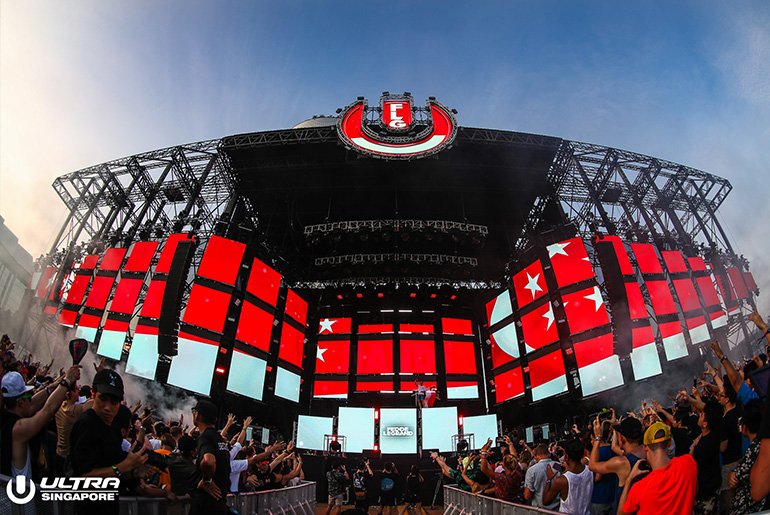 The event traditionally takes place at the sprawling ULTRA Park at the Marina Bay area, with up-and-coming acts and veteran DJs performing across three uniquely-themed stages. This year's international headliners include Martin Garrix, Porter Robinson, Skrillex, Jamie Jones, Art Department, Eats Everything and Josh Wink.
Dates: 8 & 9 June 2019
F1 After Parties at Amber Lounge
After the roar of engines quietens for the night, Singapore dances to another beat. Clubs in the city centre, such as Empire, 1-Altitude and Zouk, put on wild post-race parties with local and international DJs that get the dance floors bumping and grinding. If there are two after-parties you should check out, make them Amber Lounge and The Podium Lounge—they're extravagant affairs that are attended by celebrities, FORMULA 1 drivers and other A-listers.
Nightlife Hotspot
If you want to paint the town red, at your own convenience of course, hit up Clarke Quay, Singapore's most vibrant nightlife hotspot.
Clarke Quay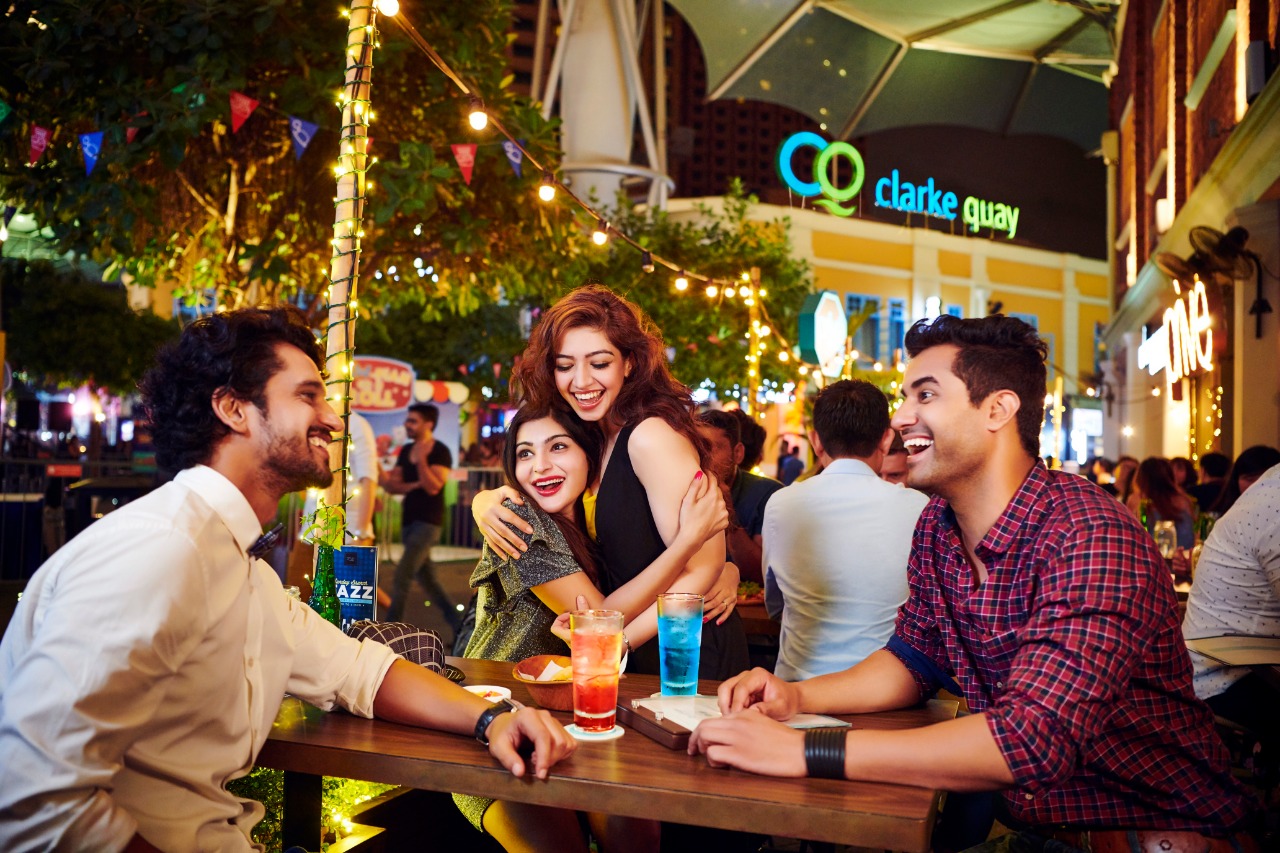 If you can't turn down the chance to show off your moves on the dancefloor, head straight to Clarke Quay. Check out Attica known for its amazing ladies' night deals or if you're more into music than deals, try Crazy Elephant (for the rock & roll lovers) or Cuba Libre (for Latin music fans).
3. Adventure
Love chasing adventure? If you're a thrill seeker, stop! Because Singapore is your one-stop destination for all things adventure. Don't believe me? Read on:
AJ Hackett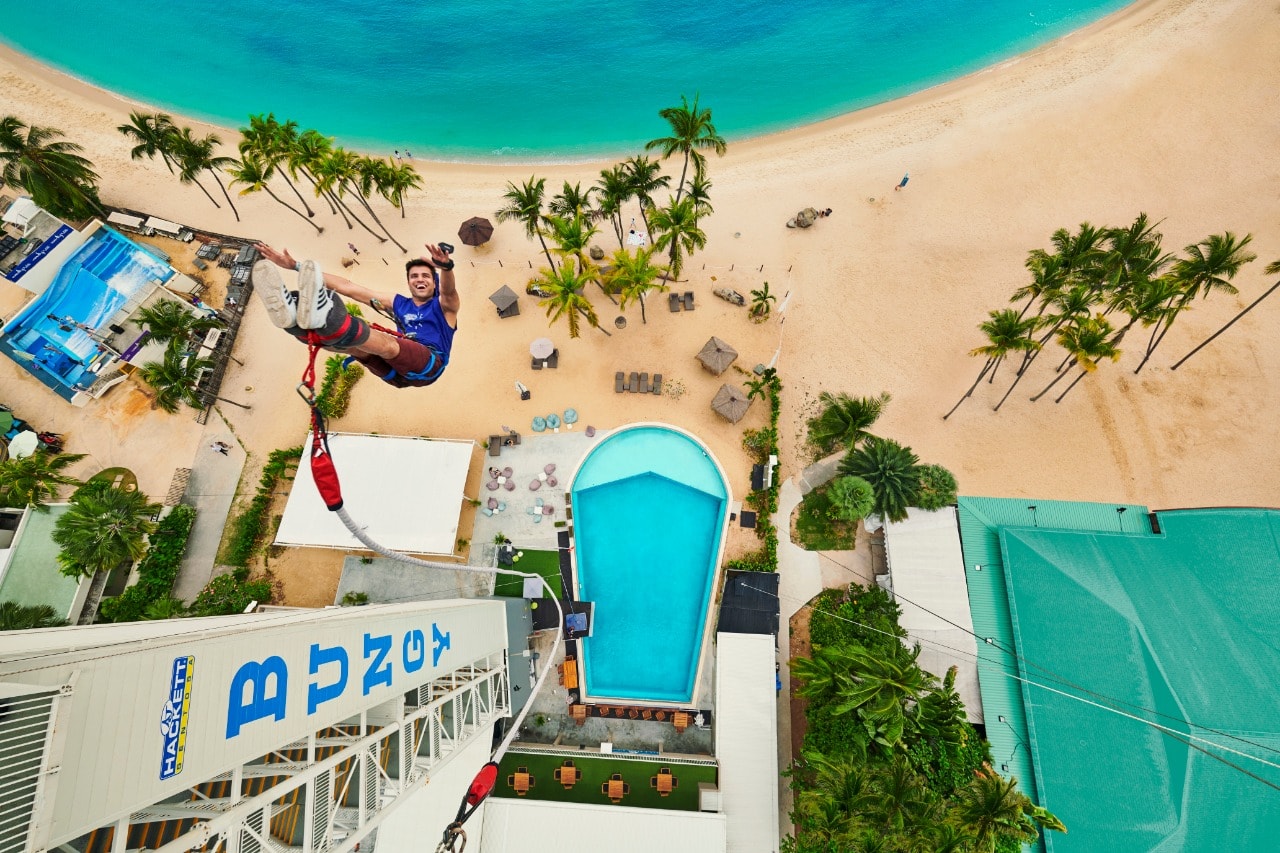 AJ Hackett Sentosa features a range of high-flying activities, including a 47-metre-high bungee jump, a vertigo-inducing giant swing, and a towering sky bridge. The latter features a Glass Cube which gives visitors the illusion of walking on air.
Mega Zip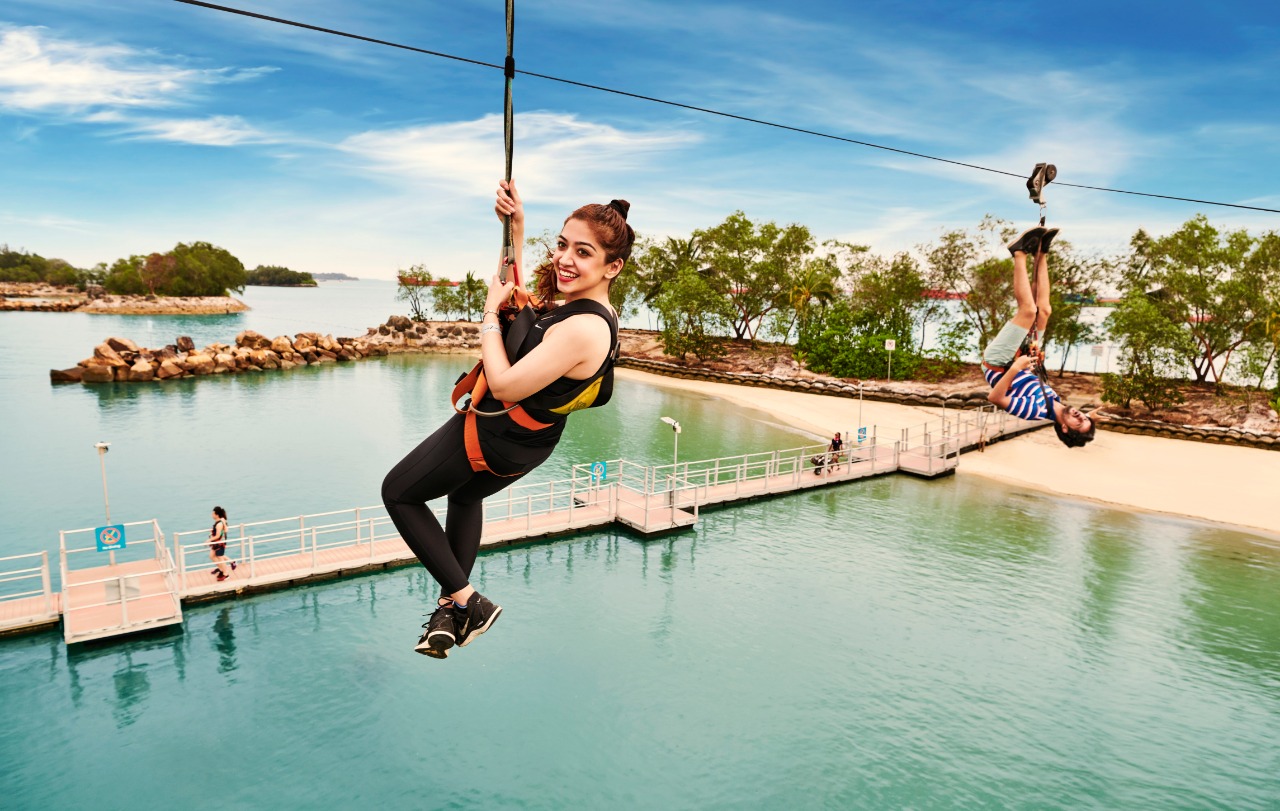 The star attraction here is undoubtedly the park's MegaZip, a flying fox that will let you reach speeds of over 60 kilometres per hour and engage in a bout of friendly competition with your mates, as you soar from Imbiah Hill to the pristine sands of Siloso Beach.
S.E.A. Aquarium™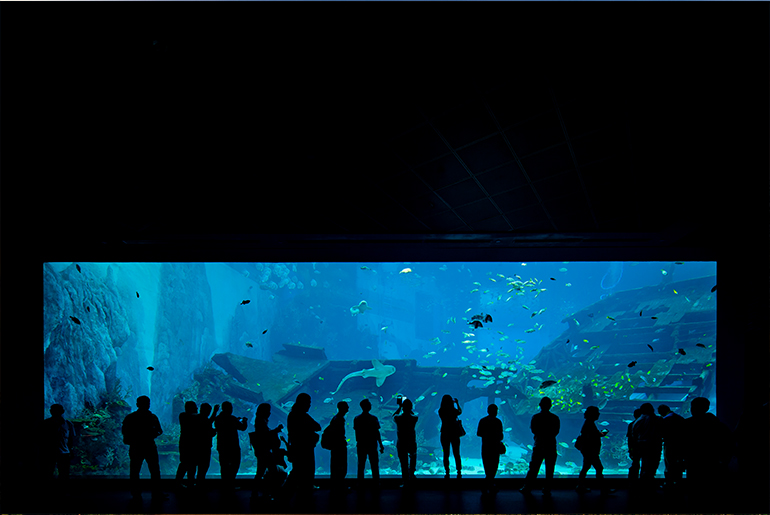 Journey into the realms beneath the ocean at the S.E.A. Aquarium™ and discover more than 100,000 marine animals. For a thrilling observation of majestic apex predators, stroll over to the Shark Seas Habitat, which contains over 200 of these predators including endangered species such as the scalloped hammerhead shark and the aggressive silvertip shark.
Maritime Experiential Museum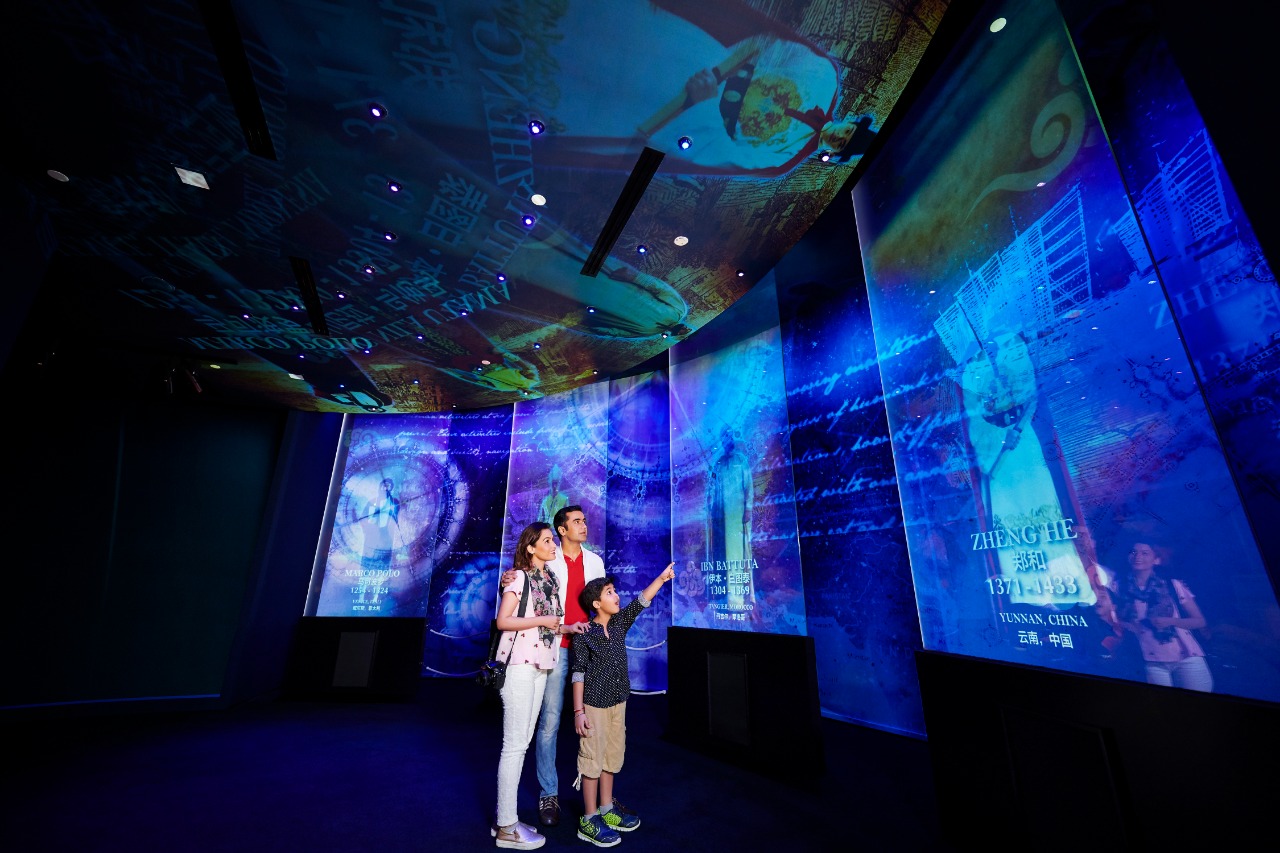 For history buffs, immerse in Asia's rich maritime history at the Maritime Experiential Museum™ and learn about Singapore's past as a maritime trading port.
Unconventional Ways To Tour:
Some like to walk, some like it luxurious & some like to explore the unexplored in unconventional ways! But fear not, for the latter – we have you covered. For the former, you might want to take a sneak peek because Singapore has got some pretty innovative ways to tour the city:
Sentosa Segway Tour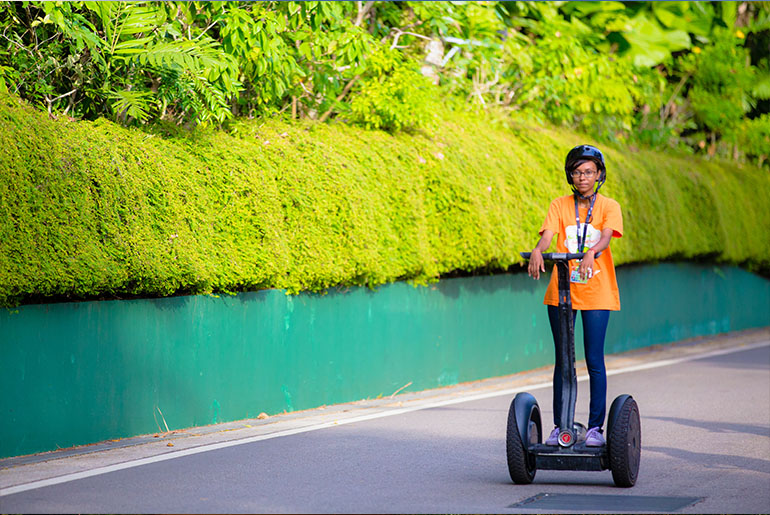 Add an extra dash of adventure to your trip around Sentosa by going for a guided tour of the island on a Segway. For those who've never been on one of these two-wheeled vehicles, the tour comes with a short Segway training session. The tour takes you all around Sentosa, with main stops along Siloso, Palawan and Tanjong Beach.
Singapore River Trishaw Tour
For a traditional twist to a tour on wheels, hop on a trishaw—a bicycle with a sidecar— which will take you meandering through the streets of Singapore's most colourful districts. The Singapore River Trishaw Tour by Trishaw Uncle will take you through notable neighbourhoods and past iconic city landmarks such as Bugis Street, Sri Veeramakaliamman Temple in Little India, the Singapore River, and many more. The tour lasts approximately 45 minutes (subject to traffic conditions).
Singapore Sidecars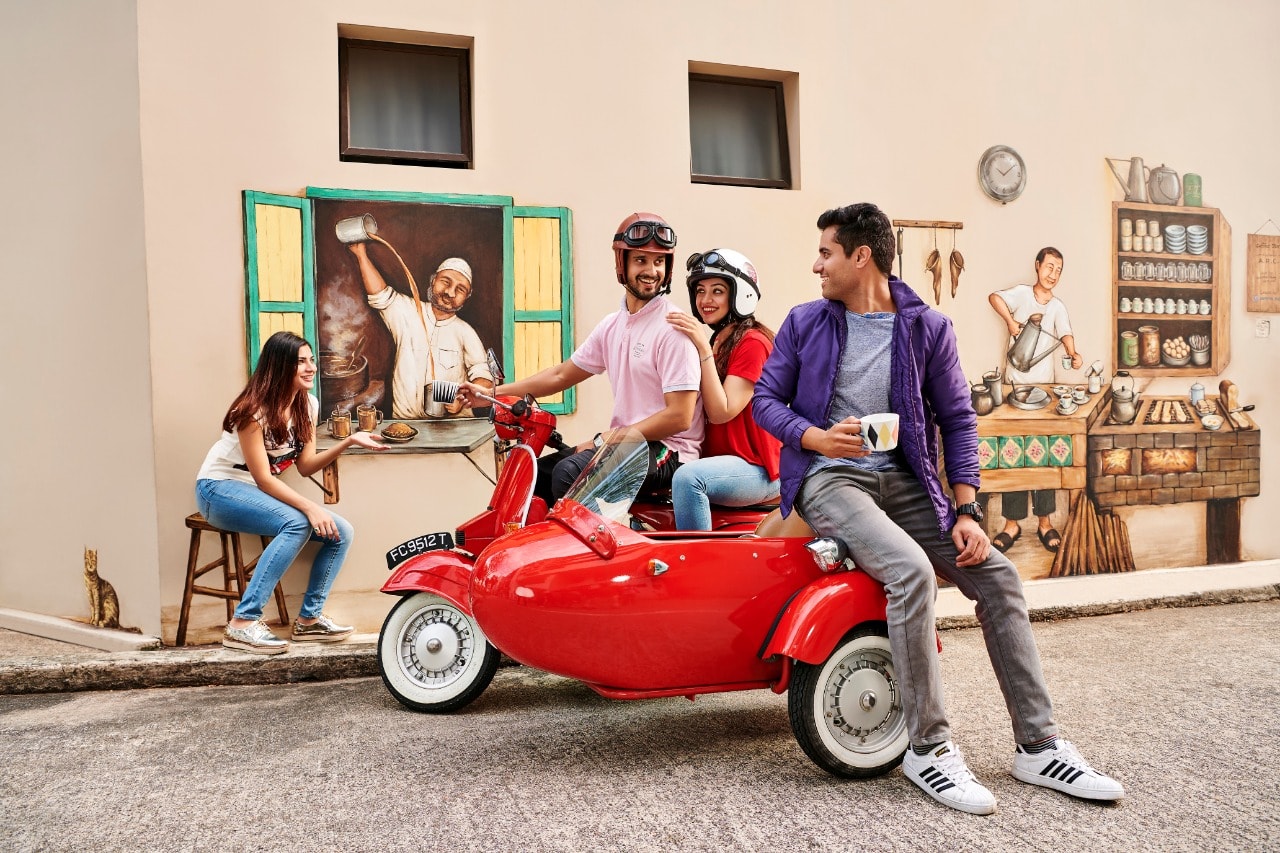 Ride through the city's cultural precincts, wandering around Singapore's heritage sites and vibrant neighbourhoods in a vintage Vespa sidecar and be introduced to the best kept secrets in Singapore. One should ready their cameras as they will uncover some serious insta-worthy spots in the back alleys while appreciating time-honored arts and crafts. End the tour with visits to local business owners and hear from the business owners on their passion stories. Duration is about 1 to 3 hours.
With its world-class theme parks and varied diverse array of family-friendly attractions, Singapore is a great destination for both the young and the young at heart. Here are our top 3 picks:
Universal Studios
You've got to be living under a rock if you've never heard of this wonder. If you've always wanted to live out your fairytale – this is where you need to be! An internationally-acclaimed theme park located on Sentosa, this is the first Hollywood movie theme park in Southeast Asia, and features seven movie-themed zones—Madagascar, Hollywood, Far Far Away (Shrek), The Lost World, Ancient Egypt (The Mummy), Sci-Fi City (Transformers) and New York (Sesame Street) Recommended Rides: HUMAN vs. CYLON, Canopy Flyer
Details:
Address: Resorts World™ Sentosa. 8 Sentosa Gateway, Singapore 098269. +65 65777 8888.
Timings: Daily 10am. (Closing times vary)
Adventure Cove Waterpark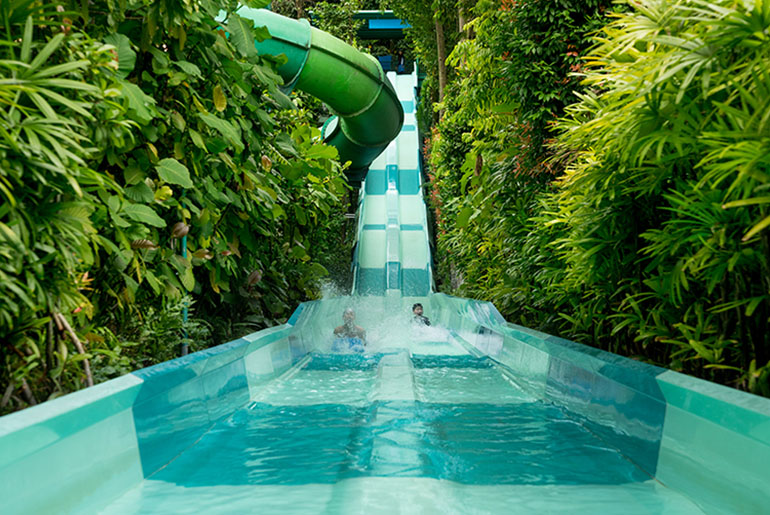 If you're a certified water baby, a multitude of sea creatures and 14 water rides await you at Adventure Cove Waterpark. This aquatic theme park features a range of high-speed water slides, a water tornado ride called Pipeline Plunge, and Riptide Rocket—Asia's first hydro-magnetic coaster
Details:
Address: Resorts World Sentosa®. 8 Sentosa Gateway, Singapore 098269. +65 6577 8888.
Timings: Daily 10am-6pm
Singapore Zoo
For all the nature and animal lovers, do visit Singapore's award-winning wildlife park to see animals roaming freely in their natural habitats. The 26-hectare wildlife park is home to over 300 species of mammals, birds and reptiles. It features 11 zones, each taking you through some of the most distinctive global wildlife habitats in the world. If you love animals, Singapore Zoo is an experience you should not miss out on!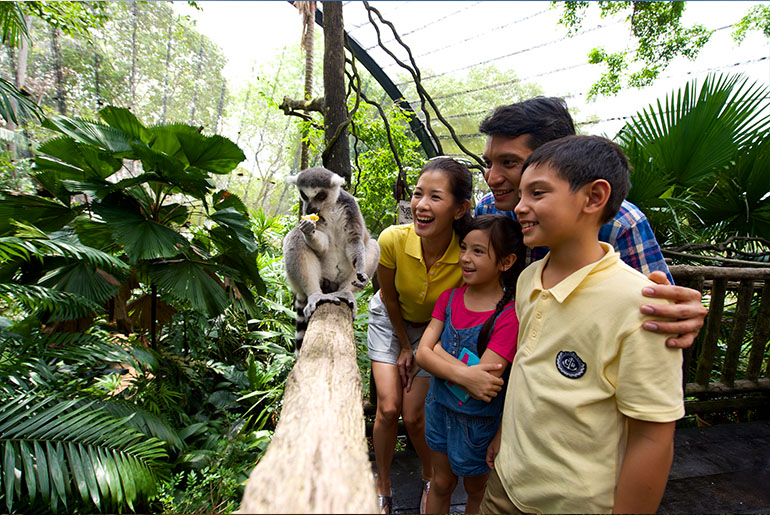 And there you have it – Singapore – a city that celebrates, fun & experiences. It's perfect for every kind of visitor, but it's especially perfect for millennials. If there is one country that must feature on your international bucket list, make sure its Singapore!