Navi Mumbai might be lying on the outskirts of the city, but its holding real gems. From culinary delights to indulgent dishes, Navi Mumbai has food that will not only please your stomach, but also your heart. To keep you coming back for more, here are 5 dishes that Navi Mumbai presents for you –
1. Waffle Shots – The Daily Affair Deli & Cafe
Calling out all choco-lovers out there! The Daily Affair Deli & Cafe in Navi Mumbai serves waffle shots that are perfect for you. Brace yourselves because The Daily Affair (part of the Royal Tulip) serves waffle shots that will be absolutely priceless for every chocolate lover out there. Crispy waffle cups are outlined with chocolate discs and topped with molten chocolate, whipped cream and roasted almonds. 
Also read: The Daily Affair Deli & Cafe In Navi Mumbai Serves Waffles Shots
Address: The Daily Affair Deli & Cafe, Royal Tulip, Sector 7, Kopar Khairane, Mumbai, Kopar Khairane, Navi Mumbai, Mumbai, Maharashtra
Phone: 022 3365 3365
Approx cost: ₹550 for two people
2. Smokey Biscuits – The Frosty Cream
Smokey biscuits are fun to have. And it gives you a feeling similar to that of smoking a hookah. Also, nitrogen does not come in the way of the wafer biscuits' taste. They cost just ₹100, and are worth a try! Liquid Nitrogen or LN2 as it's known in science circles is odourless and tasteless. Its non-toxic properties deem fit for a completely safe dessert that's made using it. By the time your ice cream is made, the nitrogen has completely disappeared and the end product is a velvety-smooth and densely textured ice cream.
Also read: The Frosty Cream In Navi Mumbai Serves Smokey Biscuits
Address: Shop No. 25, Shreeji Heights Sector- 46A, Sea Woods Estate, Navi Mumbai, Maharashtra 400706
Timings: 01:00 PM – 11:30 PM
Price: ₹200 for two people (approx.)
The Frosty Cream also has a new outlet in Vashi.
Address: 25A, Jeejabai Chowk, Sector 17, Vashi, Navi Mumbai, Maharashtra 400703
3. Animal Burger – Fat Kid Deli 
Looking for a challenge? Fat Kid Deli in Vashi, Navi Mumbai serves an Animal Burger that is not meant for the weak-hearted! Navi Mumbai's Fat Kid Deli is worth the drive! The place is as American as it can get. Just reading the menu will add on a few extra pounds and making a choice from it is challenging enough. They have contests too! From eating the hottest wings to gobbling up burgers and hotdogs. However, the real task here is the animal burger, the quadruple being the toughest. With four meat patties (choice of chicken, beef, lamb), four types of cheese, their hit bacon jam and topped with barbecue sauce, the burger at Fat Kid Deli is one hell of a mission.
Also read: Up For A Challenge? 9 Mumbai Joints Where You Can Eat Gigantic Burgers!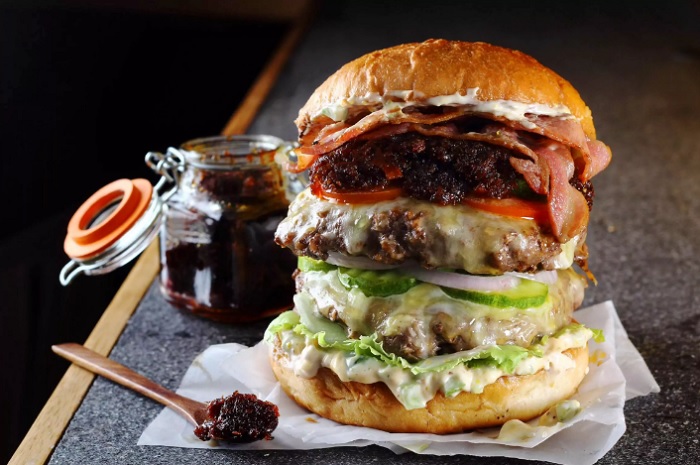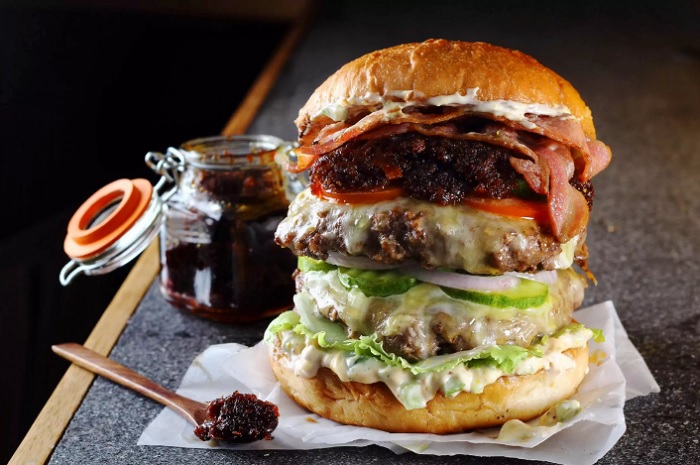 Address: Fat Kid Deli, Unit F2, First Floor, Haware Infotech Park, Sector 30A, Vashi, Navi Mumbai
Phone: 022 69993087, +91 9029393087
Approx cost: ₹1200 for two people
4. Mutton Biryani – Zaffran's Gosht Biryani
The next time you don't have to wait for Eid to get some great Biryani, just head over to Zaffran and order the mutton biryani. The meat is succulent, it is just the right amount of spicy and it smells like what I imagine heaven smells like. I know a lot of people who think of dal-chawal as their comfort food. To me, it is biryani from Zaffran.
Also read: Have You Eaten At The 6 Best Biryani Places in Mumbai?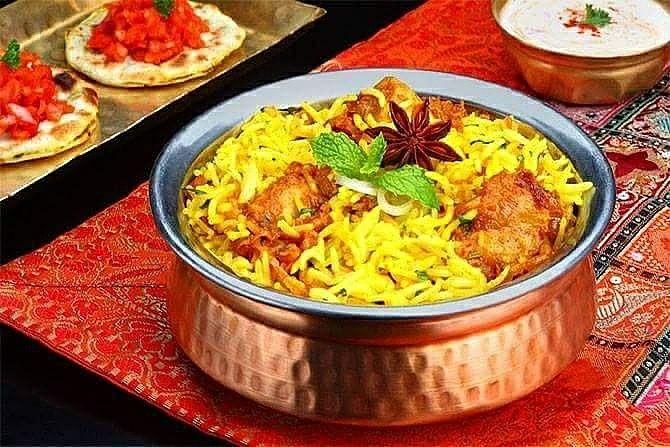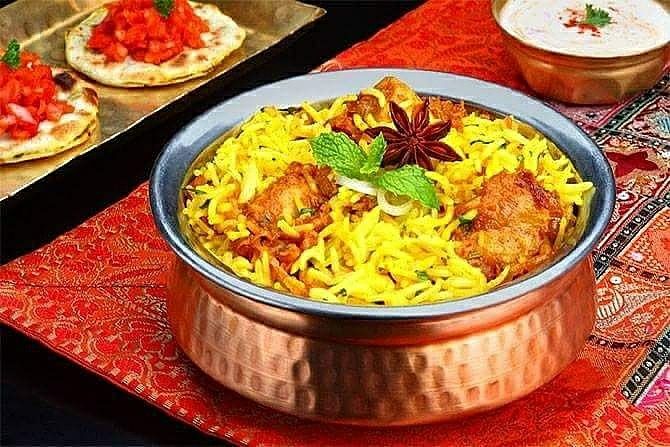 Address: Zaffran, st Floor, Inorbit Mall, Vashi, Navi Mumbai
Approx cost: ₹550 for mutton biryani
5. Shawarma Pizza – Falafel's Eatery 
A shawarma and a pizza? Your favourite things come together with the Shawarma pizza at Falafel's in Mumbai. Falafel has created a work of art with its Shwarama pizza. It is basically a thin crust pizza, with toppings of shawarma on it. Yes, its legit! You can officially have a shawarma as topping in your pizza. Combining the flavors of Lebanon with the magic of Italy, this Shawarma pizza is made for those who are fans of either of the cuisines. It is available in both, vegetarian and non-vegetarian options.
Also read: Shawarma Rolls Is Passé! Try The Shawarma Pizza Instead At Falafel's Eatery In Mumbai
Address: Falafel's eatery, Palm Beach Rd, Sector 30A, Vashi, Navi Mumbai, Maharashtra 400703
Phone: 022 3965 9094
Approx cost: ₹600 for 2 people
LIKE Curly Tales on Facebook | Instagram| Twitter
You can subscribe to our newsletter