From themed restaurants to fine dining options for authentic Russian food, Chennai has splendid options for you to go on a culinary journey and experience something offbeat. Here are 5 best places you must go to when in Chennai –
1. Abyssinian, India's First Ethiopian Restaurant
Go on a culinary expedition at India's first exclusive Ethiopian restaurant called Abyssinian where you get to indulge in an authentic menu comprising of traditional stews and more all curated by a native Chef of Ethiopia. The restaurant has just four tables and artefacts imported from Ethiopia like leather lamps, low stools, and coffee ceremony tables. The food here is traditionally crafted which has a variety of wots (curries)and alichas (dry preparations). Go for the traditional dry stir-fry, a spicy mixture called Berbere which is an essential part of the Ethiopian cuisine made of chili peppers, ajwain, ginger and lots of garlic.
Also read: Culinary Fest At Phoenix Marketcity Chennai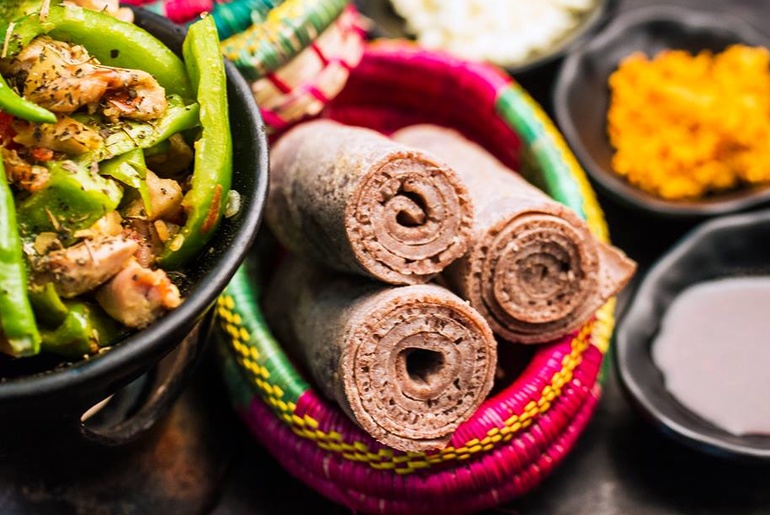 Address: 40, Maharaja Surya Road, Venus Colony, Alwarpet, Chennai
Phone: 082205 55449
Cost for two: ₹1,800 (Approx.)
2. Winter Palace for Authentic Russian Food
As an attempt to showcase classic and contemporary Russian cuisine, Russian Culture Centre has come up with Winter Palace, a fine Russian cuisine restaurant which resonates authentic ambiance and boasts well-loved staples of Russia. Start off with a Russian Salad that is creamy and fresh with pieces of chicken, for vegetarians, Royal Tomatoes is your dish served with tomatoes sliced in half and stuffed in a cheesy sauce. Fish in fur is a Russian specialtyand a must-try for all seafood lovers. If you're a beef hogger then try the Beef Stronganina. Their Blinis are perfectly made and you can try the sweet Blini for a good dessert with fruits and honey.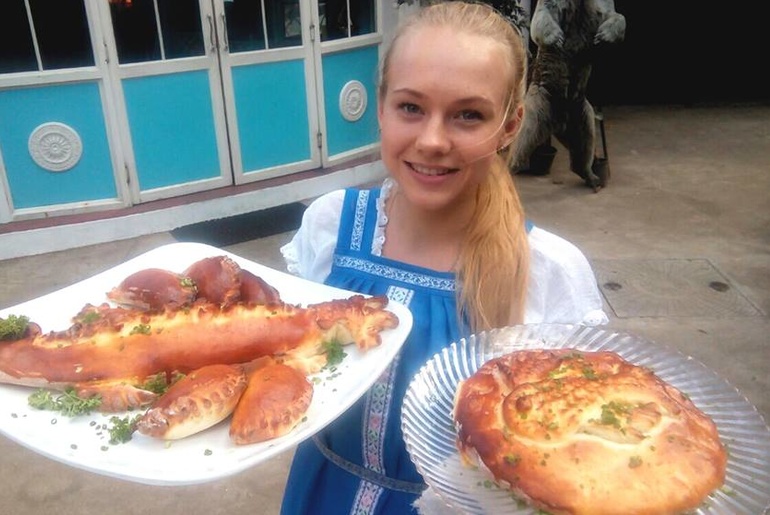 Address: Russian Cultural Centre, 74, Kasthuri Ranga Rd, Alwarpet, Chennai, Tamil Nadu 600018
Phone: 089392 85725
Cost for two: ₹1,100
3. Haunted, Horror-Themed Restaurant
This horror-themed restaurant is run by the name 'Haunted' and is the new thrill of the town. Located in Annanagar East in Chennai, enter the dark ambiance of the restaurant through a haunted door which makes a tapping sound to give you chills down the spine. Their staff is dressed up spookily with ghost make-up on and the restaurant is quite spacious with two floors. They have a coffin that keeps on banging, a scary doll on the first floor near the restroom and rocking chairs.
Also read: This Idli Maker In Chennai Made A Record Breaking 124.8 Kgs Idli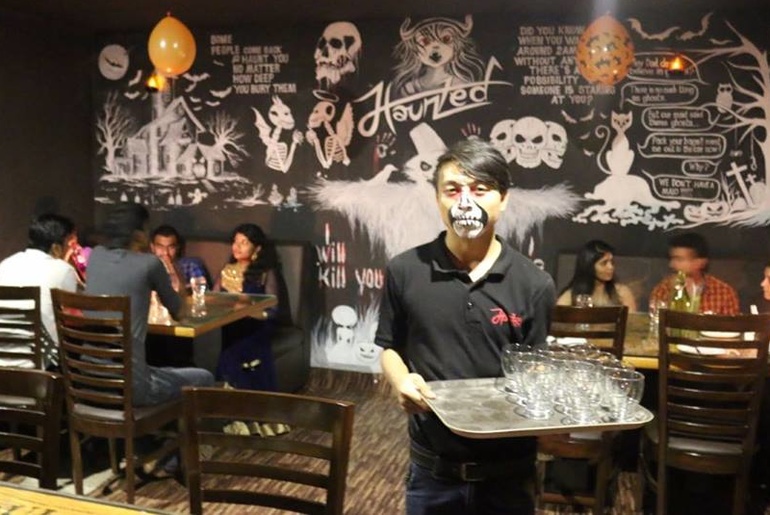 Address: F-13, 2nd Main Road, Block F, Annanagar East, Chennai, Tamil Nadu 600102
Phone: 044 3301 1452
Cost for two: ₹800
4. Superstar Pizza, Rajnikanth-Themed Cafe
With an entire pizza section dedicated to the legendary actor, Rajnikanth, this cafe is perfect for all the fans. Located in Besant Nagar in Chennai, you'll find the interiors and decor also loaded with portraits and paintings of the actor. Get started with their quick bites, fries, nachos and more. With scene 2, you can enjoy their fiery Thailavar pizzas like Neruppu Da, Chandramukhi and Annamalai. You could also go for the regular thin crust pizzas (not too spicy) from the Romance section like Senorita, Mullu Malarum, Panakaran and more.
Address: 20, 5th Avenue, Besant Nagar Beach, Chennai, Besant Nagar, Chennai
Phone: 044 48574004, +91 9894354867
Approx cost: ₹650 for two people
5. Robot Theme Restaurant
Now get your order served by robots and not waiters at this restaurant in Chennai. You can order food on an iPad without having to interact with any staff. It goes through the system and once your food is ready, it will be delivered to your table by a robot. Yay introverts! We loved the Steamed chicken momos (₹259), Chicken noodles (₹329) and Spicy chicken pumpkin soup (₹149).
Address: Robot Theme Restaurant, Kamaraj Nagar, Semmancheri, Chennai, Tamil Nadu 600119
Phone: 098428 83223
Approx cost: ₹1,000 for two people
LIKE Curly Tales on Facebook | Instagram| Twitter
You can also subscribe to our newsletters