Rajasthan is the land of the royals. The state is well known around the world for its palaces and hospitality. They offers various authentic scrumptious dishes that are famous around the world like laal maas but there are several delicious vegetarian dishes. From dal bati and churma to ghewar, here are five royal vegetarian dishes to try on your next visit to Rajasthan.
1. Dal Bati & Churma
Dal Bati churma is a traditional vegetarian food of Rajasthan. This delicious dish is a favourite among native people and tourists. The mouth-watering dish is made up of a scrumptious combination of baked bati, dipped in ghee, panchmel or panchkuti dal and jaggery mixed churma.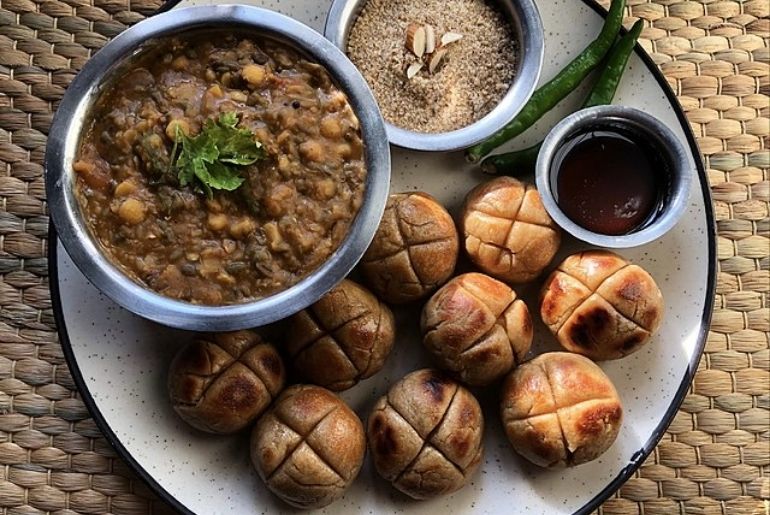 Also read: Get Rajasthani Feels In The Heart Of Dubai At Chokhi Dhani
2. Ghewar
Ghewar is a traditional Rajasthani sweet dish made up of flour milk and sugar syrup. It is prepared during the festivals of Teej and Raksha Bandhan. There are a variety of ghewar available like malai ghewar, plain ghewar, or mawa ghewar.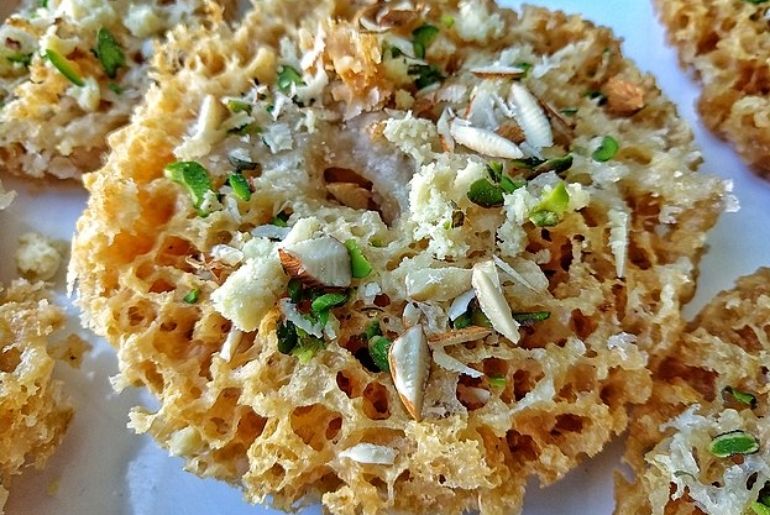 3. Gatte ki Sabzi & Gatte ka Pulao
Gatte is the local name for black gram flour dumplings. The curry is made from a delicious combination of spices and curd which gives it a tangy flavour to it. This is an authentic vegetarian Rajasthani dish that can be prepared in 2 ways be it in a form of curry or pulao.
Also read: 5 Places In Jaipur To Relish The Best Rajasthani Thalis
4. Ker Sangri
Ker sangri is a famous Rajasthani food, quite popular in the desert districts of Jaisalmer, Bikaner, and Jodhpur. This vegetarian dish is a combination of beans and berry that is stir-fried with local spices. This stir-fry dish tastes best with bajre ki roti
5. Malpua
Malpua is an authentic vegetarian sweet dish. This sweet dish is a Indian version of a pancake made up of wheat flour, jaggery or sugar, and cardamom powder. It comes in a variety of different flavours like malpua with rabri and banana malpua.
Try these authentic vegetarian Rajasthani dishes on your next visit to Rajasthan.
Also read: This Cool Food Truck In Gurgaon Has A Rooftop Seating To Devour Mughlai & Rajasthani Food