What do you visualize when you hear the word 'ruins'? I'm pretty sure the first thing that comes to mind is debris and rubble post destruction. You are most likely not going to imagine a beautiful site. However, one visit to Hampi will change that perception of yours. You can also indulge in plenty of things at Hampi and we're here to tell you the 5 things you can enjoy in Hampi –
1. UNESCO World Heritage Site
The city is built along the banks of the Tungabhadra river and has two very starkly opposite sides to it. One side of the river is dotted with temples, ancient markets, and numerous heritage spots. The other is the more laid back and attracts hippies from all around the world. People from all over the country visit Hampi for its beautiful monuments and history. 
2. 

A Coracle Ride Over Tungabhadra River
Experience the bowl-shaped boat ride across the Tungabhadra river near Hampi. The Coracle boat ride near Hampi is a must-try for all tourists. Row your way through sunny river sides, or pass through a cave and relax in there. The locals would row across the river to save time, but now its become a complete tourist experience.
Also read: Take A Ride In One Of The Most Uniquely Shaped Boats In The Country
3. The Hippie Island
Hippie Island in Hampi probably has more foreigners hanging around as compared to Indians. But that's not all. Take part in drum circles, dread-lock making, music sessions & more. You can let that hippie soul out and walk through the street in hippie clothes, indulge in small cafes with chill vibes.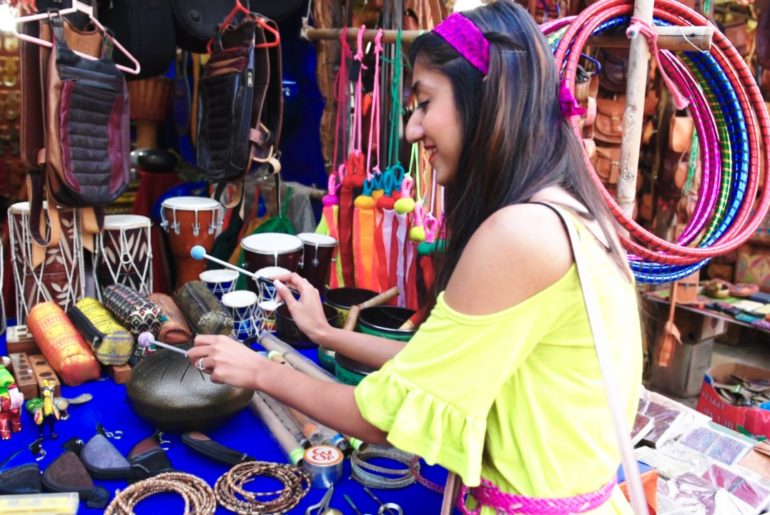 4. The Authentic Hampi Food
Enjoy a meal at the Green Garden Restaurant with relish the delicious Hampi food. Try their Special Thali, made of two types of rice, a vegetable, dals, payasam, papad & roti.The food is tasty and the menu is quite exhaustive! Wash it down with the coconut or the Mango Lassi. 
Also read: Hampi In Karnataka To Be Developed As An Iconic Tourism Site In India
5. Do A Temple Run
Hampi is home to many old temples. You must visit the Virupaksha Temple that is one of the largest temples in Hampi. It is also the only one where till date priests perform the pooja ceremony morning and evening. Inside the temple, you will come across many stories of the Vijayanagara Empire (the kingdom of Hampi) and get to see different types of architecture that adorn the temple structure both inside and outside.
*Wardrobe Courtsey – SrStore*
LIKE Curly Tales on Facebook | Instagram| Twitter
You can subscribe to our newsletters