Under 140 Characters
Tamasha in Mumbai & Delhi brings to you a combination of your favourite booze with your favourite dal! Dal Makhani with a twist, rather Jack Daniels!
What Is It?
With the alcohol trend everywhere, Tamasha in Mumbai and Delhi has left no stone unturned to surprise you with its creation. The Jack Daniels Dal Makhani is the kind of a dal you would have never tried before.
Also Read: Pani Puri Margarita Is The Next One On The List After Pani Puri Shots

What's In It?
Dal makhani is prepared the usual way with a mix of rajma and whole black gram and a perfect blend of whole spices. Justice to this dal is done only when it is topped up with a dollop of butter.
But here in Tamasha, it's also a spoonful of Jack Daniels whiskey which is added to the Dal. The whiskey is flamed up to give a smokey flavour and thus, the Dal receives a very strong taste of whiskey. A little bitter in taste, it is still something you got to try when you're here.
This JD Dal Makhani is best served with some olive naan as the chef suggests to us.
Also Read: Gulab Nut In Bombay Canteen Is A Delicious Rum-Soaked Dessert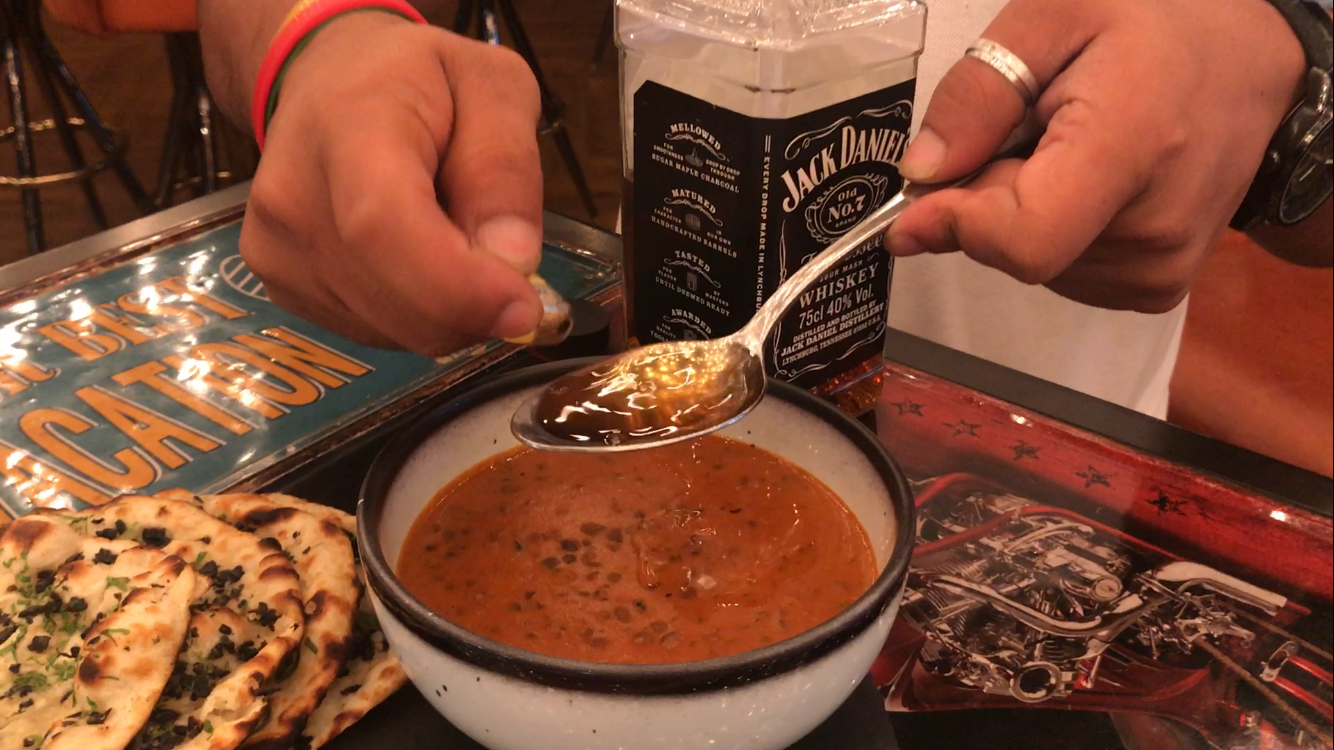 About Tamasha
Screaming for attention from one of Mumbai's busiest corporate parks, Kamala Mills is Tamasha, Mumbai. The menu is a lovely fusion of contemporary and experimental Indian cuisine.
Divided in two sections, Tamasha entices you with an indoor as well as an al fresco seating! On the contrary, the al fresco area is kept simple, sheltered under trees and jazzed up with pretty lights and the indoors have a plush decor with dangling filament bulbs. The vibe is fun with DJ playing EDM. The fragrance is good enveloped with fusion food.
Also Read: Delhi's Tamasha To Now Happen in Mumbai

Deets
Where:
(Mumbai) Pandurang Budhkar Marg, Lower Parel, Mumbai, Maharashtra;
(Delhi) A 28, Anand House,, KG Marg, Connaught Place, New Delhi, Delhi 110001
When: 12PM–1AM (Except Sundays 12PM–1AM)
How Much: ₹665 (Jack Daniels Dal Makhani)
LIKE Curly Tales on Facebook | Instagram | Twitter
You can subscribe to our newsletters