Archaeologists in Italy's Pompeii have recently scooped out an intriguing piece of history. They have found out an ancient 'thermopolium' or a hot food and drinks shop with traces of around 2000-year old food in terracotta jars. The discovery took place in the Regio V site of the archaeological park. The food counter has murals of animals like hens and ducks and also some circular holes. In 79 AD, a volcanic eruption had engulfed the city of Pompeii. Archaeologists hold that the newly discovered stall in the city used to serve up street food in the bygone era. Does that sound interesting? Read on to know more.
Also Read: Saudi Arabia Opens The Untouched Historical City Of Hegra To Tourists
A Roman Food Stall From The Bygone Era With Animal-Themed Murals
Historians have recently discovered a food stall with circular holes containing ancient terracotta jars in the archaeological site of Italy, Pompeii. Experts have discovered patera bowls ( embellished bronze drinking bowls), amphora, ceramic jars, wine flasks and more in the site. The counter facade displays colourful murals, some of which have themes of animals.
Archaeologists have found traces of snails, beef, fish, pork and more in the jars. According to The Wire, Massimo Ossana, director of the Pompeii archaeological park, has said, "This is an extraordinary find. It's the first time we are excavating an entire thermopolium." The unfurling of the snack stall took place on December 26, 2020, and it is not yet open to the public. Also, Pejo 3000 in Italy is set to become Europe's first plastic-free ski resort.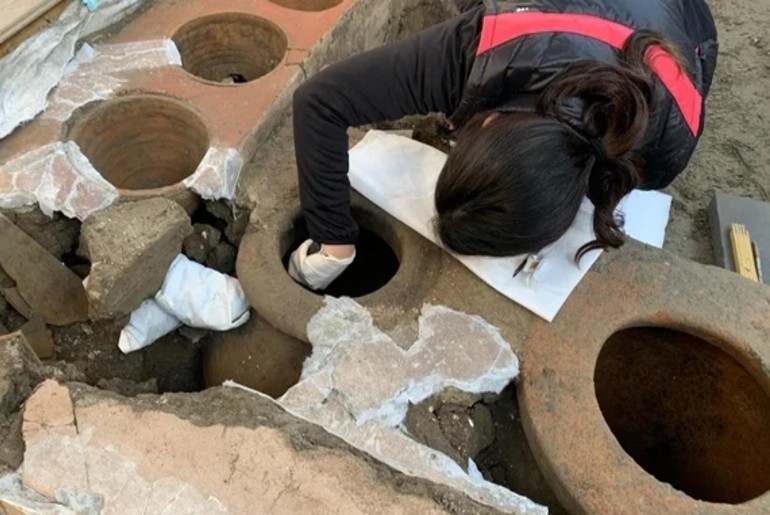 Also Read: You Can Now Skydive In The Historical City Of Mysore
The Ancient City Of Pompeii
According to Wikipedia, the first stable settlements in Pompeii date back to the 8th century BC. The site is most popular for its Roman remains from 79 AD. During that time, a volcanic eruption had washed off the city. The site became a UNESCO World Heritage Site in 1997. Time and again, Pompeii got featured in movies, songs and more.
Scenes of movies and series like  Journey to Italy (1954) and  Up Pompeii! (1969) have been filmed in the archaeological site. Rock band Pink Floyd has performed many songs in Pompeii amphitheatre. The freshly discovered street food corner has added up to the old-world charm of the site. Meanwhile, here's a virtual tour to Paris from the comfort of your couch: