It's so hard to believe that just across our Indian border lies a land so magical, so beautiful & so enchanting that it feels like you've entered a fairy tale. My name is Natasha Monteiro and I'm really going to try and take you with me on my magical journey through Bhutan – the Happiest Country in the world. I went on a 7 day trip with 3 friends to this tiny kingdom on the Himalayas' eastern edge and all I can say is that everything you imagine about this country – it's better!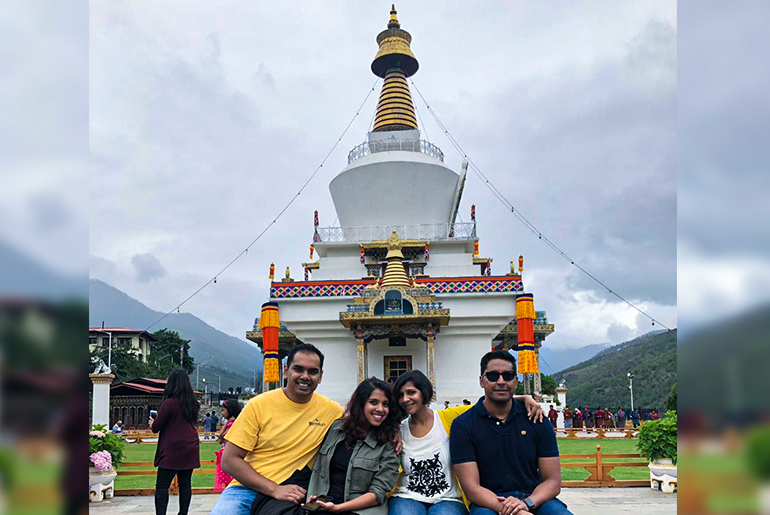 So the best time to visit Bhutan is between March-May (spring season) or October-Feb (autumn). I, however, decided to be more adventurous and went during the monsoon season in the month of July and what a fabulous decision it was. Bhutan turns into a green paradise with waterfalls at every turn and flowing rivers that guide your path. It's pleasantly cold, and there's a freshness in the air that absolutely energizes you. The only downside though is that Bhutan is extremely prone to landslides in the rain and you can be stuck for hours on a closed road. Here's my 7-day itinerary to Bhutan.
Day 1 In Bhutan
Fly from Mumbai To Bagdogra
Drive from Siliguri to Phuentsholing
Clear Immigration
Drive to Thimphu
Our first day was dedicated completely to travelling into Bhutan. We flew in from Mumbai to Bagdogra (Cost: Approx Rs 8,556 roundtrip, per head). We had prebooked a guide and tour operator from Heavenly Bhutan and our Indian guide was waiting for us with a car at the airport. To know about Bhutan's policy on tour operators, click here. Our entire Heavenly Bhutan tour with guide and transport for 6 days cost me Rs 12,000 per head. This included car for the entire duration right from pick up and drop from Bagdogra airport, guide, driver and online permit.
From Bagdogra airport, we drove about 6 hours to the border of Bhutan. The drive is absolutely enjoyable, with tree-lined roads and old white bridges over a flowing river. We entered into Bhutan through Phuentsholing and believe me when I say that the moment you enter into Bhutan, you just feel it. There is a drastic change in the architecture, the cleanliness of the roads and just the beauty of the gate that separates the border.
We cleared immigration, moved to a Bhutanese guide and driver, had lunch and settled down for a 6-hour drive into the capital of Bhutan, Thimphu. The roads in the country are fabulous and mostly winding since its mountainous terrain. Our journey largely went in clicking pictures and talking to our guide, Dhana – who could speak Hindi and English quite fluently. We entered into Thimphu at about 10 pm that night. We stayed at this beautiful boutique hotel, called the Norbuling which cost approx Rs 3500 per night for 2 people. The rooms were spacious, clean, full of wooden furniture and overlooked the mountain and an archery range.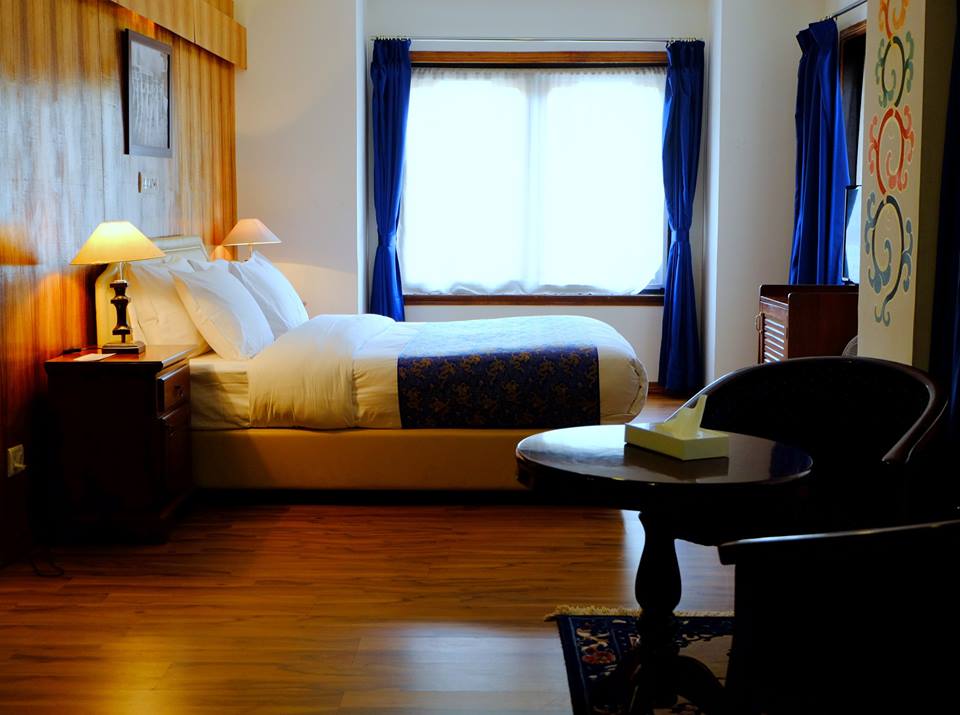 Day 2 In Bhutan
Visit Bhutan Memorial Chorten
Visit Buddha Dordenma
Tashcihho Dzong
Shopping & Thimphu Square
Thijha Cafe
We started our day bright and early and after a hearty buffet breakfast at our hotel itself, we left with Dhana and our driver to Bhutan Memorial Chorten. The gorgeous white monument was built in memory of Third Druk Gyalpo and is dedicated to World Peace. A lot of old people pass their time there and spend their time chanting and exercising. A 10-minute drive from the Chorten is Buddha Dordenma, which is a gigantic 177 ft Shakyamuni Buddha statue in the mountains of Bhutan. The view from the top is absolutely stunning and overlooks all of Thimpu.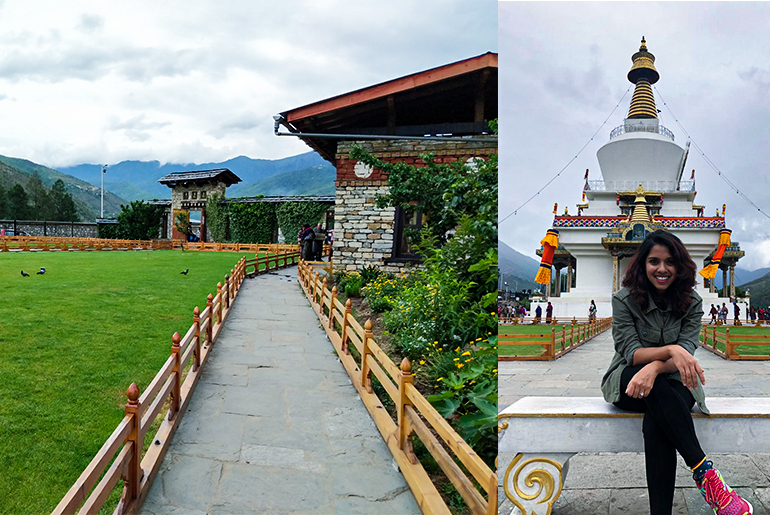 We stopped for lunch right after this and went to our very first Dzong (Buddhist temple). The moment you enter a Dzong, there is an instant sense of calm and peace that comes about and the colours are absolutely fantastic. We spent about an hour at the Dzong and decided to head back to the market area for some shopping and strolling. We did buy a bunch of souvenirs and clothes, but mostly just walked around the market and stopped by for coffee at this cute cafe called Thijha Cafe.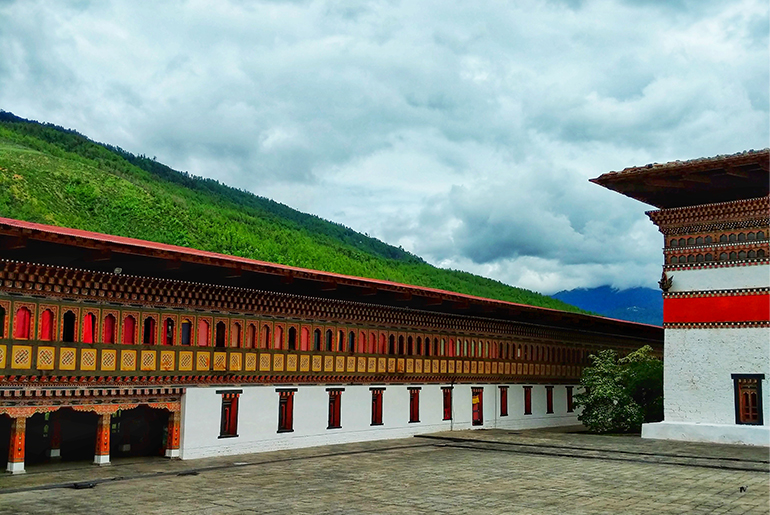 The best thing about Bhutan is that as you walk around and watch the locals, everyone seems content, no one is on their phones and people are actually interacting with each other. A lot of people just come to sit and stare at the horizon. It's so refreshing to watch.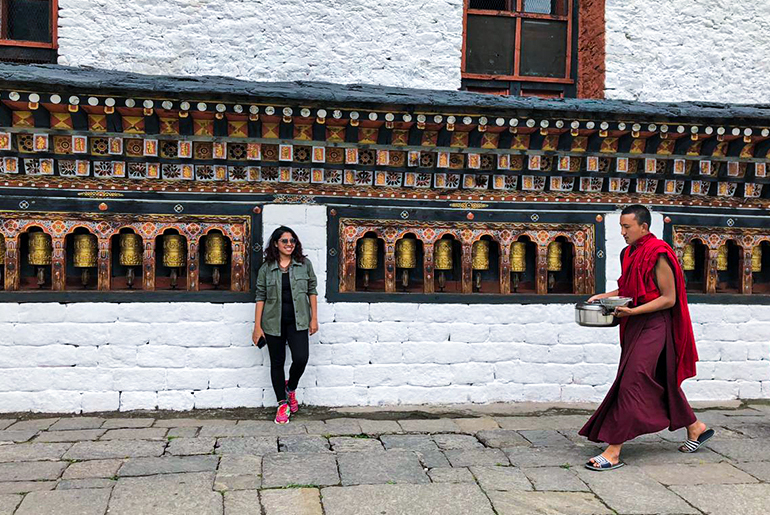 Day 3 In Bhutan
Dochula Pass
Entry Into Punakha
Punakha Dzong
Fertility Village
On day 3, we decided to leave Thimphu and made our way to our next location Punakha. enroute, we stopped at Dochula Pass – which is this absolutely stunning location, created in honor of 108 Bhutanese soldiers who died in a 2003 military operation. Each of these martyrs has its own "Druk Wangyal Chortens". It's a lovely place to walk around. Note: There are just 2 cafes at Dochula Pass and the rates of the food and tea/coffee there are exorbitant.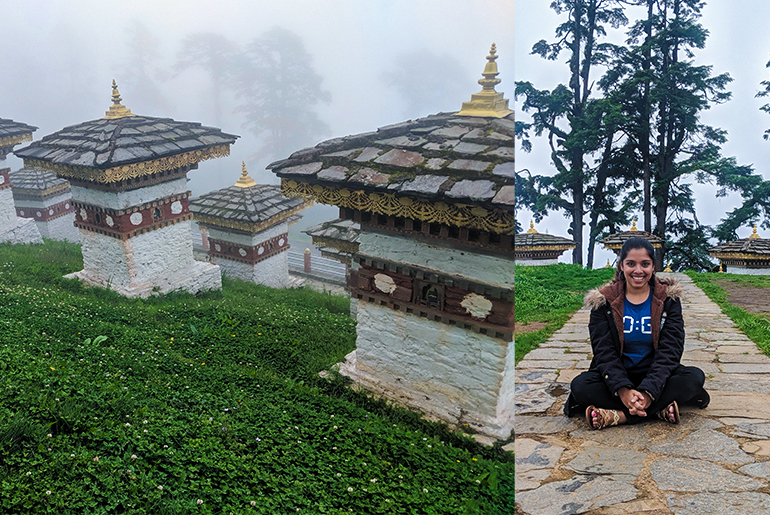 We drove down a few hours and finally entered the lovely city of Punakha and instead of heading to our hotel room, decided to first explore a few more sights. We headed to Punakha Dzong that has a lovely wooden bridge over a flowing river. You've got to cross the bridge (quite literally) to enter the Dzong. The most fun part of visiting the Dzong though is its crazy history and the almost vertical flight of stairs you have to climb to see the interiors.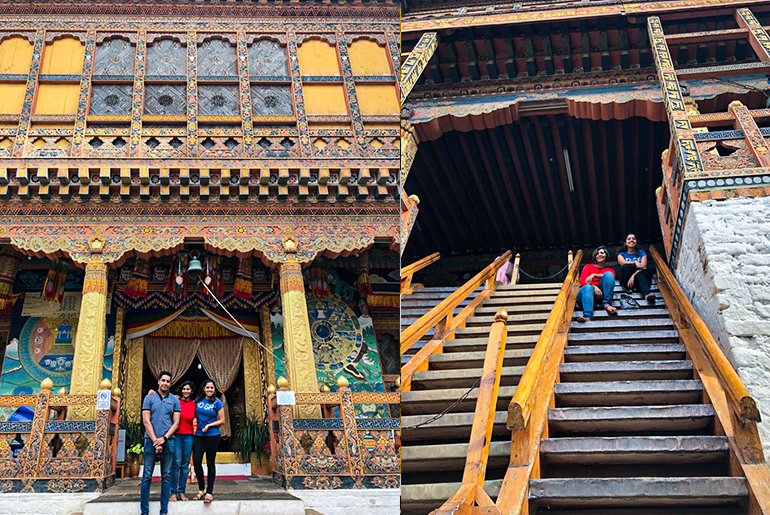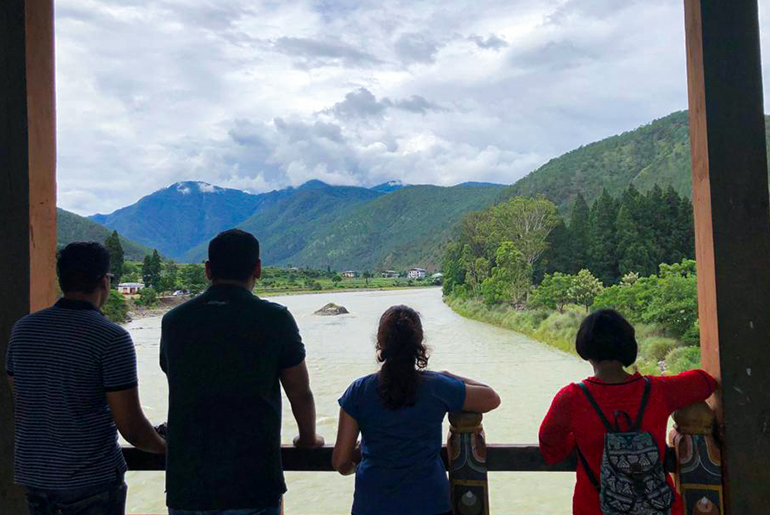 I think one of the stops we were most curious about was the Fertility Village and the Fertility Temple. It is said that if a monk blesses you at the temple, you will get a child. The village itself is a 10min trek to the top (basic level) and the houses there are filled with phallic paintings. In fact, there are wooden phalluses that are hung from the main doors of the homes.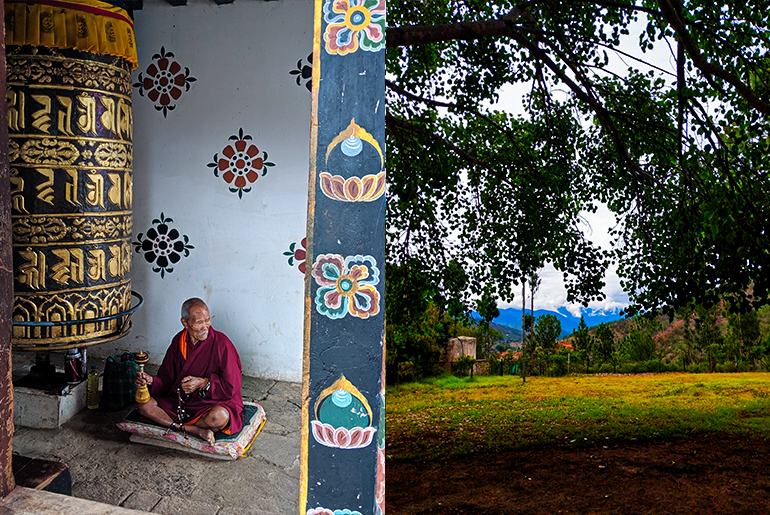 At the end of the day, at about 8pm, we finally headed back to our hotel. We stayed at the Himalayan Dragon's Nest Hotel which honestly was one of our most beautiful stays in Bhutan. Overlooking a river, this property had our heart. It cost about Rs 1,800 per night, per room.
Day 4 in Bhutan
Rafting At Mochu River
Trek To Khamsum Yulley Namgyal Chorten
Exploring Punakha
Day 4 was time for us to get adventurous and we were super excited to go rafting on the Pochu (male) river. However, there were floods the week before we arrived and the rafting activities on Pochu were shut as the current was too strong. We had to to make do with rafting on the Mochu (female) river, which was pretty basic but fun nevertheless. We had the chance to enter the freezing river, swim along with the raft and even stopped at a spot which had an unhindered view of the King's winter palace.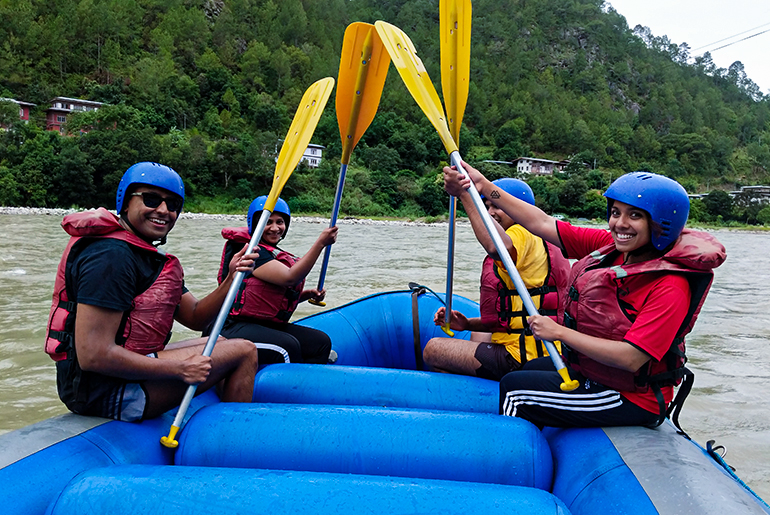 After rafting, we decided to go on a 45-minute trek to visit the Khamsum Yulley Namgyal Chorten. The views we were rewarded with was totally worth all the hard work and aching calf muscles. We spent a good two hours just chilling by the chorten and breathing in the fresh air and the good vibes.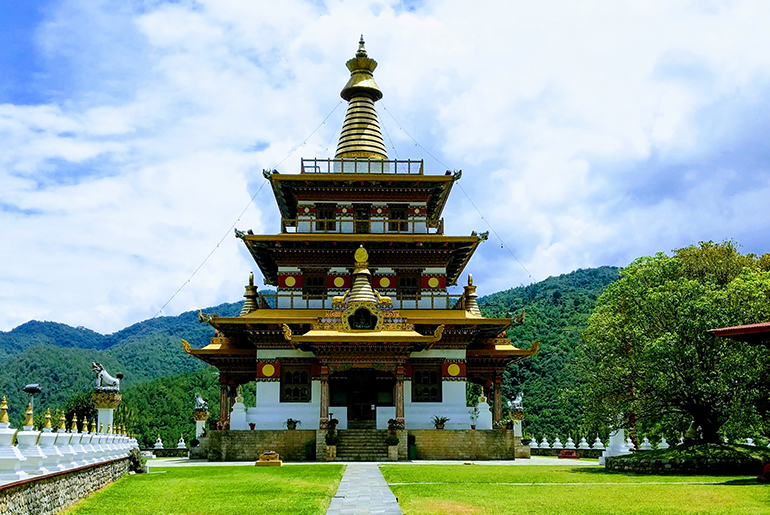 In the evening, we set out on foot to explore Punakha, which can be skipped and replaced with other activities. Thimphu & Paro were far prettier to explore.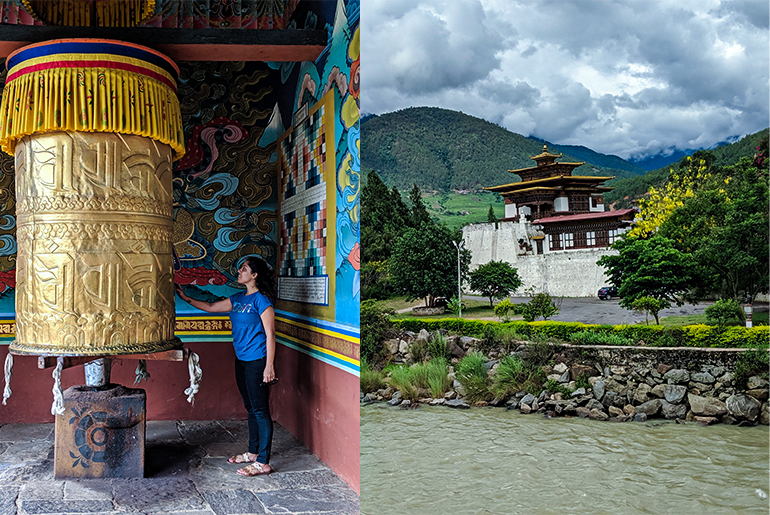 Day 5 In Bhutan
Punakha to Paro
Unscheduled River Stops
The drive from Punakha to Paro is so beautiful that the journey itself is a destination. Mountains on one side, a flowing river on the other, we had an entire day planned around things to do but we kept making unscheduled stops along different spots and chilled by a river, walked along a mountain, stopped to see the airport and so much more – that our sched went for a toss. But isn't that what holidays are supposed to be about? Discipline and schedules are for mundane, everyday life. Vacays are supposed to be fun and spontaneous.
Paro has an old-world charm and is the older part of Bhutan. There's a more relaxed vibe to it, with plenty of weed growing about wild, streams babbling and apple trees all over. We stayed at the Rema Resort, which cost about Rs 3,300 per night. The meals served at this beautiful resort were drool-worthy and absolutely delish! Another highlight of the resort were these adorable labrador dogs who are super friendly and just want to cuddle.
Day 6 In Bhutan
Trek To Tiger's Nest Monastery
Shopping In Paro
Hot Stone Massage
Bhutan in a way, is synonymous to the beautiful Tiger's Nest monastery. Situated 900 metres off the ground, precariously perched on a cliff is this breathtaking site. The construction of this, way back in 1692, was considered so difficult, because of its height and terrain, that legend says that God himself came down to help carry the heavier pieces.
The temple is a dedication to Guru Rinpoche, who actually meditated at a cave in that very spot after he was transported on the back of a flying tigress. Hence the name, Tiger's Nest. Please spare an entire day for the trek to Tiger's Nest. It has undoubtedly been one of the most tough and tiring treks I've done in my life, and it takes an average of 10,000 steps to get there. On average, the trek takes about 6 hours.
You can take a horse up and down up to a certain point but beyond that, you have to trek to the top. There are no real roads that go up to the top and just a path that has been formed by constant walking. The last mile of the trek has stairs. The steep elevation of the trek is what really tires you, so make sure you really space it out.  As you get higher, the views get prettier.
Note: Buy souvenirs from the base of the trek point, as they are the cheapest in all of Bhutan.
Once you're done with your trek, head to Paro market and buy all the souvenirs of your trip. You can buy beautiful ceramic cups, prayer flags, handicrafts, flavoured noodles and more. They're pretty reasonable and don't forget to bargain. There are also plenty of cafes in Paro. Grab a coffee and chill at one of the stores.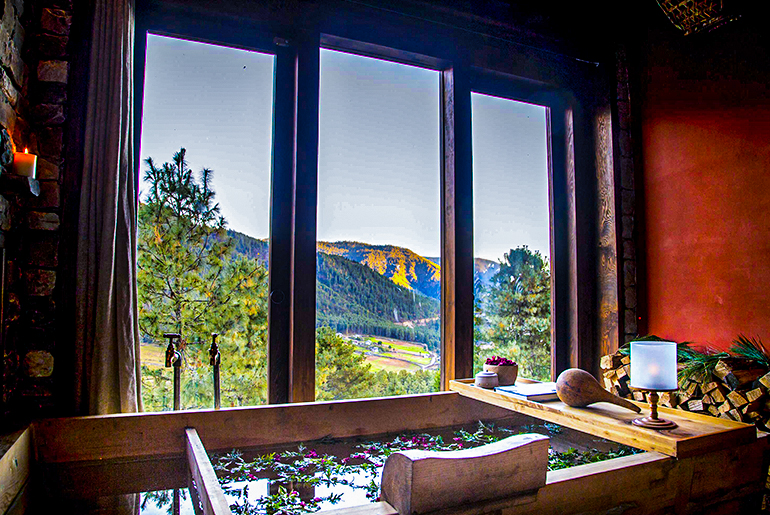 I strongly recommend that you go for an authentic Bhutanese Hot Stone Massage AFTER the trek because you're going to definitely need it. Another recommendation would be to keep the trek on the last day of your trip, especially if you're not very physically active because you will be tired and have muscle pain for at least 2-3 days after.
The Hot Stone Massage is an experience that you should not miss. It's a 1-hour massage that is followed with a deep tissue soak in herbal, hot stoned water. This is a wonderful relaxing experience that is definitely something you cannot miss.
Day 7 In Bhutan
Travel from Paro back to India
This was the day we realised why travelling during the monsoons does have its risks. The journey from Paro to the Indian border was supposed to be about 4 hours. We take 11.5 hours due to major land slides and diversions along the way. It was raining heavily and the roads were blocked for hours.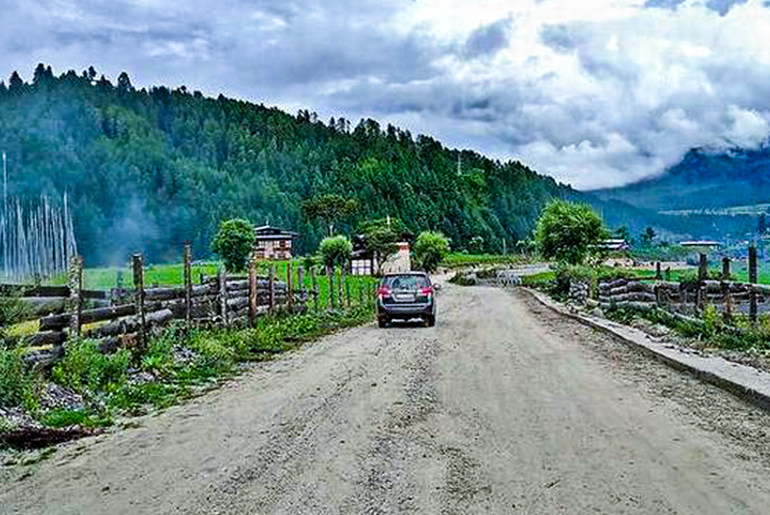 We eventually did make it back to the Indian border, but it was a much longer journey than we predicted.
Food In Bhutan
Bhutan has very limited food options and their favourite dish is Ema Datshi. Their cuisine is largely influenced by Indian, Nepali and Tibetan cuisine and what you get is a mixture of the lot. I loved the Ema Datshi, which is a super spicy dish that has layers of molten cheese over a bed of red chillies and a meat of your choice – beef, pork, chicken or vegetables. Other than this you get alu parathas, chole puri, momos, and thukpa. A few places serve English breakfast and Maggi.
What you must keep in mind though, is that during offseason (June to September) there aren't a lot of tourists in Bhutan and your food will take at least an hour to be prepared – especially meat dishes. Bhutan, in general, makes the food fresh, only once the order is placed. So the best way to deal with this is to call the restaurant ahead of time and place your order.
Personally, I didn't really enjoy the food in Bhutan since it jus seemed to be poor variations of food that I got back home. I strongly suggest that you should try the Ema Datshi though.
Things To Keep In Mind Before Visiting Bhutan
Visa & Immigration:
Bhutan is visa on arrival for Indians, Bangladeshis & Maldivians with a valid passport. You do not need a visa but you will need a passport with minimum six-month validity.
If you are entering by road from Siliguri, West Bengal into Phuentsholing – you will have to get your immigration done from the local immigration office.
Please note that the immigration office is shut on weekends and you cannot enter the rest of Bhutan and will have to remain at Phuentsholing until you get approval.
The visa office has timings with a lunch break and is open from Monday-Friday (9am – 5pm)
Travel:
There are two modes of entering Bhutan. By road through Siliguri, West Bengal or by flight to Paro, Bhutan
The gate between Bhutan and India (by road) shuts at 10 pm and you cannot go in and out of the country after that, so plan your travels accordingly.
Please note that there are limited flights from India to (Paro) Bhutan and they are relatively more expensive. You can also get your visa stamped right at the airport.
Currency:
The currency in Bhutan is Bhutanese Ngultrum and it is of the same value as the Indian rupee.
ATMs are not available everywhere (only in major cities) and Indian HDFC Debit cards do not work in Bhutan. However, the country does accept Indian currency all over.
Old 500 rupee notes are not accepted & they prefer not taking Indian coins, only notes.
Internet:
Only the bigger stores and hotels have WiFi.
You can buy a local SIM from either B-Mobile SIM or TashiCell. They are fairly well connected.
Tour Guide:
If you are Indian, travelling in groups of 4 or lesser, you will not need a tour guide. However, bigger Indian groups and all foreign nationals have to compulsorily hire a tour guide.
Tour guides are available in India and Bhutan who have valid permissions to take you across the country. We booked with Heavenly Bhutan – a Bhutanese tour guide and it was an amazing experience
You can roam within a city without your tour guide, but they have to be to around when you move between cities. There are checkposts between cities that will ask for your passports, verifications and the tour guide's authority letter.
Tour guides also help plan your itineraries and will be with you through attractions and will explain everything to you. Personally, I loved having a tour guide along and it made things really simple and easy.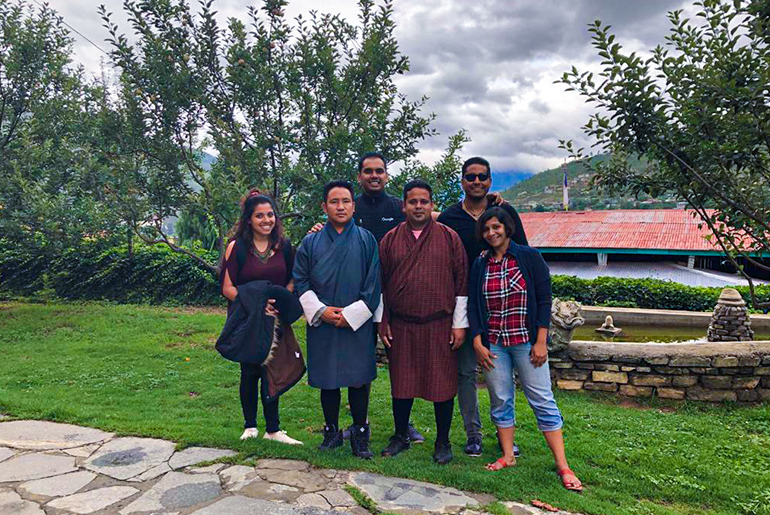 Phallic Symbols:
There are plenty of phallic symbols all over Bhutan as the Bhutanese worship it.
Things Not To Do In Bhutan
1. The people of Bhutan love and respect their king and queen above all. Each home, restaurant, shop will have a picture of the royal family. Never speak ill about the royal family to the Bhutanese.
2. You cannot smoke on the roads of Bhutan. The sale of tobacco and cigarettes is prohibited in the country. Smoking is considered extremely offensive in the country and you can only smoke in private places. Drinking is allowed.
3. You cannot smoke weed in the country and although it grows freely everywhere, you cannot smoke it. If you are caught smoking weed, you will be imprisoned for 5 years.
4. Most Dzongs (temples) will ask you to cover your arms and legs out of respect to their God.
5. You are not allowed to take pictures inside temples and they are very strict about this.
6. The Bhutanese are extremely friendly and simple people and will greet you even when they pass by you on the road. Always smile back and be polite.
7. Bargain at all the handicraft stores and you will almost always get a discount.
8. The Phallus is worshipped in Bhutan and while they understand that tourists may find this funny, they expect a certain degree of respect.
9. Lastly, the Bhutanese are extremely proud of the cleanliness and the law in their country – with good reason. Do not mock or ridicule them in their country.
10. You can hike but you cannot do mountaineering in Bhutan. Anything upto a 6,000m in considered hiking and above that, mountaineering – which is strictly forbidden and illegal.