Finding a budget-friendly restaurant with a cool vibe is always such a task. Especially when you're a student but also do not want to compromise on quality! So here we are, making your life easier and curating for you a list of the coolest restaurants in Mumbai that are all under ₹400! Insane right? Good food, great company, delicious drinks all under 400 bucks? Yes, indeed. Time to get exploring and to dig in. 
Also Read: Have You Eaten At The 16 Best Biryani Places in Mumbai?
1. Prithvi Cafe, Juhu 
Initially a cafe for theatre enthusiasts and drama students, but in today's time, you'll find college students, youngsters and literally everyone hanging out here! So much so that you'll have to battle a waiting period for up to an hour every time you visit here. Watch this for more details: 
What to try here? Well, their parathas are simply mind-blowing. The Amritsari Paratha (₹130), the Alu Paratha (₹130) or the Italian Paratha. We loved them all! Served with a side of dal makhani, and raita, these parathas are rich with butter. We also tried their Kheema Pav (₹165). Crispy butter pav is served with spicy minced mutton. If you're going for the new age menu, try out their nachos, waffles, and more. 
And you simply cannot miss on their Kadak Chai (₹24). Among beverages, go for their Sulemani Chai (₹24) if you'd like something different or go new age with Beer Bottle Chaas (₹55) which is just regular buttermilk served in a beer bottle to up the quirk factor.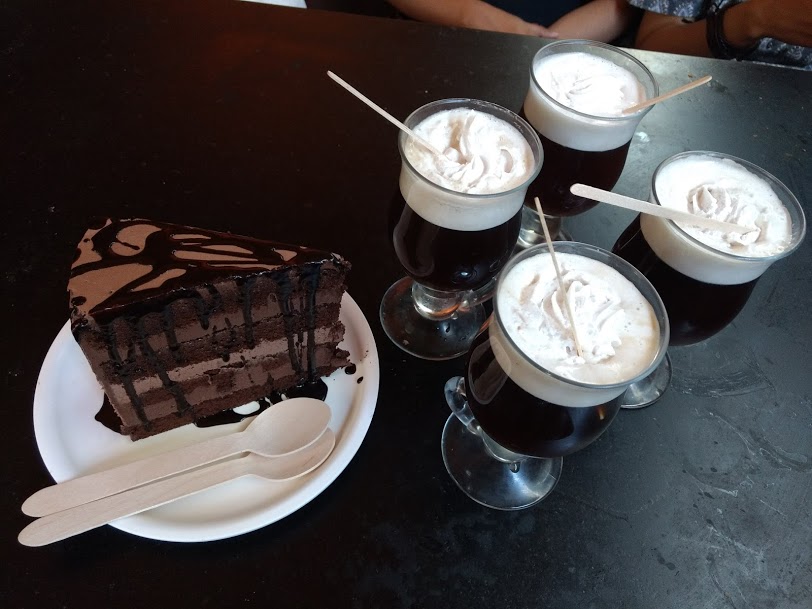 And for desserts, I recommend the famous seven-layer chocolate cake called the Chocolate Vertigo (₹130). I dare you to finish this by yourself! Pair it with the equally famous Irish coffee (₹140) and you're good to go. And the best part? You don't have to break your bank. 
Address: Prithvi Cafe, Prithvi Theatre, Janki Kutir, JuhuChurch Road, Juhu, Mumbai
Contact: 022 26174118
Avg cost for 2: ₹400
2. Raju's Malvani Mejwan, Dadar
Craving Malvani cuisine? Head to Raju's Malvani Cart in Dadar for lip-smacking seafood at dirt cheap rates. What's more? It's a delightful food truck bringing you these treats. With limited menu options, Raju's Cart still attracts a lot of customers and practically gets sold out within a couple of hours. They open at 7.30 PM in the evening and with the bustling crowd, by 9 PM, you won't find yourself a dish that's not been finger-licked by the public.
Expect fish fry, prawns fry and lip-smacking delicacies of your favourite Bangda, Rawas, sukhi kombadi, rassa dishes, seafood vade, and kokum kadis. And despite the pocket-friendly nature of the dishes, it turns into a wholesome meal for anyone who isn't looking for an unpretentious time. 
All the food is prepared from local produce of the Konkan coastline. So grab your seafood crazy friends and head here now.
Address: Raju's Malvani Cart, 1/23 Kubal Niwas, Opposite Hotel Sachin, Gokhale Road North, Dadar Shivaji Park, Mumbai
Phone:+91 9820442441, +91 9967098732
Approx cost: ₹300 for two people 
3. Ram Ashraya, Matunga 
Have a delightful South Indian breakfast with dosas, vadas and idlis at pocket-friendly rates at Mumbai's Ram Ashraya. Enjoy the taste of piping hot dosas, vadas, idlis and the iconic filter kaapi at one of Mumbai's oldest South Indian eateries. Perfect for its breakfast scenes, Ram Ashraya has been serving delights since 1944. You can eat an entire meal out here in under ₹200. Another awesome thing? There's no menu but you can check out the specials each day or listen to the server while they're announcing!
We loved the Andhra Poli, a light dosa with pudina filing and served with coconut shavings. Another yummy dish was the Medu Vada. It is crispy on the outside and pillowy-soft on the inside. If you're visiting this restaurant, you have to try the Filter Kaapi, which is the best in Mumbai.
Curly Tales tip: Want to get the most of this restaurant? It opens up at 5 am and gets crowded by 8 am. Find the sweet spot between these things to enjoy the lovely breakfast spread here. And watch this for more details:
Address: Ram Ashraya, 24, Shreeji Sadan Building, Bhandarkar Marg, Opposite Matunga Kabutar Khana, Matunga East, Mumbai, Maharashtra 400019
Phone:022 2410 2369
Approx cost:₹200 for two people
4. Kyani And Co, Marine Lines
Kyani & Co. is an old Parsi café, standing strong and firm for 113 years! Dating back to 1904, Khodram Marezaban, the founder of Kyani & Co wanted to give the people of Mumbai a taste of his local culinary delights. Kyani & Co. has a vintage feeling, with its rustic chairs and wood shelves with huge glasses that display jars of cookies and biscuits. 
Kyani & Co is famous for its bakery items – puddings, cherry custard, biscuits and cream puffs. Their royal falooda also gets a fair bit of love. However, we have our palettes yearning for their signature kheema pav and cheese omelette. 
Famous for its Irani chai (₹30) and bun maska, the café also offers the very famous Akuri and salli par eedu. Also, a wholesome Irani breakfast under ₹100 strikes a great deal with visitors. Fact: During the country's independence struggle, there were meetings held by freedom fighters at this café! Watch this for more details:
Address: Kyani and Co, JSS Road, JerMahal Estate, Opposite Metro Cinema, Marine Lines, Mumbai
Timings: 7 AM to 8:45 PM
Price: ₹400 for two people (approx.)
5. Yazdani, Fort 
When you're talking about cool, pocket-friendly restaurants, you just cannot leave Yazdani behind. Yazdani Restaurant & Bakery started in 1950 and stands tall even today! It will take you back to the serene times with no hustle-bustle of the city. Enjoy the taste of their apple pies and bread puddings at yesteryear prices. Yazdani was the only one to remain open & feed the poor during the Babri Masjid riots. 
The famous Irani chai and bun maska are unbeatable at this restaurant. We loved the Bread Pudding, loaded with butter and eggs. Try out the Apple Pie, which is baked from scratch with apples and raisins. If that's not enough, go for the mava cakes and carrot cakes at this place! Watch this for more details:
Address: Yazdani, Fountain Akbar Ally, Saint Thomas Cathedral, Fort, Mumbai
Phone: 022 2287 0739
Approx cost:₹200 for two people
6. Uncle's Kitchen, Malad
It may not be a fine dining restaurant like the others in the list, but it ranks the highest when it comes to the popularity quotient. Uncle's Kitchen is also one of the oldest restaurants in town and has been rated as 3.5/5 for its quick services and excellent food. So you know what to do when you're craving Chinese. Try the Sweet Corn Chicken soup, Crispy Chicken, Manchow soup and Chicken fried rice. 
Where: Uncle's Kitchen, Sunder Lane, St. Anne's High School, Orlem, Malad West, Mumbai
Approx cost: ₹ 300 for two
7. Pancham Pooriwala, Fort
This is perhaps the oldest restaurant in Mumbai! Cool right? They are whipping up crazy good North Indian dishes including Gujarati food at affordable prices. They are famous for Masala Poori(Rs 12 per piece), Aam Ras(Rs 65) and the very filling Pancham tha ali(Rs 180). Again, if you don't want to be stuck in long queues, be here early! Watch this for more details:
The poori bhaji which the restaurant started serving when it first opened in 1840, was 4 annas then and is 40 bucks now! So cool right? Do indulge in the filling and tasty Pancham Royal Thali which is only priced at ₹ 250! It comprises of 5 veg dishes, 4 masala puris, Kadhi, Paneer pulao, Dahi Wada and Chaas.  Whoa, that's definitely more than a mouthful! And without exorbitant prices too. 
Address:Pancham Pooriwala, 8, 10, Perin Nariman St, Borabazar Precinct, Ballard Estate, Fort, Mumbai, Maharashtra 400001
Contact: 090041 88052
Avg cost for 2: ₹200
8. Mani's Lunch Home, Matunga
Looking for a wholesome veggie thali? Look no further, Mani's lunch home in Matunga is the answer. If you're a student or an ex-student of Ruia's College then you don't need to read any further. Mani's Lunch Home is just what it says it is – a home. Head to this place for the lunch thali. Remember that avial I was talking about? Try some of it here! A must-try veggie haven that's bang on with flavours of the south.
Address: Mani's Lunch Home, 153 C, Mahskar Building, Near Ruia College, Matunga East
Approx cost for two:₹200
Contact: 022 24127188
9. Hyderabad Xpress, Oshiwara
You have not had biryani until you've had Hyderabadi Biryani. And Hyderabad Xpress gives you just that, authentic Hyderabad dum biryani flavours available in both vegetarian and non-vegetarian variants. Come get a taste of asli Hyderabadi biryani, you won't be able to go back to regular biryani after this. We recommend the vegetable biryani, Hyderabadi dum biryani, boneless chicken biryani. Don't forget to pair them all with delicious and trademark Mirch Ka Saalan. All this under ₹ 400? That's mind-blowing!
Address: Hyderabad Xpress, Near Lotus Pump, New Link Road, Oshiwara, Andheri West
Avg cost for 2: ₹350
Contact: +91 8419938333, +91 8419934333
10. Ustad's Kebabs And Chinese Center, Borivali 
This outdoor eatery in the Borivali suburbs is known for its mouthwatering and delicious street style kebabs. Along with reasonable pricing, this place attracts a lot of youngsters due to the quantity and quality which is perfectly made for those on budget and yet want to devour tender kebabs. One must definitely try the Beef seekh kebabs, Chicken Tikka kebab, Chicken Malai kebabs and the Boti kebabs available in both Chicken and Mutton.
Average Cost: ₹400 for two people
Address: Ustad's Kebabs and Chinese center Holy Cross Road, IC Colony Ext, I C Colony, Borivali West, Mumbai
Contact: +91 9819207511
Know of any more cool places in Mumbai where the food is out of the world and prices lower than ₹400? Let us know in the comments below. 
Also Read: The 21 Best Chinese Restaurants Of Mumbai