Three hours away from both Mumbai and Pune, is a small town called Tala. Like any other place in Maharashtra's Konkan region, this one too has a charming landscape, making it the perfect escape from the hustle and bustle of the city. And if you are in dire need of a getaway, then Forest Hills at Tala will disconnect you from the chaos.
Exclusive Offer For Curly Tales Followers
To ensure that you have the perfect getaway without burning a hole on your pocket, we have an exclusive offer. Book one of these dreamy spaces at Forest Hills Tala and can avail up to 25% discount. If you have any queries about your stay, please send emails to reservations@foresthillstala.com.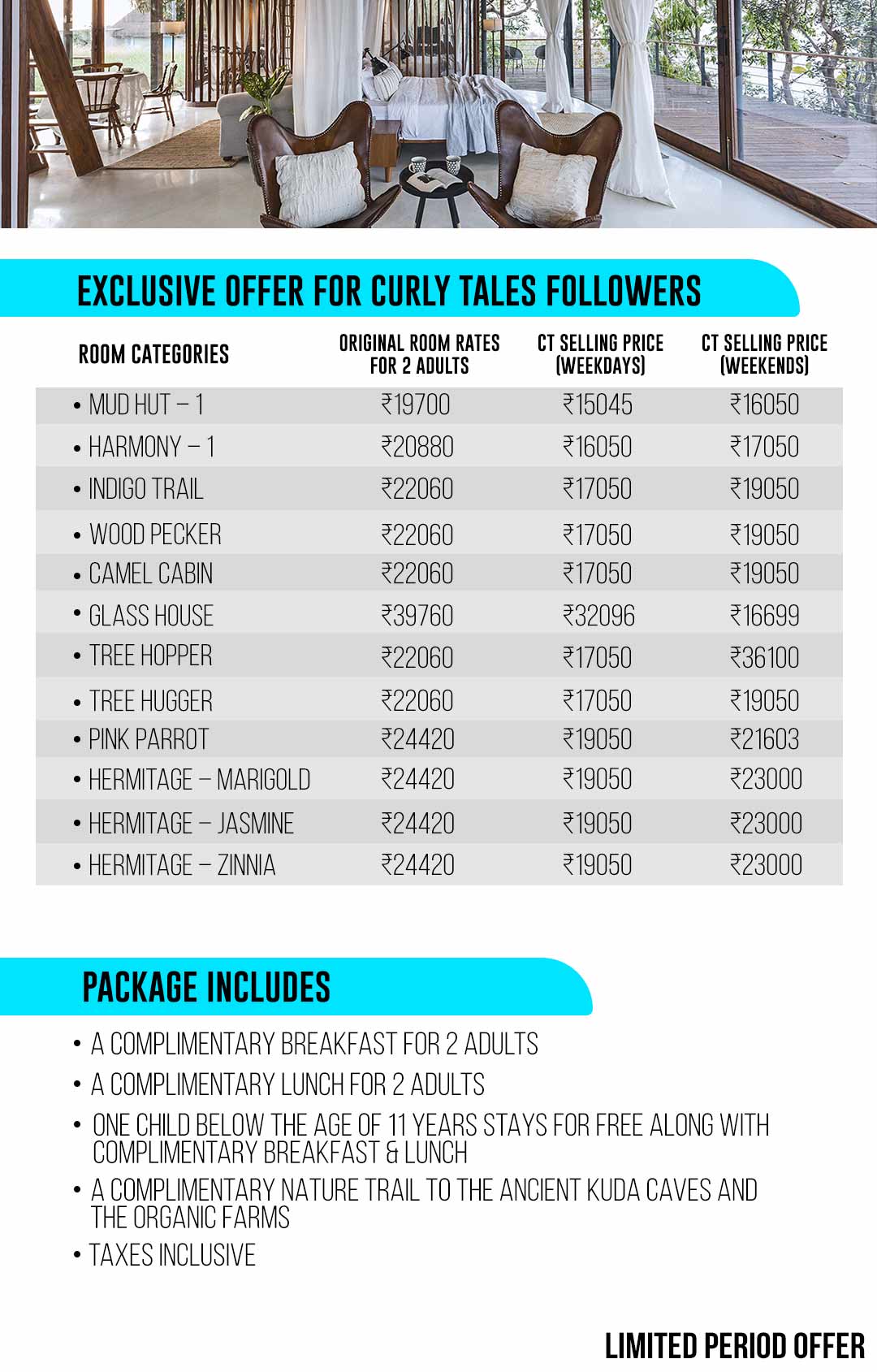 Luxury In The Lap Of Nature
Forest Hills is spread across two hillocks, making your stay a grand experience. Here you can stay in the container villas, tent houses, cabins, treehouses, glass houses and mud huts spread over nearly 250 acres. The villas are located at a distance from each other giving you all the privacy you need. Each of them feels like a spot of its own.
Mud Hut – 1
If you like rustic experiences, then the eco mud huts are just right for you. It is a clean and luxurious space that features thatched roofs.
Indigo Trail
The opulence space is adorned with blue and indigo interiors, perfectly complemented with the white roofs and walls. If you wish to spend some time in serenity, this is your place to be.
Wood Pecker
If you are a nature lover, you can stay in the wooden cabin Wood Pecker that come with an outdoor bath and private garden. The cabin offers uninterrupted views of the surrounding mountains.
Camel Cabin
The Camel Cabin boasts of a private garden and a vast lawn. The highlight of this cabin is the outdoor bathroom where the hill doubles up as a wall.
Glass House
The two-storeyed glass house overlooking the valley is the dreamiest of the lot. The glasshouse with four-adult occupancy has a spiral staircase and boasts of an outdoor bathroom and floor to ceiling windows.
Tree Hopper
The Tree Hopper is a rustic villa that sits right on the edge of the hills and offers stunning views of the landscapes outside. It sure takes 'room with a view' to the next level.
Tree Hugger
Rent out this stunning Tree House with the right amount of space and luxury. With wooden interiors, it sits right on edge, offering spectacular views of the hills.
Pink Parrot & Blue Butterfly
The two container villas called 'Pink Parrot' and 'Blue Butterfly', are as large as 1,500 and 2,000 square feet. The quirky design elements and colour burst are sure to captivate your attention. The blue butterfly has four adults occupancy.
Hermitage – Marigold, Jasmine & Zinnia
The Hermitages are elegant houses that are slightly diverse from each other. Set amid nature, they offer stunning sunset views.
Activities To Get Up Close With Nature
Away from the city, Forest Hills is where you can genuinely relax by spending your day at the infinity pool or the spa. But if you'd instead get up close with nature, then the resort offers various activities like nature walks, ATV rides, archery and riffle shooting to name a few. What's more, there are campsites on the property for nature lovers.
Farm To Table Experience
Most of the food served at this resort is grown in-house where the veggies come from their organic farm and fresh prawns are harvested in the property ponds. Forest Hills is the type of place where you would break your fast listening to birdsong while taking in the sweeping landscape. You will sip mimosas over lunch and lay beneath a starry sky on your private deck at night.
In short, Tala is that destination which will be all over your Instagram. What are you waiting for? Book your stay now!
Where: Village Taraste Taluka Tala, Mandad Raigad Mumbai, Maharashtra
Terms & Conditions
A complimentary breakfast for 4 adults. 
A complimentary lunch for 4 adults 
One child below the age of 0-5 years stays for free along with complimentary breakfast & lunch
A complimentary nature trail to the ancient Kuda caves and the organic farms