COVID-19, this pandemic has changed our lives completely by making us sit at home to keep ourselves safe. Thus, it has also left thousands of Street food vendors jobless in every state. Many of them are facing struggles everyday to survive this time financially. So to inspire you all and create awareness about their plight, we talked to some of Delhi's favorite street food vendors. Let's hear what they have to share.
Dalchand Kashyap, Mangla Chaat Wale
Most of us know about him. He is also popularly called 'Netflix man' now since he appeared on one of Netflix's show called 'Street Food'. He runs a stall of Aloo Chaat and Aloo Tikki in Mayur Vihar. Due to the lockdown, he also had to shut it for almost two months. But he resumed it last month only. Unfortunately, the sale is not even close to what it was earlier. On that note, Food Vendors Get E-Training On Hygiene And Safety Measures
Dalchand: I don't know how to even start. The condition has been so bad since months and I'm the sole earner of my family. The responsibility of everyone is on my shoulders. The days in the lockdown were not so easy to pass. It's like I have spend all the savings that I ever had during that time since there was no other option left. I have not paid any rent since three months now, luckily my landlord has been kind to me. I assured him that I'll pay as soon as the situation gets better. Also, since I've been living in Mayur Vihar for many years now, people know me. Therefore, one or two grocery stores also didn't ask for money for the essential things and ration that we bought. I'm indebted to them. But again, how long will they also stay silent, right? I'm just praying that things get better soon.
It's been a month now since I resumed the work. Earlier, a lot of people come and eat chaat at my stall every day. But now, very few people come by. We can't blame them also as the situation is such right now. People are really scared of going out and eating. It's not about making profits and savings anymore, it's just about running my house.
Kanhaiya Lal, Kulache Ke Chole Kulche
Kanhaiya Lal has been selling Chole Kulche near Kulachi School in Ashok Vihar for almost 40 years now. His father and grandfather also used to do this only. His chole kulche are quite popular in North Delhi. But his house is also run by his daily earnings through selling these. But lockdown put him into a state where he had to even sell vegetables on roads. Unfortunately, that also didn't last.
Kanhaiya Lal: When the government announced the lockdown, we had no option but to sit at home only. But it was getting difficult to survive doing nothing. So I went to Mandi, bought some vegetables and started selling them in some colonies. But it was not easy as the prices of vegetables were also on rise that time and there were existing vegetable sellers already in the market. Eventually, I resumed my chole kulche stall when government allowed us to.
Now, the situation is worse than I expected. Many people from nearby apartments and also MCD are not letting us make and sell chole kulche here. Everyday, someone or the other comes here to ask us to not put the stall here now. We have been selling since 40 years in this area now. Earlier, many school students and their families used to come and get the plates packed for their homes. But it's not like that anymore. Very few people come by. It's like now we have to wait and sit here till 6 pm and many times, we eat the leftover which has not been sold in the day.
Also read: Street Stories Ep. 6 Supermom Rajani's Inspirational Story 
Euden, Darjeeling Steamers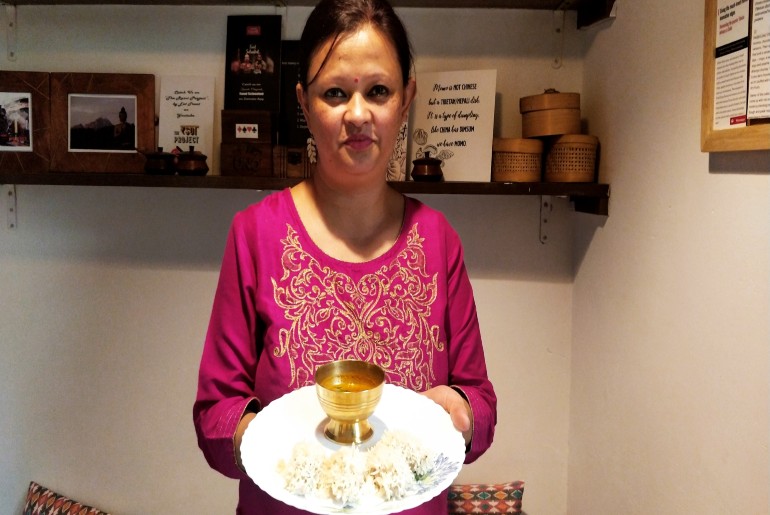 Now, let's talk about a single mother from Darjeeling, who started from setting up a momo stall in some Momo fest in Delhi, now owns a small momo restaurant named 'Darjeeling Steamers' in Shahpur Jatt. It's getting to difficult for her to survive this pandemic considering she has no savings at all.
Euden: Of course, it's getting difficult day by day. When I resumed my place again in May, I was hopeful that since the government has allowed the restaurants to open, people will again start coming. But that didn't happen. I just can't give up now. Whether people come or not, I have to open my place daily and I have to give salaries to my workers, pay rents and EMIs etc. So every day, I come with a hope that people might come or at least they order online. I am not from Delhi. I don't even have any savings left. One of the main issues that I'm facing is that the prices of almost everything has gone up now but the unfortunate part is we can't increase the prices of the dishes. What if people won't order? Already most of them are not coming in the restaurant now, if we increase the prices, there will be no hope of getting back on our feet then.
Balbir Singh, Sardarji Omelette
Another street food vendor we talked to is Sardarji Omelette wale from Pragati Maidan. He is around 77 year old now and he lives alone in Delhi. He runs a small stall near Pragati Maidan metro station where he sells egg omelettes, half fry, etc. But now, he has lost all hopes.
Balbir Singh: I don't have any son or relative. Everyone passed away. I'm on own now. I make eggs on the roadside and sell them to get my everyday meal. I can't even tell how the last few months have been for me. It's like I've left everything on Waheguru. He will take care of me now. I started putting my stall again few weeks back, but no one came to eat there. But to set up the stall, I had to buy breads, eggs and everything. So it was more like a loss than any profit. I did the same for like one week and then I lost all the hopes. So now I'm waiting and praying for things to get better soon. As for the survival, there are one or two NGOs that sometimes come by and help me.
Also read: Airlines, Hotels And Restaurants To Now Get 'Global Safety Stamps' To Ensure Tourists' Safety
Maintaining Hygiene At All times
Dalchand also told us that he along with many street vendors in Delhi got trained by FSSAI and NASVI to keep maintaining hygiene practices before starting to function again. The organisations taught them on how to keep things clean, wear masks and gloves at all times while working. They also suggested to cook the food properly and serve hot dishes only for some time.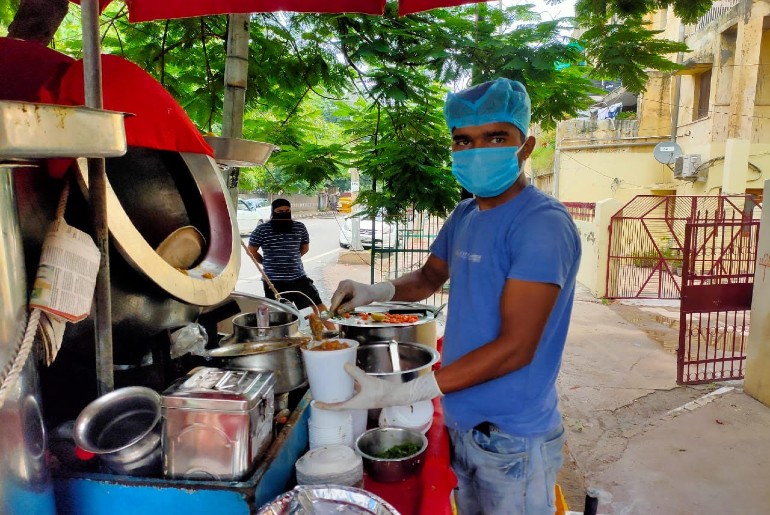 Also read: Try Kachori-Chole at Fateh Ki Kachori In Delhi
While Kanhaiya Lal and Euden are also trying their best to maintain social distancing while at work. They are also sanitising everything around, giving their workers new masks and gloves every day. They also said that the expenses have increased a lot as they have to spend a good amount on the sanitizers, disinfectants, masks, gloves etc, which is also added to the daily expenses now. But again, it's about the safety of their customers and of course themselves. They don't want to take any risk in doing their business. For them, the safety and trust of their customers are of utmost importance.
One thing that we really admire about our street vendors is that they never fail to inspire us, no matter what the situation is like. They always come out stronger than before. Even in this tough time, they are not giving up and in fact, trying to do their best to serve their families and the society as well. And as a citizen, we should also do something for these people. If we cannot go out and eat food outside right now, we should do something or the other to help such street food vendors. It's time to stand together and help each other to overcome this pandemic.