With magnificent mountains, cascading waterfalls, splendid monasteries, gorgeous glacial lakes and dramatic roads, Sikkim stands unparalleled when it comes to scenic excellence. There are many zig-zag roads in the high expanses of Sikkim, which are literally above the clouds. But there's a lot more to this Eastern Himalayan state than its natural beauty. Not only is it the first organic state of India, but it also serves a cuisine that can have every foodie bowled over. The culinary affair of Sikkim is an experience in itself. Here are 6 delicacies you can't miss trying out the next time you're in Sikkim:
1. Shaphaley
Shaphaley is an extremely crispy snack with chicken, pork, beef or other meat stuffing inside. It is deep-fried and dished out along with tangy chutney. Shaphaleys are either semi-circular or circular in shape. If you put up at a local homestay in Sikkim, they will definitely have this dish on their menu.
2. Tibetian Thukpa
The noodle soup had originated in eastern Tibet and is now a very popular dish in the Himalayan region of Sikkim and Darjeeling. Loaded with oodles of vegetables, boiled chicken, pork, etc., thukpa is lightweight, healthy and delicious. It can make a comfortable and wholesome breakfast.
3. Momos
Momos are popular all over India. But momos in Sikkim are softer and fluffier than the usual momos we get in the metropolitan cities. They have a slightly different flavour too and that's delicious.  Their veg, chicken and pork stuffings are blended beautifully with the hilly spices, giving a twist to our taste buds.  And the soup, either vegetable soup or chicken stew is to die for. I Explored Gangtok To Rinchenpong In Sikkim In 5 Days & Here's How I Did It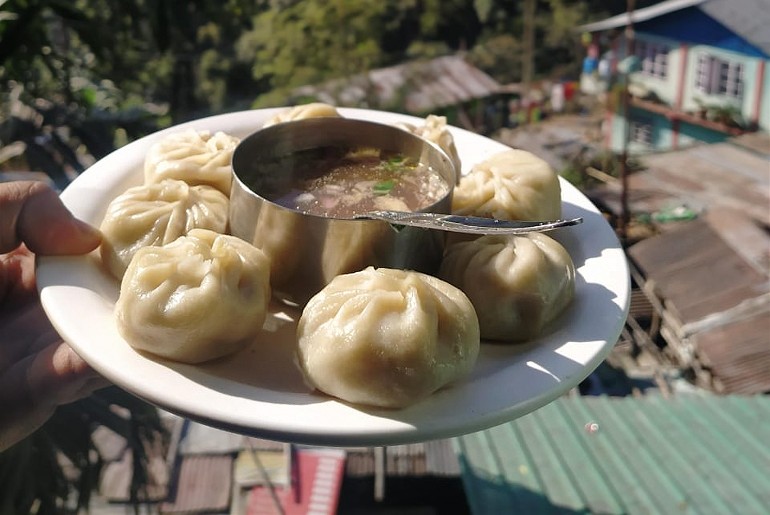 Also Read: World's Highest Dosa Point Is Located At 14000 Feet Near Sikkim's Gurudongmar Lake
4. Sel Rotis
This homemade delight is basically ring-shaped rice bread. It is moderately sweet and is usually prepared on special occasions like Dakshin and Tihar in Sikkim, Darjeeling and Nepal. To make the delicacy, the locals mix the rice dough with milk, ghee, cardamom, cloves, cooking oil and more. Sel rotis taste magnificent with piping-hot tea.
5. Coffee With Brandy
What do you think about this combination? It is sold at the snow-covered Zero Point of North Sikkim, perched at a height of around 15,3000 feet. Well, honestly, the concoction of coffee and brandy can taste very sharp on the taste buds. Those who have got a love for the strongest of boozes might simply love it. It helps to keep the body warm in the stone-cold weather of Zero Point. Although it's a drink, it deserves a mention in the list.
View this post on Instagram
6. Churpees
Churned out of yak's or cow's milk, churpee is the traditional cheese of Sikkim. They come in either hard and soft versions. Churpees are sometimes there in momo and shaphaley stuffings. India's First Glass Skywalk Is Perched High Above The Mountains In Sikkim's Pelling
Also Read: I Stayed At This Homestay In Lachung Perched At 12,000 Ft That Isn't Traceable On The Internet
Pro Tip: When you visit Darjeeling and Sikkim, don't forget to try out the chow mein from the local shops. They taste way different from the ones served in the regular shops of the cities. They are lightweight and at the same time, a different kind of spicy, and the combination will definitely win your heart.