Upto 140 Characters:
Jimi's Burgers creates the meanest, 7-inch burgers that have to be titled to be eaten!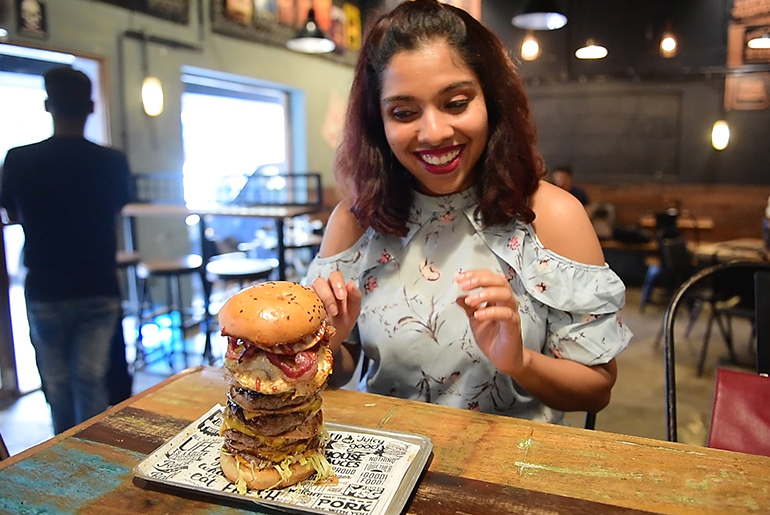 A Sneak Peek:
Jimi started selling burgers with a small cart in Sangli. With very little money to start open a restaurant in Mumbai, he started selling burgers in his hometown on a pushcart for Rs. 60 each. Jimi is now a proud owner of three outlets of Jimi's Burgers at Andheri, Malad & Vashi respectively. He is also the lead singer of a metal band (yes, the man can cook + sing) and is immensely passionate about eating burgers. With this in mind, the interiors of the restaurant with their grunge and metal feel, make complete sense.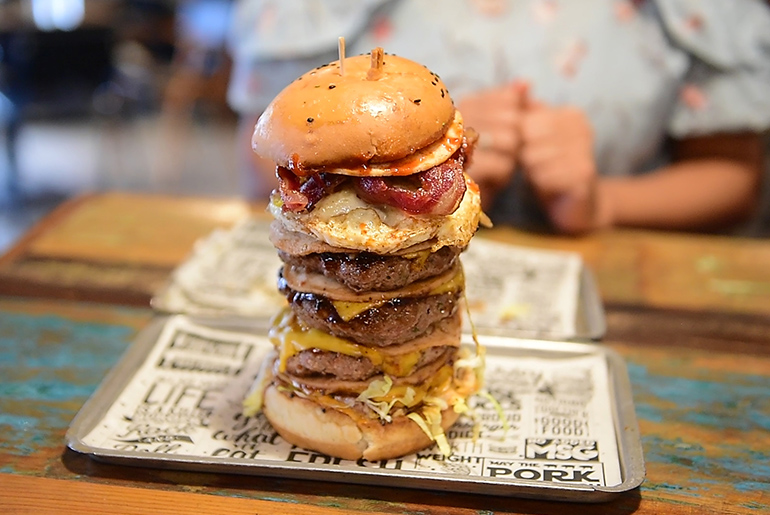 What Is It?
This now-popular burger joint in Mumbai prides itself on its Jaw Breaker burgers. With 7-inches of patties (count a good three to four of them), cheese and vegetables, you'll be wondering where to start from. You can order these in variations of chicken, pork or tenderloin!
Other than the 4 patties that a single Jaw Breaker burger constitutes, it also comes in with strips of juicy bacon, a friend egg (extra points for gooeyness) and lettuce leaves (probably the only healthy things in here). If you're not a meat-eater, Jimi's also has some fantastic vegetable burgers and cheese burgers to foodgasm on.
But HERE's the real deal: you cannot eat the burger as is. The servers at Jimi's tilt your burger for you to eat it! If you aren't a big eater, we suggest you bring a gang of homies to do this burger-beauty justice. And if you're someone with a no-sharing-food policy, the Jaw Breaker burgers are your meant to be.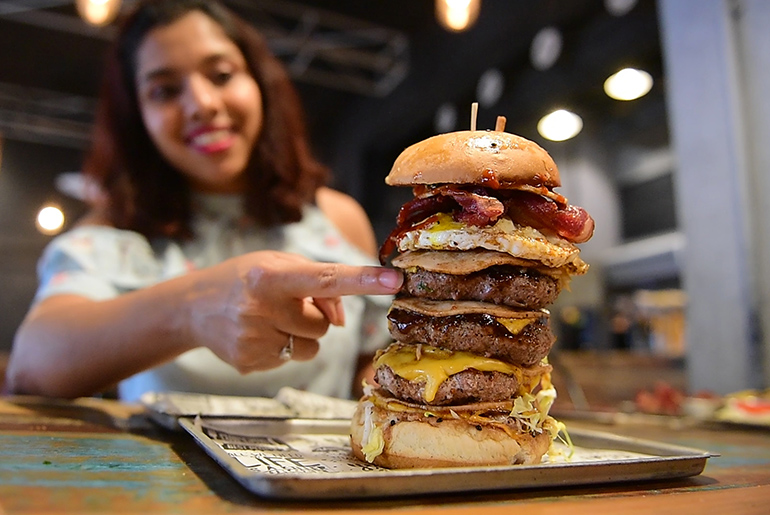 There's another interesting fact to the big-burger deal. You can either call in for a full burger or you can ask for a deconstructed version. The latter allows you to layer up your burger just the way you'd want it!
What Else?
For the perfect sides (other than fries, of course) Jimi's Burgers also prides on their killer Mozzarella Cheese Sticks. Enjoy pulling hot, fried goodies that stretch with cheesy goodness. They also make some delish Jalapeno Poppers, perfect if you are a neat sort of an eater.
Deets:
Address – (Andheri Outlet): Jimi's Burgers, B2, Shree Siddhivinayak Plaza, Off New Link Road, Veera Desai Industrial Estate, Andheri West, Mumbai, Maharashtra 400053
Address – (Malad Outlet): Jimi's Burgers, leasant Park, 13-14, Off, New Link Rd, Opp. Movie Time Cinema, Evershine Nagar, Malad West, Mumbai, Maharashtra 400064
Address – (Vashi Outlet): Jimi's Burgers, Shop 25, Ground Floor, Satara Plaza, Palm Beach Rd, Phase 2, Sector 19D, Vashi, Navi Mumbai, Maharashtra 400703
Price: Approx INR 700/- for 2
Contact: 077384 27090 (Andheri), 088794 85752 (Malad), 099305 00381 (Vashi)