It becomes difficult to find a restaurant serving authentic food at its best in UAE. But a spot situated in the entrancing maze of JLT is stealing the show nowadays. Mythos Kouzina & Grill has become people's favorite for Greek Cuisine. The traditional flavors of this dining place has been sweeping of its customers. Fame has been endowing Mythos Kouzina & Grill with every passing day as they deliver the authenticity they promise.
What Makes It Different From Other Greek Spots In Town?
Mythos claims to offer the most professional service and a comforting ambiance. Its white-washed walls and cave-like texture provide unmatched homely vibes. The simple white interiors make it feel like Greece away from Greece. The food is the star of the show. Traditional Greek food enthusiasts will be able to close their eyes and enjoy the flavors of Greece with each bite.
View this post on Instagram
As the season of celebration arrives, Mythos will also serve a seasonal menu from December 15 to January 1. Make your tastebuds go frenzy with their Greeks' favorite Christmas desserts, melomakarona, and kourabiedes, for Dhs80 for 0.5kg or Dhs160 for 1kg.
Also Read: Stunning New Terrace Opens At Dubai's Burj Khalifa
What Are The Delicacies To Enjoy?
Mythos Kouzina & Grill has done justice to their customers by providing meals for both vegetarians and Carnivores. Warm Horta (wild greens, confit potatoes, Cretan staka, garlic, tomato, and dill), grilled spanakopita (spinach, feta, fine herbs, greek yogurt, and thyme honey), and poikilia are standouts (artisanal pork cold cuts, Greek cheeses, tomato, cucumber, olives, and fried peppers).
For Veggie Lovers, stuffed tomatoes and red peppers with rice and herbs and baked with feta – the gastronomic equivalent of a night on the couch with a blanket. The oven-baked feta is decadent, but the tart tomatoes cut through the richness for a well-balanced mealThe tzatziki is unrivaled in town. Creamy, garlicky, and completely tempting — you'll soon be heaping dollop after dollop on the boiling hot freshly made bread.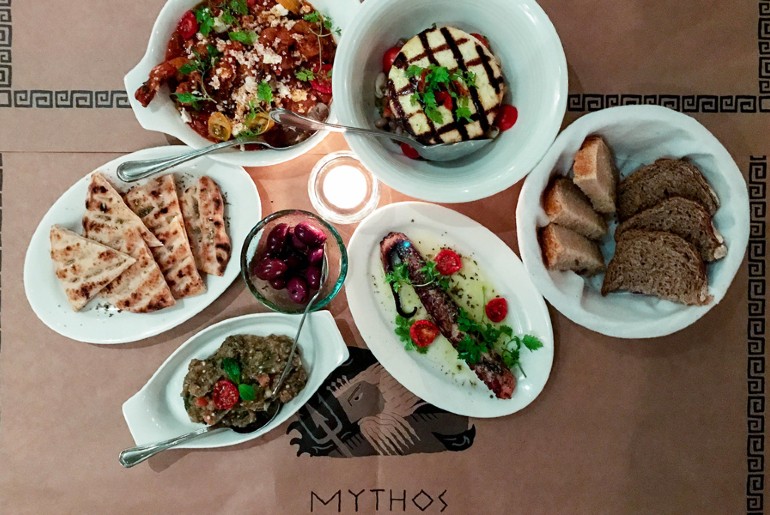 The season's standout dish is a hefty feast called Beef Stifado, which has short ribs braised overnight and served with caramelized shallot onions on carob toast. The lamb chops, in particular, are nicely grilled for that appropriate smokey flavor and the burgers are properly seasoned.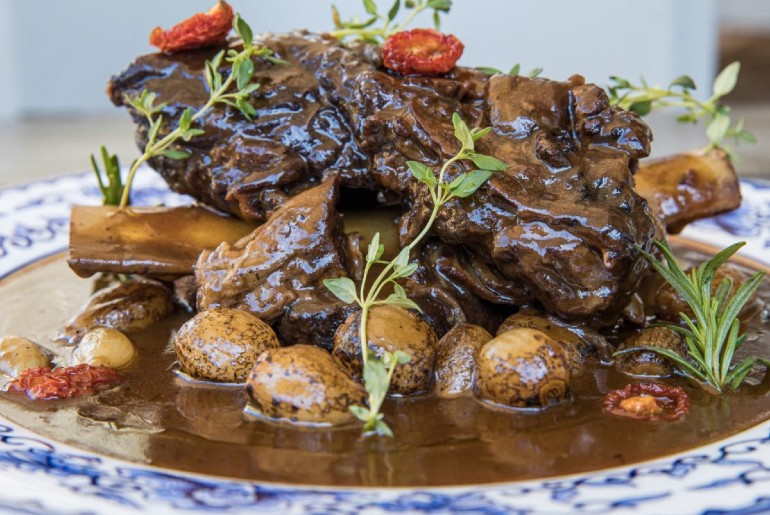 How to Reach There?
Lunch is served from 12.30 pm to 4 pm (or 5 pm on weekends) at Mythos Kouzina & Grill, Cluster P, Jumeirah Lakes Towers, while supper is served from 6 pm to 12.15 am.
Also read: This Greek Styled Restaurant In Dubai Has A Delicious New Menu!