Are you a Burgerholic and love burger outings? Well, how about going unconventional with your burgers? There is no dearth of inventions and fusions in Dubai's food scene and the trend has made its way into the humble burgers too. From the Asian fused burger to the cheesy-gooey grilled sandwich+ burger combo- there are a plethora of burgers in town. So here we bring you our list of top the 10 unconventional burgers in Dubai. Dig in!
Meanwhile, here are 10 Best Takeaway Restaurants In Dubai For 2020.
1. Cheese Injection, Beach Buns
One of the very recent burger joints in the city, Beach Buns is located at Atlantis the Palm. This place is a haven for cheese lovers, and is definitely not to be missed! As the name says it, cheese, cheese & more cheese is all that this burger has. The signature burger is made of a massive beef patty, topped with generous amount of cheese, Cheetos and caramelized onions. And when its served, the burger comes with a syringe of molten cheddar cheese sauce, which you get to syringe in just before taking the big bite. Cheesy enough, right? On that note, check out these 10 New Luxury Hotels Opening In Dubai In 2020. 
Location: Atlantis, The Palm
Contact: 04 426 2000
2. The Beast Burger, Burger & Lobster
If you love burger and lobster, this is where you can eat both in one go. The 10 oz beef burger is topped with meat, brie, tarragon mayo, fennel, Chinese cabbage and of course lobster. The burger is served with a side of fries. The 'Beast burger' is priced at AED 177. Meanwhile, have you tried these DIY Gourmet Kits In Dubai?
Location: DIFC, Dubai
Contact: 04 514 8838
Cost: AED 177
3. Monster Burger, Wingsters
If you're feeling brave and are ready to stomach a LOT of cheese and patties, Wingsters has something you'll love. The nine-stack buffalo chicken monster burger weighs about 1.8kgs. Now, that's quite a meal, right? The patties are made with fresh chicken, topped with Wingster's signature buffalo and ranch sauces. The burger is then finished with a generous serving of cheddar cheese. Gooey enough and clearly not for the faint-hearted!
Location: Marina Diamond 1, Dubai Marina & Business Bay
Cost: AED 150 for two
Contact: 04 427 9900
4. The Gold Burger, Hard Rock Cafe
Dubai's always hot and happening place- The Hard Rock Café has a unique burger in its menu. The 24-Karat Gold Leaf Steak Burger is topped with a fine layer of edible gold. Its 227g fresh steak patty is served with cheddar cheese, red onion, and pure gold! A golden burger for Dubai's golden rockstars- this one is a must-try for the unconventional lovers for AED 135. On that note, here are 5 extravagant desserts you must try in Dubai. 
Location: Hard Rock Café, Dubai Festival City
Cost: AED 370 for two
Contact: 04 526 0347
5. The Sandwich Burger, Blaze Burgers
Blaze Burgers serve some of the best burgers in town. Trust Blaze Burgers to serve your burger with a messy twist- combine burger with a cheesy grilled sandwich. 6abooja Burger it is for you! Two Angus Beef Patties side locked with grilled burgers, here is the definition of a unique burger all for AED 72.
Location The Walk, JBR
Cost: AED 190 for two
Contact: 800 25293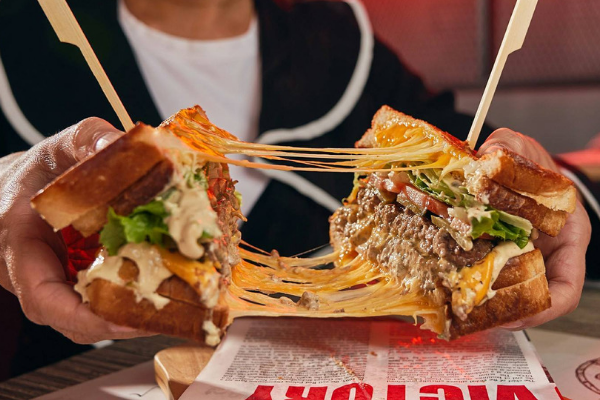 6. The Chocolate Burger, Tum Tum Asia
Is that a burger? Or is that a desert? It is the Chocolate Burger from Tum Tum Asia for AED 35. Picture a hot chocolate cookie bread filled with marshmallows and chocolate slice, drizzled with hot chocolate lava and powdered sugar- and you have your chocolate burger. A truly unique variation to your burger, isn't it? Meanwhile, here are other chocolate desserts you must try in Dubai. 
Location: Tum Tum Asia, Oud Metha
Cost: AED 140 for two
Contact: 04 526 9028
7. Mighty Burger At Mighty Quinn's
This one's different from all the other burgers in a way that it's got beef brisket and slaw. The burger consists of with Angus beef patty, sliced beef brisket and slaw, packed inside lightly toasted potato bun. The loaded carb meal is served with a side of fries. Good enough if you're looking ways to pep up a long, boring day!
Location: The Walk, JBR, Dubai
Contact: 04 380 1888
Cost: AED 85
8. Rice Burger At Yakitate
Wish to take the Asian Burger twist a notch higher? Try Yakitate's Japanese-styled rice burgers. The burgers come in a host of variations -Salmon Teriyaki (AED 37), Chicken Teriyaki (AED 35) and the Shrimp Dynamite (AED 35). This is the best bet if you're hunting down some really unconventionally done rice burgers.
Location: Yakitate, Al Rigga
Contact: 04 526 9085
Cost: AED 125 for two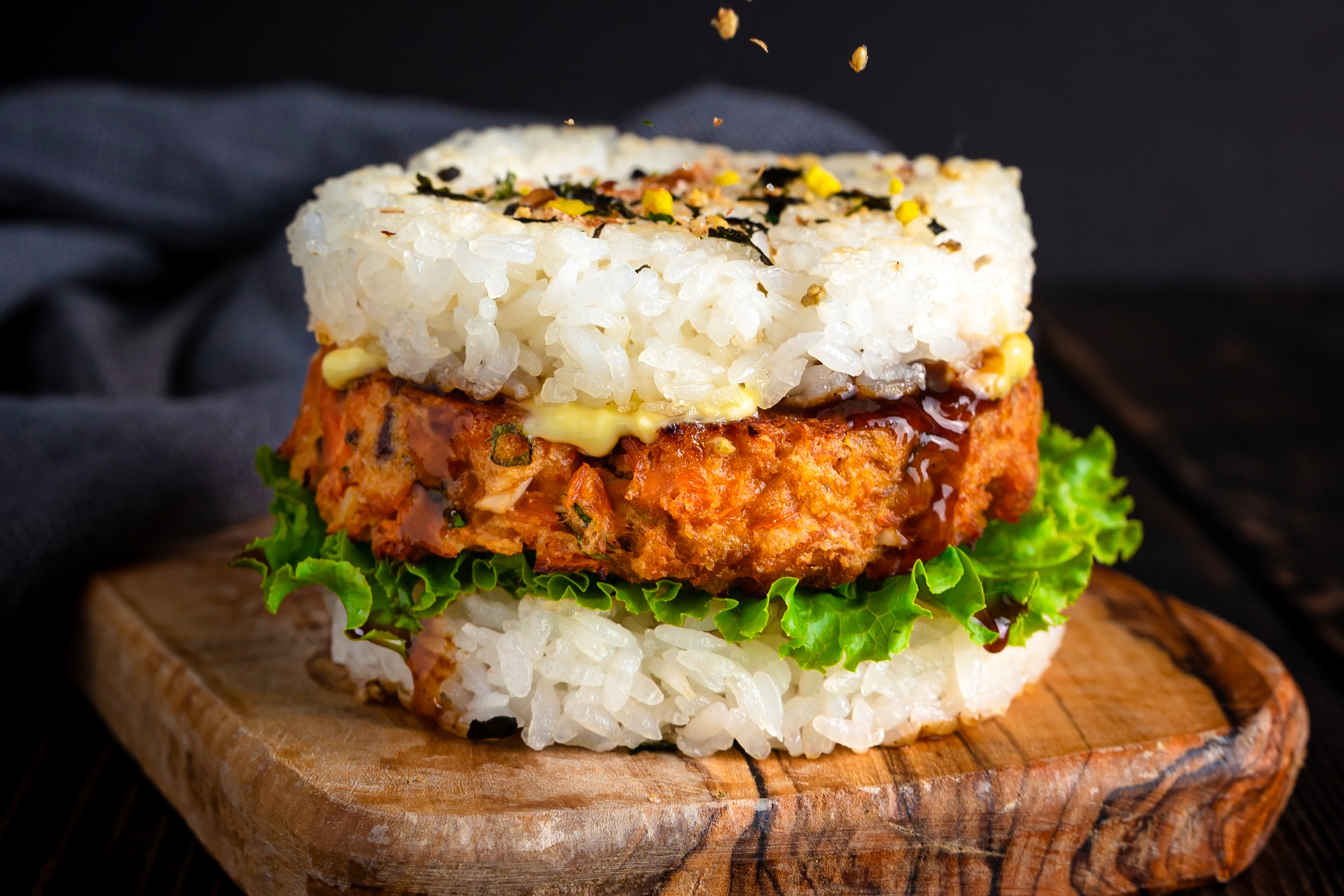 9. Ramen Burger At Atisuto
Bored of the Brioches and regular buns sandwiching your burgers? How about Ramen Burgers? Pan-fried Ramen Noodles serve as the perfect alternative to the regular buns making these unique. Pick your style of the patty- Beef or Chicken, and enjoy these delicious burgers with an Asian twist. Three of these slider burgers will cost you AED 53. So head to Atisuto and try out this unconventional goody!
Location: Atisuto, Galleria Mall
Contact: 04 343 6303
Cost: AED 53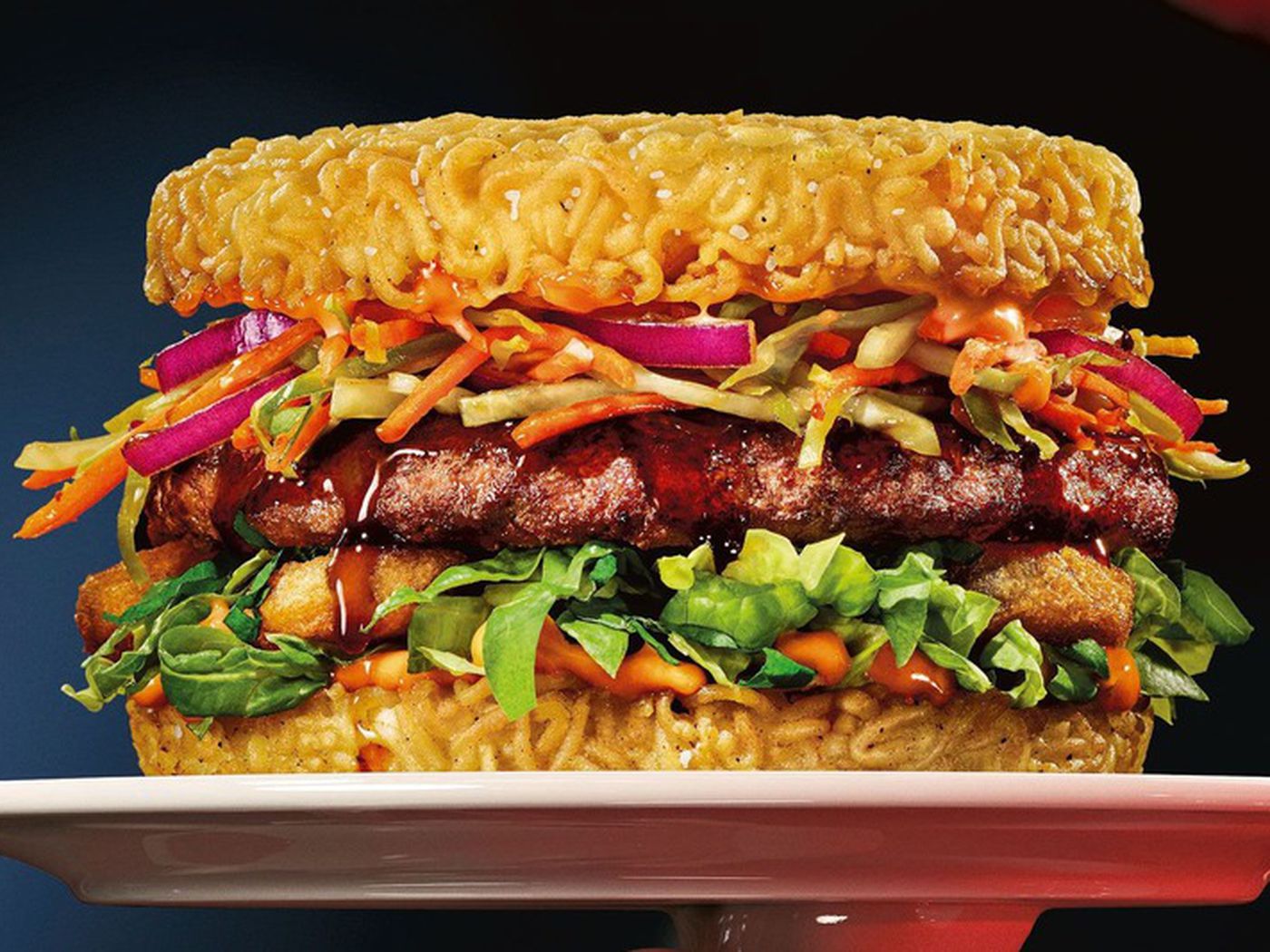 10. Rainbow Sliders At Sugar Factory
Burgers just got a 'colourful' makeover, thanks to the Sugar Factory. Gorge on delicious pink, yellow and blue Rainbow Sliders at the Sugar Factory and you sure are going to come back asking for more! Whipping up colourful burgers in between all things sweet, Sugar Factory stands out for its Rainbow Sliders. If Grilled Angus beef in between colorful mini burgers, sounds like your kind of go-to food, then you're going to go back asking for more! The Rainbow Sliders are loaded with an Angus beef patty, American cheese, on toasted colourful mini burgers, served with lettuce tomato and a house special sauce.
Location: First Floor, Dubai Festival City Mall, Festival Boulevard Road, Dubai Festival City
Contact: 04 2843456
Cost: AED 280 for two