Under 140 Characters
The vastness of the Universe is undetermined. The vastness of Dubai is just as hard to fathom. Curly Tales explored Dubai in all its glory. Read on to know more.
Watch The High Rises From The Sea
Dubai always boasts of its man-made islands and the beautiful view all the high rises offer. But here's a completely new perspective – take in the view of the high rises from the waters of the Persian Gulf. Well, yes I am talking about a blast through the water on your high-velocity speedboat or a laid-back luxurious yacht.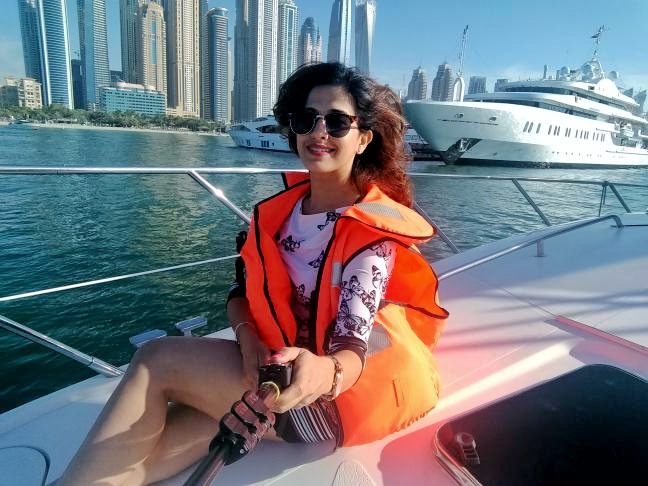 Experience the sunset and marvel at the stunning Burj Al Arab, The Palm Jumeirah and the Atlantis Hotel from the water. I am sure the views will make you feel like you just don't want to come back.
As you cruise through the waters with the wind in your hair, you can't help but marvel at the man-made spectacles all around you. It's an experience of a lifetime and makes for great photo opportunities.

About The High Rises
The largest city of UAE, Dubai houses around 911 completed high-rises, out of which 88 buildings are taller than 180 metres. To put it in perspective – that's 590 feet. If you think that's shocking, Dubai is also home to the the tallest man-made structure of any kind in the world – the Burj Khalifa. It has 163 floors and a height of 828 metres or 2,716 feet.
Now imagine yourself on top of these buildings, isn't the view just breath taking? We know it is and that's why we usually imagine a Dubai trip to give us an experience of heights and tall structures. Oh! and lots of shopping. How about jumping off one of these buildings?
Adventure lovers, watch this video and you know what? You can do this too in Dubai. The Dream Jump.
Where: Unit 9, Lower Ground Retail, Marina Level, | Dubai Marina Yacht Club, Street H, District 4, Dubai Marina, Dubai 126012, United Arab Emirates
When: 06:00 – 03:00
Duration: 75 minutes – 90 minutes
How Much: Starts from AED 350
So which one would you like to explore? The view from the top or the view looking to the top?
Dubai's High Rises In A Minute | Curly Tales

Hope you guys had a great LONG weekend! Well, yes we did too. We have lots of tales to tell from Rameshwaram. But before we get to that, watch the high rises of Dubai from the sea #InAMinute with Dimple Jhangiani & Kamiya Jani VermaRead more here – http://curlytales.com/dubais-high-rises/

Curly Tales यांनी वर पोस्ट केले सोमवार, १७ एप्रिल, २०१७
LIKE Curly Tales on Facebook | Instagram | Twitter
You can also subscribe to our newsletters.