There's never a wrong time to bite into a toasties right? And there's never too much cheese! So, if you're a sucker for toasties, just like us, Jones the Grocer has some mouth-watering toasties in a special limited-edition menu. The new toastie menu is now at all locations. This time around foodies can tuck into five tantalising toasties, accompanied by gourmet 'loaded fries'. Read on for more info. across all stores and for delivery from its partner channels.
What's On The Toastie Menu?
Each toastie is made with house-baked 'made from scratch' bread layered with artisan cheese from their cheese rooms, gorgeous chutneys from their gourmet grocery and lovely fresh produce all grilled to perfection and served with homemade pickles.
Forget about Salt Bae, this time it's all about the Gruyere and Salt Beef Toastie at Jones the Grocer. Featuring melted Gruyere cheese and salt beef, this toastie is topped with deli style mustard, mayonnaise and pickles sandwiched between two butter-grilled slices of freshly baked sourdough.
Cheese lovers can binge on the Quatro Fromaggi toastie. This one's got delicious fig and pomegranate jam, baby spinach, red onion and beef bacon accompanied by melted mozzarella, gruyere, sapphire blue, and brie – cheeses oozing with flavour, packed in a house-baked white loaf.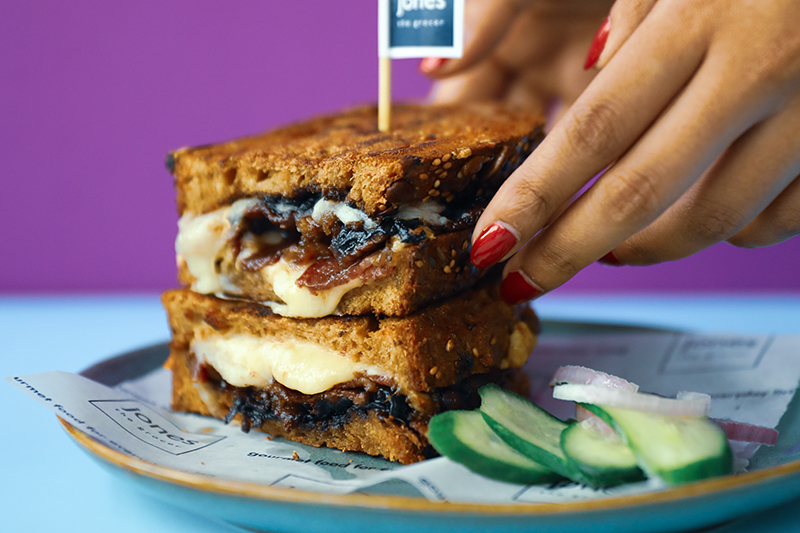 If cheese-lovers thought life was twice as good with the Quatro Fromaggi then the Bacon Triple Cheese Toastie just scored a hattrick. Emmental, goat and cheddar cheese are combined for a decadent surprise, complimented by seriously slow-cooked balsamic onions, smoked beef bacon and deli mustard in house-baked multigrain.
There's something for spice lovers too! The moreish Mexi Toastie is sure to spice up your life. There's guacamole, smoked cheddar, chili chicken, sweetcorn, jalapenos, nachos, and green chili salsa in a house-baked white loaf.
HALLOU – is it MI you're looking for? If you're answer is yes, then indulge in the Halloumi and Chorizo Toastie topped with chickpea shakshuka, beef chorizo, baby spinach and perfectly grilled halloumi between Jones the Grocer's house-baked multigrain.
Last but not the least, vegetarians can enjoy the much-loved Bombay Chili Cheese Toastie. If fried egg, green chili salsa, crispy fried shallots, cheddar, and fresh coriander in between house-baked multigrain sounds like a little bit of you, then this toastie has your name all over it.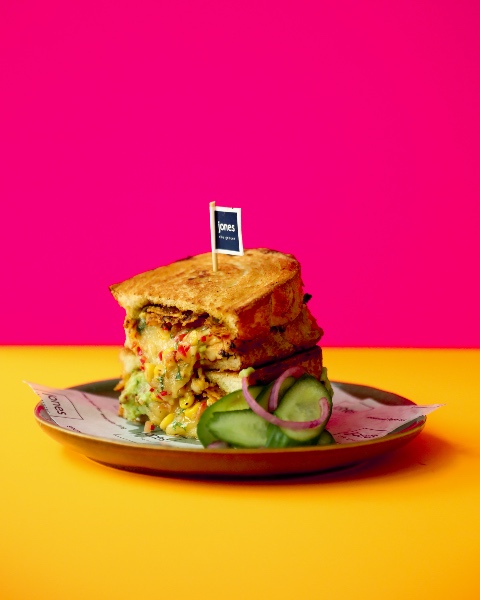 What's On The Loaded Fries Menu?
If you love loaded fries (who doesn't?) then load 'em up on their own or with a toastie. The Patatas Bravas, Jones the Grocer's take on this Spanish favourite, is all about crispy, fluffy roasted potatoes, rosemary, and garlic oil, topped with homemade peri-peri sauce, garlic mayo, cucumber shavings and Sakura cress.
And because the Bombay Chilli Toastie felt homesick the Jones chefs came up with Delhi Fries – thick cut fries, tossed in tandoori masala, drizzled with mint chutney, tamarind, fresh coriander, and fried chilli.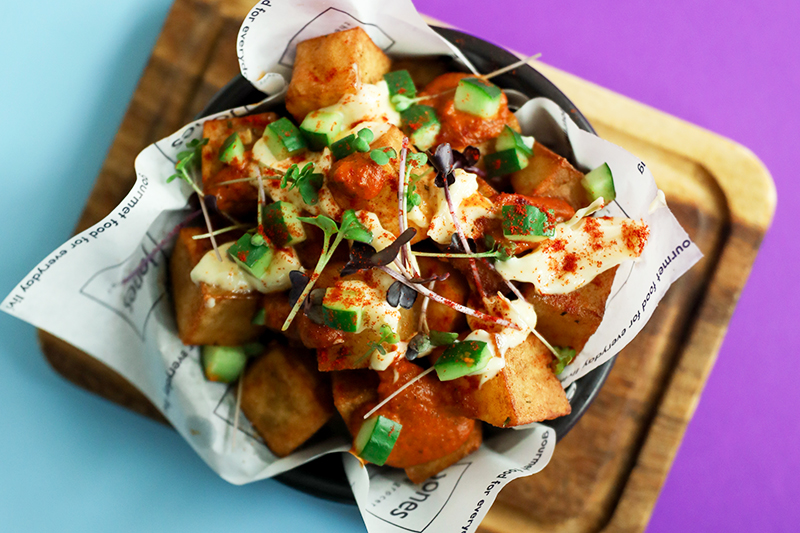 Last, but not least, their glorious Halloumi Fries are a  contemporary take  on loaded fries. Farm fresh halloumi tossed in a homemade za'atar spice mix and fried until golden brown, served with flavourful harissa yoghurt, mint and lemon.
Breakfast, lunch, dinner or indulgence in between, Jones the Grocer's toasties and loaded fries are a sure shot taste sensation packed with fantastic cheese, chutneys, meats and relishes from their grocery. The limited-edition menu grills are available at all locations until 4 September 2021.