Under 140 Characters
With its narrow alleys, stellar graffiti and Indo-Portuguese-Anglo-Colonial heritage, Ranwar Village is truly something else.
What Is It?
Originally a part of the 24 pakhadis (villages) that made up Bandra, earliest records of Ranwar date back to 1716. Since then a lot has changed, Ranwar has come to become a quaint, heritage and artsy district of Bandra. The walls and streets are well decked up with graffiti. The Bollywood Art Project (B.A.P.) is one of the better known art initiatives here that attracts a whole lotta curious eyes. Alleys here are also home to some great artsy cafes and independent businesses, the whole district has a very "can-do", indie vibe to it.
Also read: This Expert Reflexology Spa In Bandra Has Visually Impaired Masseurs
Explorers and travelers flock to appreciate the contrast between the neighboring concrete jungle and Ranwar's small houses. It's a sheer joy to get lost in the narrow lanes here, with houses over a 100 years old, and cultural heritage far older. It does a good job at giving a good picture of what old Bandra was like, and imaginative Art enthusiasts may find Ranwar to be a Pandora's box of inspiration. Just like Bob Dylan found inspiration in the New York City village, dare we say that the next Mumbai virtuoso might come out of these streets.
Also read: Bandra Gets A New Café Hideout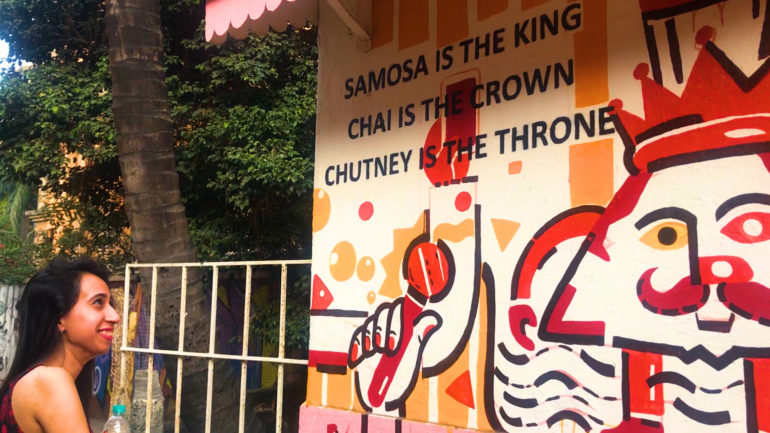 Deets
You'll find Ranwar village spread out between Hill Rd and Mt Carmel Rd.  Chapel Rd, Waroda Rd and Veronica Rd are significant to keep in mind, around which all the art work and cafes are juxtaposed in smaller alleys.
You may also wish to take a guided walk tour of Ranwar, click here for details
                                                                    LIKE Curly Tales on Facebook | Instagram| Twitter
                                                             You can also subscribe to our newsletters