When I think of travelling, I can feel the glimmer in my eyes, the pounding of my heart and the happiness in my soul. That is the passion I have for travelling. And this very passion for traveling connected me to my travel partner, my husband. Together we took our vows to take on this journey of life, travelling together, exploring the unexplored and expressing our travel stories to the rest of the world through our very own travel startup, Travelories.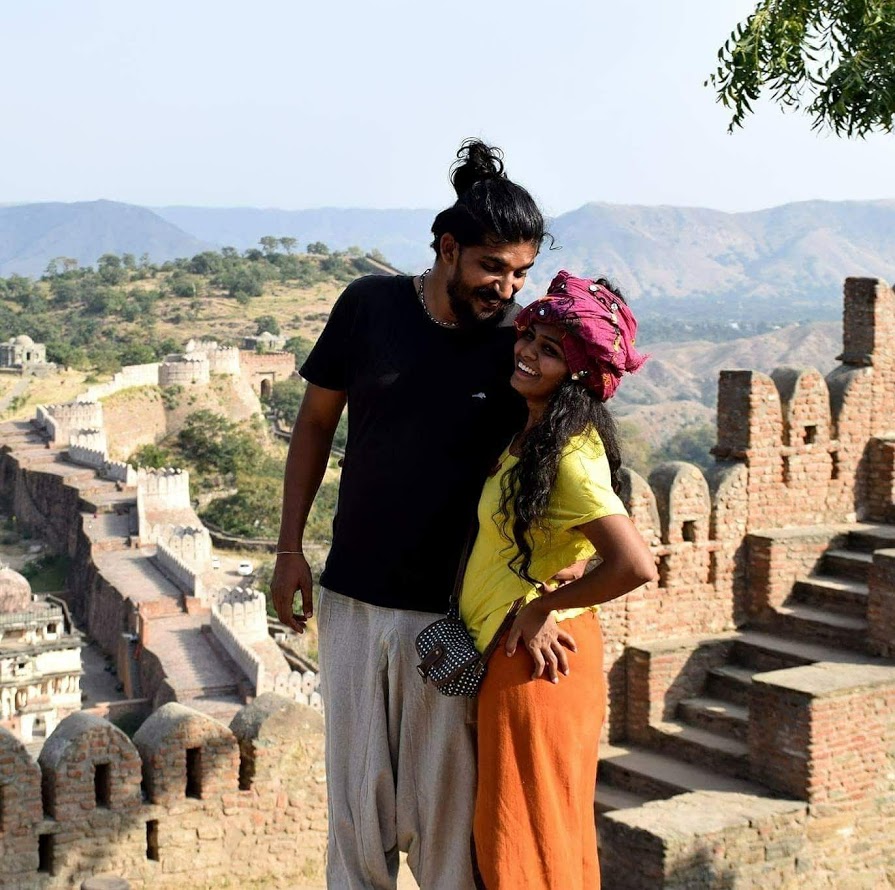 Hello! I'm Chandana
I am Chandana Rao, a graphic designer with a vivid imagination from Bangalore. My tryst with travelling began at a young age. My grandfather was a part of the Indian army and he would narrate his incredible travel stories to me. I was inspired by his stories and my little mind would store those travel stories in the form of imaginations and replay those, to live them in my own way.
As a person belonging to a lower-middle-class family, I did not have many opportunities to travel around India or even abroad with my family. But I did go on little trips around my home state, Karnataka. I had only one dream- to earn enough money so I could travel around the world, and live those imaginary stories that my grandfather narrated to me. Someday maybe his stories could be my own. 
When I first started working in Bangalore in corporate communication in a 9 to 5 job, I decided it was high time I take baby steps to work towards my travel desires. I saved money, took few leaves and went for solo travel trips to Kerala and Tamil Nadu.
Inspired by the books given to me by my mother, I was curious about backpacking and going on an adventurous travel spree. From lack of research, unavailability of budget hotels to difficulty in the provision of pure vegetarian food, I stumbled along the way and learned my lessons from my travel experiences, while enjoying my moments to the fullest. 
How I Met My Travel Partner, Urf Life Partner Sunil
I first came across Sunil through mutual friends on a social networking site. He was a full-time traveller, who quit his job and had a travel page. He along with his best friend Arpan did travel shows together. For a travel freak like me, I liked following his travel page on Facebook.
His wanderlust posts on his page encouraged me to take a break from my busy life, and go for a solo trip to the UNESCO World Heritage Site, Hampi. In May 2016, I finally went to Hampi for my solo trip, and I met Sunil at the Hospet bus stop. Coincidentally, he was also doing his solo trip in Hampi. 
Also Read: Hampi Ranked 2nd On New York Times List Of Places To Go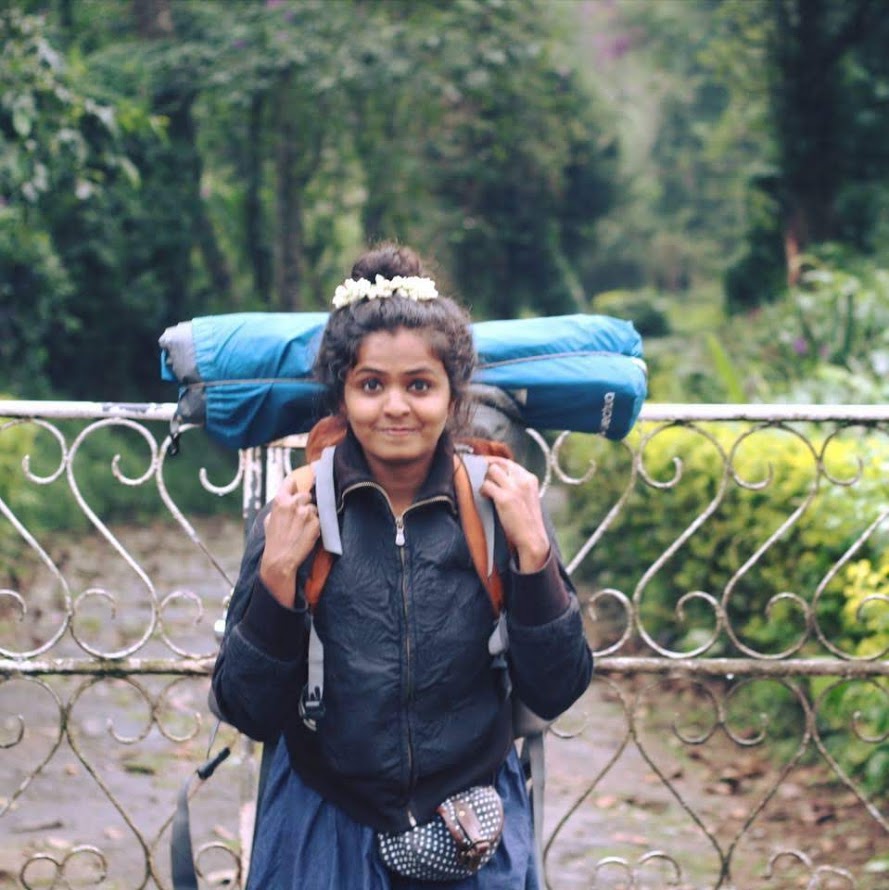 So when we met each other for the first time in Hampi, little did we know that this was going to be the beginning of a life long travel adventure in togetherness.  As two spontaneous travellers, going on a solo trip on a shoestring budget, we had one major thing in common, our love for travel.
At that time I was awestruck by Sunil's dedication and passion for travelling. Sunil had visited Hampi earlier, so I learned a lot from him during my trip to Hampi. We shared our travel stories, discussed the places on our bucket list and our approach to travel and life.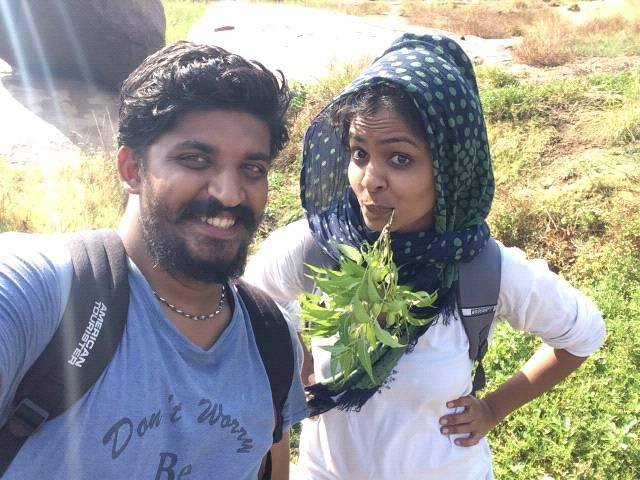 One of our fond memories in Hampi was when a group of monkeys attacked my bag when we were sitting on the Matunga Hill. I was trying to shoo them away with a large coconut leaf while Sunil was admiring the craziness in me. He still calls me 'Jungli'. And like they say, travel is a beautiful way to get to know someone intimately. That trip to Hampi changed our lives. We both knew that we felt strongly for one another and this would be the start of something beautiful.
Our Travel Trips Together
My Hampi trip made me realise 2 things- One that I really had fond feelings for Sunil. And two that I was getting frustrated in my job and the traveller in me yearned to drop everything and explore the world. So in November 2016, I finally got the motivation and courage to quit my job and pursue full time travelling like Sunil.
It was difficult to convince my parents initially that Sunil and I, an unmarried couple were planning to go for travel trips together. But since my parents knew Sunil (liked him too) and they understood my passion for travelling, they were happy for us.
I remember them telling me that belonging to a lower-middle-class family they didn't have the means to take me for National and International trips, so now that I have the opportunity, they encouraged me to go for it. So with our parents' blessings, our tents, backpacks and shoestring budgets we decided to strengthen our relationship by travelling together.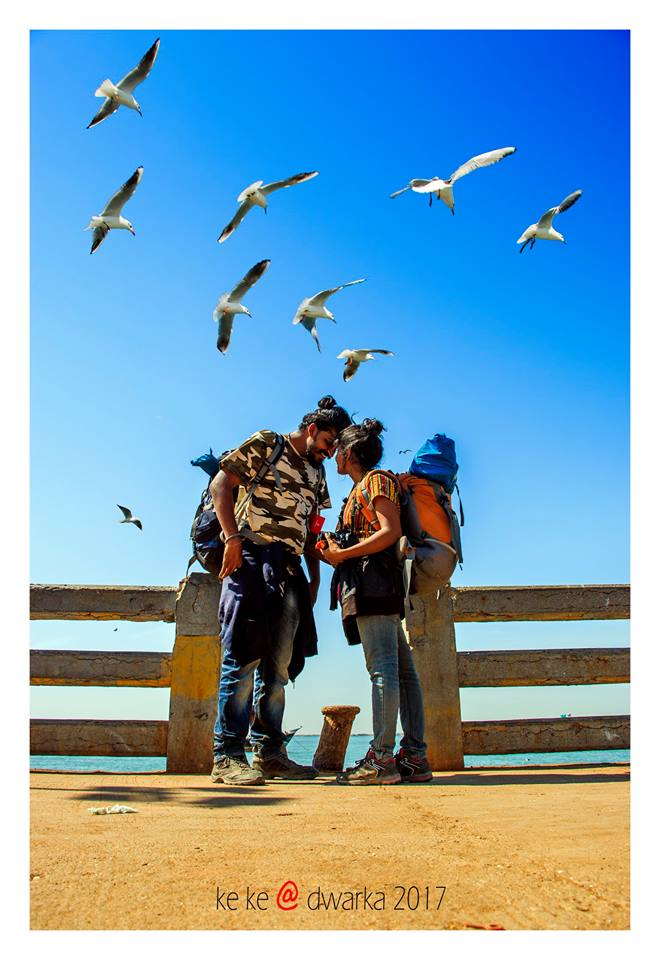 I remember my first international trip to Cambodia with Sunil, which was one of the most significant trips in my life. I had earlier visited Sri Ranganatha Swamy Temple in Tamil Nadu, where I was under the presumption that it was the largest temple in the world, only to be corrected by someone that it was just the largest temple in India. Since that day I made my mind to one day visit the largest temple in the world, that is Angkor Wat in Cambodia.
So when I finally went on my first international trip to Cambodia with Sunil, the beauty and divinity of Angkor Wat took my breath away. Located on a site measuring 162.2 hectares, this majestic temple dedicated to Lord Vishnu, has an unexplainable spiritual aura around it,  Sunil and I even wore our Indian attire when we went to pay our reverences to the Lord at Angkor Wat. The excitement in me just spiralled along during my trip to Cambodia. From then on.. there was no stopping us.
Also Read: The 48-Hours BUDGET FRIENDLY Guide To Cambodia
We went on many crazy adventure trip together like Gujarat for 12 days in Rs. 4906( which includes to and fro commute from Bangalore) and Rajasthan for 15 days in Rs. 7200 ( including to and fro travel from Bangalore). We realised how compatible we were as travel partners and life partners.
We were extremely flexible and spontaneous. From hitch-hiking to go to Rann of Kutch from Bhuj to camping in tents in Dwarka, befriending locals around the globe to sleeping in hostels and railway stations, we were backpackers to the core. Of course like all couples we had our own travel tussles regarding which places to visit and how to plan trips, but we did reach our middle grounds eventually.
Also Read: 6 Romantic Getaways In India
I vividly remember the time when we had gone to Varanasi and I had Bhang for the first time. This vegetarian, non-smoking, non-alcoholic me actually had Bhang for the first time. And in that state of mind, I first confessed to Sunil that I loved him, not once, not twice but more than 150 times. Let's just say that the 'Shiv Ka Prasad' just brought us closer. So as a travelling couple we truly realised it through our own experiences, that travelling just made our bond stronger and helped us get to know each other better. 
Also Read: Marijuana Is Now Legal In Varanasi

We Got Married In Total Traveller Style
On 17th April 2019, we got married in a shoestring budget of less than Rs. 1 lakh, just like our budget backpacking trips. We didn't want a lavish wedding. As fellow travellers, we wanted to walk the talk and focus on budget living and budget travelling through a simple yet memorable wedding. So we got married in Bhoga Nandeeshwara Temple, a magnificent heritage temple, which reminded us of Hampi, located at the base of the Nandi Hills, in the Chikkaballapur district of Karnataka.
What drew us to this temple was the fact that it reminded us of the architecture of Hampi, the place where we first met and fell in love. The idol of Lord Shiva with Goddess Parvati sitting on his lap was truly beautiful and unique. And knowing that we would take the first step towards our marital life in the presence of the ultimate Hindu divine couple, Shiva and Parvati was a beautiful feeling. This ancient temple built over 2 dynasties was a perfect location for our marriage.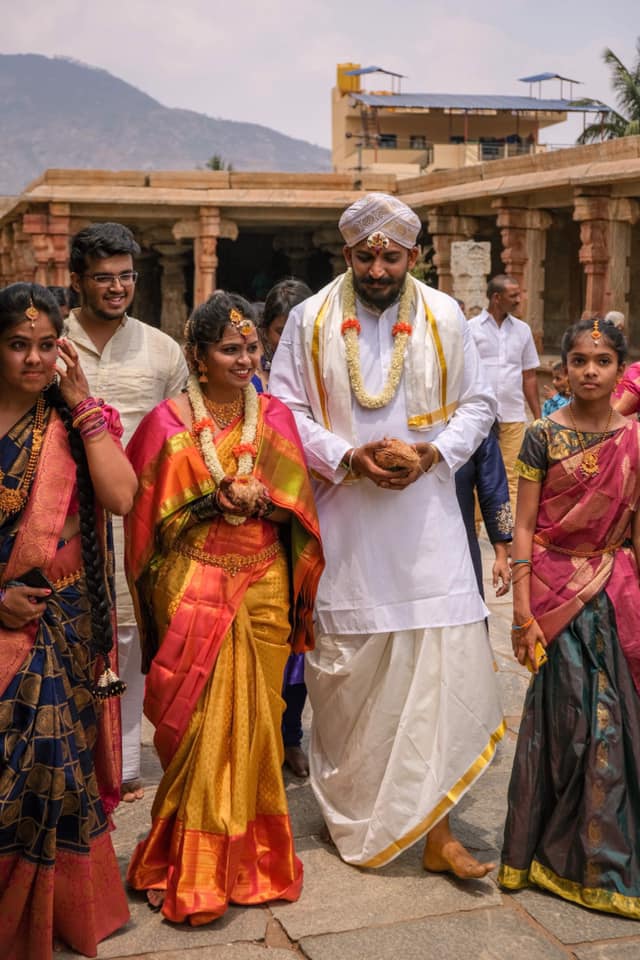 To make our wedding even more special and personal, my friend Manya designed our wedding cards giving it a travel spin. We wanted to add a significant aspect of our love for travel in our wedding invitations. We suggested our friend design it in a manner so that we could post it to invite our travel friends from across the world to attend our wedding.
Our friends from Australia, USA and Punjab all came for our wedding with their warmth and good wishes. And every single one of our friends and families loved the divinity of the Bhoga Nandeeshwara Temple, the creativity of our wedding cards and the simplicity of our wedding. It was a beautiful, memorable experience for us, that we were so happy to share with our loved ones. With our special wedding, we created yet another special story.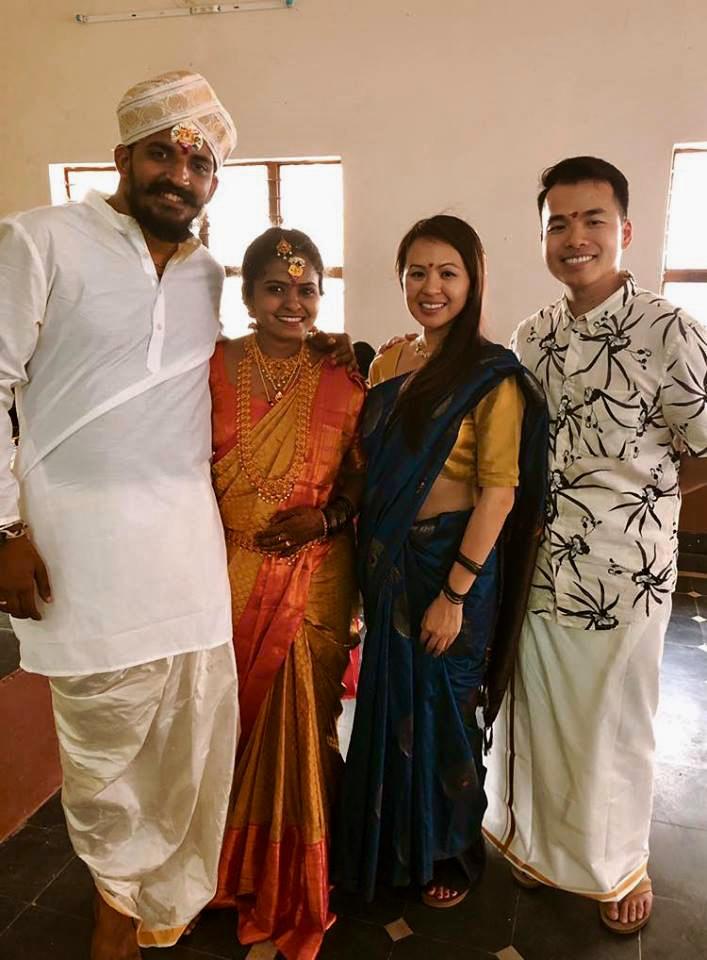 Travelories- Our Special Travel Stories
Lories is one of the first stories that we have all grown up hearing. So Travelories is our Travel Startup to share our travel stories and provide a platform for people to share their incredible travel stories with the world. Through our travel community, we wish to share our travel experiences and knowledge be it budget travel, pitching a tent in the right manner,  backpacking and also learn from others' experiences.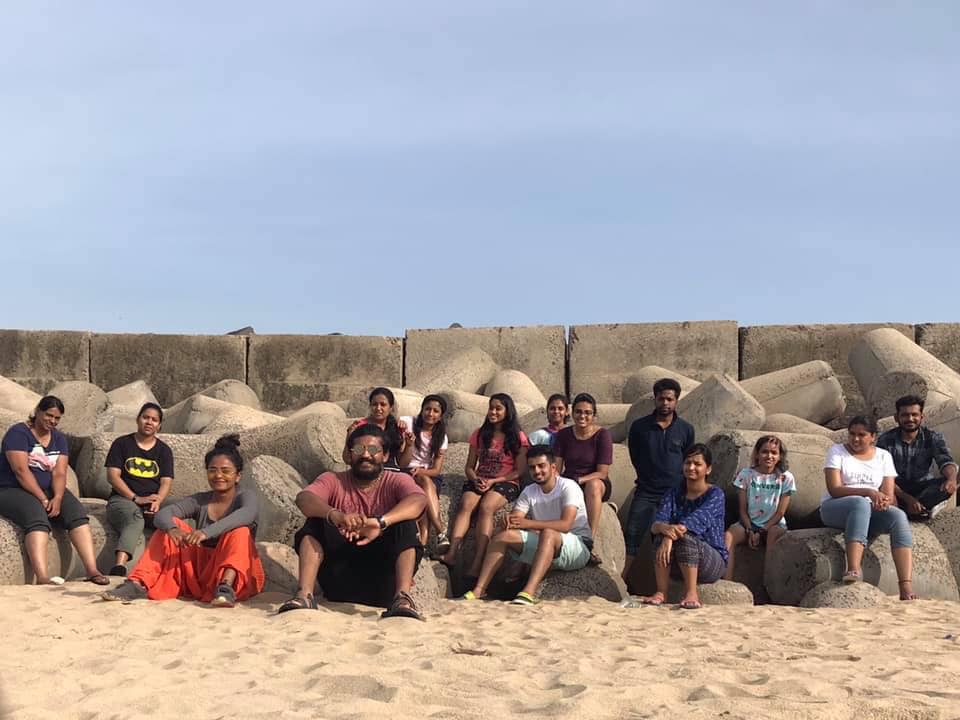 We recently started organizing backpacking trips. In July 2019, we had our first trip with a group of 13 travellers to Pondicherry. We organized a clean drive at one of the beaches there, where we beautifully painted glass bottles which were littered at the beach.
Moreover, we are excited to organize many more trips with avid travellers like us at Travelories, to inspire people to backpack and travel responsibly. And that's not all, we would like to provide a platform where we would sponsor one woman traveller coming from a humble background to travel abroad with us.  We believe in travelling and supporting fellow travellers along the way.
Message To Fellow Travelers
As a woman myself, when I was getting married, I encountered people who told me that once I got married, I couldn't travel or enjoy my freedom anymore. But I would like to break this myth today, that getting married to Sunil, a passionate traveller like me, has been one of the best things to happen in my life. We do travel in spite of our hectic schedules and tight budgets, but the only difference is, we now travel as a married couple. Right after marriage, I went on a solo trip to Sri Lanka, which was my first international solo trip, and I had the time of my life there. 
Also Read: Indian Nationals To Get Free Visa On Arrival In Sri Lanka
So marriage is not the end of travelling, it's rather adding a fresh perspective to your passion.  For every couple out there who go for coffee dates at the local cafes, we definitely recommend you to go travelling together, to strengthen your relationship. And a small budget should never get in the way. After all, where there is a will, there is a way.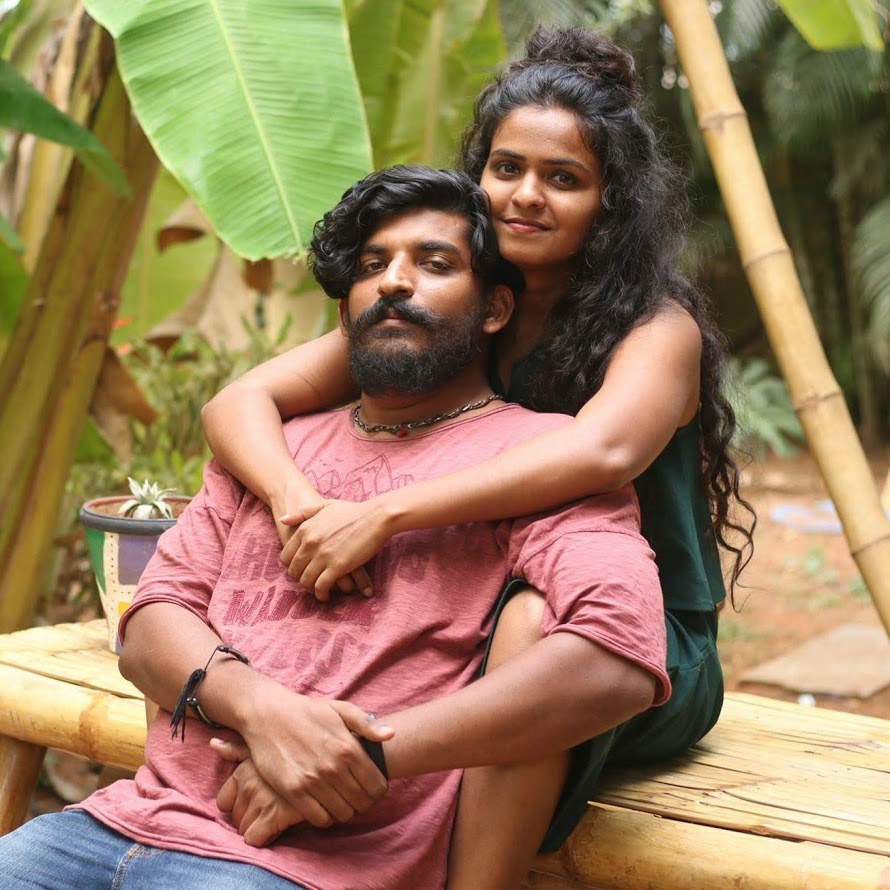 Sunil and I believe that through Travelories we want to spread the travel virus. The travel virus is a unique kind of virus that consumes you, affects you, but never damages you. Through Travelories we wish to spread the travel virus so you travel, explore the unexplored and connect to your soul. And who knows you might find your travel partner or life partner along the way, just like how we found each other.
To know more about Travelories click here for Instagram or here for Facebook
This article was contributed to Curly Tales by Travelories. If you wish to contribute an article, please drop an email to hey@curlytales.com