Its no news that Dubai is high on street foods! But what might be new is the new additions to the list of Indian street foods in Dubai. So, if you're missing home or want to savour something different, we've found spots in the city that will make you want to go back. From crispy golden masala dosas to spicy frankies and fruity ice golas that let you beat the summer heat the list has a little something for all foodies. Its time to head on a dubai street food tour.
1. All Things Chaat
If there's one place in Dubai that's dedicated to veg street food in Dubai, it's got to be Meena Bazaar. The bazaar is a mixed bag- offering a little bit from every cuisine to satiate hungry shoppers. Pani puri lovers, head to Rangoli to get your fix. The eatery has been dishing out the best chats since 1991 & sells over 100 plates of pani puri in a day.
The Farsian Cafeteria is most famous for Aloo Vada, served with mint chutney and salad. The cafeteria was started by Mr. Farhad from Iran in 1980 who began selling samosa, falafel & potato vada/tikki. 
The dahi vada at Chaat station and the disco sandwich at Palace restaurant are other options that will satiate your street food craving.
Where: Shop 16, Ground Floor, Mabrooka Building, Beside Reem Furnishings, Al Karama
Timings: 8am – 11pm
Cost: AED 50 for two
Contact: 04 3968810
2. Crispy Golden Dosas
There's nothing more satisfying than crispy, golden dosas served with a glass of authentic filter coffee, right? Veg World in Meena Bazaar does this and more, to impress all dosa-lovers. Steer away from the regular masala dosas and try a quirky new dosa at this petite eatery. From palak dosa to Schezwan spring dosa, and paneer dosa, there's a whole list you can pick from. Opt for Ghee roast, masala dosa, or the Paper sada dosa if you want something authentic.
Where: Near Dolphin Hotel, Al Hisn Street, Meena Bazaar
Timings: 9am – 12midnight
Cost: AED 100 for two
Contact: 04 3517070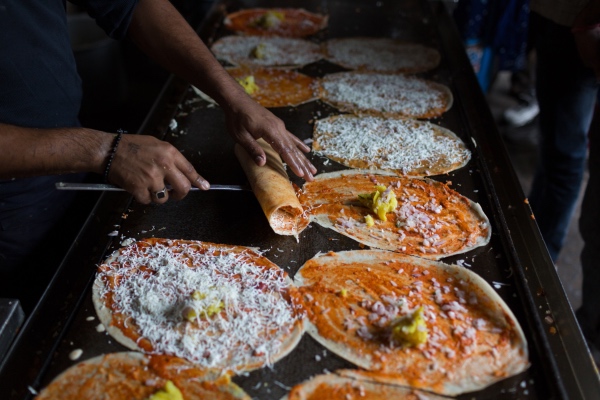 Also Read: Pak Liyari Dishes Out The Best Biryanis In Dubai
3. Steamy Hot Jalebis
Ever visited Naif street on a Friday morning? If you're nodding, then chances are you know the hero of this area! Imdad's crispy, sugar-soaked jalebis make its appearance only on Friday mornings and they're gone even before you can realize. Clad in a simple white shirt, a white skull cap, hiding his bald head and an infectious smile under his peppered goatee, Chacha would endlessly treat worshippers heading to the Bohri masjid to the orange-coloured sugar fritters.
Where: Opposite Bohri Masjid, Street 16, Naif
Timings: 12noon – 11:30pm
Cost: AED 40 for two
Contact: 04 2733177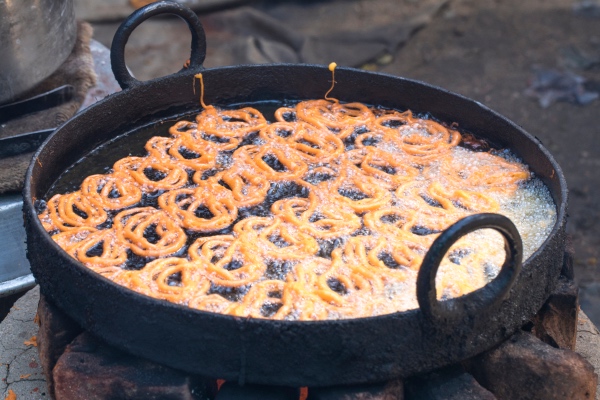 Also Read: This Cafe In Meena Bazaar Serves Sandwiches For AED 3
4. Baraf Ka Gola
If there's one thing you need to beat the heat this summer, it's definitely these ice golas! Ice golas are popular in several eateries in the city, but we found a new, hideout which sells the yummiest baraf ka golas- just like the ones you spot in Mumbai gullies. Ask anyone residing in Karama and they will tell you what a household name Elco is. Once you're here, we would say its perfectly okay to skip the main course and dive straight into the ice golas.
We tried the rose, mango and Kala Khatta (a sweet/salt mix of gola, sprinkled with chaat masala & lemon juice), and boy they emerged as clear winners. The crushed ice lolly is made with chunks of crushed ice, which is then drenched in fruity toppings of your choice. Sounds 'cool' right?
5. Frankeez At Midnight Cafe
A friendly, neighbourhood good food café, midnight cafe is happy to curb your midnight hunger. The menu has a range of pizzas, sandwiches, hot dogs, burgers and salads, but we couldn't resist their frankeez. The cafe offers a range of vegetarian and non-vegetarian frankeez, Meat lovers try the magical or the beef blast while vegetarian can binge on the Jugalbandhi- a cheesy mix of paneer and potato.
Where: Shop 7, Wasl Aqua Building, Street 39, Near Fish Market, Al Karama
Timings: 11am – 12midnight
Cost: AED 100 for two
Contact: 04 3967899