Can there be anything more satiating than a tall glass of good, old chocolate milkshake? Well, even if there is, we don't wish to know (:P). All you die-hard chocolate fans out there, we've got some lip-smacking news for you! International Chocolate Milkshake Day is around the corner and that's just another reason to enjoy this all-time favourite drink, a little more. Sunday 12 September marks International Chocolate Milkshake Day and Dubai's famous 50's themed restaurant- SAUCE, is giving away something special. Read on to find out! 
Sip On A FREE Chocolate Milkshake When You Visit Sauce This September
Shake your tail feather and celebrate International Chocolate Milkshake Day (Sunday 12 September) in 1950's retro vintage style. Head down to SAUCE and be transported to the 50's and get a chocolate milkshake on the house, on 11 and 12  September.
The first 50 customers who head down to SAUCE for lunch or dinner, on 11 and 12 September will get a delicious complimentary hand-crafted chocolate milk shake topped with whipped cream and chocolate flakes- do you dig it?!
Besides, foodies can also enjoy American classic dishes including; Wagyu Beef Burgers, Loaded Hotdogs, Blue Cheese Sliders, Taco Salad, Buffalo Chicken Burgers and much more. Staying true to SAUCE's namesake, you can also enjoy an impressive 20 (yes 20) homemade sauces, some with a fun local twist, including;
Blue Cheese Mayo, Beetroot Mayo, Siracha Mayo, Chipotle Aioli, Melted Cheese with Jalapeño, Melted Cheese, Truffle Mayo, Truffle Garlic Labneh, Tzatziki, Gravy, Alabama, Tahini Mustard, Ranch, Chipotle, Cocktail, Honey BBQ, Thousand Island, Herbs Mayo and the signature black mamba!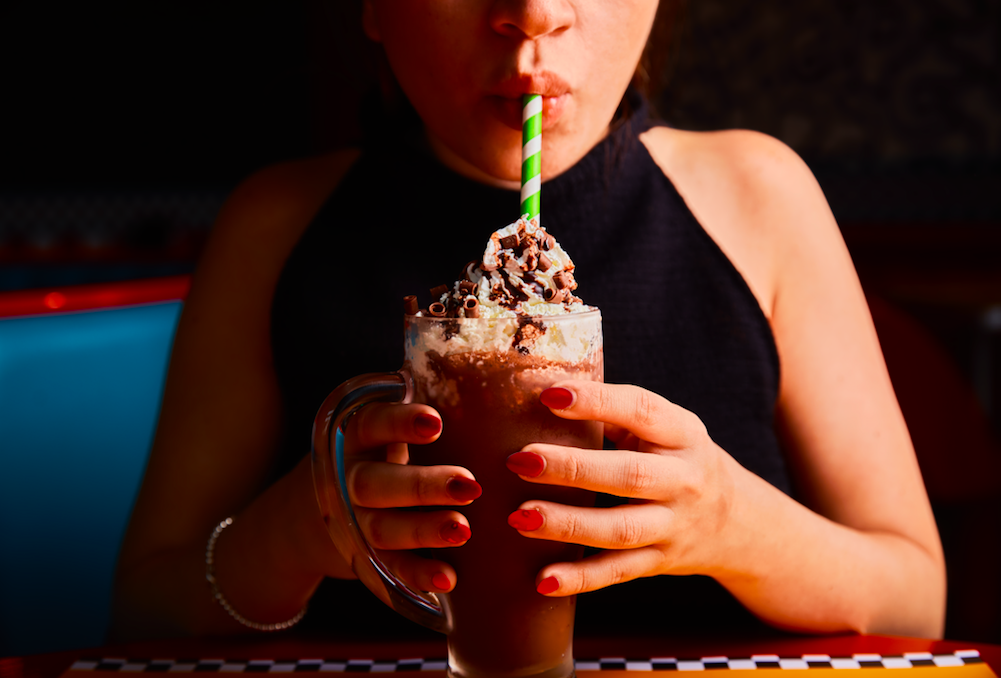 What Else Can Diners Expect At Sauce?
The restaurant has retro interiors with waitresses serving food on roller skates. At the entry, the restaurant has a huge diner sign that looks vibrant. Right from bright red outdoor benches to monochrome flooring and bright blue booth seating, this cafe is everything retro.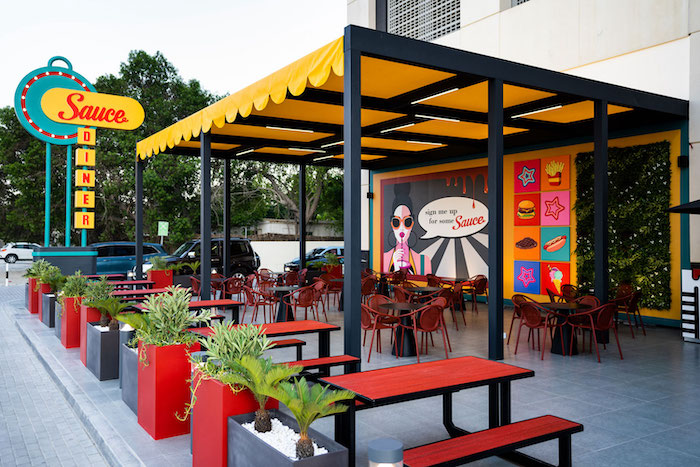 Indulge In Monster Shakes, Classic Burgers & More
Apart from breakfast, Sauce is also a perfect spot for dinner or even a quick bite. Foodies can pick from more than 20 sauces like Blue Cheese Mayo, Beetroot Mayo, Siracha Mayo, Chipotle Aioli, Melted Cheese with Jalapeño, etc. that you can choose to pair with your salad, big dishes such as truffle cream pizza, Wagyu beef burger, DXB hotdog and more. And while having a yummy portion of food, don't forget to try the oversized monster milkshakes. You can relish the classic cotton candy shake, Cookies and cream shake and more while sitting on the retro bar swivel chairs.
View this post on Instagram
Also read: Saudi Arabia's Legendary Restaurant Chain- Al Baik Chicken Is Coming To The Dubai Mall This June
The diner has an all American vibe and will surely change your mood instantly. It will teleport you to a retro era, which is much again needed in this modern world. The restaurant is open every day between noon and midnight.
Deets
Address: Al Habtoor City, Noora Tower
Breakfast Timing: Served Daily 8.30am – 2pm
Contact: 056 538 8388