Traveling from UAE to India? Be prepared to spend more! As per the latest covid protocols, all passengers, including children and infants, have to undergo a COVID-19 test on arrival at Indian airports. The Indian government announced ed that all international passengers irrespective of their age and gender have to upload negative RT-PCR COVID-19 test report on Air Suvidha portal prior to flying to India. The government clarified that even children below 10 have to test negative for travelling to India. And now, Kerala has made made the on-arrival COVID-19 RT-PCR test free for those coming from abroad.
All International Passengers Will Continue To Be Tested On Arrival
While the Covid-test rates vary in airports across India, Kerala has made the on-arrival COVID-19 RT-PCR test free for those coming from abroad. This also includes passengers from the UAE. Kerala Health minister K.K. Shailaja made the announcementand in Kerala and said all international passengers will continue to be tested on arrival as per the latest travel protocol announced by India's federal government. The test costed Rs1,700 (AED 84.74) in Kerala.
Indian expats had demanded an exemption in COVID-19 tests for travelling to India from UAE and the initiative gathered steam with social workers and community groups joining the campaign. Social workers demanded the government to fund the test while a few expats postponed travel plans hoping rules would be revised. Although the test has been made free of cost, all international passengers arriving in Kerala will be tested for Covid.
In addition, international passengers arriving in Kerala must follow home quarantine for seven days and need to be tested again on the eighth day. Those who do not get the test done must observe 14 days' home quarantine. Anyone developing symptoms must go for a test.
The Test Is Mandatory For All Passengers Arriving From Middle East
The "self-paid confirmatory molecular test" is mandatory for all passengers arriving from the Middle East, so ensure you carry adequate money.  After a pre-departure Covid test taken 72 hours before the flight, passengers will be screened once again upon landing in Indian airports. Different airports in India are charging different rates for the on-arrival RT-PCR COVID-19 confirmatory test, depending on the charges fixed by the respective state governments. Emirates Airline has listed the cost of the test at different Indian destinations it is currently serving.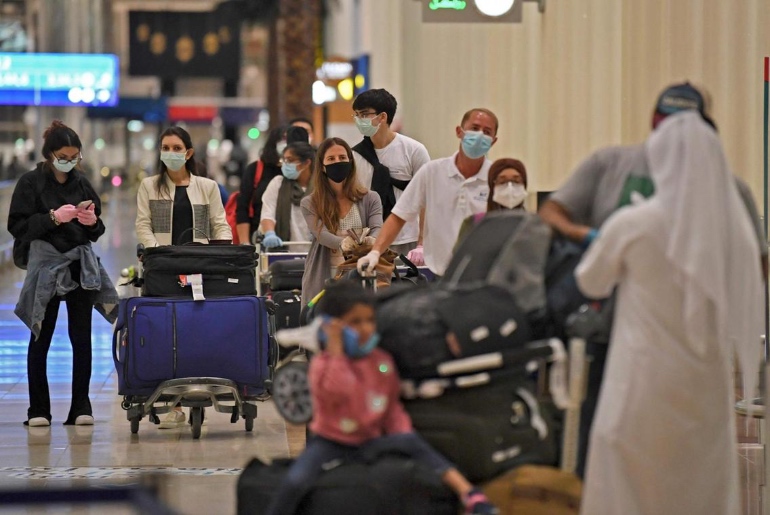 Cost Of Covid-19 Test In India Airports
Ahmedabad: Rs 800 per person
Bangalore: RT PCR Express Rs 3,000 (30 minutes processing time), RT PCR (normal) Rs 500 (For hours processing time)
Chennai: Rs 1,200 to 2,500 per person
Delhi: On arrival molecular test will cost approximately Rs 800 per person. Passengers who have to wait for their results before their connecting flights must pay for the lounge cost at approximately Rs 2,600 per person.
Hyderabad: Rs1,000 per person
Kerala: On arrival molecular test will cost approximately Rs1,500 to 2,000 per person
Kolkata: Rs 950 per person
Mumbai: Rs 850 per person