Under 140 Characters
Did you know that India has its own Grand Canyon? Gandikota, a small village in the Kadapah district of Andhra Pradesh houses a gorge that resembles The Grand Canyon Of Arizona.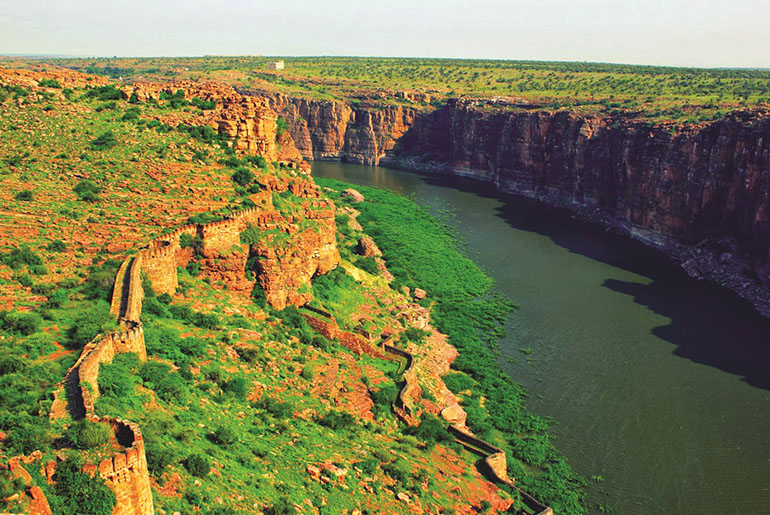 Where Is It?
At the foot of the Gandikota fort in Andhra Pradesh, a gorge is formed by river Pennar that cuts through the Erramala hills. This gorge is located at the foot of the Gandikota fort, in Gandikota village. The village was once ruled by the powerful Pemmasani Dynasty and the fort was one of the most prominent forts in the country.
Also read: 5 Stunning Lakes Of Delhi NCR You Probably Didn't Know Of
Fun Fact
The name Gandikota comprises of two telugu words 'gandi' meaning gorge and 'kota' meaning fort. This is how the name of the fort was established. The fort here houses both the Ranganathaswamy temple and the Jamia Masjid.
Also read: All New Alila Fort Bishangarh Offers a Luxurious Spa in the Dungeons
Why Visit The Gorge? 
Because why not? Why travel to a land so far off when India has every aspect of natural beauty to offer. It is a spectacular piece of work created by our divine nature and you will be taken aback by its breathtaking beauty. This village is very secluded and not too many tourists know about it. The best part – it is clear off any noise pollution or garbage. Don't believe us? Watch this video!
LIKE Curly Tales 
on Facebook | Instagram | Twitter
You can subscribe to our newsletters.