Under 140 Characters
Experience royalty and travel back to the days of nawabs & nafasat at Lucknow's gorgeous boutique hotel – Lebua Lucknow.
What Is It?
A beautiful white bungalow with pops of coloured flowers and a lush green lawn. We can't even begin to describe the beauty and the homeliness mixed with regal splendour that is Lebua Lucknow. If you're looking for a heritage experience, your search ends here. The build up to the hotel is as vintage as the stay. We were picked up in a beautiful yellow ambassador that had its windows covered in white netted curtains. The city of Nawabs looked prettier through these netted curtains and it only got better from there.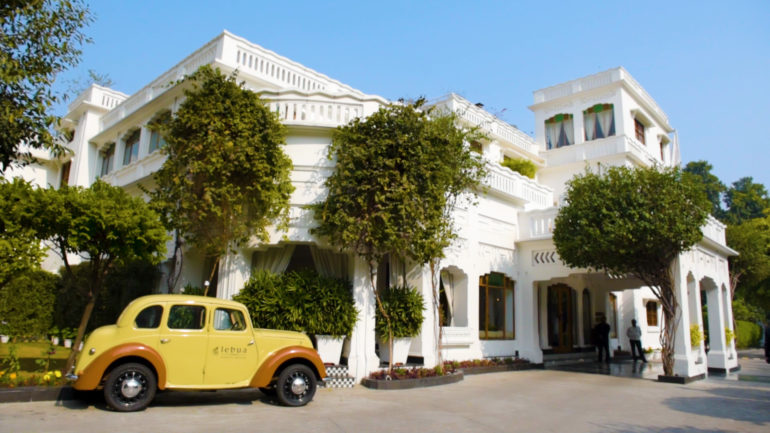 As we reached the property, the visual was better than what we envisioned. A beautiful white bungalow with innumerable brown doors and windows were silhouetted against majestic white arches.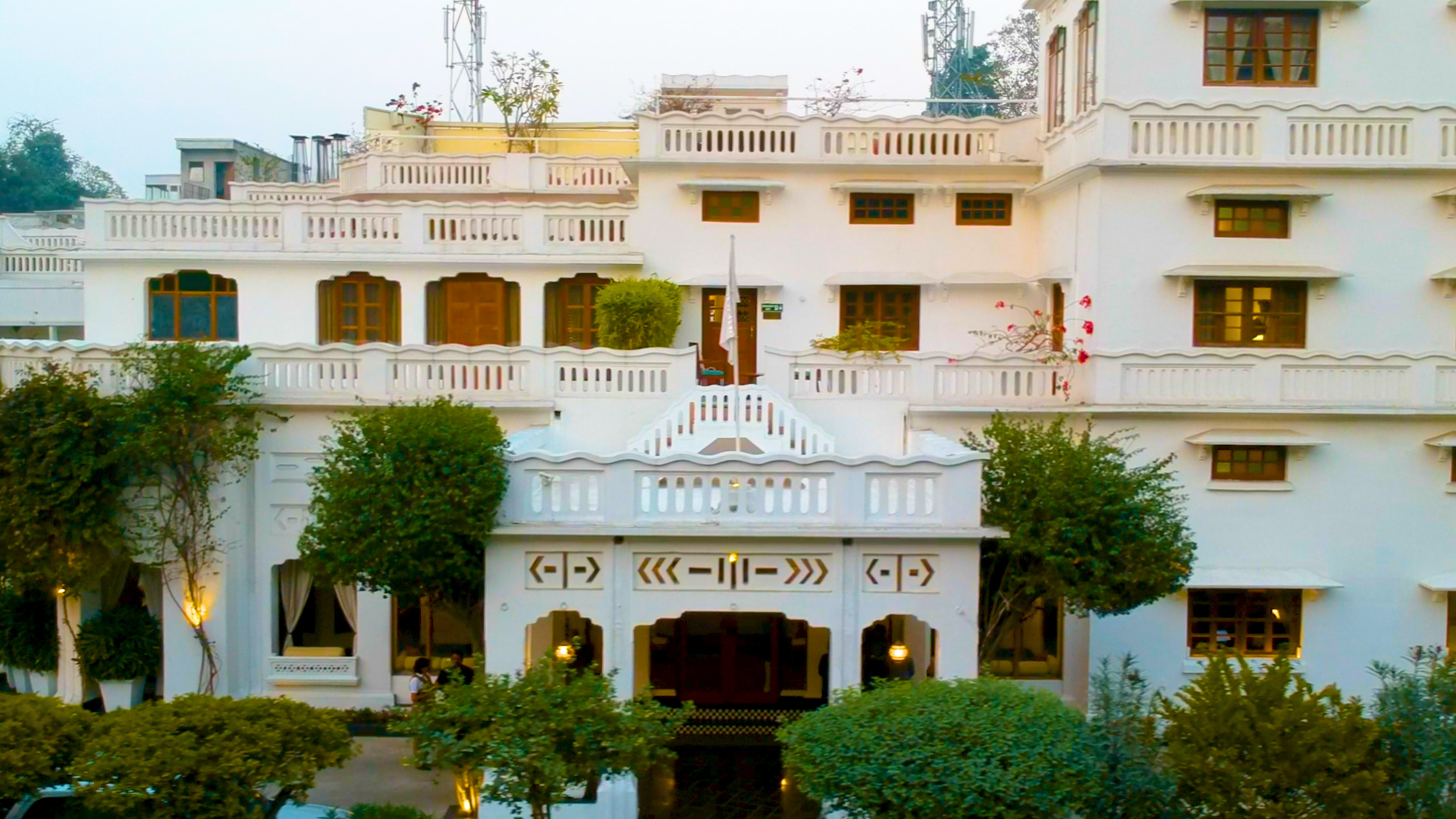 Lebua Lucknow is a luxury boutique property, located in central Lucknow and conceptualised as a sprawling traditional bungalow. It reflects and personifies the 'Art Deco' architecture prevailing in the early 1900's. We knew we had to explore, walk around and discover all the bungalow's hidden secrets.
The Story
Lebua Lucknow was a Brigadier's home. The space, the high ceilings and the warm glow of the chandeliers is an ode to a time gone by. Lebua Lucknow also has a room that dedicated to the Brigadier. He was a man of discipline with a penchant for chess. To date, his memory is commemorated in a separate room which holds his uniform and chess board.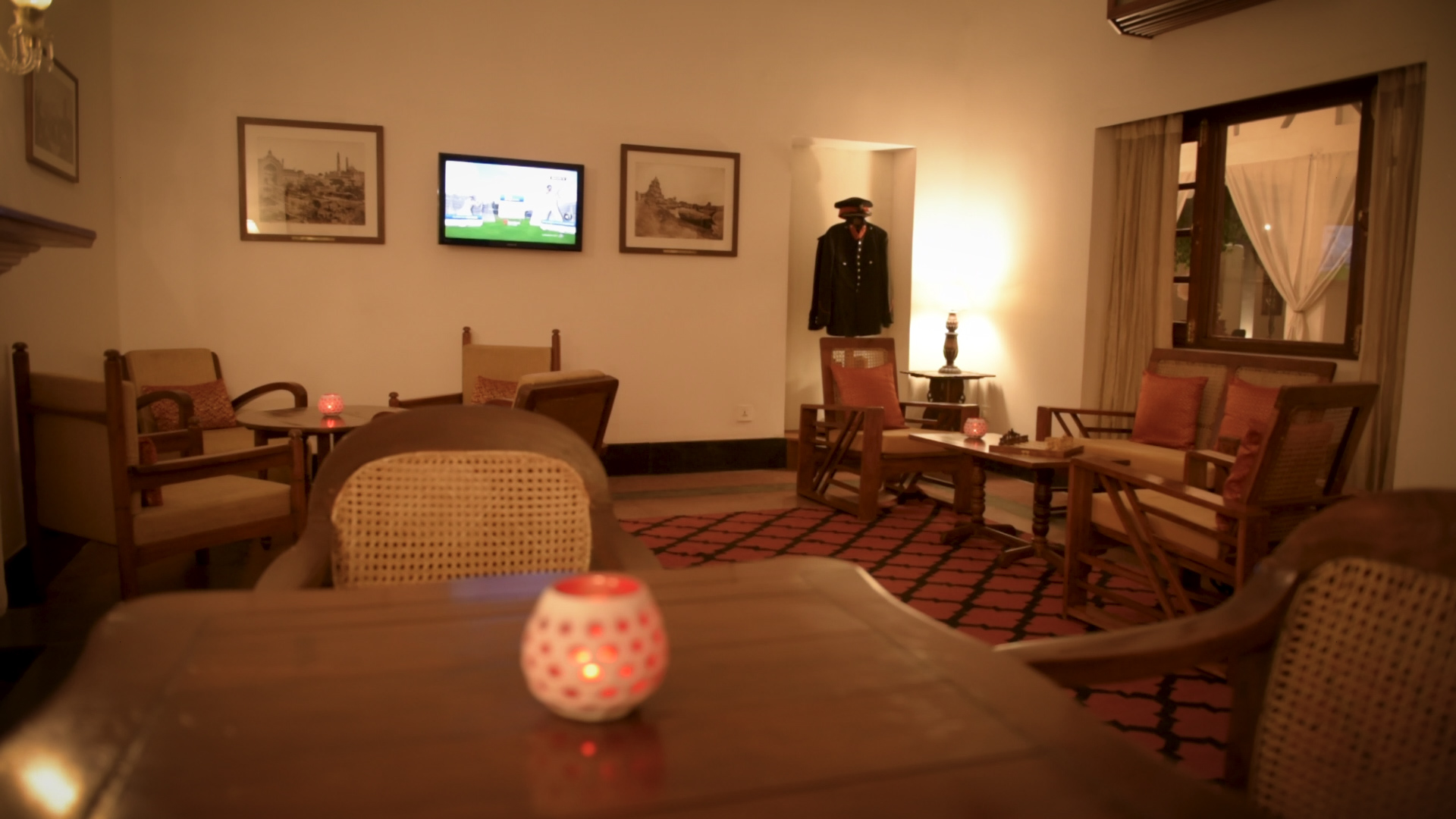 The Rooms
Your room is your home when you're out on a holiday and Lebua Lucknow ensures that it's a rather regal one.The 41-room boutique hotel took us back to an era when Lucknow was synonymous with an ostentatious lifestyle nurtured in its sprawling kothis and havelis.
Each room has a different layout in order to keep the original structure intact.  In fact, another unique characteristic, is that every room represents a stunning piece of art. The interiors reflect Lakhnawi elegance, art, heritage along with modern comforts. The room I lived in had stained glasses, a gorgeous hanging chandelier – bathing the room in a warm glow. It opened out to the spacious balcony giving a glimpse into the city life.
The Unique Dining Experiences
Would it even be fair to come to Lucknow and not indulge in the rich fare? Lebua Lucknow has 4 phenomenal unique dining experiences to choose from.
Khema – Khema is a private dining option, complete with candles, flowers and a butler service. Set up in the beautiful garden, in a white tent – it is a dream come true. There's even a violinist who belts out melodious tunes to go with your meal. Romantic? ABSOLUTELY! We decided to give this option a try and we have to say we were wooed!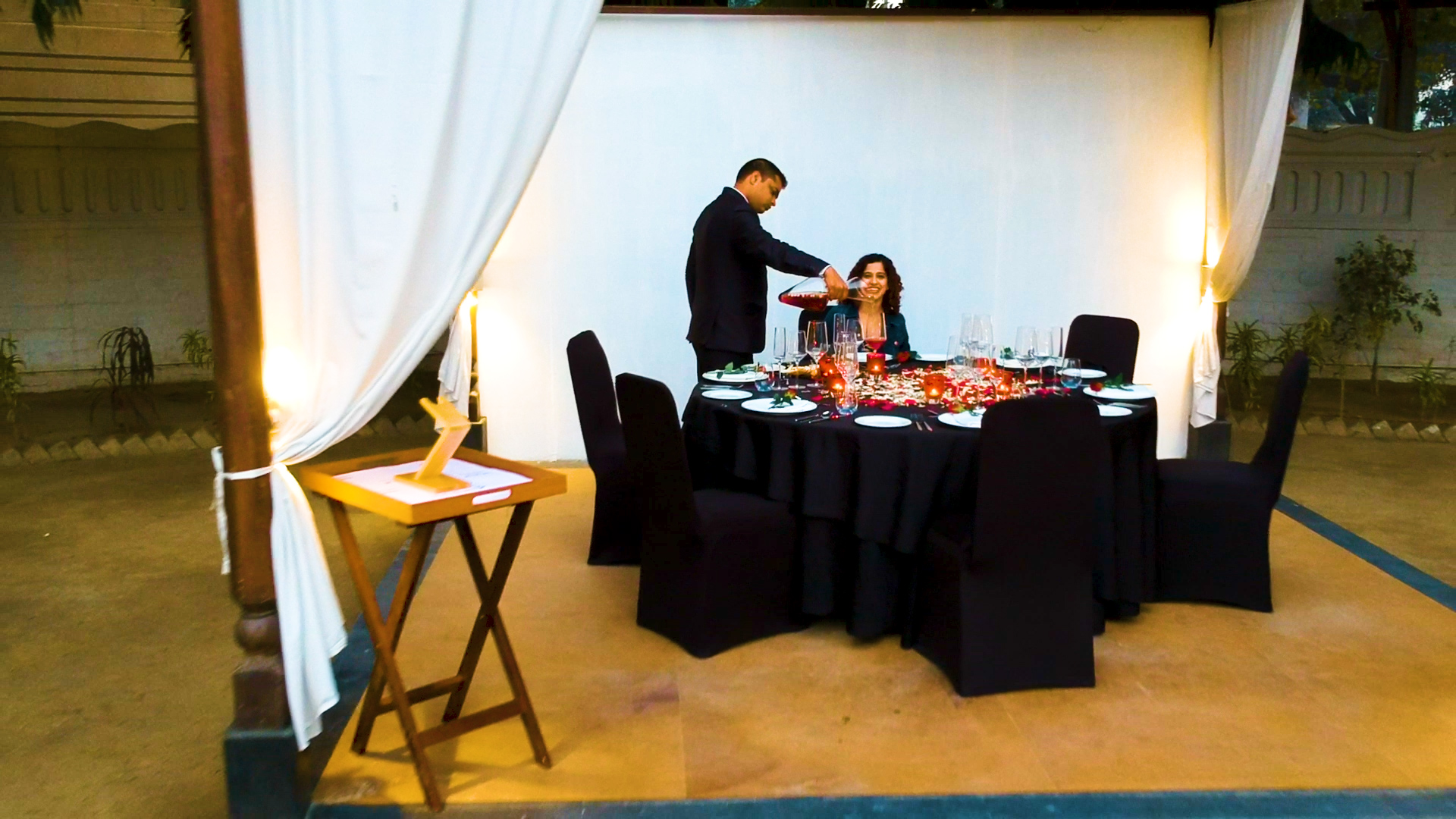 Azrak – Boy! Did we indulge in traditional Awadhi fare here! The restored doors with their traditional chikan block handles and the customized handmade Moroccan flooring lead you into a world that offers a glimpse into a bygone era. Azrak itself comes from the Arabic word for blue – the color of royalty, which probably explain the rich Awadhi cuisine. The all-day restaurant also serves Pan-Asian cuisine. The meals here are rich & sumptuous.
1936 – A tribute to the year in which the bungalow was built, 1936 is Lucknow's finest Italian restaurant. If you're not in the mood for an Indian affair, relax in the courtyard for an la fresco meal or enjoy dining in the restaurant with its exposed brick walls and trees.
The Lounge – The Lounge Bar features an extensive selection of cocktails, from the classic to the exotic, a sensational range of martinis, margaritas and mojitos, and an exquisite collection of malts, scotches, other spirits and after dinner drinks. A small menu of classic and contemporary bar snacks is also available.  The newly opened rooftop lounge is also where the city's cream crowd gathers.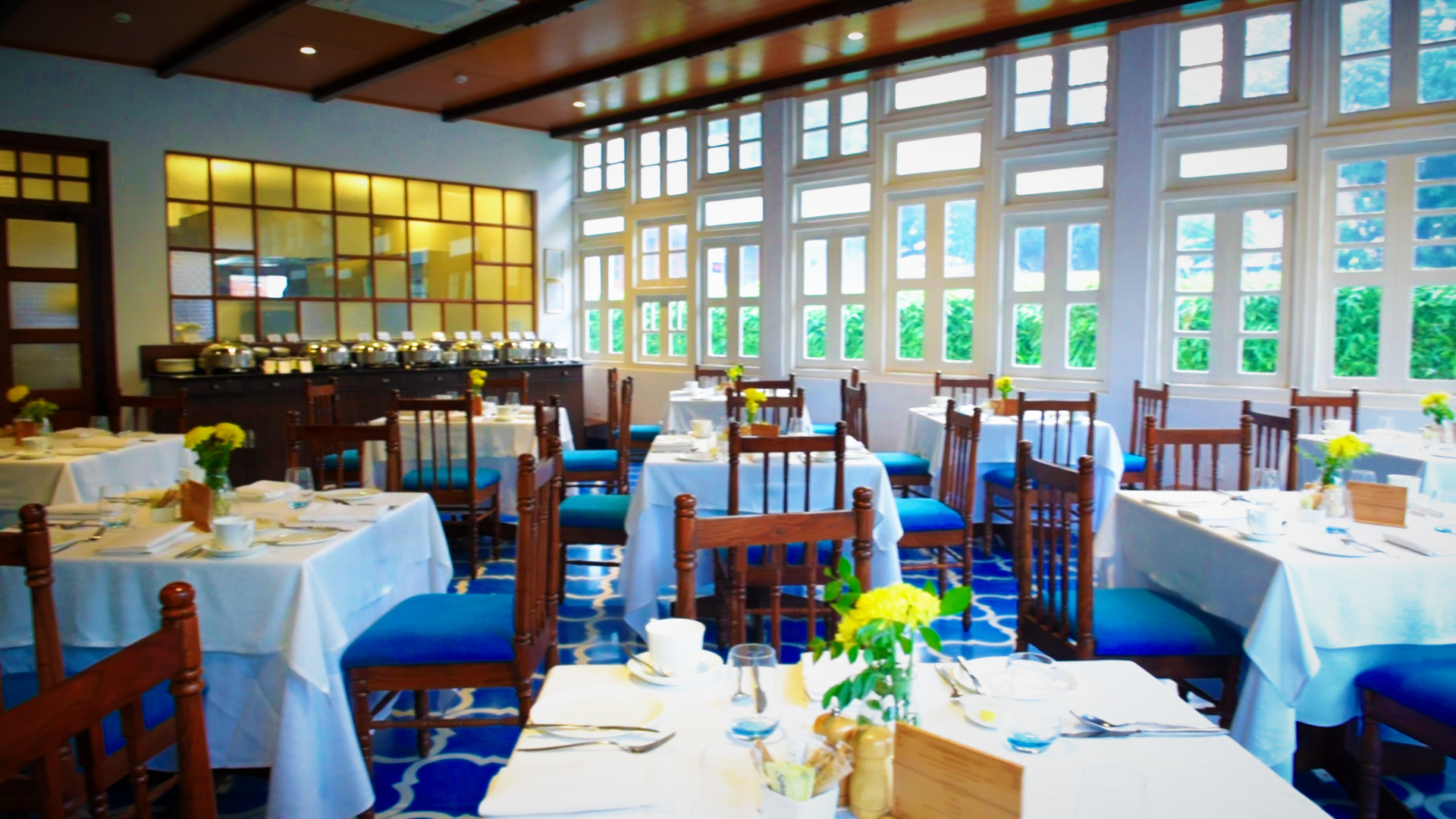 You can also opt for a luxurious meal right in your own courtyard!
The Excursions
Culinary Tour
One of the best things about Lebua Lucknow is the wonderful culinary tour they organise. Would it even be fair to visit Lucknow and not indulge in the kebabs and chai? Shareek, our tour guide and driver took us straight to Tundey Ke Kebab. The galauti kebabs are made out of minced meat and are infused with 125 ingredients. One of my persona favourites was also Sharmaji Ki Chai. Popular for its Kulhad chai, this joint remains crowded throughout the day. We also got a chance to try the delightful Tokri Chaat , Faloodas & the Malai Paan. To say that Lebua's culinary tour is kryptonite to foodies would be underplaying it!
Read more: Sharma Ji Ki Chai at Hazratganj Is The Oldest & Most Famous Tea Stall Of Lucknow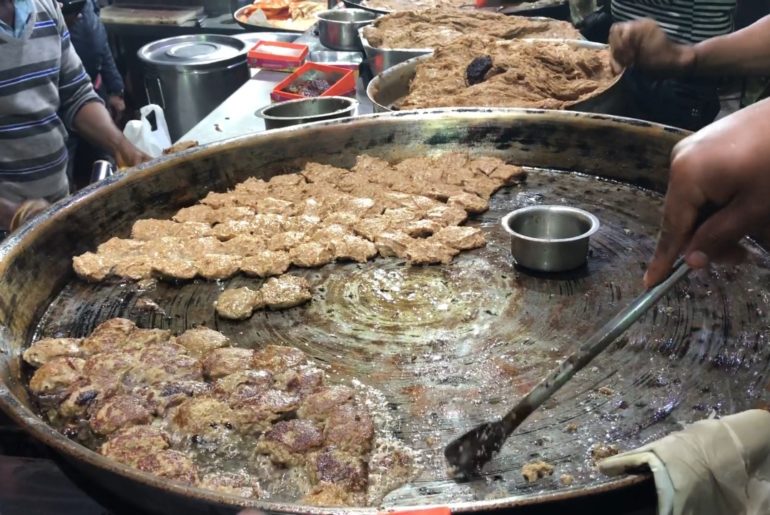 Read more: Top 5 Experiences You Just Can't Miss In Lucknow, The Nawabi City
Heritage Tour
Surrounded by historical monuments, live a royal life in the city of nawabs! Lebua Lucknow is ideally located right in the middle of the city's historic monuments. Our driver, Shareek took us around to visit Lucknow's infamous Bhul Bhulaiya at Bada Imambara. A labyrinth of about a thousand passageways, we loved every minute of it!
Read more: Bhul Bulaiya in Lucknow Is The Largest Existing Maze In India
Shareek was well informed and took us around the famed Rumi Darwaaza as well as Gomti River which looks like Mumbai's Marine Drive. The entire heritage tour took about 3-4 hours.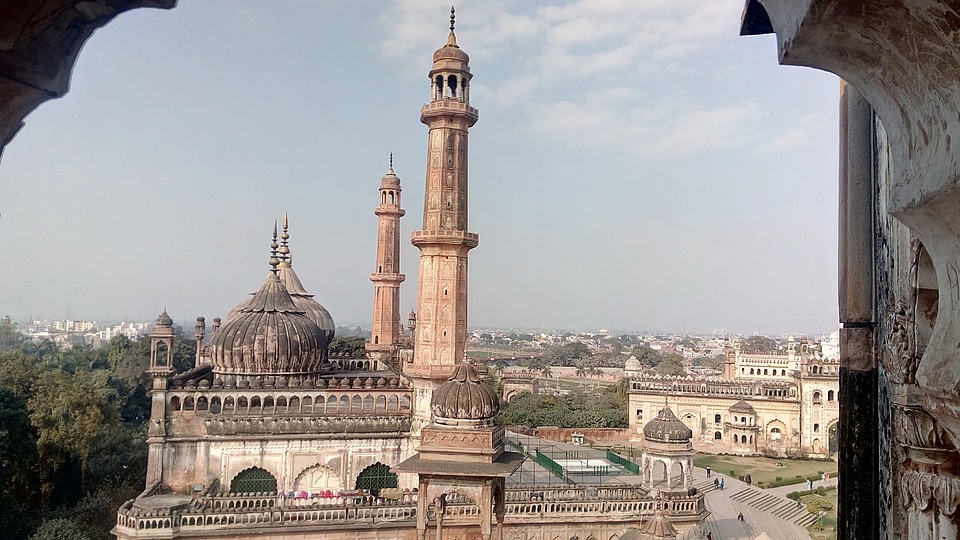 Deets
Address: Lebua Lucknow, 19, Mall Avenue, Lucknow, Uttar Pradesh 226001
For Reservations, book here
LIKE Curly Tales on Facebook | Instagram| Twitter
You can subscribe to our newsletters