There are burgers, monster burgers and then there are also 'mini' burgers. If you're not a big fan of large portions, this one's for you. Dubai has it all for the big appetites- from monster burgers to freak shakes and messy fries. But, this time, the city has a little something for the light eaters. London's favourite mini burger restaurant Bite Me Burger Co is opening doors in DIFC Dubai, this November. The burger brand believes size isn't everything and are masters of delightfully tiny burgers. But that does not mean those with a big appetite go hungry! Foodies can pick mini burgers in duo, trio, quad, dozen or twenty four sharing boxes. We're hungry!
What's It?
Burger lovers are in for a tiny, but mighty treat at this London restaurant. Bite Me Burger Co is a famous name in London's pretty by lanes and now, the mini burger brand has made its way to Dubai. As the name suggests, the restaurant packs deliciously mini burgers, making for a light and hearty meal.
Bite Me Burger's Menu
Slinging a range of meat and veggie mini burgers, jazzed up with signature sauces, they're proof that big flavours come in small packages. Whether you're enjoying a Classic American bite or throwing a party with your burger buddies, Bite Me has your back.
Sink your teeth into the mouth-watering Beef Encounter burger, Duck Me burger, or Lambtastic burger – taken to the next level with flavour-packed sauces and gourmet fries. Vegans and vegetarians can get in on the action too, with Bite Me Burger Co's cracking range of three plant-based burgers.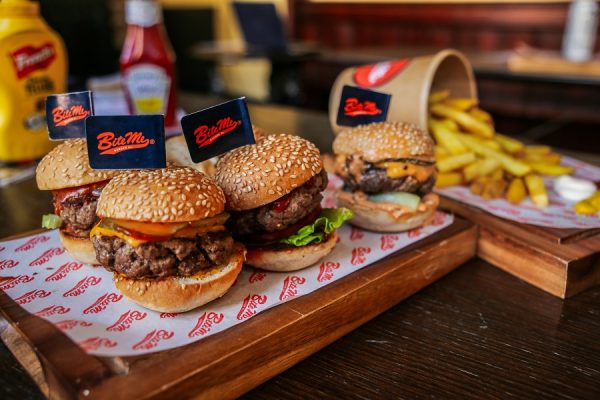 While the Bacon Cheese (BC) holds pride of place in its hall of fame, the non-alcoholic Bloody Mary burger and Vegetari Anne are crowd favourites too. If you've got a bad case of FOMO, pick and mix your mini-burgers in a Duo, Trio, Quad, Dozen, and Twenty four sharing boxes. That's one way to be the most popular person in the room at your office team lunch!
You can get a bite of by Bite Me Burger Co's fantastic buns through all major delivery platforms. Your burger will be flipped, bunned, and delivered hot in various districts around the UAE, kicking off in Dubai Marina, with deliveries launching soon to doorsteps along SZR, Gate Avenue in DIFC, Motor City and Abu Dhabi too.
What Else?
Meanwhile, if you're looking for big eats in the city,
Wingsters has a nine-stack monster burger
which weighs 1.8kgs. The patties are made with fresh chicken, topped with Wingster's signature buffalo and ranch sauces. The burger is then finished with a generous serving of cheddar cheese. Gooey enough and clearly not for the faint-hearted!
If you want to settle for the ala carte, there's a lot you can pick from. Firstly, Wingsters are super famous for their wings. You can opt for 8, 16, 24 or 32 wings, depending on the number of people sharing. A plate of 16 wings comes in four flavours while the plate of 32 wings comes in eight different flavours.
Deets
Website: www.bitemeburgerco.ae (Delivery only)
Timings: 11am – 12:30am
Cost: AED 125 for two people
Contact: 04 3096846