Under 140 Characters 
Open your heart to a sweetness like no other with 'Soft Serve On A Cloud'.
What Is It?
Sweet Mess is a Pune-based dessert cafe that serves dishes that are not just wonderful to taste, but also gorgeous to look at. The founder, Shravan Shetty definitely hit the jackpot with the idea of bringing 'something different' to Pune with this venture. Shravan is also the founder of Pune's famous lounge-chain, Apache and the newly launched, Poona Republic, which is a casual dining restaurant.
Started in April 2017, Shravan and his team didn't realize what they were putting out in the world with their original dessert ideas. It became a favorite in no time owing to its extraordinary appearance and tasteful yummy-ness.
What's In It? 
Desserts that you won't be able to find anywhere else in the country is their specialty. This pocket-friendly dessert cafe lets you enjoy mouth-watering Bubble Waffles, Bubble Teas, and Soft Serve On A Cloud. With the interiors being pretty cozy, the young crowd of Pune seems to enjoy it already. Located in the hub of a youth area near Fergusson College, it has brought in customers that are here to stay.
Also read: 10 Best Ice Cream Places In Mumbai
What's Unique? 
The main attraction surely has to be the 'Soft Serve On A Cloud'. It is a soft-serve ice cream which is available in multiple flavors resting on a grand cloud of cotton candy. Moreover, you can top it up with unlimited toppings that you desire.
The Bubble Waffle at Sweet Mess is something you can't miss. A high-end waffle preparation that contains a big scoop of your favorite ice cream topped with flavored drizzles and unlimited toppings that you choose.
Last but not the least, the Bubble Tea will refresh your palate with its abundance of fruity flavor and little 'Popping Boba' inside which will fill your taste buds with its bursting flavor.
The best part about Sweet Mess is that one can choose as many drizzles and toppings (probably even all). You can find regular toppings like Gems, Chocolate Droplets, Oreos, Butterscotch Balls, Kit-Kat, and Rainbow Sprinkles. Apart from that, there are seasonal toppings which include fruit pieces like Kiwi, Banana, Mango and Strawberry.
Also read: Pune Is The New Goa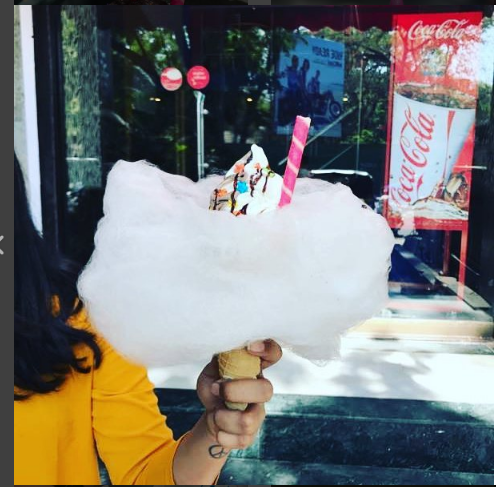 Deets 
Finding the Sweet Mess cafe isn't going to be difficult. Everyone in the area knows the goodness of the place and you sure as hell can't miss it being exactly at Fergusson College road.
Where : 11719b, Fergusson College Rd, Deccan Gymkhana, Pune, Maharashtra 411004
Phone : + 91 9765698026
Approx cost : ₹300 for two
Starting a dessert cafe in the middle of a college area has to be the perfect idea. Sweet Mess is charming its way in our hearts  and we just can't get enough!
LIKE Curly Tales on Facebook | Instagram| Twitter
You can subscribe to our newsletters