During this current pandemic crisis, there is one thing that most of us have become pro at and that's cooking. Keeping that in mind Curly Tales has introduced a new series called Restaurant Style At Home where different and reputed chefs will show you how to cook up some yummy recipes in your kitchen. Our guest on our first episode is Celebrity Chef & Winner Of Masterchef India Season 3, Mr Ripu Daman Handa who has made one of his specialities which is Smoked Paneer Makhani Biryani.
Ingredients & Recipe
First Step: Cook The Rice
Boil some water and add 1 bay leaf, 1 cinnamon, some green cardamom and some cloves along with 1 big spoon of vinegar. This is mainly to give some flavour to the rice. Add of salt for taste and then add 1.5 cups of soaked Basmati rice. Cook till the rice is 80% dine.
Also Read: #LockdownRecipes: Learn To Make Authentic Sindhi Kadhi With Kamiya Jani's Family Recipe
Second Step: To Make Paneer Makhani
Add 2 big spoons of oil and 1 spoon butter. Let the butter melt and then add the dry masalas like saunf, cumin and green cardamom and cinnamon. Add some ginger, garlic and green chilli roughly chopped, add 1 roughly chopped onion to it. Cook till the masalas are mixed well and then add roughly chopped 6 tomatoes. Let this cook on slow flame. Add some dry red chilli and 6 to 7 cashews. Cook this for 10-15 minutes until the paste is mushy. To give a pop of flavour add 1 big spoon Degi Mirch Powder,  some turmeric, salt as per your taste, a pinch of garam masala & black salt add ½ cup of water and cover with a lid for it to cook nicely.
Third Step: Grind The Paste
Once the vegetables are mushy and soft, let it cool down for a bit and then grind everything to make a smooth gravy
Fourth Step: To Make Paneer Makhani Gravy
Add 1 spoon butter, mix the Makhani gravy along with the butter. Cook for 2 mins until it's thick. Once the boil comes, add some Kasturi methi, 1 big spoon honey, 2 big spoons of fresh cream, and to give the gravy some thickness add some fried onions. Mix the gravy well and add the paneer cubes, you can even add chicken and egg if you like as well. Here Is How You Can Also Make Egg Biryani At Home 
Next Steps In The Recipe
Fifth Step: To Give Dum To The Biryani
Add some desi ghee to the bottom of the vessel, layer it with rice and then some panner Makhani gravy and repeat this process and layer with rice and gravy. Once you top it up,  make small holes with a knife and add some Kesar milk. Garnish it with some mint leaves or coriander and fried onions.  Then, cover the edges of the vessel with flour dough and spread it evenly on the edges. To give a smoked effect to the Biryani, place a foil above the rice, take a lump of lit coal and place it on the foil and then add some ghee & cover the lid of the vessel immediately. Let it cook for 10 minutes.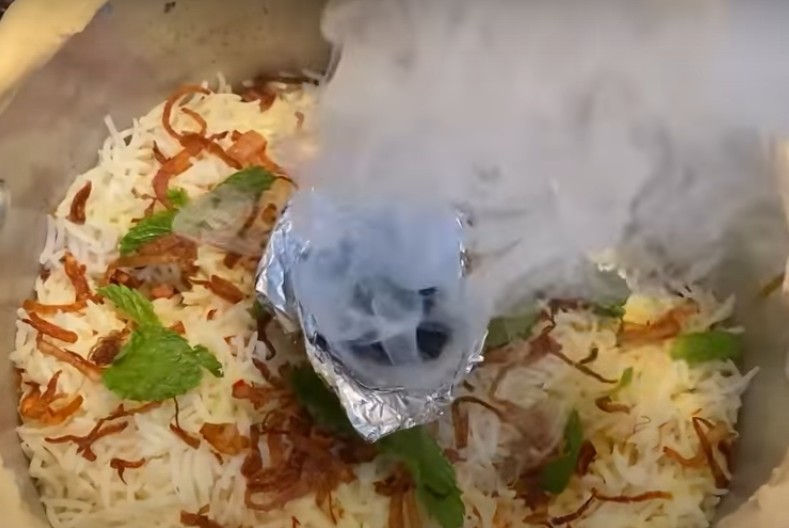 Your Smoked Paneer Makhani Biryani is finally ready. This recipe is one of Chef Ripu's absolute favourite and it's also available in his restaurant as his family also loves this dish. We hope this step by step process was helpful enough. Make sure to try this recipe at home for your loved ones. Happy Cooking