Love hot dogs? Well, then here's something you might want to take on! Sauce, Dubai's cool, new restaurant in Al Habtoor City is hosting a Hot Dog eating challenge and everyone's invited! The competition will take place on 23rd October from 1 pm until midnight. Curious to know more? Read on for more deets!
Polish Off A Giant Hot Dog In 30 Minutes Or Pay AED 219
SAUCE, located in Al Habtoor City Dubai's newest 1950s-style American diner are hosting their first ever hotdog eating competition, this Saturday, 23rd October from 1pm – Midnight. Participants must finish a hot dog of their choice of meat-  beef/chicken served with Potato roll bun, lettuce, caramelized tomato, pickled cucumber, crispy beef bacon, fried onion, jalapeño, mustard, chili con carne with chipotle aioli sauce. The hot dog is served with a side of fries or house salad.
The giant hotdog can only be eaten by one person and has to be finished under 30 minutes. Those who fail to do so will have to pay the price of AED 219. The giant hotdog is also served with a lemonade, iced tea, soft drinks- which is not mandatory to finish.
Diners don't need to book for this, they can just walk in and order. The giant hotdog is also available on the menu for regular diners if they don't want to participate (and yes you can share it if you aren't taking part in the eating challenge).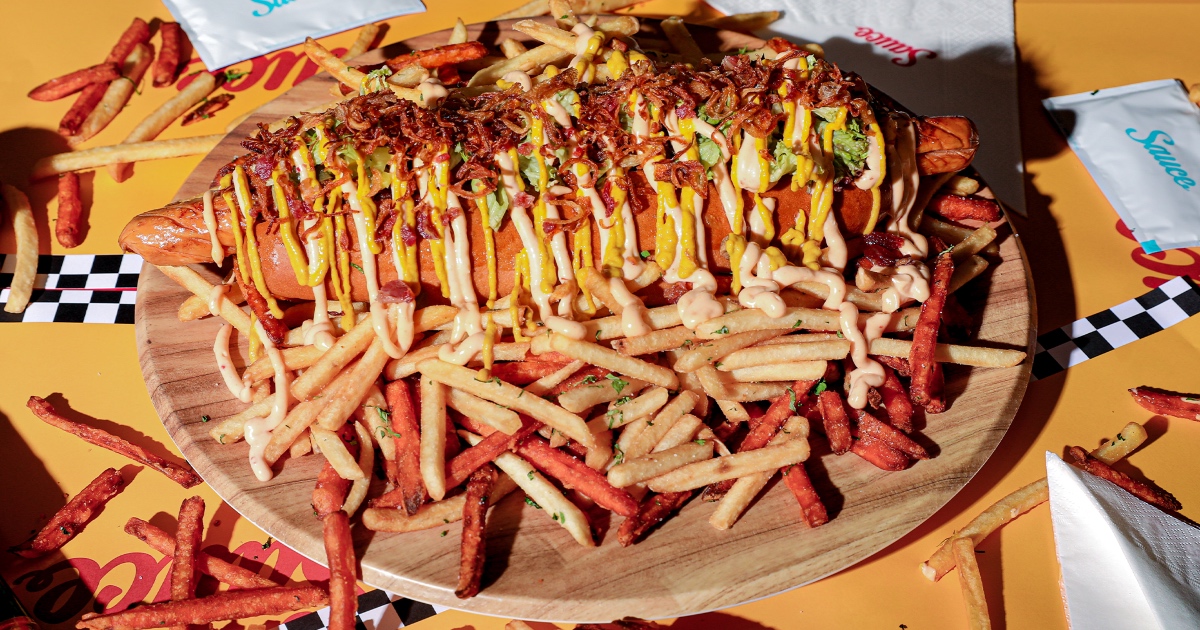 What Else Can Diners Expect At Sauce?
The restaurant has retro interiors with waitresses serving food on roller skates. At the entry, the restaurant has a huge diner sign that looks vibrant. Right from bright red outdoor benches to monochrome flooring and bright blue booth seating, this cafe is everything retro.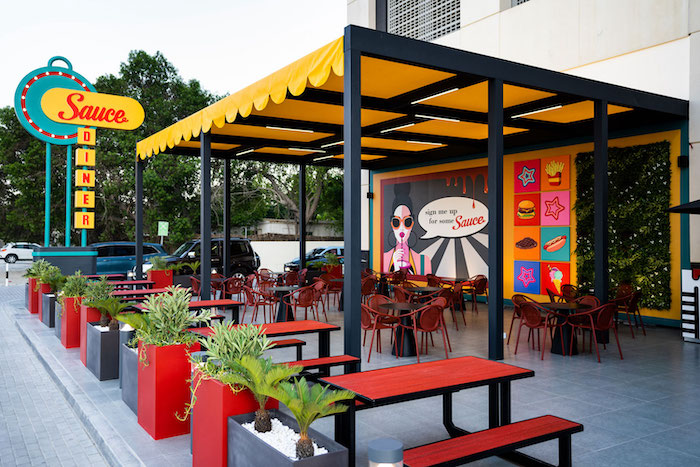 Indulge In Monster Shakes, Classic Burgers & More
Sauce is also a perfect spot for dinner or even a quick bite. Foodies can pick from more than 20 sauces like Blue Cheese Mayo, Beetroot Mayo, Siracha Mayo, Chipotle Aioli, Melted Cheese with Jalapeño, etc. that you can choose to pair with your salad, big dishes such as truffle cream pizza, Wagyu beef burger, DXB hotdog and more. And while having a yummy portion of food, don't forget to try the oversized monster milkshakes. You can relish the classic cotton candy shake, Cookies and cream shake and more while sitting on the retro bar swivel chairs.
View this post on Instagram
Also read: Saudi Arabia's Legendary Restaurant Chain- Al Baik Chicken Is Coming To The Dubai Mall This June
The diner has an all American vibe and will surely change your mood instantly. It will teleport you to a retro era, which is much again needed in this modern world. The restaurant is open every day between noon and midnight.
Deets
Location: Noora Tower, Al Habtoor City, Dubai
Contact: 056 538 8388