And we are back with the second part of our lovely Sunday Brunch with the vivacious, Taapsee Paanu. Read on to know more about the actress's exploits when she travels with her sister and more!
Kamiya Jani (KJ): So, Japan is on your list?
Taapsee Pannu (TP): It is. I have seen pictures and I have heard that it's a beautiful place.
KJ: So, how many countries have you visited? Do you keep a count?
TP: I don't keep a count but I won't repeat my destinations. I think that life is too short and if I go to the same places again then I will lose out on the other places on this planet and there are so many.
KJ: So, I was going through your Instagram feed a couple of days ago and I noticed that it has been a while since you travelled somewhere on a vacation.
TP: No, it's been a while since I posted about it.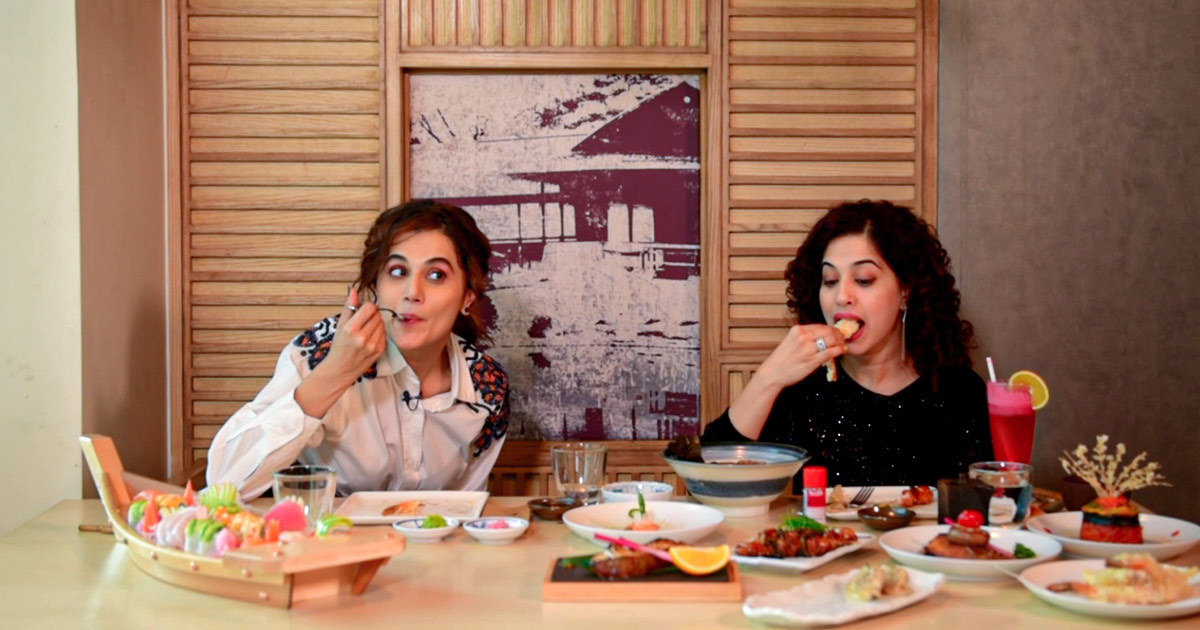 KJ: So, what was the last place you visited?
TP: I had gone to Dubai recently which was more like an extended work trip cum holiday. It was not a holiday-holiday. I had some work there and I ended up staying there for an extra two days which was a holiday for me also. So, that's why I didn't upload it because it wasn't a new destination for me. If I go to a new place then I will definitely post about it.
KJ: Are you an Instagrammer? 
TP: I am. I am not an obsessive one because like I told you, I went to Dubai and didn't upload. If I find a picture that I think is really beautiful and unique from my travels then I post that.
KJ: Of late, a lot of actors have been vlogging their experiences. Would you go down that route?
TP:  I hope not because I want to have a personal life. I am not public property, I am a public figure and I want to keep it like that. I started doing this one thing and of late I have seen a lot of people doing this thing called #TapCTravels. I did that a couple of years ago and my sister and I used to make these stories where we just kept blabbering. It turned out to be fun and people actually started asking me about it and they were actually looking forward to it. It was basically videos of us having a very desi take on all these exotic locations. It became quite a thing and a lot of people are doing it now. It wasn't really vlogging, it was just us doing things out of fun. That I'll do again if my sister and I go on some holiday.
KJ: When you said you do a desi take on travel destinations, are you one of those travellers?
TP: So, my sister had gone to Spain before me and she was explaining the culture and history of the place to me and the way she was defining things was so bizarre. That's how we started doing that. This one time we were doing an Insta Story and she had to go to the loo and she accidentally went inside the men's washroom and that got captured in the Insta Story too and it was hilarious.
KJ: So, what's the best place that you have been to?
TP: Maldives is my favourite. I went there with my sister and two of my friends and it was really memorable. I got my scuba diving license there.
KJ: What kind of traveller are you? Do you like adventure?
TP: Oh totally! I will try all kinds of adventure sports at that location. I prefer eating local food over some cuisine that I would want. I go as local as possible. Even when I am travelling, I make sure I travel using local transport. So, I use Google Maps and plan my travels.
KJ: Have you ever gone skydiving or bungee jumping?
TP: Both of them are on my bucket list. But hopefully, when I take that trip to New Zealand, I'll do it.
KJ: What's your dream destination? 
TP: I am a beach person so I love all destinations that have good beaches. So far all the places that I have been to, Maldives has had the best beaches. And the one that I really want to go to, is an Australia and New Zealand trip. And of course, I'd love to go and try Japanese cuisine in Japan.
KJ: Have you ever had a spiritual experience while travelling?
TP: Every trip that I have been on. Whenever I go on holiday, I get totally detached from my regular life.