Relish The Flavours And Enjoy The View
Dining out has always been an intrinsic and an interesting way of exploring a destination. This time around, when I went to Mauritius, every evening  I would google about the best restaurants in town. Most would point me in Grand Baei's direction.
Grand Baei offers some of the best restaurants in Mauritius. Here's a round up of some of the best eating hotspots in Mauritius which is worth your check-in.
1. CocoLoko

 Bar, Grand Baei
I fell in love with CocoLoko as soon as I set my foot on this pebble-floored restaurant. Located in the heart of Grand Baie, across the street from the beach, it is the perfect place to enjoy a relaxed meal. Forget about the way it looks, the food here was one of the best I had in Mauritus. It clearly brings a degree of sophistication with it's sunset cocktails and world class cuisine. Do try out the Sauteed Beef Chinese Style, Tuna Tare Asian Style & Prawn Skewers Tandoori.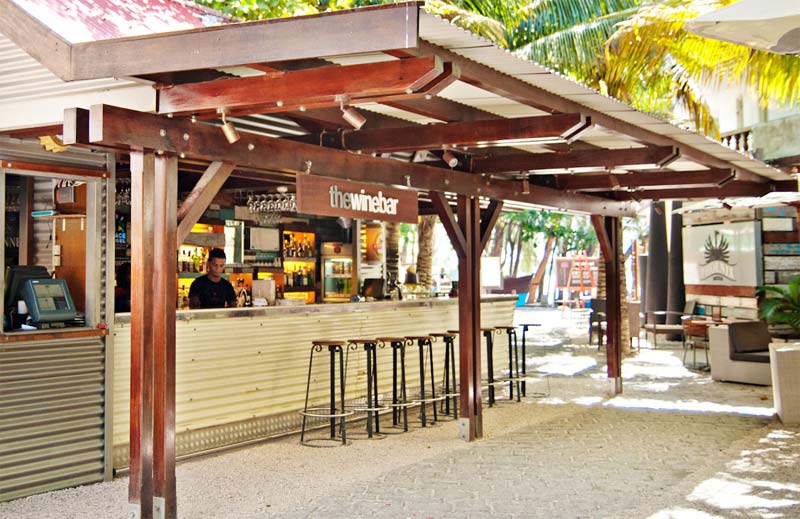 This semi-outdoor spot is perfect to enjoy your drinks as you watch the sun come down. Don't feel like a drink? Don't worry the place is just as conducive to tea and coffee evenings. I can't imagine anyone not loving CocoLoko so make sure you give yourself a meal here and don't forget to order their PizzaLoko. Its apparently a hit with everyone. 
Address: Royal Road, Grand Baie
Phone: (230) 263 1241
Burn: Rs 2,000 – 2,500 (for two) 
2. Le Capitaine, Grand Baie
You don't think I'd tell you about the restaurants to check out in Mauritius and leave out their best seafood destination, right? Overlooking the turquoise waters of the north coast, its large white umbrellas and inviting woody decor make Le Capitaine a warm place.Located on Royal Road, Grand Baie, Le Capitaine is renowned for its seafood, the fresh lobster, fish and whole crab in white wine is the most popular.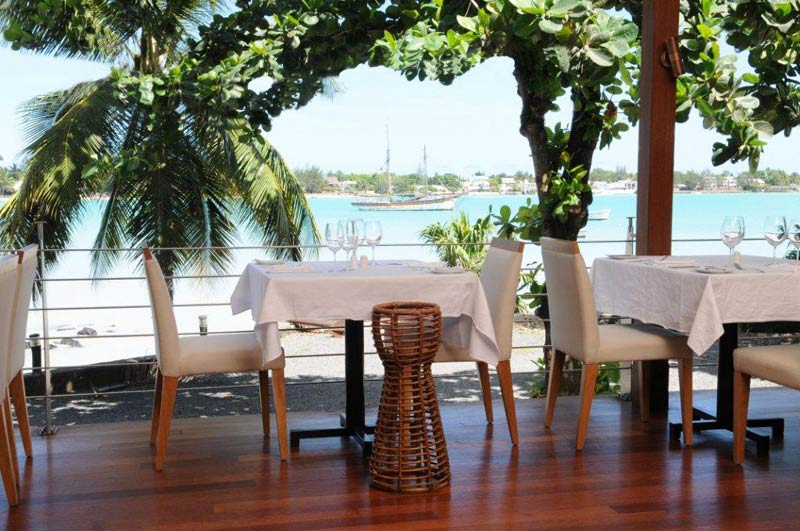 If you're having trouble picking from the many options (we all know it can be overwhelming) or are just in the mood to try everything, the mixed seafood platter could be your best pick. Remember even if you aren't a seafood fanatic and land up here, you'll find plenty of other delicious options too choose from.
Fun fact: Did you know the film Break Ke Baad was also shot here?
Address: Royal Road, Grand Baie
Phone: (230) 263 6867
Burn: Rs. 3000-3500 (for two)
3. Le Bougainville, Mahebourg
Located just a hop away from Blue Bay beach, this is the perfect post-swim restaurant. Designed to look like a shack, it offers delicious food and comfy interiors. Although this isn't the poshest place in the town, its a favourite in the area for the friendly atmosphere and ideal location. I landed up here after a long swim in the ocean and ordered 2 different pizzas, which were both great and a super cheesy pasta. This is just the kind of food you need after tiring yourself out in the sun.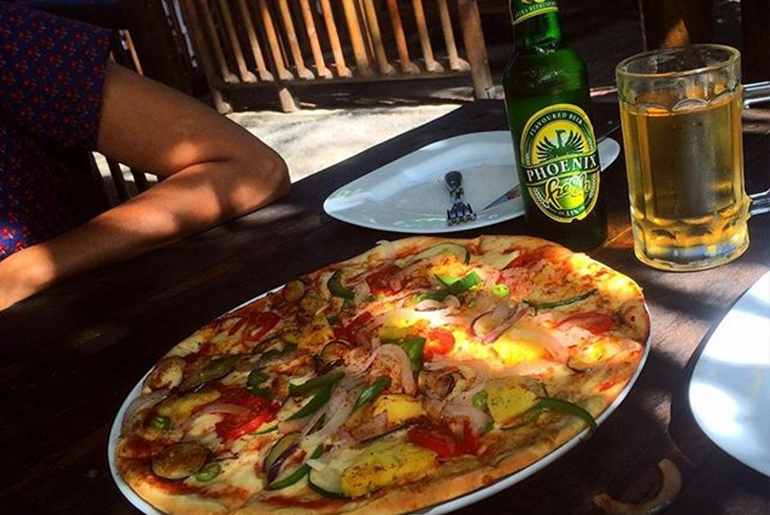 Address: Pointe d'Esny, Blue Bay, Mahebourg
Phone: (230) 631 8299
Burn: Rs 1,000-1,500 (For two)
4. La Chaumiere Masala, Ile Aux cerfs Island
This restaurant, located atop stilts amid trees on Ile Aux Cerfs island offers the most splendid view of the ocean and exquisitely contemporary cuisine. They are very open to any customisations that you may want, so feel completely free to ask. If you're vegetarian, it's not going to be easy to find a lot of variety in Mauritius and this is where you need to come for an elaborate fine Indian thali.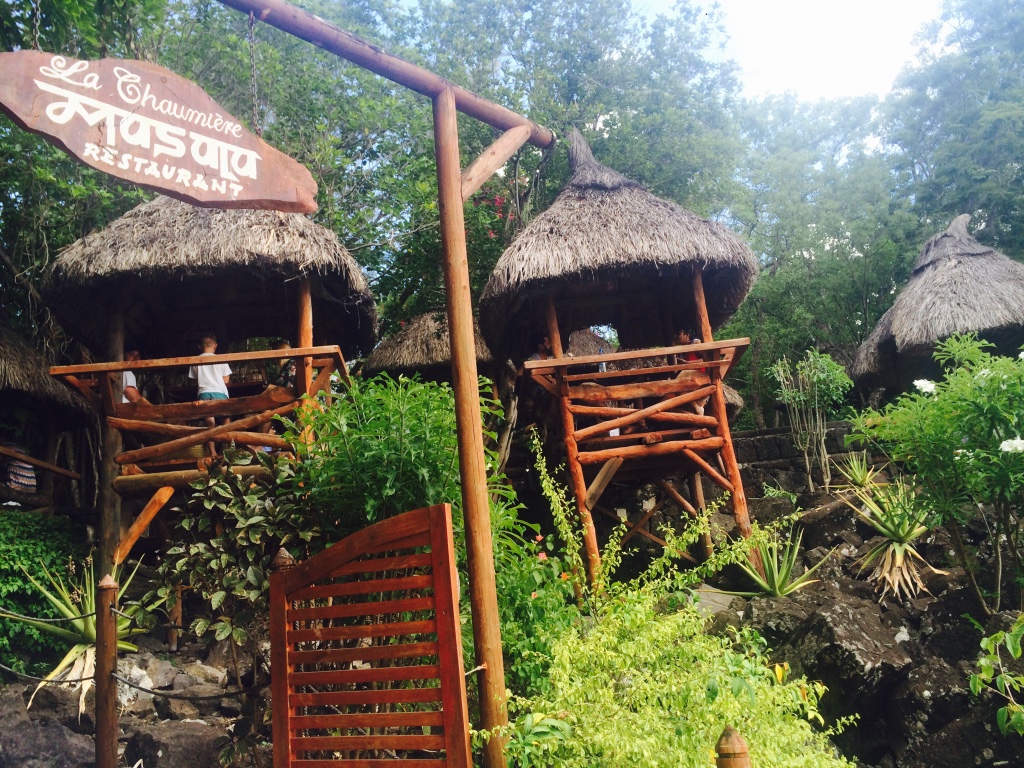 Although famous for its Indian food that is adjusted just enough to suit various palates, they also have some Asian and Mauritian dishes on the menu. This homely restaurant will pamper your tastebuds and give you all the variety you need. Remember, Ile Aux Cerf island shuts down entirely by 5 pm so you have to wrap up your lunch or snacking by 4:30 pm. 
Address: Ile Aux cerfs Island, Trou D'Eau Douce
Phone: (230) 402 7426
Burn: Rs. 2,000 – 2,500 (for two) 
5. The Beach House, Grand Baei
Buzzing on weekdays or weekends, The Beach House look quiet from the outside but is buzzing with life from the inside. From salads to desserts, you can discover a wide variety of burgers, seafood,  T-Bones, fillet & other primecut steaks, fresh tropical salads and homemade pizzas & pastas. More than the food, go here for the beautiful bay view and the Greek interiors.
Address: Royal Road, Grand Baie
Phone: (230) 263 2599
Burn: Rs. 2,000 – 2,500 (for two) 
Well, these are my recommendations on this beautiful island but hey, let me know your favourites too. A bientôt.
LIKE Curly Tales on Facebook | Instagram | Twitter
You can subscribe to our newsletters.