The Calcutta High Court has banned the entry of outsiders in the Durga Puja pandals this year, leaving thousands of city peeps heartbroken. The pandemic has been a huge spoilsport on the biggest festival of the Bengalis, the Durga Puja. Not only in Bengal, the festival has been banned in Odisha too this year. Only the basic rituals of the festival will be observed. In simple words, we all will miss the pomp and fervour of Durga Puja this year. Thanks to the old habits, many Bongs have even ended up buying new sarees, suits, jackets, jewellery and more for the pujo days. But they won't get the opportunity to stroll through the pandals, flaunting them. Here are 10 things that every die-hard Bong is going to miss dearly this Durga puja:
1. Pandal Hopping… Of Course!
There's a different kind of excitement in waiting in long queues to catch the glimpses of the award-winning pandals designed by some top-notch artisans. Many bongs love exploring the pandals ditching the queues, and they collect VIP passes beforehand to get special entry to the premises ( even if it means buying an entire magazine just for the sake of getting free passes). But this year, forget queues, forget passes, we won't be able to step inside the pandals at all. All that we can do is turn to the television channels and social media to watch the live streamings from the pandal areas.
2. Dining At Restaurants
Restaurants will officially remain open. But since pandals will not allow entrants, chances are there that most people will throng to the eateries. And it is not safe at all to dine amid thick crowds this year. We need to adhere to the safety protocols, but that way, we will miss our good old pujo dining sessions in some of the most famous eateries.
3. Maddox Square
Only Kolkatans can relate to this. Friends not meeting up for the entire year will definitely meet for a night-long chatting session at Maddox Square. During Durga Puja, Maddox Square in South Kolkata brims with vibes of exuberance. A large number of people gather here in their most gorgeous attires. Sitting on the Maddox grounds with friends, grabbing biryanis and ice-creams from the stalls, taking selfies in front of the grandiose idol of Durga Puja, running into long-forgotten buddies, we will miss all these little joys of the iconic puja ground this year.

Also Read: Skip The Crowd This Durga Pujo & Stay At These Kolkata Heritage Homes Instead
4. Anjali Sessions
Asthami is the busiest day among Bongs during Durga Puja. On this day, they wake up early in the morning, take a bath and wear new sarees and kurtas to offer sweets, flowers and prayers to Ma Durga. The prayer session takes place in groups, which is often followed by a luchi-alurdam breakfast. We will miss the Anjali crowd this year.
5. Teaming Up In Ethnics On Ashtami
There's a rule which is made by somebody not really known, that almost all Bongs follow. Wear whatever you like on the other days of Durga Puja, but on Ashtami wear ethnic. Bengalis love stepping out dressing up in pretty ethnic attires on Ashtami. And posing together wearing these amazing outfits is something that will be extremely missed.
6. Street Foods
Even the Bongs who diet for the entire year go binge-eating during Durga Puja, especially on street foods. Think fish fries, phuchka, bhetki paturi, mughlai parotha, kobiraji, momos, cutlets, kulfis and more, the Bongs would not miss anything from the stalls outside the pandals. This year, we can get these snacks delivered to our doorsteps from the local eateries, but we will miss munching them together with friends standing in the crowds.
Also Read: 5 Places In CR Park Where You Can Buy All Things Traditional For Durga Puja
7. Phuchka And Rasgulla Competitions
Often, outside popular pandals, phuchka and rasgulla competitions are conducted, and the one who eats the maximum number of phuchkas or rasgullas wins a prize. But now with social distancing in place, such competitions are unimaginable. Or have you ever grabbed freebies from the pujo stalls by answering quiz questions?
8. Chatting With Friends In The Local Mandaps
The local mandap is usually the second home for Bongs during Durga Puja. We stay less inside homes and more at the local pandals. Collecting funds, assisting cooks in preparing meals, serving food during the grand pujo feasting, chatting for hours with childhood friends, we will miss all these a lot.
9. Sindur Khela And Dhunuchi Nach
Sindur Khela and Dhunuchi Nach are the two most splendid rituals of Durga Puja. During Sindur Khela, married women smear vermillion on each other. Elderly women serve sweets to Ma Durga treating her like their daughter, bidding her adieu before her journey to her in-laws in Kailash.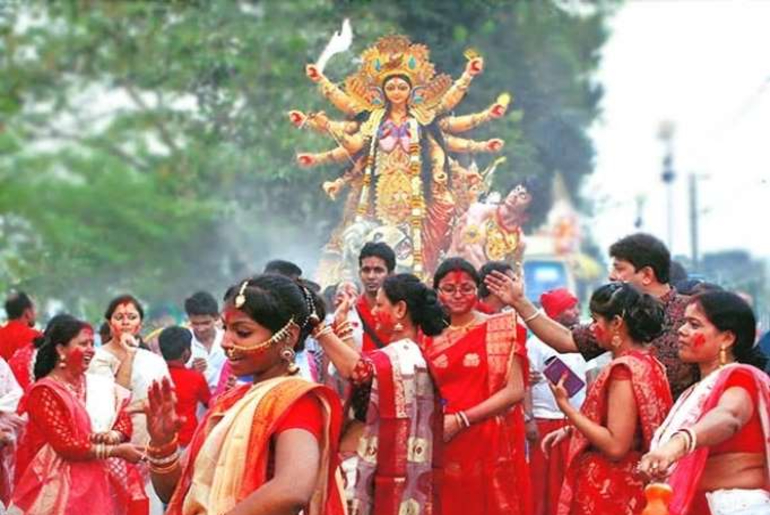 Dhunuchi nach is the dance of Durga Puja. Dhunuchi is an incense burner which contains a burning coconut husk with dhuno sprinked on it. Bengalis take part in a vivacious dancing affair holding the dhunuchis. And all the members of the puja committee gather to enjoy these celebrations. This year, even if the dance takes place, the participations will be on a low key.
10. Bisharjan
This is the most emotional time for the Bengalis on the final day of Durga Puja, the Bijaya Dashami. Durga Ma is carried from the pandal to the river for immersion, and everybody bids her goodbye with teary eyes. Durga Ma is more than simply a goddess for the Bengalis. In these few days, she becomes more like a family member, a mother and a daughter. On Dashami, before immersion, most Bengalis utter one common sentence, "Asche bochor aabar esho Ma!" ( Mother, do come the next year). We will definitely pray that Ma Durga comes back next year in a corona-free world, blessing all of us. The bisharjan ( immersion) congregation will be missed, but our prayers will reach her for sure.
Also Read: 10 Things To Do In Kolkata During Durga Puja Under ₹200
Are you also a true Bong and is gloomed amid the pandemic-gripped scenario on Durga Puja? What else would you miss other than all these during the festival? Tell us in the comments section below. Meanwhile, let's cheer up your mood now with the steps to create the perfect Bengali look this Durga Puja ( for your festival special profile picture):