The concept of dining has undergone a massive shift ever since the pandemic struck. Restaurants and cafes across the world have adopted to new methods, to ensure social distancing and safety. From transparent screens to mannequins and creative dining tables, restaurants around the world are getting social distancing right. And now, a cafe in Toronto is letting diners enjoy their meal inside transparent pods, scattered in their patio.
Also Read: 5 Ways Restaurants Around The World Are Getting Social Distancing Right
Dine In Tent-Like Pods At This Toronto Restaurant
Guests visiting Toronto's Louis Cifer Brew Works will now be able to enjoy the winters from inside a closed pod. The cafe has initially set up a lively sidewalk patio this summer with TVs. Now that temperatures are dropping, indoor dining is suspended
The cafe has installed pods that resemble regular dining rooms. The pods are thoroughly disinfected with a sanitizing aerosol spray and the tables and chairs are also wiped down with disinfectant after every use. The cafe also provides a blanket for guests to keep for $3.25.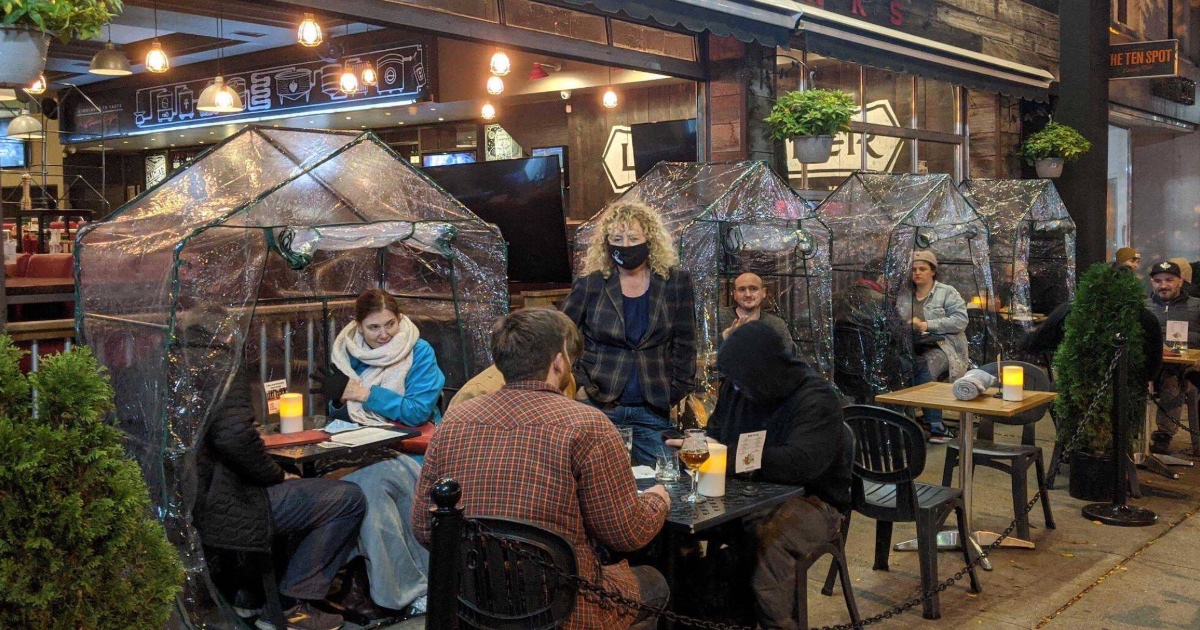 This is not the first time restaurants are adapting to creative ways to follow social distancing. Recently, a cafe in Dubai also resorted to a new dining experience. Brunch & Cake in Jumeirah lets diners enjoy their meal inside transparent dome-shaped tents. And don't worry about the Dubai heat, the tents are fully air conditioned. The are two domes on the terrace outside the restaurant. One is designed for private parties of up to six people, and the other for walk-in socially distanced dining. Click here to read the full article. 
Take a look at how other restaurants across the world are getting social distancing right.
Ways In Which Restaurants Are Adapting To Social Distancing
1. See-Through Plastic Shields
Plastic or plexiglass partitions are popping up as a popular social distancing option across the world. In Paris, a popular restaurant called H.A.N.D. has installed clear plastic shields around its dining tables. These shields hang from the ceiling and surround each diner. Thus ensuring that diners not only have a safe and social-distancing-approved dining experience but also making them feel like they're part of some sci-fi movie.
2. Glass Houses
An eatery in Amsterdam called Mediamatic Eten has created 'special quarantine cubicles' or 'greenhouses' for diners, taking quarantine dining to a totally different level. Known as Serres Sépparées, meaning 'separate greenhouses', these cubicles set up along the Oosterdok waterside of Amsterdam make for the 'ultimate intimate dinner experience'. Apart from that, the restaurant has also introduced safety measures, where all waiters will wear face masks and protective clothing and will serve dishes on long planks.
3. Glass Panels
Back home, Karnataka's famous Vidhyarthi Bhavan is running trials to install see-through glass panels on its tables. Reportedly, on May 29, the dosa eatery experimented with a fibre-board partition formula on two tables. Now, they are awaiting SOP from the Health Department before they implement it with some modifications.
As restaurants in Karnataka are all set to open on June 8, it is hoping to install these glass panels on its tables soon. Reports suggest that restaurant might also cutting down on its seating arrangement. Other measures include wearing of masks and gloves by cooks and servers and regular sanitisation.
4. Stuffed Animals
Eating alone can get lonely for some. So in order to ensure its diners don't feel lonely, Vietnamese restaurant Maison Saigon in Thailand is seating stuffed pandas dolls alongside customers. With the cute panda dolls around, dining alone doesn't seem all that bad and social distancing restrictions are maintained!
Similarly, a cafe in Germany called Beef n Beer is using teddy bears as a prop to maintain social distancing. As more and more restaurants seek to reduce seating capacity, these stuffed animals ensure that the restaurant doesn't look eerily empty but makes for an adorable sight.