Under 140 Characters

 
Based on the philosophy of "less is more", Trèsind aims to pave way for fostering the legacy of Indian food.  It is known for its gastronomic and modernist Indian cuisine.
What Is It?
With the belief that change is the only constant, Trèsind brings forth the evolution of modernist Indian cuisine. Trèsind is one of the most talked about and the best fine dine Indian restaurant in Dubai. It is committed to providing the most innovative Indian cuisine in Dubai Trèsind offers a deliciously mixed bag of starters, soups, main course and desserts.  The restaurant is located in the beautiful Nassima Royal Hotel. 
Dishes You Need To Try

 
1. Birbal Ki Khichdi
Let your regular khichdi get a royal twist. Rich rice and lentil porridge served with many ingredients along with, assorted papads and yoghurt. See your khichdi being mixed with 44 flavorful ingredients The ingredients are chosen from different parts of India. This is your normal comfort food but with a very good twist to it.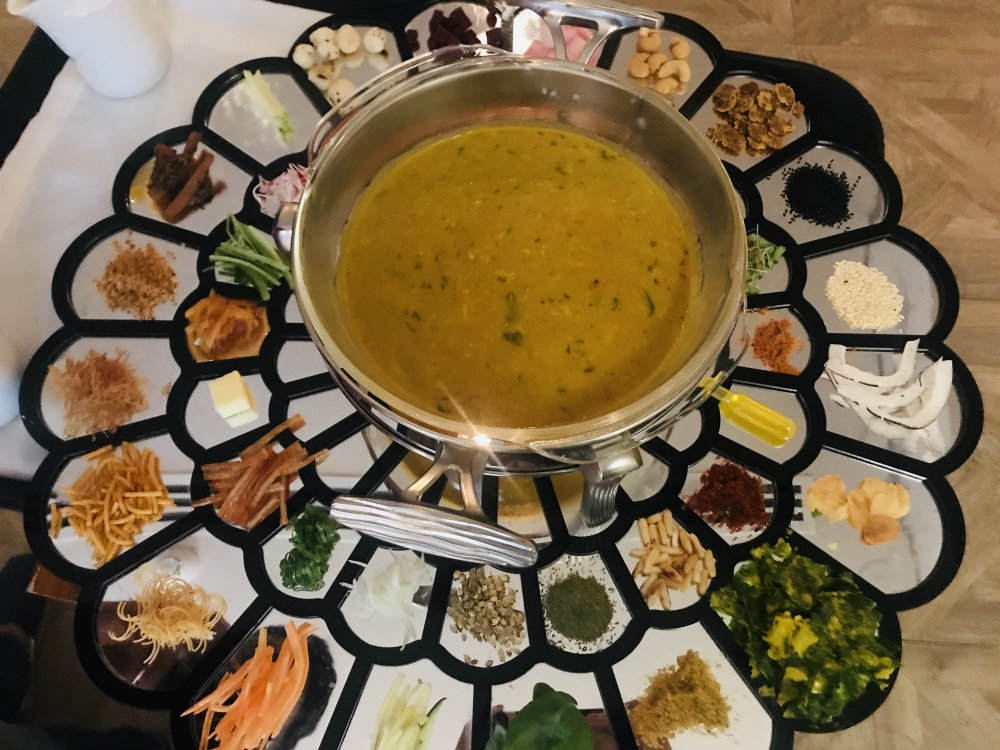 2. Cedarwood smoked tandoori chicken 
Chilli-marinated tandoori chicken smoked live with cedar wood. The chicken is rolled in a cedar wood which is smoked live at the table & then covered with a cloth for a smoky taste. The chicken will relate a smoky taste and has a mild spicy taste. 
3. Butter Pepper Garlic Prawns
It's a live preparation where prawns are poached in butter and finished with Chinese black pepper sauce, tempura crisp and green pepper chutney. This is one of the most unique butter garlic prawns we have ever tried & no wonder why it's the bestselling item over here. 
4. Seared Tenderloin Steak 
Sliced tenderloin Australian steak- 130gms which is served with freshly pounded chimichurri chutney, ginger pickle and spicy onions. The steak is cooked to perfection is served with flavorful chimichurri dip.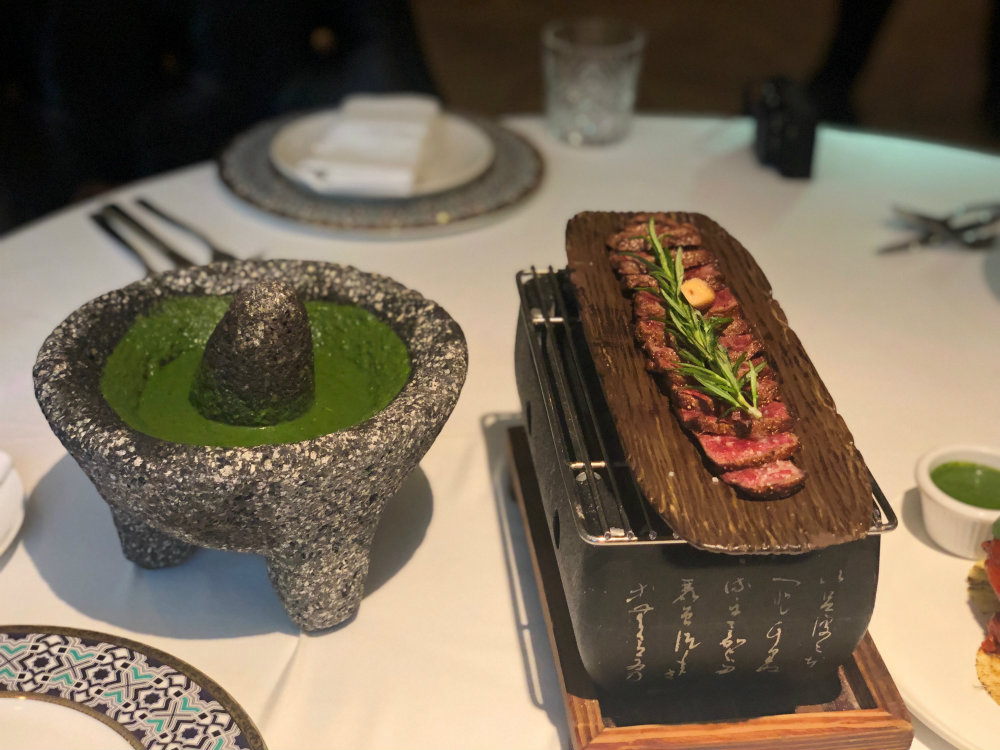 5. Butter Chicken
Traditional chicken tikka served with makhni curry made of tomato and cream, garnished with basil, cherry tomato and bocconcini mozzarella. The chicken is well marinated and then grilled to perfection. 
6. Inspirational Ghewar, Angoori Rasmalai, Raspberry Sorbet
Indian tart made from white chocolate served with grape size sponge pastry and raspberry sorbet. The desserts look so beautiful and it literally melts in the mouth. 
7. Chaat Trolley
The Modernist Chaat Trolley will truly blow your mind with its unique presentation. Whole wheat cracker topped with sweetened yoghurt which is then sprinkled with crushed with Dhokla that is frozen to -190*. It has the perfect tanginess that any chat needs to havely.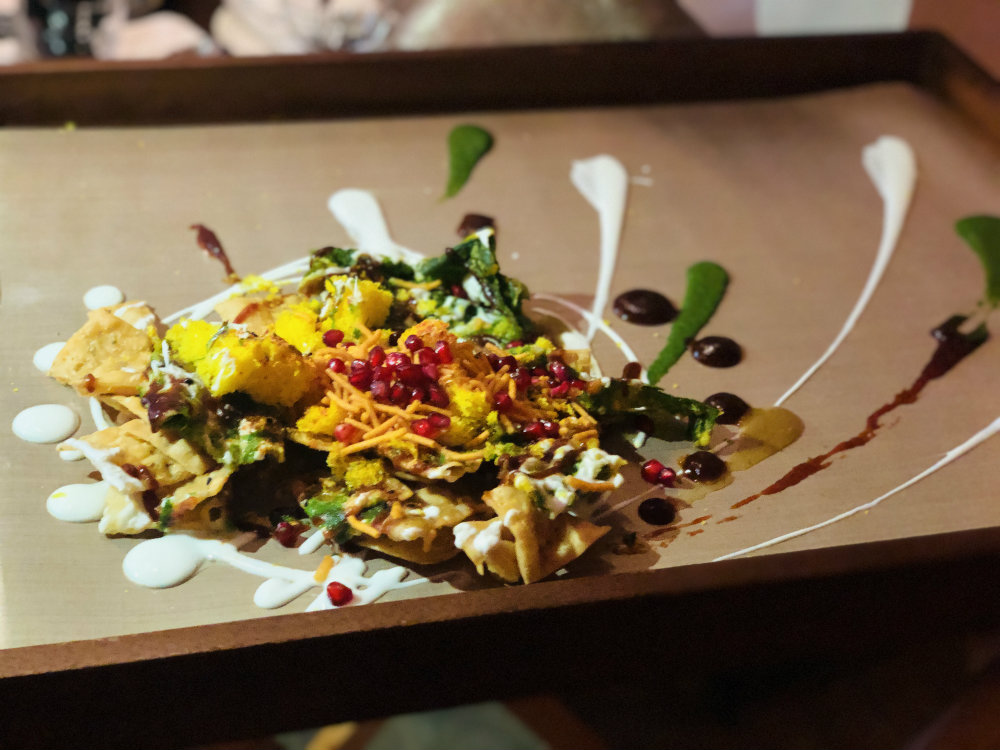 What Else?.
The tasting menu has a starter, main course, and a dessert, all served in bite-sized, yet sumptuous portions. Thai black rice appam which comes alongside a chicken Chettinad, the Bengali Kosha mangsho (a mutton curry for which brings Bengal on your plate), and the morel lababdar – a rare mushroom seasoned with truffle oil tadka and served with a lotus crisp, are simply unmissable. The restaurant also serves a lunch set menu, with some truly Indian desserts like coconut laddu, soan papdi crumble and the good old vanilla custard.
Deets:

Location: Tresind, Nassima Royal Hotel
Time: 12 noon – 3 pm, 7 pm – 11:30 pm
Cost: AED 500 for two people
Contact: 04 5260684