Terracotta temples hold a grand cultural and historical legacy in Indian history and religion. It portrays the various religious scenes from Hindu mythology. There are various terracotta temples around the country that are protected by the Archeological Survey of India. Kolkata is the hub of history and culture in India and is dotted with various beautifully carved terracotta temples around the city. Visit these stunning temples in Kolkata before they disappear.
1. Nandokishore Terracotta Temple
Located in Halisahar, this stunning 18th-century terracotta temple lies in the complex of Baranda Gali- r Shiv Mandir. Build in the year 1743 it portrays the scene from Ramayana, the depicting of Garuda and Shiva with the Nandi bull.
Also read: Kolkata Has A Kali Temple Where Noodles And Chop Suey Are Served As Prasad
2. Palpara Terracotta Temple
This char-chala Terracotta temple is dedicated to Goddess Kali and is assumed to be built by Gandharba Roy in the seventeenth century. This treasure of West Bengal is protected under the Archeological Survey of India. This is truly a place to visit.
3. Dolmancha Of Krishnarai Temple
Dolmancha Krishnarai temple is located in Kanchrapara, this temple is dedicated to Lord Krishna. The temple was constructed by the Vaishnava families residing in North 24 Parganas on the banks of the Hooghly river. The carvings of the temple show a richness with geometrical designs on the terracotta wall.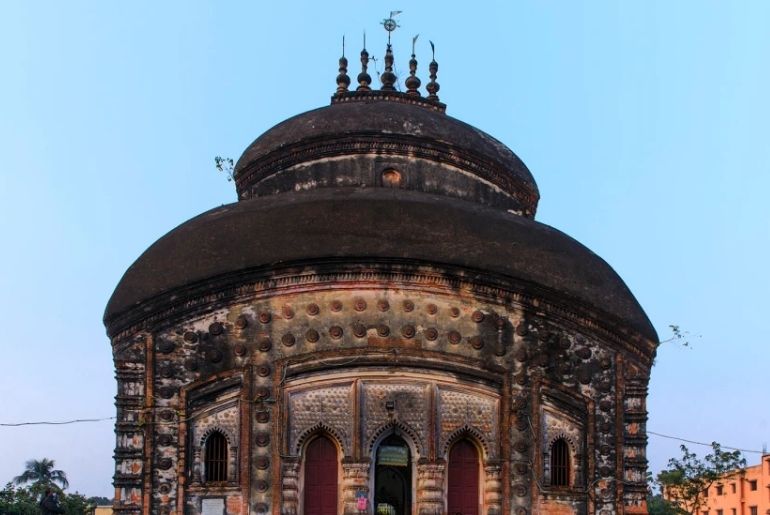 Also read: 5 Ancient Sun Temples In India That Have Survived The Tides Of Time
4. Rajrajeshwar Temple
Located in Chinsurah, the Rajrajeshwari Temple conducts one of the most traditional Pujas dedicated to Goddess Rajrajeswari. The is quite small in structure but it portrays a fantastic mixture of terracotta artwork on the walls.
5. Brindavanchandra Temple
This temple is famous for its iconic Rathyatra which is conducted by the locals and priests. The temple portrays the splendid terracotta artwork in an intricate way. Beautifully carved Krishna-Mahima scenes and depictions from the Bhagawad Geeta can be observed here in the Brindavanchandra temple.
Visit these beautifully protected terracotta temples in and around Kolkata before they vanish.
Also read: These Students Are Reviving India's Dying Art Form Of Terracotta Pottery By Making Artisans Entrepreneurs