Vietnam is a true paradise for beach lovers. And if you're a beach person, you need to spend a night in Halong Bay, inside a luxury cruise. Halong Bay lies two hours away from Vietnam's capital city, Hanoi. Here's everything to know about your trip to Halong Bay.
Day 1: Travelling To Halong Bay From Hanoi
We were staying at Ibiz City Hostel at Old Quarter, Hanoi. A gorgeous limousine came to pick us up at 7:30 AM sharp to take us to Halong Bay. We had booked the Aquamarine Cruises through Halong Bay Cruise Hunters. At around 9:20 AM, our limousine stopped at a pearl factory, where we witnessed the making of sea pearls. There was also an adjoining pearl store selling marvellous pearl jewellery pieces. Behind the pearl store was a coffee shop selling different types of refreshing coffees. We grabbed two cups of Vietnamese black coffee before heading back to our limousine again.
Aquamarine Cruise: Royalty In Ocean's Heart
In the next ten minutes, we were at the harbour with luxury cruises lined up in splendour. We deboarded the limousine and a man from the Aquamarine Cruises came to receive us. We had to wait for some time until the cruise was ready. At around 11:15 AM, we finally entered the cruise.
View this post on Instagram
The moment I stepped into the vessel, I was mesmerised by its grandeur. We were first taken to the dining area and given an introduction about the cruise and itinerary, along with a welcome drink.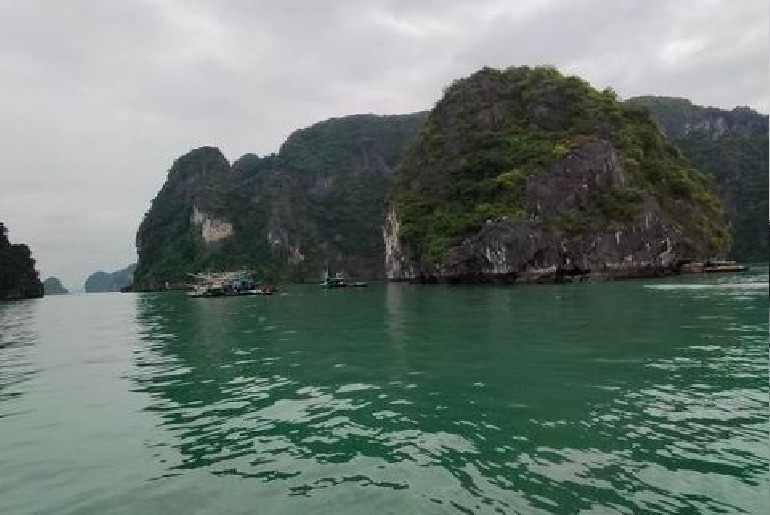 The cruise started sailing amid the dramatic limestone rocks and we headed back to our suites. Each suite at Aquamarine Cruises is a slice of royalty with amenities like an ocean-facing hot tub, luxury toiletries, complimentary tea and coffee, and much more. Our suite had a balcony with the vast ocean in front of us.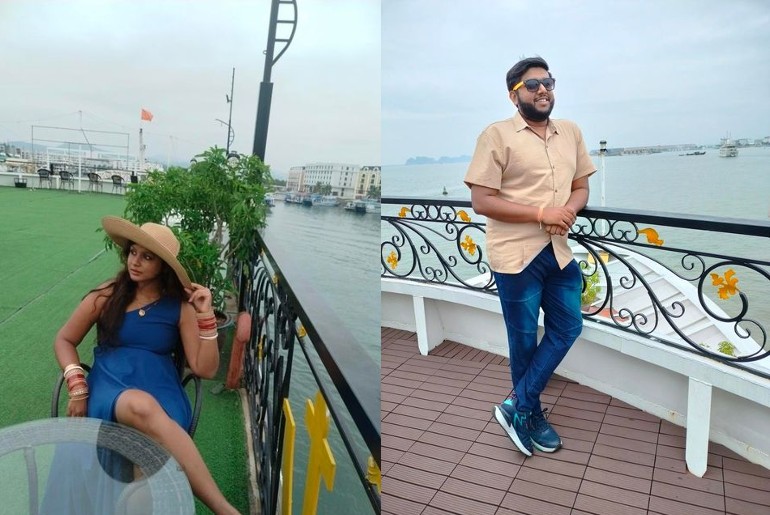 Also Read: This Lakeside Resort In Kanyakumari With Love Nest And Water Swings Will Give You Vietnam Vibes In India
Bamboo Boat Ride Through Luon Caves
For lunch, the guys had arranged vegetarian and chicken dishes, especially for us, with no pork, beef or any other form of beef. We felt like being on cloud nine with the treatment they gave us. By 2 PM, we were done with our lunch and headed from a bamboo boat ride through the Luon Caves. We spotted little monkeys playing around inside the cave. The views around the boat with the caves, the rocks and the turquoise waters took our breath away.
Catching Panoramic Views From Ti Top Island
Next, we were taken to Ti Top Island, which also has a small beach for swimmers. We climbed 500 steps to reach the topmost point and catch the panoramic view of the bay. And I got the definition of 'heaven on earth' visually! We descended as the sun was setting and quickly made our way back to our cruise. Next, we had a spring roll making session on the deck, followed by a sundowner party. For dinner, we had salads, a special fried rice and a plethora of chicken specialities.
Making Way To Sung Sot Cave
In Vietnam, the day starts early. So, the next morning, we had to wake up by 5 AM as we had to be done with our breakfast by 7 AM before heading to the Sung Sot Cave by boat. It is a natural wonder with hidden temples, stalactites and stalagmites. And it was illuminated beautifully with incandescent bulbs.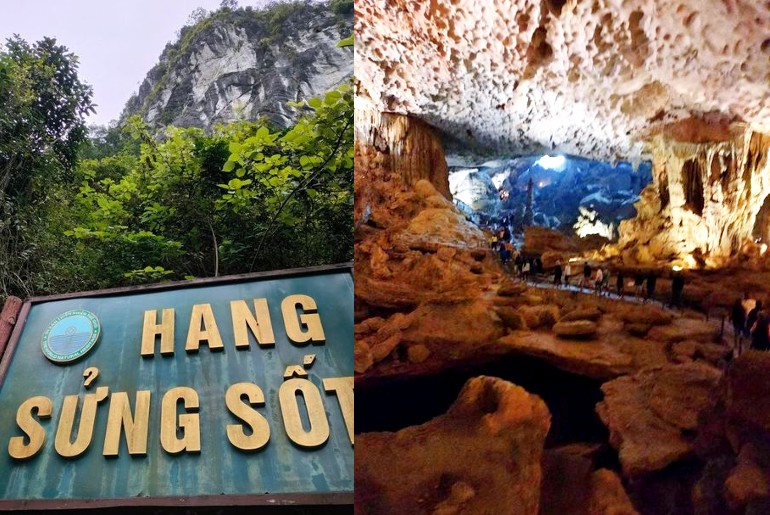 Also Read: Vietnam Food Tour: Here's Everything You Can Try As A Vegetarian
Bidding Adieu To The Bay
When we returned to the cruise from the cave, we had to do the check-out formalities before relishing the brunch at 9:45 AM, comprising authentic seafood options, Vietnamese desserts and much more, along with main course dishes. By the time the brunch ended, the cruise had also headed back to the shore.
We deboarded the cruise to bid adieu to the bay and the beautiful journey. The limousine was waiting outside to transport us to Hanoi.
The stay for two inside the cruise was ₹25,000 for one night and two days, including all meals and sightseeing. Drinks were, however, chargeable.
Cover Image Courtesy: Suchismita Pal and aquamarinecruises.halongbay/Instagram