Heading to Canada? Here's all that you can do within 7 days!
Day 1 – Explore Canada
Kamiya Jani, our Chief Travelling Officer recently visited the second largest country in the world – Canada.Now you can even hop on a direct flight to Canada via Air Canada and get to your destination within 16 hours. 
People
With a population of about 35 million, 4% of the population is made up of Indians living there. Infact Canada hosts the highest percentage of Indians in the Western world. We are so strong here that after English and French, Punjabi is the third official language in Canada.
Currency
Thinking about currency? A Canadian dollar is roughly about 52 rupees, and you can get plenty of things for really cheap. Makeup and cosmetics will cost you only $1 but a bottle of water will cost you around $3.
Temperature
The summer months in Canada are June, July & August and the temperature is anywhere between 15-25 degree Celsius. But if you're planning to visit during the winter months, the temperature easily goes as low as-20 degree Celsius. 
Day 2 – Experience The Beauty Of Niagara Falls
If you have visited Canada, you'd agree that Niagara falls is the main attraction there. With awe-inspiring Niagara Falls year-round, The Niagara Falls in Canada is a delight! There are several ways to view this beauty, here are the seven best –
1. Helicopter Ride
Hop onto a fleet of the Airbus H130 that flies year-round over the Niagara Falls. You can enjoy a spectacular view from 9 am to sunset if the weather permits. With the helicopter ride, one can see Canada and USA at the same time!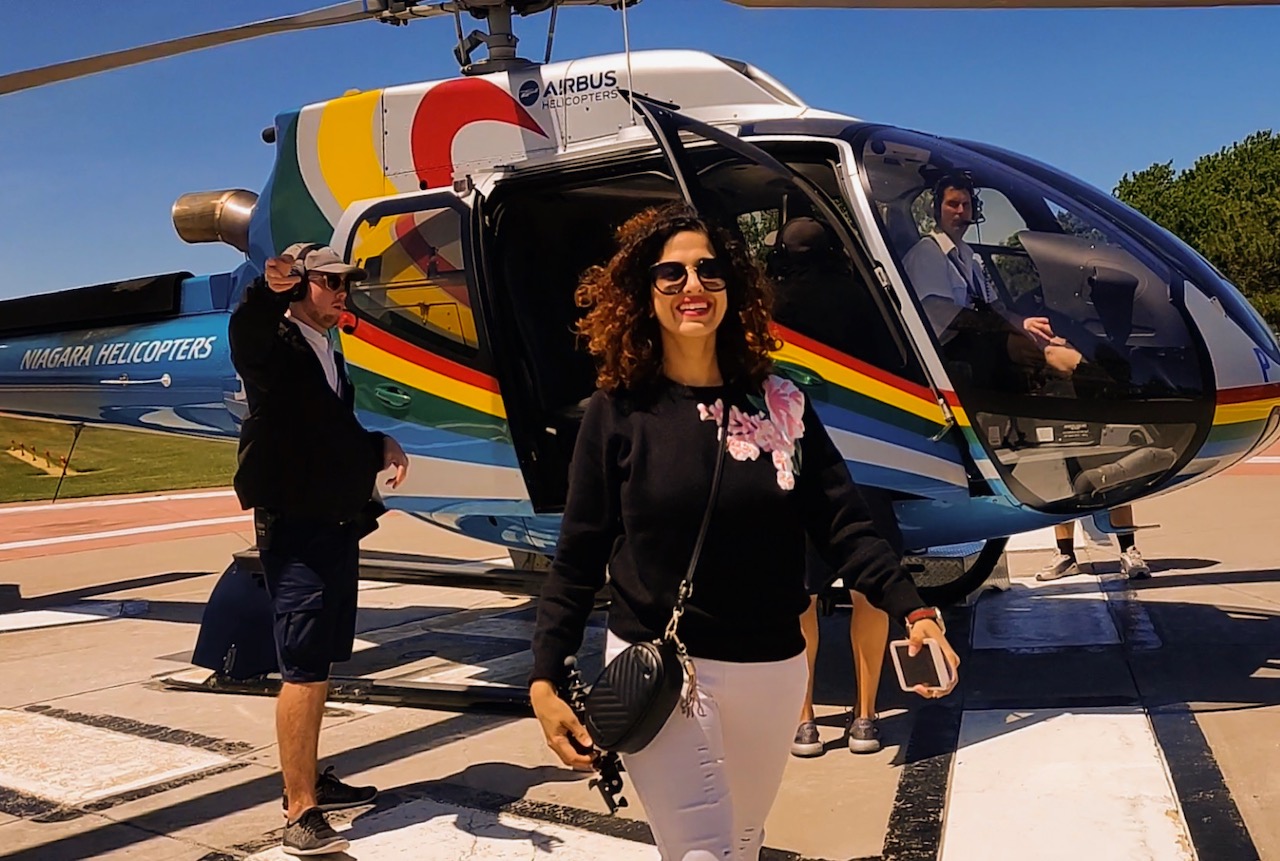 2. Hornblower Cruise 
Sail aboard the state-of-the-art, 150 passenger Hornblower Guardian Jet. This one's available for an intimate experience with the Niagara falls. 
3.  White Water Walk
Take a boardwalk situated on the very edge of Niagara's whitewater. You can get down on a 70 m elevator through a tunnel onto the 1000 ft boardwalk. 
4. 4D Experience
Discover the ancient story of Niagara in 4D at the 360 degree theatre. This theatre lets you experience the Niagara Falls in an elaborative video with water & bubble spray as you travel down a river or even snow.
5. Zip Lining 
The MistRider Zipline at Grand View Marketplace is 640m low. You can travel down to view the beautiful falls from the base observation deck.
6. Journey Behind The Falls
Enter the heart of the falls through 130 yr old tunnels of bedrocks. Feel thunderous vibrations of the Horseshoe falls right as you walk.
7. View From The Room
What can be better than viewing the splendid falls from your own room! Relax and unwind in the comfort of your room while you view the falls. Choose your fav way to watch this fresh white water crash down!
Day 3 & 4- Toronto
Visiting Toronto? Here's how you can make the most of 48 hours!
1. Visit the CN Tower
Start the trip by visiting the iconic CN Tower. It is a 553.3 meters high communications and observation tower which is is located in the downtown core of the city of Toronto, Ontario, Canada. Want to enjoy the panoramic view of the city? Get up on 150 floors on the CN Tower to experience the bird's eye view of the city. The CN Tower was world's tallest freestanding structure & tower for 32 years from 1975–2007. It got being overtaken by Burj Khalifa & Canton Tower, respectively in 2009.
2. Ripley's Aquarium 
Right next to the CN Tower is a the huge Ripley's Aquarium which is home to 16000 water bodies. Here's where you can watch jelly fish, turtles, sharks and also click a picture with the nemo! 
3. Hop On A Double-Decker Bus
The best way to explore the city definitely has to be the double-decker bus. Discover Toronto aboard a double-decker bus. Learn about major attractions, & cultural districts through professional commentary.
4. Explore Food Markets
Explore the local food markets here where the vendors sell everything fresh here from meats to cheeses to fish to pasta! Find over 600 types of cheese, or watch fish being prepared. 
5. Head to Casa Loma 
Head to Casa Loma, a Gothic revival style mansion & garden in Toronto. It is a 98-room castle that bankrupted a 19th century electricity multimillionaire. But before it gets dark, make your way for the harbour and island cruise.
Day 5 – Brampton
You might be in Canada, but it would seem like you're in a mini-Punjab by being in Brampton!
Geographically, you might be in Canada but it will seem like you're back in Punjab! Brampton in Canada has a population of 6 lakh people, majority being Punjabis. There's absolutely nothing you can't get here – from sarso da saag, palak paneer to everything! 
You can also find many gurudwaras in Brampton and we visited the biggest one there! But the reason why so many Punjabis have moved to Brampton is because they offer better job opportunities and a better future for the Indians. The Indians living there miss their home country, but they don't feel like moving back because they're self-sufficient.
Day 6 & 7 – Montreal
Montreal is where America meets Europe. Here's your itinerary for 48 hours! Get atop of an observation deck or on a guided cruise tour. Curly Tales makes a checklist for you for your next visit to Montreal.
1. Get Atop An Observation Deck
Want to enjoy the perfect view of the city and the CN Tower? Head atop an observation deck. Catch the skyline of Montreal at the observation deck.
2. Visit Notre–Dame Basilica
Quebec has some pretty stunning churches and the Notre–Dame Basilica is one of the best. It is located in
the historic district of Old Montreal and it dates back to the 17th century. Enjoy live music on the streets of Montreal just outside the church.
3. Experience Cruise Tour
The best way to experience Montreal? Hop on a cruise tour. From the Old Port of Montreal, discover the metropolis from the river. Enjoy world-class performances or come aboard for a panoramic view. 
4. Try Zipline & Quick Jump
Try the urban zipline circuit in Canada & explore Montreal from a bird's eye view. Fly over the city like a superhero in this unique, safe & exciting adventure.
5.  Discover The Lanes of Montreal
6. Visit St Joseph's Oratory
A Roman Catholic minor basilica & national shrine on Mount Royal's Westmount Summit.
7. Explore Old Montreal
Old Montreal is the oldest area here with a few remains dating back to New France.
8.  Go River Rafting
Spend the day rafting without ever having to leave the city. Enjoy Whitewater rafting on the Rouge
River minutes from downtown Montreal.
9.  Attend Montreal Jazz Festival
As per 2004 Guinness World Record, this is world's largest jazz festival. The fest roughly attracts roughly
2.5 mn visitors every edition.