I am a true Mumbaikar, even with all the chaos around, I would never turn my back on this city. It was here that I learned that nothing can, nobody can stop you from achieving what you want. Here, you are bound to fall in love with the city, the people, their struggles, the street food, the chaos, the hustle, and bustle. And if you have lived in Mumbai, you would never want to leave this place. I could write volumes about the city, but today I am here to tell you that this city has some of the most romantic places and if you are a sucker for beautiful sunsets, you have to come here!
Also Read: Check Out This Gorgeous Farmhouse 1.5 Hrs From Mumbai
1. Marine Drive
This was a no brainer! I have seen people sit here for hours, holding each other's hands and reminiscing all the good times they spent. I won't cliche it down saying only come with your better half, pick anybody or even better just come sit here all by yourself. You will feel that positive vibe, the weird motivation this place gives you, the sudden need to set everything in your life. I have taken some of the most important decisions of my life here, looking at the beautiful sea. And you will too!
How To Reach Here- You can take a cab from CSMT Railway station or if you are taking a train from Churchgate it is just in walking distance.
Also Read:  Things To Do In Vasai, Mumbai's Hidden Gem!
2. Vasai Beach
This I mention after Marines because it is one of those secluded places which are really less appreciated. It is actually much cleaner, quieter than all the famous places Mumbai is famous from. Vasai and Virar residents also believe that this is like a mini-Goa, but just more hygienic! Long coconut trees spread alongside the highway give you the goa feels. Now many may argue saying it is not in Mumbai but it is in the outskirts, so leaving behind technicality, I will definitely put this up on the list. I will any day ditch Girgoan Chowpatty to come here!
How To Reach Here- From Vasai station, you can take an auto that will easily take you to the beach.
Also Read: Try The VIP Vada Pav At Jugaadi Adda In Worli
3. Worli Sea Face, Worli
I know it is getting a lot about the seas and sunsets, I promise this is the last one. Worli sea face is just majestic and too magnificent to not mention in the list. If you come here at midnight, you will see the Bandra Worli bridge lit up, you cannot help but fall in love with that view. Have I mentioned that Mumbai just gets even better in the Rainy season? Let's leave the chaotic railways behind, just focusing on beautiful landscapes.
How To Reach Here- The closest station is Mahalaxmi and if it falls on the Western Railway. Lower Parel is also close to Worli, it is just 2-3 Kms from Worli. You can take a cab from either of the stations.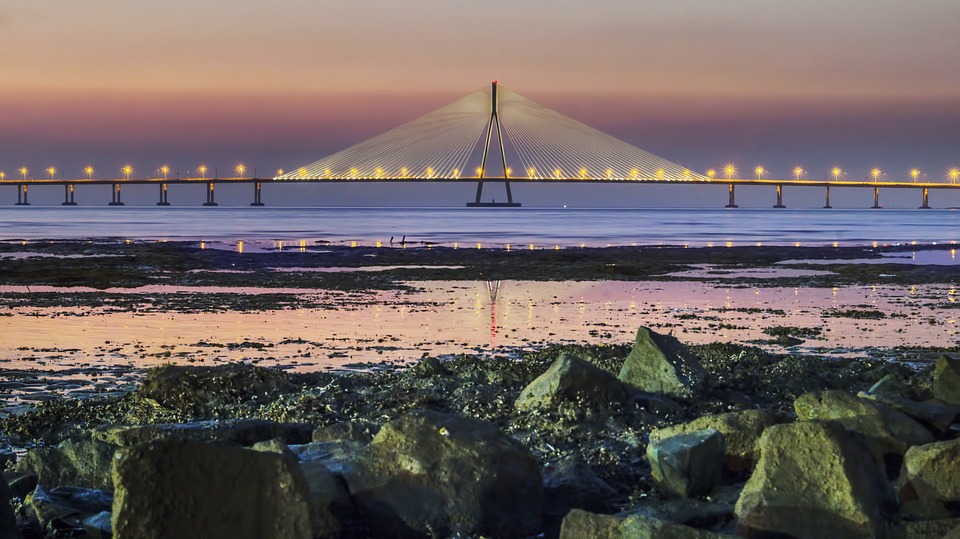 4. Carter Road, Bandra
After Marines, you cannot miss out on this one. Sipping some good coffee on a gloomy rainy day with an alluring view of the sea. Nostalgic conversations, munching on some delicious food, getting lost in the golden sunsets is what Carter Road is really all about. There is a whole street full of amazing restaurants and even the best street side shwarma!
How To Reach Here- You can take a rickshaw from Bandra Station, it will cost you not more than 50 rupees.
5. Hanging Gardens, Malabar Hills, Mumbai
Do you like places where you have an entire view of the city. If you want to get away from the hustle and bustle of the city and just want time to yourself, come to Hanging Gardens. To appreciate the beauty of the city from a bird's eye view! It has some really nice flora and just before the sunsets you hear birds chirping, you will definitely like the atmosphere there!
https://www.instagram.com/p/ByVM-nWhF3G/
6. Palm Beach Road, Navi Mumbai
How can I leave behind Navi Mumbai? A laid back night drive at Palm Beach is one of the most romantic things, Imagine you are in your car, empty roads, it's drizzling, street lights are beautifully aligned setting the perfect romantic mood! There are also great restaurants and ice cream parlors here
How to Reach Here- Palm beach road is between Vashi and Belapur. The closest station is Vashi, you can take an auto to Palm Beach Road.
Also Read:10 Cheesiest Dishes In Mumbai
7. Juhu Chowpatty, Juhu
I am not a fan o this place but looking at the number of people that turn up here I think a lot of them are fond of it. But I have to mention the street food there, especially the Pav Bhaji stalls are amazing! Other than Pav Bhaji you can also have Pani Puri and other chaat options.
How To Reach Here- Vile Parle is the closest station to Juhu Beach, any local transport can take you there. If you are traveling from Metro, Versova Station is the closest.
And if you want to explore entire of Mumbai, here is a video of the best places to visit in under 48 hours!