Goa is loved for its splendid blue waters, pristine beaches, magnificent churches, forts and so much more! The natural beauty of Goa paired with its rich culture and gourmet cuisine makes it one of the most popular destinations among domestic and international travellers alike.
At this beach paradise, you can walk on the soft sands flanked by towering coconut trees, take sips of local drinks like feni and urak and also party (safely) till your toes hurt in the most happening nightclubs. Be it adventure or serenity, Goa can offer the best of both. To revel in the charm of Goa, you must put up somewhere that offers you the utmost comfort while catering to all your needs. Thankfully, Airbnb has some marvelous properties here that not only offer a slew of amenities, but also ensure that you can enjoy the vibe of the place to the fullest. Here is a list of 10 such mind-blowing properties:
This gorgeous 4-bedroom villa in Calangute comes with a private pool and a lawn with lush views. You can go for walks, soak up some sun in the pool or simply spend some downtime at the beach which is just a stone's throw away from the property. The villa is close to both Candolim and Baga Beach making it extremely accesible. The four airy bedrooms feature cosy beds, a TV, and AC's. Sit back and relax, knowing that the caretaker will cater to all your needs and offer you a delicious breakfast every morning.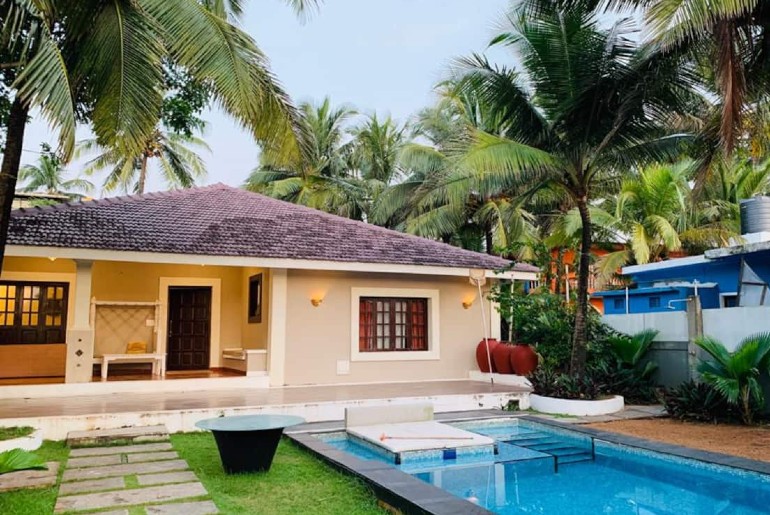 Nestled in the heart of Baga, this lush villa is just 800m from Baga Beach. If you are looking for some privacy, this is an idyllic place to check-in. The 6 BHK Bungalow is perfect for anyone seeking repose while still having easy access to North Goa's best nightclubs, beaches, restaurants, and casinos. Take a dip in the private plunge, relax in the hot tub, or just lounge around the deck. The home features spacious rooms, a beautiful living room, a kitchen, and a bar. Sounds like just the place for a perfect getaway, right?
Live as the Portuguese did at this gorgeous heritage villa that stood the test of time. Casa de Tartaruga™ is a half – century old Goan Villa, located in the quiet village of Assagao, North Goa. The villa is tastefully appointed with vintage-style beds and desks, a library, and verandahs where you can take in the morning breeze. Spend your afternoons at the pool or borrow one of the bicycles to explore the countryside. What's more, the villa is just about a 5 to 10 minutes' drive from most North Goa beaches which makes the location even more appealing.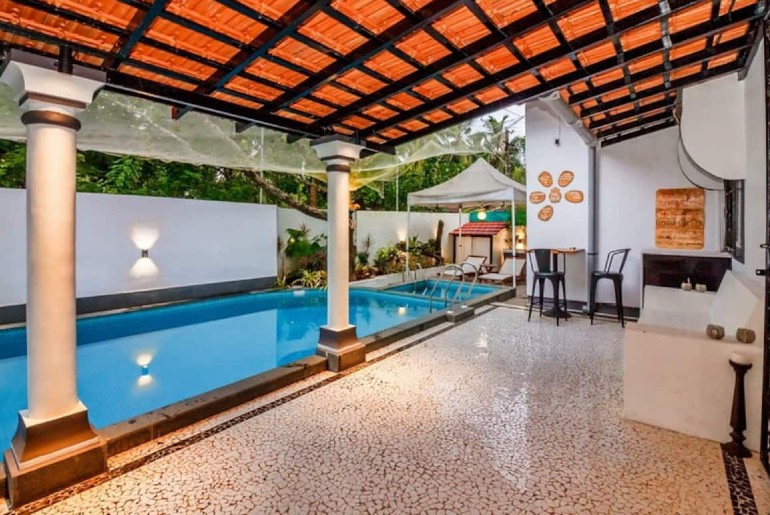 While this quaint, colonial villa has been upgraded with modern amenities, it retains the rustic charm of Goan-Portuguese architecture. The four bedrooms and three living rooms exude old-world charm with intricately carved furniture. There is plenty of space to relax in this house surrounded by a Portuguese-style balcony. Walkthrough arched doorways into airy, high-ceiling rooms with comfortable beds and antique almirahs. However, the highlight of this villa is its master bedroom that opens up to the pool and outdoor area. Plus, all bedrooms have ensuite bathrooms and air conditioning for you to sit back and relax.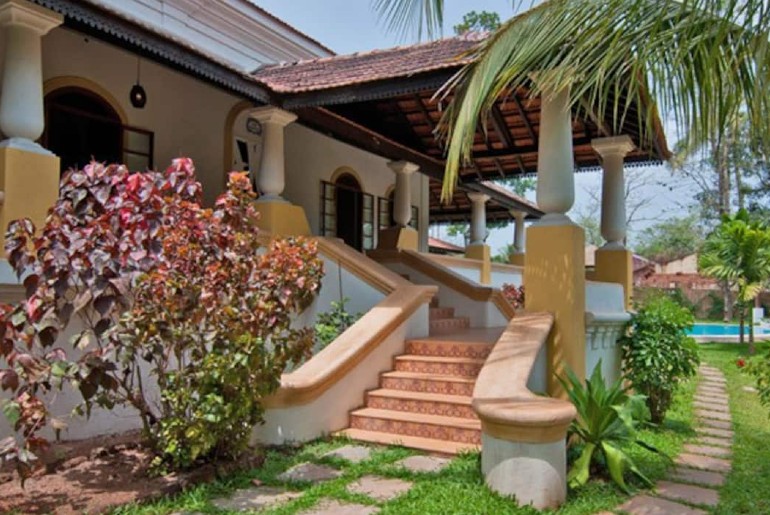 This villa features a spacious living room, manicured lawns, and a courtyard private pool under the shade of tall palm trees. This heritage villa is the perfect oasis of calm away from the maddening crowds of the city. While the three-bedroom property holds true to its heritage of Portuguese architecture with its poster beds, exposed plaster walls, and a flagstone floor, this minimalistic home also has contemporary open floor plans and interiors with modest storage areas that make it the perfect combination of heritage and modern luxury.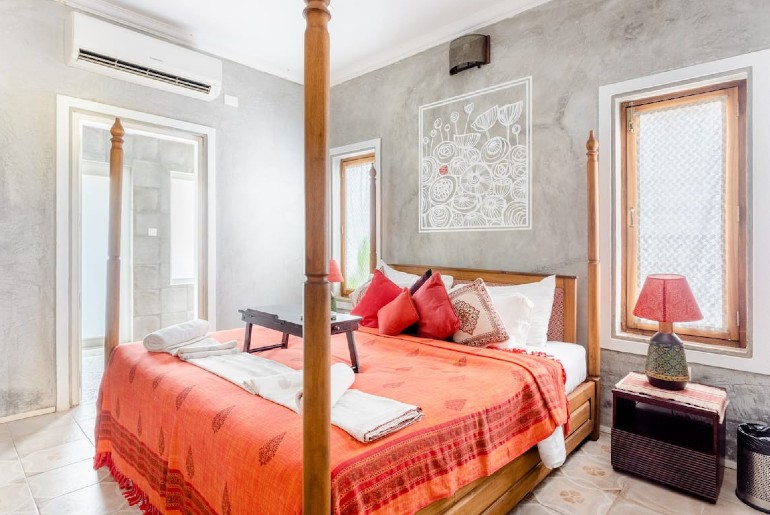 This villa in the quaint village of Saligao is dotted with coconut mango, frangipani, and bougainvillea trees in its beautiful tropical garden. Nestled amidst the pristine hills and emerald fields of the Saligao village, this five-bedroom villa with en-suite bathrooms has spaces with a rustic and earthy aesthetic. The lush surroundings will ensure that you leave all your worries behind.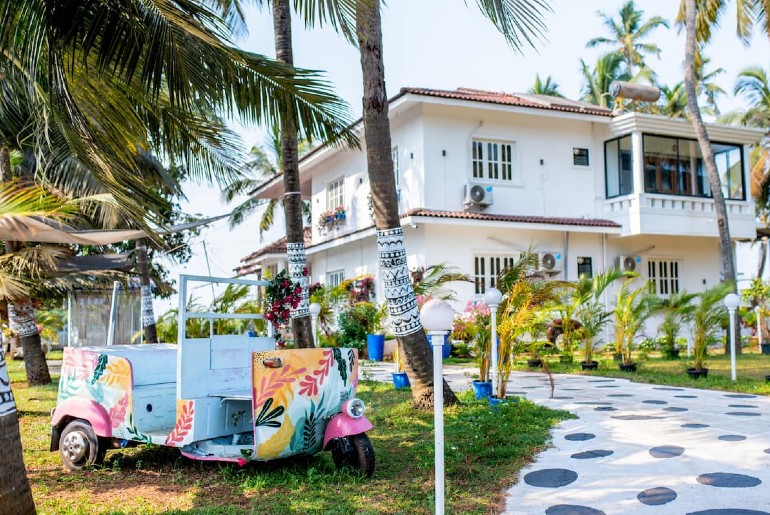 This lavish three-bedroom Scandinavian with a gorgeous private pool and terrace deck is the vacation home of your dreams. Set between Morjim and Vagator, makes it a great home base, this villa is all about location, location, and location. The elegant villa is surrounded by greenery on all sides, offers some stunning views that make it an ideal place for unwinding andthe outdoor hot tub overlooking the lush green fields is surely the cherry on the top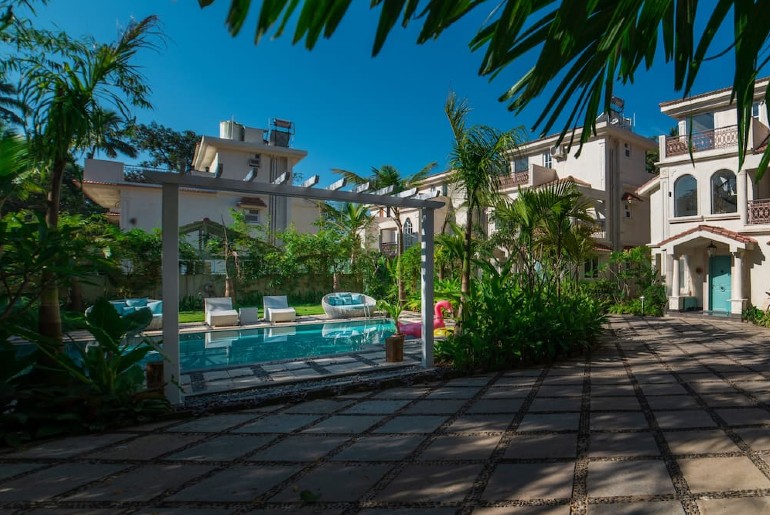 This boutique villa in the quaint village of Moira is handcrafted with a lot of love and attention to detail. Located in the lap of nature, it boasts a private pool and spacious verandahs. Here you can enjoy some relaxing spa treatments from the in-house therapist. Lounge under the shade of frangipani trees and savor a delicious Goan meal prepared by the chef on-call. If you wish to cook your meal, there's a fully functional kitchen that ensures you don't need to step out of this little paradise for anything. You can take some leisure walks in the village, go fishing, or indulge in some adventure sports experiences such as scuba diving and forest treks.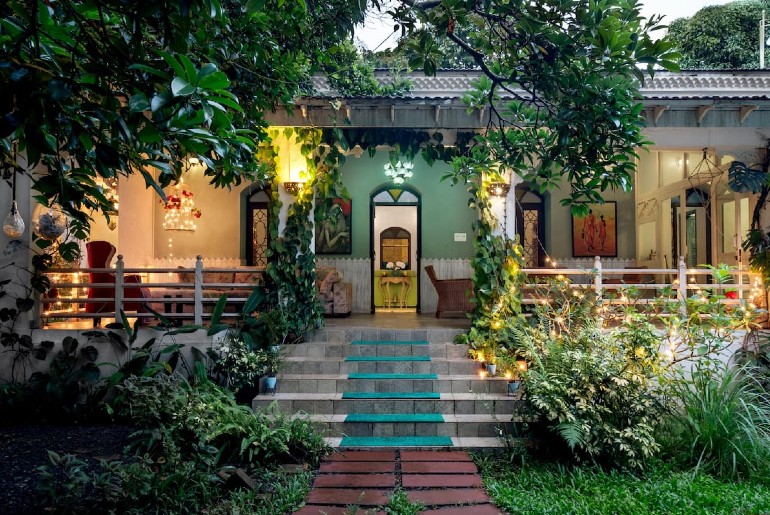 Siolim Door is a sunlit and peaceful three-bedroom haven with two gorgeous swimming pools and a terrace. Walk just 10 steps from your private patio to take a dip in the swimming pool overlooking an uninterrupted expanse of paddy fields. The villa dotted with palm trees is an invitation to refresh and recharge after spending months at home during the lockdown. What more? The sit-out area is just right for soaking in the resplendent beauty that Goa has to offer.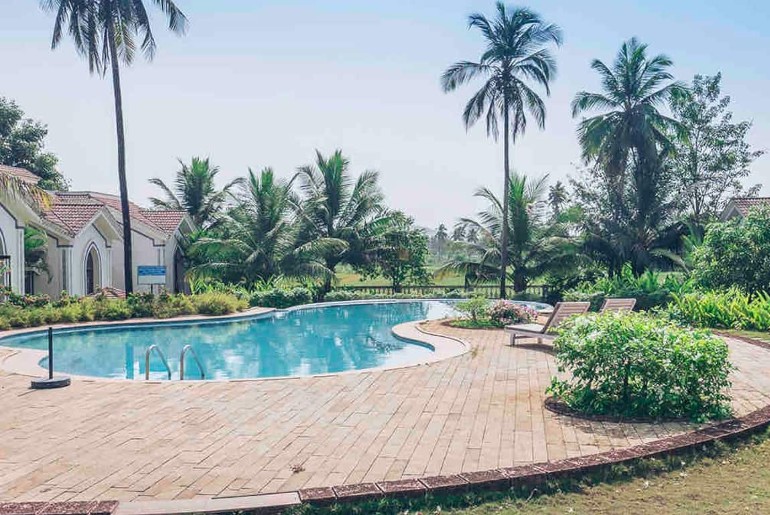 This swanky penthouse is nestled in the pretty village of Nerul. It overlooks lush green paddy fields and the gurgling Nerul river. The spacious bedrooms of the property offer uninterrupted views of the stunning surroundings. The property also has a gorgeous plunge pool that is available for private use. You can also unwind at the beautiful terrace and catch the most charming sunsets. For those who love to cook, the penthouse comes with a modern kitchen with all the essential fixtures. Plush Penthouse can be a tranquil cocoon to spend a laidback time with your close ones.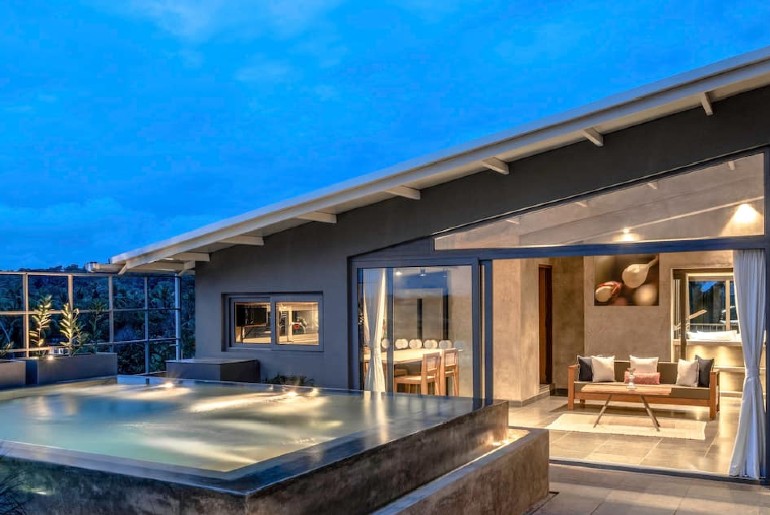 So, the next time you're planning a trip to Goa, make it memorable by booking your stay in one of these spectacular properties. To explore more, visit the Airbnb website right away!