When you think of Delhi, you think of Chandni Chowk, Qutub Minar, Sarojini Nagar Market. These historic sights are known for their shopping and eating options they offer.
But guess what? Delhi is much more than just lavish eateries and exotic historical monuments. Away from the popular hangout joints, Delhi houses its best-kept secrets. In fact, there are so many historical places, old Havelis, and forts that define the character of the city – gems that go unnoticed. Curly Tales takes you through Delhi's hidden gems that need more limelight.
1. Gandhak Ki Baoli
As you walk past the narrow streets of Mehrauli, you will find a step-well near the local bazaar. It is adjacent to Adham Khan's Tomb.  Gandhak ki Baoli was created under the rule of Iltutmish. The purpose was to store enough water for nearby villages. In medieval times, step-wells or popularly called 'baolis' were made to harbor water. Gandhak ki Baoli is five-storey-deep. It gets its name because (gandh) means smell that came from the Sulphur-laden water. Go to this gorgeous place on a cloudy day. Spot a quaint place, sit there, write, take photographs or simply introspect. It's very peaceful.
2. Khooni Darwaza
Khooni Darwaza is also called the 'Lal Darwaza'. This place was created during the Mughal era, and it is beyond beautiful. Standing with poise on Bahadur Shah Zafar Marg, this Darwaza is much more than just a mere gate. Built by Sher Shah Suri during his fleeting reign, it's a regal arch right outside Feroz Shah Kotla. According to history, Khooni Darwaza has witnessed many untold stories. It is said, Emperor Jehangir had killed two sons of Abdul Rahim and had hung their bodies on display at this arch. There are many more bloody stories and legends attached to this historical gate. Do you dare to visit?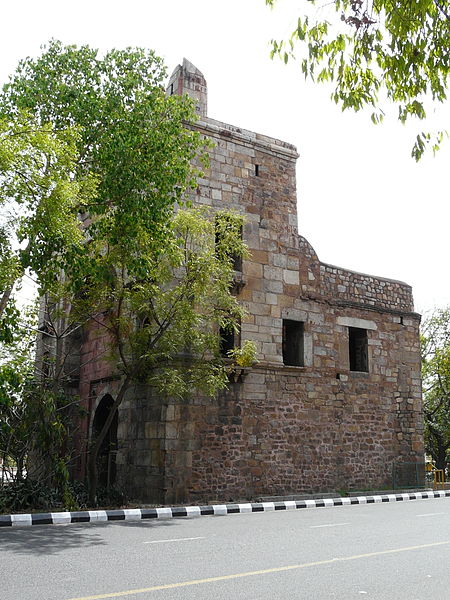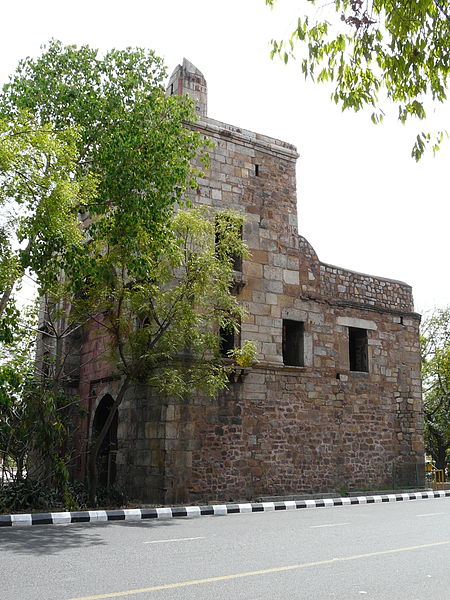 3. Jahaz Mahal
The grand Jahaz Mahal was built during the Lodi era. The real purpose of its birth is still unknown. While some believe it was a resting place for travelers from far Middle-Eastern lands, others believe, it was a pleasure house for the Mughals. The monument looks like a ship and because of this, it makes the entire visual experience a unique one. Surrounded by patches of greenery, this place deserves more limelight than anything else. Seated for centuries in Mehrauli area, right next to Hauz-i-Shamsi, Jahaz Mahal speaks a lot about the bygone era. Although the monument today is in bad shape, it still reflects art and culture of a rich era.
4. Tughlaqabad Fort
Located in a remote corner of South Delhi, Tughlaqabad Fort overlooks long stretches of fields from a hill top. Visited rarely by tourists, this fort stretches over six kilometers. The fort is a perfect place to visit during winter afternoons because a lot of walking is involved, and it can get super-hot! The fort has beautiful gardens and well-maintained walking paths inside the walls. Moreover, it still has some striking and huge stone fortifications that contour the asymmetrical ground plan of the town. This area looks isolated but few local people live near the area. If you want to go far away from the hustle-bustle of city life, visit Tughlaqabad Fort. The charming sight will take your breath away.
5. Chor Minar
During the era of Alauddin Khillji, a burglary was considered a serious sin. For this reason, if thieves were caught, they were sent off to Chor Minar (Tower of Thieves), where they were hanged and beheaded. In fact, some even say their heads were pierced through spears, and later displayed. Strangely enough, in spite of all the horrific tales, Chor Minar stands peacefully near Qutub Minar. Its gory past stands forgotten today. If you plan a visit to this place, make sure you go during sunset time; the lighting makes for great photographs.
We guess, your weekend plans are sorted now. Go discover these dying sites and unveil their forgotten stories.