Whether you're into Maharashtrian delights or North Indian food or even ample of desserts, Pune has you covered! Pune has proved time and again that it is totally in the food game and is coming up with more and more delicacies to offer us. If you're a foodie, you'll have plenty of options to explore in Pune. Here are 5 places that you have to strike off your bucket list –
1. Surve's Pure Non-Veg Restaurant at FC Road
Surve's at FC Road serves the best non-vegetarian delicacies in Pune along with a healthy dose of love. You might have heard of pure vegetarian restaurants, but have you heard about a restaurant that only serves non-vegetarian items? Surve's pure non-vegetarian is here to tickle your taste buds with the best of meat. Pune's first ever only non-vegetarian restaurant that serves the best of biryanis, chicken curry, fish, and mutton. Pure non-vegetarian food will be served to your table to enjoy its finger licking goodness. Starting the menu with its egg items like omelets, burji and egg curry, the menu goes on to the big daddies of non-vegetarian items like chicken, mutton, and fish. 
Also read: Pune's Pure Non-Vegetarian Restaurant Is Here To Satiate All Your Meat Cravings
Address: 6, Chanakyapuri, Tukaram Paduka Chowk, FC Road, Pune
Phone: 020 30189198
Approx cost: ₹550 for two people
2. Baahubali Paratha at House Of Paratha (JM Road) 
House Of Paratha at JM road serves the grand Baahubali Thali and it takes 5-6 people to finish it. There are a few famous locations in Pune for unlimited eating, but nothing beats this thali served at House Of Paratha. The Baahubali movie might be a feast for your eyes on the screen, but the thali is even better. It has Devasena Paratha, Kattapa Biryani, Sivagami Shaahi Pakwan, Bhalladeva Patiala Lassi, and the giant Baahubali Paratha that tops the list. The accompaniments include 5 types of farsan and fried snacks, 5 varieties of sweet dish, a drink or shake, salad, pickles, chutney and topped with 3 types of ice cream. It is served in a giant steel thali and you will have to wait at least an hour for your thali to be served to you. Or you can simply call the restaurant before arriving so that your order is prepared before you arrive.
Also read: House Of Paratha In Pune Serves The Baahubali Thali And Nobody Has Finished It Till Now!
Address: B-19, CIFCO, Opposite Sambhaji Garden, JM Road, Pune
Phone: +91 7722071694, +91 7775977757
Approx cost: ₹1500 for Baahubali Thali  
3. Chicago Deep Dish Pizza at Baked And Wired (Kalyani Nagar)
Baked And Wired is known for its monster deep dish pizzas that are prepared Chicago style. The crown for uniqueness certainly goes to the 28 inch monster that they create. Their winner, the Chicago deep-dish pizza is a champion in all forms. Loaded with mozzarella cheese that will make your mouth water in the first sight, it is also topped with basil leaves and roasted tomato sauce. With the introduction of the 28 inch monster that is the Chicago deep-dish, this pizzeria has become a number 1 favorite of everyone in the city. People of Pune visit the pizzeria just to strike it off their bucket list.
Also read: Baked And Wired In Pune Serves Mammoth Chicago Style, Deep-Dish Pizzas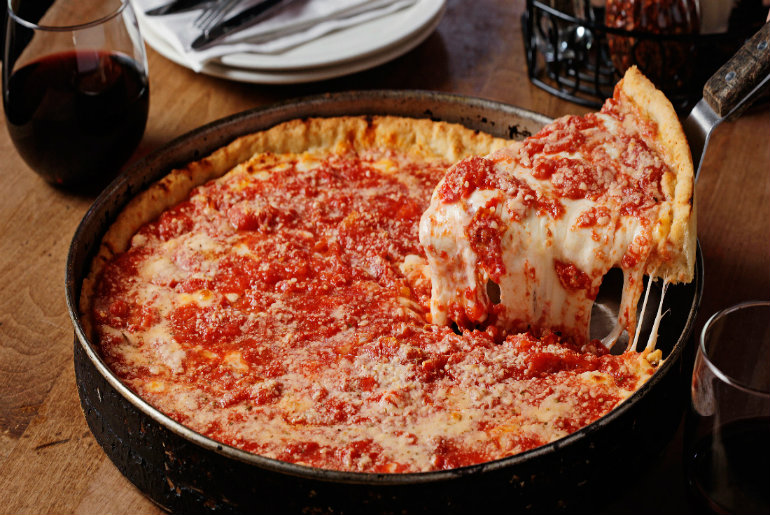 Address: Shop No. 3, Saniara Apartment, Opp. Erin Nagarvala School, Central Avenue Road, Kalyani Nagar, Pune
Phone: +91 8007865324
Approx cost: ₹800 for 2 people
4. Nutella Pretzel Shake At GeoBistro (Viman Nagar)
Giving you decadent freakshakes and mouth-watering desserts is Viman Nagar's GeoBistro. If you're a fan of freakshakes, you can't miss the Nutella Pretzel freakshake (₹390) at GeoBistro at Viman Nagar, Pune. This dessert/drink is made out of chocolate ganache, vanilla ice cream, swirls and topped with a very eye-pleasing pretzel at the end. Served in a dessert-wine glass, the Nutella Pretzel Shake is a one of a kind dessert that is eye catching as well as mouth-watering!
Also read: You Need To Try The Nutella Pretzel Shake At GeoBistro In Viman Nagar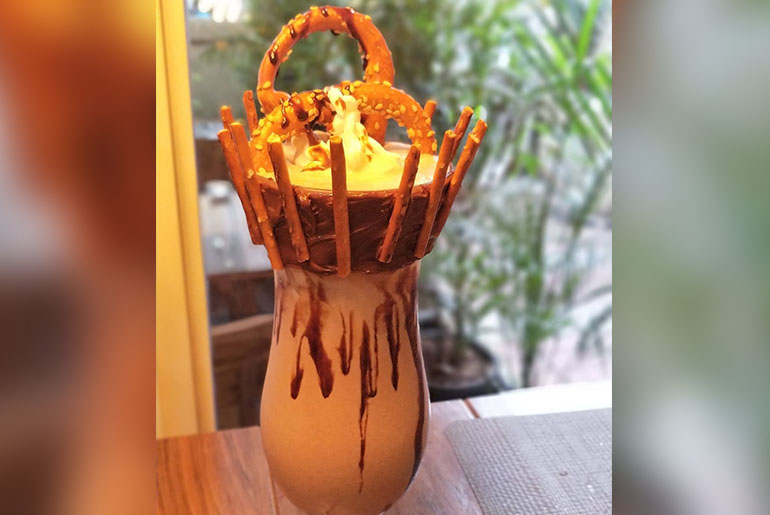 Address: GeoBistro, Row House 2, Nand Gaon, Clover Park, Datta Mandir Chowk, Viman Nagar, Pune
Phone: 020 30162116
Approx cost: ₹950 for two people
5. Ice Cream Pizza at Polar Bear (Viman Nagar)
Calling all the ice cream fans in the house, Polar Bear in Viman Nagar serves an ice cream pizza and you've got to try it! Serving some quirky and fun flavors for people from all ages, Polar Bear is here in Viman Nagar, Pune to satiate all your sugar cravings. We've fallen in love with the Ice Cream Pizza (₹105 per slice, ₹395 for a full pizza). It has the goodness of ice cream, loaded with your favorite sprinkles, jelly cubes, and toppings. Another masterpiece is their Seven Wonders ice cream with 7 scoops of ice cream along with your choice of toppings.
Also read: Polar Bear Ice Cream Shop In Viman Nagar Serves An Ice Cream Pizza And You've Got To Try It!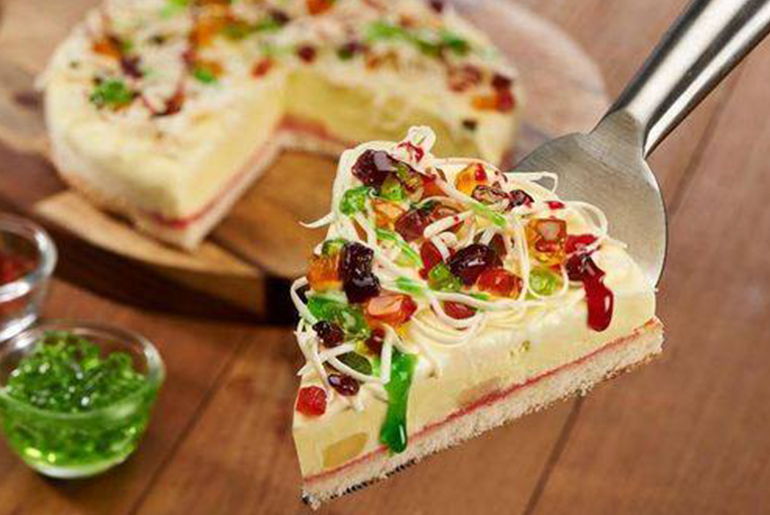 Address: Polar Bear, Unit 2/1, Ground Floor, Turning Point 2, Survey 206/3, Viman Nagar, Pune
Phone: +91 9890870211, +91 9881136048
Approx cost: ₹300 for two people
LIKE Curly Tales on Facebook | Instagram| Twitter
You can also subscribe to our newsletters