Staying at a plush five star hotel is now a passè! If you wish to make your friends go green with envy after seeing your social media travel posts, go off the grid and opt for a unique accommodation. Lets escape to some of the beautiful tree house resorts of India that are safe and swing-proof. Take a look!
1. Tamara, Coorg
Tamara Coorg is built without disturbing the natural landscape and contours of the hill. The cottages resemble wood cabins that are designed with stilts on the edges.
Striking a perfect balance between luxury and nature, this architectural wonder of a hotel ranks amongst the list of top hotels to stay at in India!
Where: Kabbinakad Estate, Yevakapadi, Napoklu Nad, Madikeri, Karnataka 571212
How much: ₹ 20,000 (approx)
Also read: Unforgettable Camping Experience near Mumbai With BBQ Meals & Activites like Fishing, Kayaking & Treks 
2. The Machan, Lonavala
Lush valleys, abundant waterfalls, silver streams and misty winds! Surrounded by glass on three sides, the canopies here are sure to give you an illusion of being suspended in limbo in the midst of a forest. The Machan in Lonavala is a luxury eco resort for who love nature & luxury as much as they love their spouses. An outdoor bathroom with rain shower is sure to shed away all your inhibitions.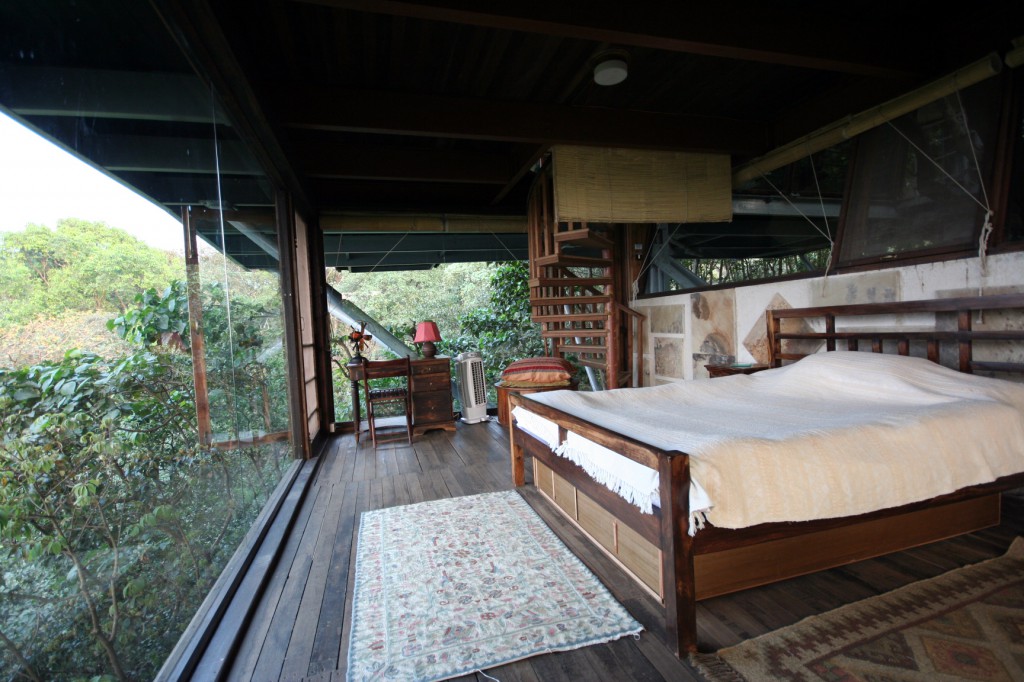 These Canopy Machans also boasts of a wooden deck. Offering utmost privacy, gaze at the stars above and a valley around you.
Where: Private Road, Atvan, Maharashtra 401401
How Much: ₹ 12,000-  ₹ 14,000 per night
Also read: Five Most Romantic Hotels in India
3. Treehouse Hideaway, Bandhavgarh
Situated near Bandhavgarh Tiger Reserve, this one is clearly a tropical paradise. Built on five different trees, each tree house here has been named after the tree. The tree houses have been constructed using eco-friendly techniques.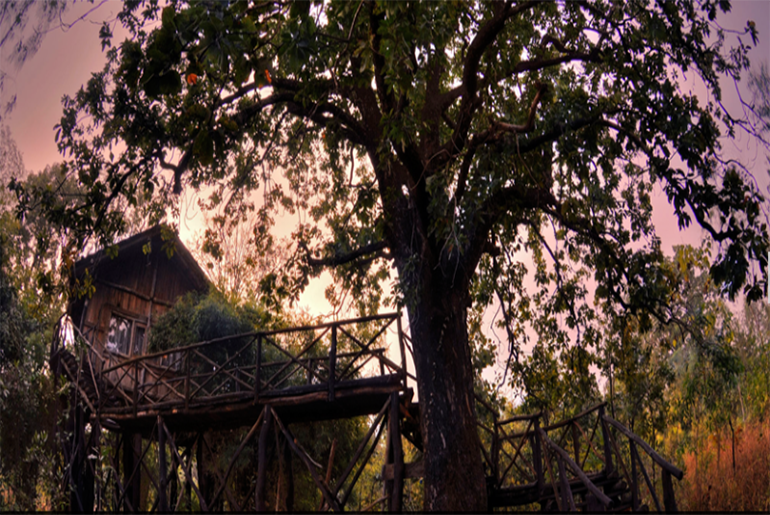 Perched atop the Indian wilderness, this luxury wildlife resort in Bandhavgarh offers a peaceful, comfortable stay.  
Where: Umaria-Badhavgarh Road, Umaria District, Vijarhia, Madhya Pradesh 484661
How much: 10,000- 12,000 per night
Also read: Here's How To Choose The Best Jungle Safari In Madhya Pradesh
4. Treehouse Cottages, Manali
Be in the lap of Nature surrounded by the mountains in a large orchard of apple, plum, pear, walnut, persimmon and other trees. Not too far from the river Beas, if you are looking for snow outside and warmth inside, head to the Treehouse Cottages in Manali. Situated in the Himalayan hills, these tree houses are quite well equipped.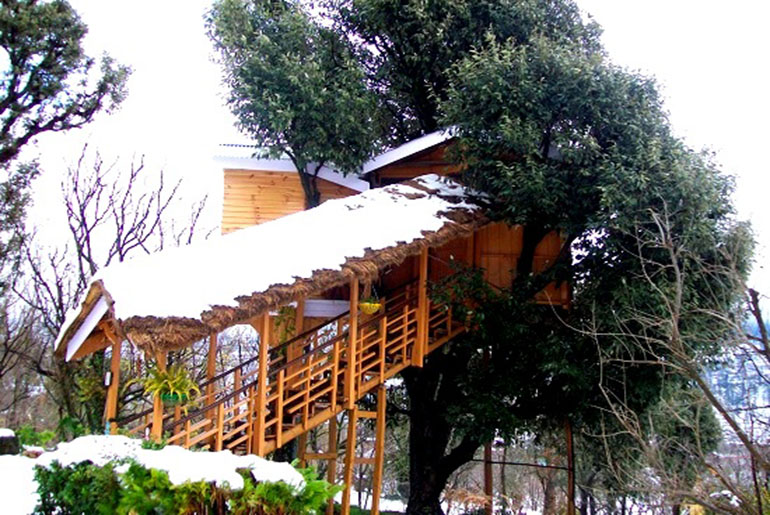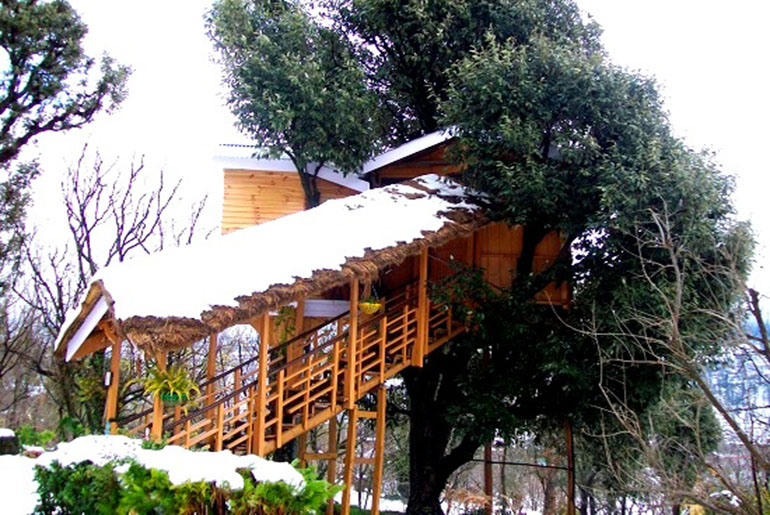 Offering a breath-taking view of the Himalayan mountains, the tree house here comes afixed with a completely modern bath and toilet!
Where: Katrain, Manali, Himachal Pradesh 175129
How much: 2500- 3500 per night
5. Rainforest Resort, Athirapally
With Asia's largest waterfall as your backdrop, soak in the misty sprays of the cascading Athirapally. Staying at Rainforest Resort is probably one of the best things that can happen to any traveller. The tree houses here have been designed by a famous Swiss architect. Set in 7 acres of virtually virgin rainforest of Sholayar, the tree houses here are spacious and airy.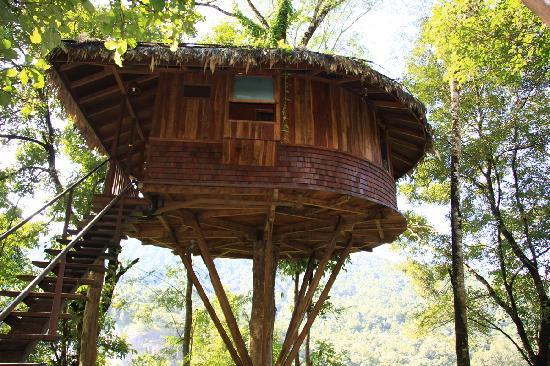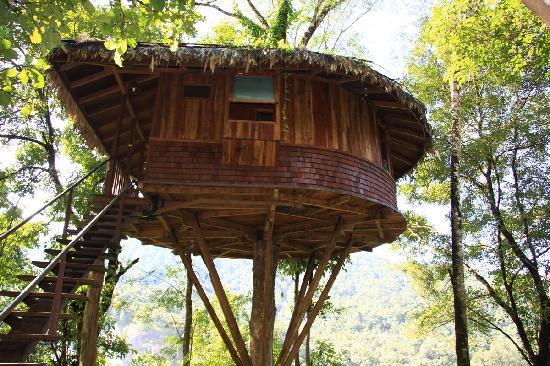 Where:  P IV /93 A, Kannamkuzhy P O, Athirapally Via Chalakudy,, Trichur, Kerala 680721
How much: 14,000- 15,000 per night
Also read: Most Scenic Train Journeys In India
6. Jungle Retreat, Mudumalai Wildlife Sanctuary
This one is for the ladies! Jungle Retreat is a family-run establishment ensuring the safety of women. Nestled in the foothills of the Nilgiris, the tree houses here offer a panoramic view of the jungle as they are situated at a height of 33 ft above the ground. Skirting the Mudumalai Wildlife Sanctuary, Jungle Retreat was born out of its close bond with the surroundings. 
Where: Jungle Retreat Road, Bokkapuram, Masinagudi, none, NILGIRI, TAMIL NADU, 643223
How much: 9,000- 12,000 per night