Ramadan, also known as Ramzan is a crucial festival for all those who follow the religion of Islam. During this month-long celebration, people fast and abstain to honor the first revelation of the Quran to Prophet Mohammed. The fasting lasts throughout the day and people refrain from both food and water. While this may be the crux of the festival, every evening people gather for the main meal of their day, which happens post sunset. This communal meal called Iftar encourages people to break their fast with shared plates of food. Since it is the primary meal, Iftar food is what makes Ramadan so special for all food lovers.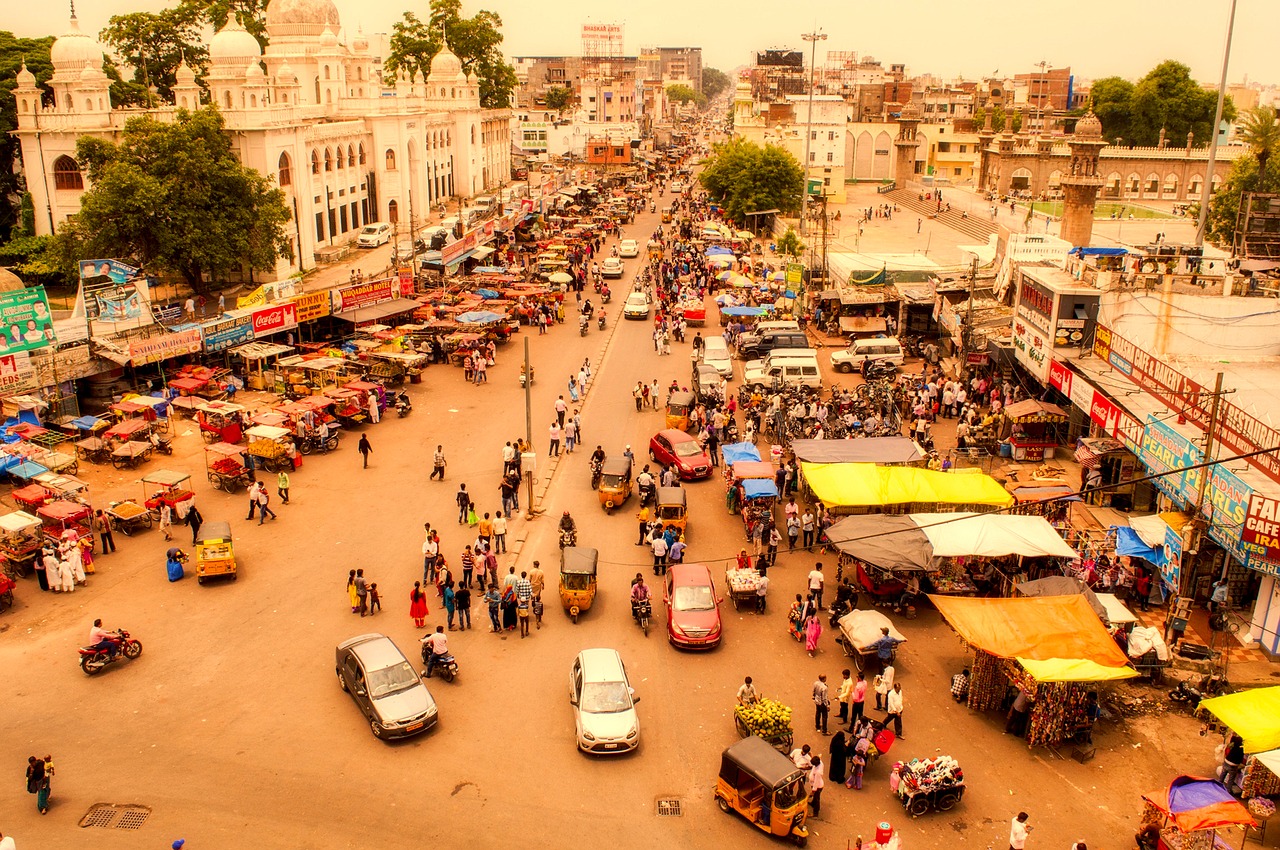 From Haleem to parathas, from Shami Kebabs to Sheer Kurma, from Dum Biryani to fresh fruit juices, from meat curries to Shahi Tukda, all of these form a part of the Iftar. Across India, Hyderabad is known to serve the best Ramadan delicacies and this year, we are here to eat it all.
1. Hyderbadi Biryani At Hotel Shadab, Charminar
No surprise here, folks. If you're in Hyderabad and you aren't pouncing upon the infamous biryani, then something's just not right. Known to weave in the taste of the Nizams, Hotel Shadab on Ghansi Bazaar Road is a name that's synonymous with the dish itself. Their Hyderabadi Biryani is considered to be the most authentic in the city. Since it is Ramadan, the crowd lined up here is massive. They have a vegetarian version as well which is served with Mirchi ka Salan (a curry made with peanuts and chillies). We also dived into the Qubani ka Meetha, an excessively sweet dessert that's made from dry apricots and is quite popular here.
Also read: Experience Royal Dining At Ohri's In Hyderabad
Address: 21-1-140-144, Near High Court, High Court Rd, Madina Circle, Charminar, Ghansi Bazaar, Hyderabad, Telangana 500012
Timings: 5 am – 1 am
Cost for two: Rs 850 approx
Contact: 040 2456 1648
2. A Few Ramadan Specials At Hotel Nayaab, Charminar
You either love this place or you don't, there's no middle. But we're here to try their Haleem that is claimed to be sensational. Haleem is a pounded meet dish that's ladled with broken wheat, barley and lentils and is a signature food component to the festivities of Ramadan. Nayaab is also known for it's Chaar Koni Naan, a square rendition to its usual, oval brother and attracts tons of locals for its Paya Masala. However, another masterpiece on their menu is the Biryani and our stomachs definitely agreed with its layers of gorgeous flavors.
Address: Hotel Nayaab, Nayapul Road, Ghansi Bazaar, Hyderabad
Timings: 4 am – 1 am
Cost for two: Rs 400 approx
Contact: 040 66588320
3. The Infamous Haleem At Shah Ghouse, Charminar 
You already know what Haleem is. But what you don't know yet is this: Shah Ghouse in Charminar serves the best in town. Period. There won't be any arguments on this one. Courtesy of Ramadan, we were amazed at how busy this spot was even late at night. You'll find the caterers head-bent, filling and handing out Haleem takeaways to people who will soon be shipping this to their relatives in different parts of the country. Yes, this place and their Haleem are THAT popular. Also, do try their desserts including Qubani ka Meetha, you know just to end things on a sweet note.
Address: Shah Ghouse, Shah Ali Banda Road, Opposit Green Garden Function Hall, Syed Ali Chabutra, Zohra Colony, Charminar, Hyderabad
Timings: 12:30 pm – 12:30 am
Cost for two: Rs 700 approx
Contact: 040 64617788, 040 24524506
4.  Sweet, Baked Ramadan Delicacies At Pista House, Charminar
There's a reason why this place is named 'Pista House' and it got pretty evident when we were standing outside it. The whole place is in shades of green, including the staff that wears green outfits and there's a live green screen just outside. With its humble beginnings as a sweet shop, the Pista House still retains its name for the array of baked goodies it brings in specifically for Ramadan. The Shahi Tukda, Double Meetha, Sheer Korma are just starters, with colorful barfis laid out to tempt audaciously.
Address: Pista House, Etebar Chowk Crossroad, Kotla Alijah Road, Moghalpura, Charminar, Hyderabad
Timings: 9 am – 11 pm
Cost for two: Rs 300 approx
Contact: 040 71327150
Also Read: Careem To Deliver Food For Free This Ramadan
5. Chicken 65 At Prince Hotel, Mehdipatnam
Now, the locals here come in for their Khichdi Khatta Kheema for breakfast but what every Hyderabadi knows is this: Prince Hotel is the only spot in the city to serve Biryani till 3 am in the morning. While there are throngs of people here even at 2 am, it's totally worth the wait for their Chicken 65. Known to be one of the most popular Ramadan specialities/snacks, Prince Hotel serves you Chicken 65 like none other. Spiced well, it's tender and juicy and their green chutney with fresh onions is match made in heaven.
Address: Prince Hotel, Opposite Vasan Eye Care Hospital, X Road, Mehdipatnam, Hyderabad
Timing: 12 pm – 3 am
Cost for two: Rs 400 approx
Contact: +91 6302612721
6. Kabsa Laham Or Mutton Biryani At 4 Seasons, Tolichowki 
Known to serve authentic Lebanese food, 4 Seasons at Tolichowki has one winner and one runner-up. We came here for the Kabsa Laham, an Arabic equivalent to the Biryani that's served with flavored rice and two pieces of mutton. The runner-up is their Mutton Biryani with meat that's melt-in-your-mouth tender. If you've had enough of Haleem and chicken for the day, it's sincerely worth the time and wait to enjoy their Mutton Biryani. On another note, they serve a crazy Seafood Platter too.
Address: 4 Seasons, 9-4-77/3/D/4/5/6, Yousuf Tekri Complex, Opposite RTA Office, Tolichowki, Hyderabad
Timing: 12:30pm – 11:30pm
Cost for two: Rs 900
Contact: 040 23563320
7. Chicken Biryani At Shehzade Restaurant, Tolichowki 
It's nice to sit down after all that food and just enjoy a cup of hot chai. Our intentions for visiting the Shehzade Restaurant span a bit more than tea, but we've heard that their cutting chai is a serious contender. Once you've managed to make some room in your stomach, try their Chicken Biryani this Ramadan. Also known for their Afghani Chaap and Haleem, Shehzade Restaurant is perfect if you want to slow down and enjoy a second dinner with friends and family.
Address: Shehzade Restaurant, Opposite Yousuf Tekri,Near RTA Office, Tolichowki, Hyderabad
Timing: 11 am – 4 am
Cost for two: Rs 700 approx
Contact: 040 71327190
Also Read: Instagram Has A New Ramadan Feature And Its Super Cool
8. Mutton Haleem At Pista House, Tolichowki 
While Haleem is primarily a chicken dish, Pista House in Tolichowki serves a mutton version that's to die for. We came here for just that and weren't disappointed. Also known for its Firni and Fruit Salad, you should definitely come in later for their Pizza (apparently it's their number one dish). They also serve a special Ramadan Pista House Haleem and it's made with chicken as the star of the show this time around.
Address: Pista House, Opposite R.T.A Office, Yousuf Tekri Complex, Tolichowki, Hyderabad
Timing: 12 pm – 12 am
Cost for two: Rs 550 approx
Contact: +91 9396500786