Delhi is home to a number of market places, bustling with people, and full of fervour. These colourful market places sell different objects ranging from clothes, jewellery, books, home decor, and every other thing you might need. In case you have been having a hard time finding your way through the winding lanes of different street markets then here is guide to the best street markets in Delhi for all your shopping needs:
1. Janpath
This street market in Delhi is located behind Connaught Place is a haven for people looking for beautiful, antique junk jewellery. The market is lined with shops selling Tibetan jewellery, handicrafts, and other silver objects. You can also get your hands on some casual daily wear clothes, different kinds of cushion covers, and beautiful home decor things. You can get your hands on antique wooden wall clocks, class wall hangings, dream catchers, brass show pieces, and lot more. This is the one stop destination to get your hands on all things boho and chic, jewellery, home decor, clothes, everything in one place.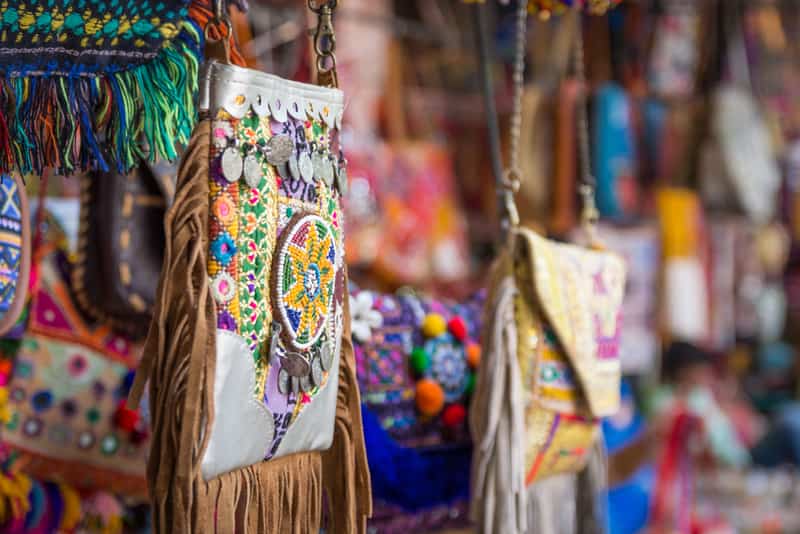 2. Sarojini Nagar Market
Who isn't aware of Delhi's most popular destination to fulfil all your fashion needs. One of the most popular street markets in Delhi, Sarojini Nagar Market is visited by Delhiites and travlers and is known for it's dirt cheap prices. The market is full of clothes till as far as you can see. From casual wear to party wear, both Ethnic and casual designs, Sarojini Nagar market is the place to go to. You can get your hands on some of the most beautiful designs of tops and dresses for as low as ₹50.
It's not just clothes but everything you'll need to amp up your look. Amazing lingerie, blingy accessories, great deals on great quality leather bags, as well as your makeup needs, they can all get satisfied at this one stop destination. Try to go on a week day to avoid crowd and unreasonably hiked prices. Also make sure to brush up your bargaining skills as to not miss out on any amazing deal.
3. Paharganj Market
Paharganj Market though infamous for it's terrible traffic and always being crowded is always flooded by tourists looking to channel their inner hippie. It is the one place to get your hands on chic jewellery like necklaces, bracelets, anklets, all with hippie motifs. The area is also lined up with a lot of cafes and restaurants so in case you feel hungry and parched after all that shopping, pick up a a joint to relax and sip on to something.
Also Read: Paharganj: A Popular Backpacker's Paradise In Delhi
4. Chandini Chowk
Have an upcoming wedding? Then think no more, head over to Chandini Chowk to get your hands on the most blingy, and expensive looking couture pieces, at affordable, pocket friendly prices. So be it your brothers sangeet or best friend's big day, head over to Chandini Chowk, and get your hands on all the latest designs of suits, lehngas, sarees, sharara and more.That's not it, if you do not like any of the designs already in the market, you can also find a large selection of unstitched fabrics with different kinds of textures and embroideries. You can also choose from the vast options of trinkets and accessories to add that touch of glam to your outfit. So no matter if your the bride's sister or the bride herself, this is the one stop destination to get all things you'll need.
Also, Chandni Chowk has some great meal options. Check them out here:
5. Lajpat Nagar
Lajpat Nagar's Central market is the one place that sees most of the crowd from South Delhi. From Home care needs, to shopping, stationary and decor, Lajpat Nagar has got it all. It is one of those street markets in Delhi that is the one stop destination for all your shopping needs. It also boasts of tiny hole in the wall shops that have a great collection of silver jewellery. Central Market is also the hub for getting your hands on the largest variety of unstitched fabrics. No matter what the material is, cotton, silk, sequence, they have it all, and that too at dirt cheap prices!
Also Read: Baba Nagpal Chole Bhature In Delhi