What we love about waffles is the fact that they can be eaten at any time of the day. Okay, maybe that is not all true but I think we can all agree that it is the perfect snack. Sweet or savoury, it tastes good either way. But we particularly love it with just the right amount of chocolate sauce on top. If you are in Pune and the craving for a good, fluffy waffles kick in then let us take you through the best waffle places in Pune.
1. Henny's Gourmet, Multiple Outlets
We should honestly just let this picture do the talking. With oodles of chocolate sauce and pieces of chocolate strewn all over it, this is nothing short of a masterpiece. And if you want to get your hands on it, then you will have to head on over to Henny's Gourmet.
Address: Henny's Gourmet, Wanwowrie, Pune
Cost for 2: ₹300 (approx)
2. Cafe Peter, Multiple Outlets COST FOR TWO:₹600
With multiple outlets distributed across the city, Cafe Peter is quite popular among the college crowds in Pune. And it is only because of the delectable food served here. Their waffles, in particular, taste absolutely amazing and you just can't skip on having them to end your meal.
Address: Multiple outlets
Cost for 2: ₹600 (approx)
3. The Belgian Waffle Co., Multiple Outlets
Who hasn't heard about The Belgian Waffle Co.? They are super popular and since their inception in Mumbai, they have come a long way. Now with more than 15 outlets in the city, everyone loves to grab a waffle from here. We particularly love the Dark Chocolate Waffle here. And they have recently come out with waffle cakes too. So, what are you waiting for?
Address: Multiple outlets
Cost for 2: ₹300 (approx)
4. The Waffles Hut, Multiple Outlets
Chocolates and bananas are a combination that can't be messed with. Layer them on a warm waffle and voila! it's the most delicious snack ever! It's one of the most popular flavour combinations at the Waffles Hut and you really have to try it out.
Address: Multiple outlets
Cost for 2: ₹400 (approx)
5. The Chocolate Room, Multiple Outlets
It's almost like the motto of The Chocolate Room is chocolate, chocolate and more chocolate. With a lot of yummy desserts on their menu, we still always end up going for the waffles here.
Address: Multiple outlets
Cost for 2: ₹900 (approx)
6. Coffee Nation, Law College Road
Law College Road is known to be one of the most bustling places in Pune. And it is all thanks to the numerous colleges that are present in the vicinity. Coffee Nation makes for a great place to hang out after classes and then you can always indulge in their sinful waffles while you are at it.
Address: Coffee Nation, Survey 123/1, Opposite IndSearch College, Law College Road, Pune
Cost for 2: ₹700 (approx)
7. Waffle House, Multiple Outlets
Not only does the Waffle House whip up fresh and sweet waffles, but they also make some really good pancakes. Now, isn't that a double whammy? So, if you are spoilt for choice, just have them both!
Address: Multiple outlets
Cost for 2: ₹300 (approx)
8. GoodFellas Cafe & Bistro, Wakad
This cosy little cafe is the stuff of dreams. Visiting this place and not eating their waffles should be considered a crime. With subtle music and cutesy decor, this will become your go-to place to satisfy your sweet cravings.
Address: Goodfellas, 101, Pristine Square, Datta Mandir Road, Wakad, Pune
Cost for 2: ₹550 (approx)
9. Tea Villa Cafe, Multiple Outlets
It's not just the teas at Tea Villa Cafe that are great. They are also popularly known for their waffles. Our personal favourite are the classic waffles with whipped cream and maple syrup drizzled on top. It's what heaven would taste like.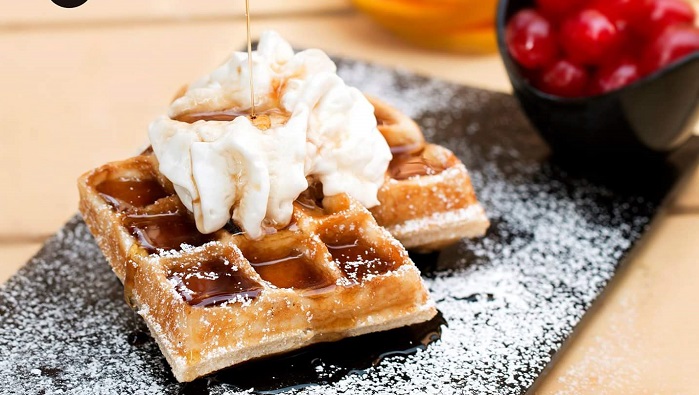 Address: Multiple outlets
Cost for 2: ₹1,200 (approx)
10. Wafflin' Around, Multiple Outlets
Chocolate and all is great but what if we told you that there exists a waffle that tastes absolutely refreshing because of its lemony taste. If you are into a tangy waffle that is sour and sweet at the same time then you can only get it at Wafflin' Around.
Address: Multiple outlets
Cost for 2: ₹300 (approx)