PEECEE Sizzles In A Bikini In Miami & Man! We Have Some Goals There!
Baywatch, ah! And the memories it brings. All those Greek Gods on the beach running in skimpy red swimsuits. Wasn't that a sight for us as teenagers? But let's get you some more information here.
This time they have an Indian star, PeeCee and she is soaring high with her Hollywood release. Promoting the film in Miami while she sports this oomphy bikini on the beach and man! she looks hot. Well, Miami is sure my dream destination and I have planned my itinerary a few times in my mind already. But first, here are some pictures of Priyanka in the process of increasing the global warming of the planet.
https://www.instagram.com/p/BUIvWU2jPlJ/?taken-by=pcourheartbeat
https://www.instagram.com/p/BUAlwWogwsJ/?taken-by=priyankanetwork
https://www.instagram.com/p/BUGTdIBgOJO/?taken-by=priyankanetwork
Let me share some bits of my dream vacation in Miami. Well, You know what? Each time I look at pictures from Miami, I feel like it's an upgraded art village and it does seem so out-of-the-world beautiful. Now, that PeeCee is there, this is just another excuse to devour on those images.
When's The Best Time To Go To Miami?
The best time to visit Miami is between March and May. During this time, the sun shines with temperatures in the high 70s and low 80s during the day. The weather is gorgeous and guess what? You don't have to deal with peak winter rates.
How To Get There?
I would suggest you to take a one-way ticket and never come back but then life happens, daily.
You can fly from Mumbai to Miami for a minimum of INR 85,000 and a round trip will cost you around INR 1.7 Lakhs. Sadly, there are no non-stop flights, so the trip would be a 24 hour journey one way. Not bad, for all those white sand beaches, party and art life.

Things To Do In Miami
Explore the ravishingly beautiful beaches of Miami and, when I say you will love them, you will!
Beaches here are to socialize, sunbathe, surf, swim and just relax. Delray Beach is technically not Miami but still only a short drive away and a must visit.
South Pointe Beach is what I would head to, Why? This verdant spot on the very tip of Miami Beach is part of a 17-acre park with picnic areas, a playground, a fishing pier and great views of cruise ships. Surrounded by the Atlantic Ocean and Government Cut channel, it makes for a wonderful respite from the urban madness.

Oh! And you also have to have to go on a fishing cruise. You just can't miss it.
Wynwood Walls: If you are an artist, you cannot miss the Wynwood Walls. They feature a constantly changing display of large scale art work in a neighborhood which used to be a warehouse district and it is sure a sight
You cannot miss Pérez Art Museum Miami, Margulies Collection and Bass Museum of Art.
What To Eat In Miami?
Cuban Sandwich: The Miami Cuban is a delectable combination of ham, roasted pork, Swiss cheese and mustard on Cuban bread. And it's finger licking good.
Stone Crabs: If you're in Miami between October and May, you can't leave without eating stone crabs. For the best, whip out your tool (your claw cracker, people!) and head to Joe's Stone Crab. Or you could also go to Golden Rule and Monty's, Truluck's.
Caja China: pronounced "ca-ha chee-nah" — is a Cuban-style pig roast. An entire pig is roasted in a wooden box in a pit in the ground, the results of which is a whole bunch of tender, delicious pork. Heaven in mouth, YUS.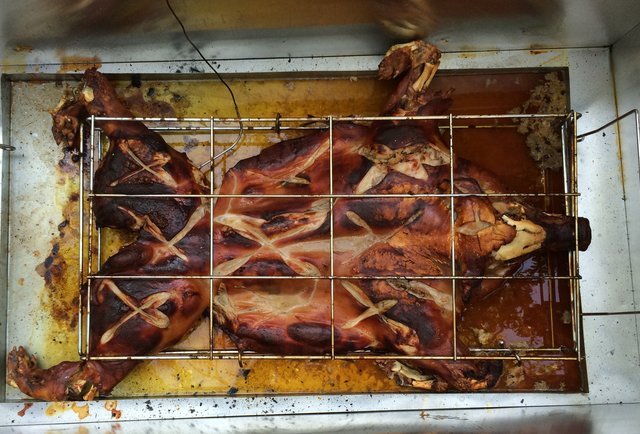 PS: Miami has one of the most beautiful skylines. Just in case, you didn't know.

LIKE Curly Tales  on Facebook | Instagram | Twitter
You can subscribe to our newsletters