Bollywood is not only full of talented artists but also die-hard foodies. And actor Kunal Kemmu is definitely one of them. The actor is a hard-core foodie and loves digging into good food every now and then. Be it some fancy treat or simple street food, Kunal cannot say no to food. His Instagram often features clips and photos of him working out. But, at the same time, he also shares his variety of indulgences
Joining us on this episode of Tere Gully Mein, Kemmu shared his love for simple street food in Mumbai with Curly Tales anchor, Arohi Thatte. To know all about his favourites, check out the video:
Eating At Bandra Hill Road At ₹ 1000?
When it comes to food, Bandra Hill Road has something for everyone. From street food to fine dining, the area is a food lover's paradise. But can you eat a 3-course meal there for just ₹1000? Well, that was the whole exciting challenge. Did Kemmu win the challenge? Or not? Here's how it went:
Starting the food trail there, Kemmu talked about his love for simple dishes. They started off with chicken and mutton patties, blueberry cheesecake and a bread pudding. Quite interesting picks!
We also came to know that Kemmu is quite a cat person, too. When a little kitty came in between the video, he took it on his lap and shared the food. Then came the much-awaited part of enjoying a plate of pani puris. He also revealed how he has to bribe his daughter, Inaaya at times with ice cream and chocolate. That was cute!
Also Read: This Is When Kapil Sharma Knew That He Has Become Famous
What Kunal Kemmu Loves About Mumbai's Street Food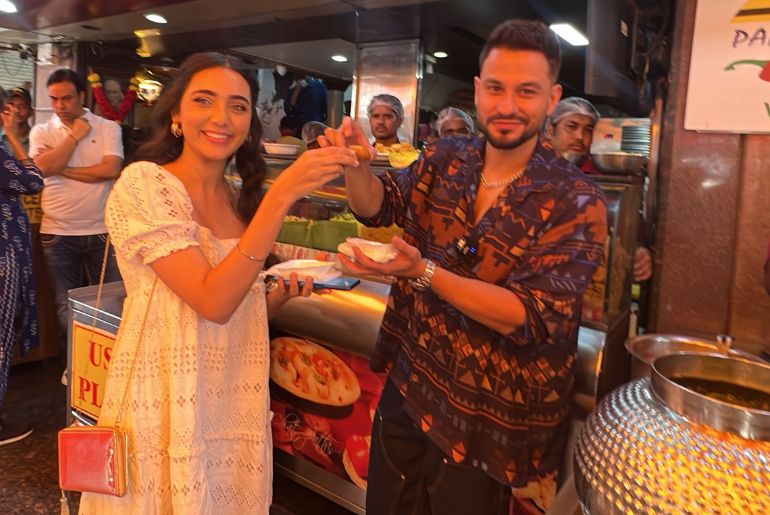 When it came to the time of pav bhaji, even Kunal Kemmu agrees that it is the champion of street food. Well, it left us salivating for pav bhaji. While the challenge was if they can explore the food of Bandra Hill Road at ₹1000, well Kemmu certainly knows how to order. A balance of ₹225 was still left with us.
Followed by more personal anecdotes, stories and dialogues, Kemmu's sense of humour is to watch out for. And while you're at it, do note down the popular food options that you can find on Bandra Hill Road. All these yummy treats made us drool in a matter of a few seconds. We are pretty sure it would do the same for you!
All image credits: Internal