We can't keep calm as Chicago's most sought-after and most loved music festival Lollapalooza is coming to India. Marking its Asia debut, Lollapalooza India 2023 is all set to take place in Aamchi Mumbai, and we are bringing you all the details!
31 Years, 3 Continents & 8 Destinations
Be it rock, pop, metal, punk rock, indie, EDM, or techno, there is something for everyone at Lollapalooza! After internationally scintillating fans across 3 continents, 7 culturally-rich destinations it's gearing up for its Asia and India debut. India is the eighth destination after Chile, Brazil, Argentina, Germany, France, and Sweden to host the music festival. In 2021, it marked its 30th year and
Lollapalooza India Artist Line-Up: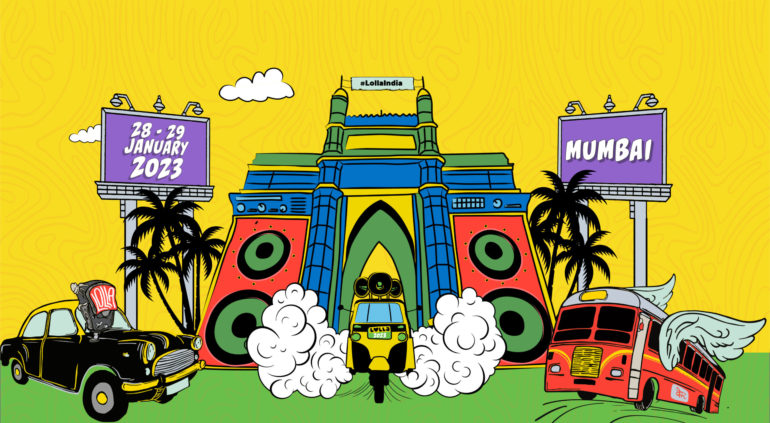 The multi-cultural music fest will see 60,000 fans over two days grooving to 20 hours of live music across 4 stages! It brings you the biggest names globally and locally and has 40 artists all set to enthal you!
Not only that, but you would also get to experience a never-seen-before music festival rich in innovative culinary selections, art, fashion, and more!
And Curly Tales is the first one to bring you the artist line-up! Lo and behold!
International Artists:
Imagine Dragons – Yes, the most-loved and the biggest band in the last decade, Imagine Dragons is all set to headline and mark its India debut at Lollapalooza India 2023. Get ready to groove to banger-hits and scream on top of your lungs.
The Strokes – The stalwarts are also headlining and marking their India debut. And this is their 10th Lollapalooza gig!
Diplo – Back to the Indian shores, Diplo is also headlining at this grand music festival.
Zhu – The Grammy-nominated star is all set to bring the rave to Lollapalooza stage. He is also marking his India debut!
Greta Van Fleet – Time to rock n' roll folks, as the American rock band are also set to take centre stage.
The Wombats – The English Indie Rock band is all geared up to make you groove to their beats
Cigarettes After Sex – OMG! The American Dream Pop band is back in India and back with a bang, might we add!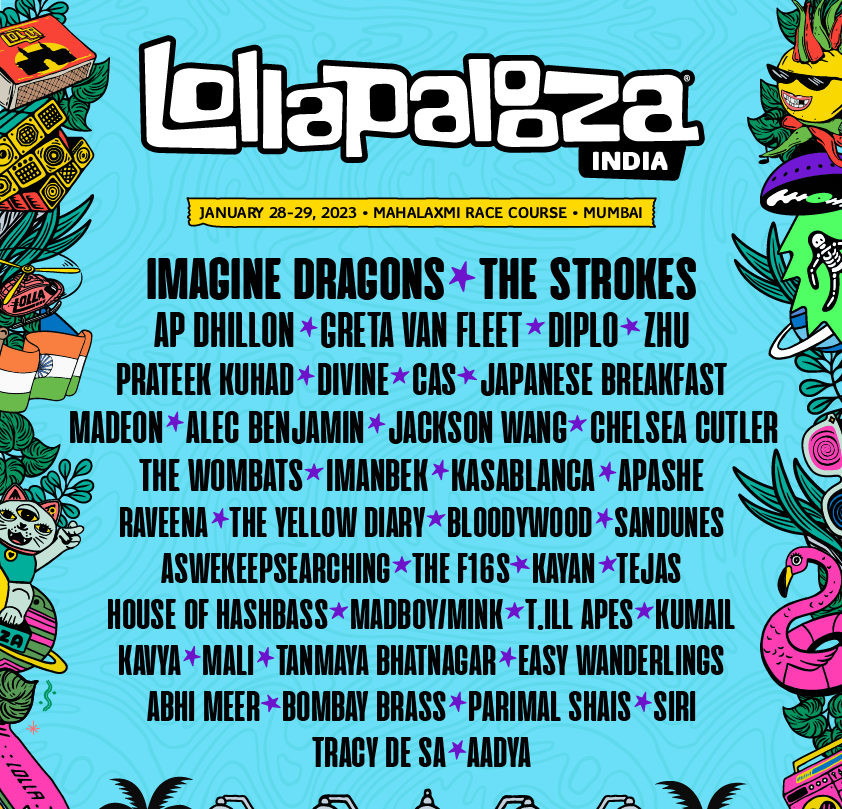 Indian Artists:
Get ready to groove to beats by AP Dhillion, rap with Divine, sway with Prateek Kuhad, and catch The Yellow Diary, Bloodywood, and more artists live. 
New International artists like Japanese Breakfast, Alec Benjamin, Chelsea Cutler and Raveena, too, are on the list too! EDM artists Apashe, Imanbek, Kasablanca, Madeon, are also marking their India debut.
There are so many more artists that are performing at Lollapalooza that we cannot contain our excitement. There are also special sets by many artists and we don't wish to miss out on a single act!  
Date & Venue Details:
The India leg of the festival – known for its alternative lifestyle, music, culture, inclusivity, and a whole lot more – is happening at Mumbai's Mahalaxmi Racecourse. The multi-genre music experience is going to be a 2-day magical extravaganza. The dates for the festival are January 28-29, 2023!
Lollapalooza, More Than Just A Festival
View this post on Instagram

Ask any music buff, and they would know all about Lollapalooza. And, chances are they would have put the iconic music festival on their must-attend list! In case you don't know, don't worry, we are here to bring you up to date with it!
It all started 31 years ago when Jane's Addiction lead singer Perry Farrell founded it as a touring festival in 1991. A pioneer and ahead of his time, Farrell's brainchild brought together artists from so many genres under one roof!
With many firsts to its name – first to be a touring fest, first to span over multiple days, first to have a second stage, first to marry art and activism, first to be environmentally conscious, first to have EDM artists on the main stage, and more – Lollapalooza has always appealed to music lovers.
How To Get The Tickets For Lollapalooza India 2023?
Tickets for the festival are available on BookMyShow exclusively and will be launched phase-wise. The first set of tickets is live and available on lollaindia.com, starting now (November 3, 2022; 6 am onwards)! They are priced ₹8,999 for general and ₹19,999 for VIP! And, a Platinum ticket is priced ₹64,999.
Keep your eyes peeled! Book here. 
With "Mix the music, generations, Reunite the most advanced music experts and a Neophyte public" as its core philosophy, gear up to witness the boldest, brightest, most colourful and most diverse festival.
 To stay updated with all Lollapalooza India news keep watching this space. You can also head to lollaindia.com for more details!
Also Read: Iconic Chicago Music Festival Lollapalooza To Debut In India In January 2023
So, are you ready to witness this musical phenomenon? *we sure as hell are*
Cover Image Courtesy: Facebook/Imagine Dragons & Lollapalooza India