Ever wondered how our Chief Travelling Officer, Kamiya Jani Verma manages to look flawless every time? Kamiya Jani is the actual wonder woman who runs the show with her infectious energy, fierce persistence and positive attitude. Let us reveal that Kamiya works almost round the clock and still manages to rock every style with great confidence and freshness. No wonder,  she gets compliments from top celebrities too. So, here's a glimpse into the beauty secrets of Kamiya.
The Secret Behind Kamiya Jani's Glowing Skin Revealed!
Being the CTO of Curly Tales, Kamiya cannot really go on a strict diet, as food is an integral part of most of our shows. But she tries to balance out whatever she consumes and drinks a lot of water. And on the days she is not shooting, she wraps up her dinner by 7 PM. Other than that, she doesn't miss out on her exercise schedules. Kamiya hydrates her skin a lot. 
Kamiya Counts On SUGAR Cosmetics To Look Flawless Every Time
As you might have already noticed, Kamiya's looks always carry an oomph factor. And to add that dazzle to her appearance, she counts on SUGAR Cosmetics. This time we got a sneak peek into her make-up box too. And, guys, it's packed with makeup products from SUGAR. Everything in her make-up bag is from SUGAR, including her blush, concealer, primer, mascara, and eye shadow. Wondering why she is so fascinated with the brand? Well, she is always pressed for time, and these make-up products are easy to use and can give a glamorous look in no time. They can be a go-to option for switching from one look to another in a jiffy!
For a recent Sunday Brunch video with the cast of Phone Bhoot, Kamiya applied only SUGAR Cosmetics and also revealed in the video that she wanted to match up with the charm of the celebrities. She swears by SUGAR Cosmetics and happily quips, "Shukar Hai SUGAR Hai." 
Kamiya Plays 'SUGAR & Spice' Game With Phone Bhoot Cast
Inspired by SUGAR, Kamiya also played the SUGAR & Spice game with the Phone Bhoot cast. Katrina revealed that she always prefers sugar over spice. She said that she isn't supposed to have sugar but loves it. No wonder, she even chose Mirchi Pakora over Gulab Jamun. Ishaan said that he loves both but would prefer sugar more. Siddhant replied, "Sugar and Spice and everything nice". While playing the game, Katrina revealed that between party night and dinner date, she would choose partying. Siddhant would prefer going on a dinner date instead!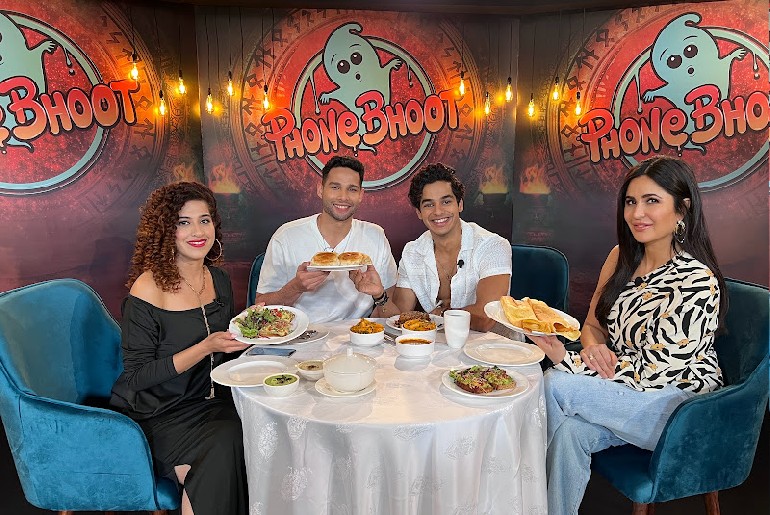 Meanwhile, if you too are astounded by Kamiya's panache, get your SUGAR Cosmetics RN!