Germany is indeed synonymous with fairytales, beer, sausages, and architectural grandeur. When I, Jinal Inamdar first learned I was going to be traveling to Germany, the first thought that popped up to my mind was the popular Oktoberfest and gallons of beer. But when I visited the country, is when I realized Germany is much beyond just it's beer. I was traveling solo and what helped me at certain places was blogs I read up from people who had travelled to the cities I was visiting. And that's when I realised how much a detailed guide can help someone out if traveling solo or even otherwise.
So here's an ultimate guide on where to travel, what to do, what not to do, tips to keep in mind, ways to save money, staying safe & much more, brought to you by yours truly :)
Getting Yourself A Visa
With great deals available on portals like Thomas Cook India , there's ample reason for you to be planning that Europe trip, right away! But before that, it's time to get your Schengen visa!
Know your Visa Type:
So whether you're traveling just for a trip, for education or for work to Germany, you need to specify that because depending on your purpose of visit, you would be granted either a single entry (Type A) or a multiple entry (Type C) visa.
Documents Required:
Visa Application Form – this has to be downloaded from official website. You can also fill it online and print out a hard-copy – Download here
2 passport size photos –  these should have the complete face with ears visible, clicked against a white background. It needs to be 35mm x 45mm in size, with a matte finish
Passport, and copies of previous visas – your passport must have at least 2 blank pages
Travel Insurance (will be provided by a tour operator if going through one)
Cover letter – stating the purpose of the visit and the itinerary
Flight tickets – stating dates, the point of entry and exit
Proof of accommodation – Hotel booking copies
Proof of civil status – birth certificate will suffice
Bank statement – this needs to show a minimum balance of €3000 (2 lakh INR) over the last 6 months. If you do not have this amount in your bank, you could show a family member's/guardian's statement instead, with an accompanying letter stating that they are sponsoring your travel and stay. The bank statement needs to be attested by the bank.
An employment contract, with a leave letter from office (if applicable)
Income Tax Returns for the last 3 years
Quick Tips To Keep In Mind:
Currency:
The German currency is Euro and currently €1 = ₹79
Electricity Socket:
Having your gadgets charged at all points when traveling is elementary. Germany only uses a round two-prong adaptor everywhere. But it's best you also carry a universal adaptor along.
The language:
You may have heard or assumed everyone only talks in German throughout the entire country and it would be hard to communicate. But this isn't the case. Most people in Germany understand and respond in English and it's also always best to have Google Translator installed on your phone.
This App Is GOD! Download it:  
Install the DB Navigator App which is the official app from Deutsche Bahn, Germany's biggest railroad firm. It'll help you book train tickets from your phone, navigate through train stations, find your coach and your train with timings and basically, make your life easy! (It's available for both Apple & Android users)
Budget To Set Aside:
The budget really depends on person to person, whether you like to spend lavishly or save and budget your trips. As for me, I had a budget in mind and wanted to stick by that so I made sure I save wherever possible. Here's what an average budget for a Germany city would be:
Food
Streetside – €2-6 (₹150-500)
This is enough to fill you for a good 4-5 hours! Their portions are large…for example, checkout this popular Doner Kebab I bought at a street cafe
Cheap meal at a beer hall- €9-15 (₹ 700-1200) 
Transport
Bike Rental: €18 (₹1500) per day
City Transit: €1-3 (₹70-200) per single ticket
Intercity Bus: €15-30 (₹1200-2000) per day
Trains: €40-70 (₹3000- 5500) slow / €100+ (₹7500) high-speed
*Note – You won't encounter any turnstile (the rotating mechanical gate that turns to let you enter) on the railway stations in Germany, like the ones you see in the 'tube' in London or the 'Metro' in Paris. But a ticket inspector is always on the rounds to verify whether you have one.
My 6- Day Itinerary Summary 
Day 01 – Mumbai to Munich
Day 02 – Munich
Day 03 – Munich – Wurzburg
Day 04 – Wurzburg – Frankfurt
Day 05 – Frankfurt
Day 06 – Frankfurt – Mumbai
Munich
Munich is the largest city in Germany and it was my favorites from the ones I visited. Munich plays host to the biggest beer festival Oktoberfest but there's more to the city. The lush gardens, castles, warm people and the medieval vibe all make it an ideal 'time-travel destination'! The people here have made it a point in preserving their old-world charm and hence you'll find a number of timber wood cottages. It just can't get any more German than Munich!
Must-Do Experiences:

1. Take A Beer & Food Tour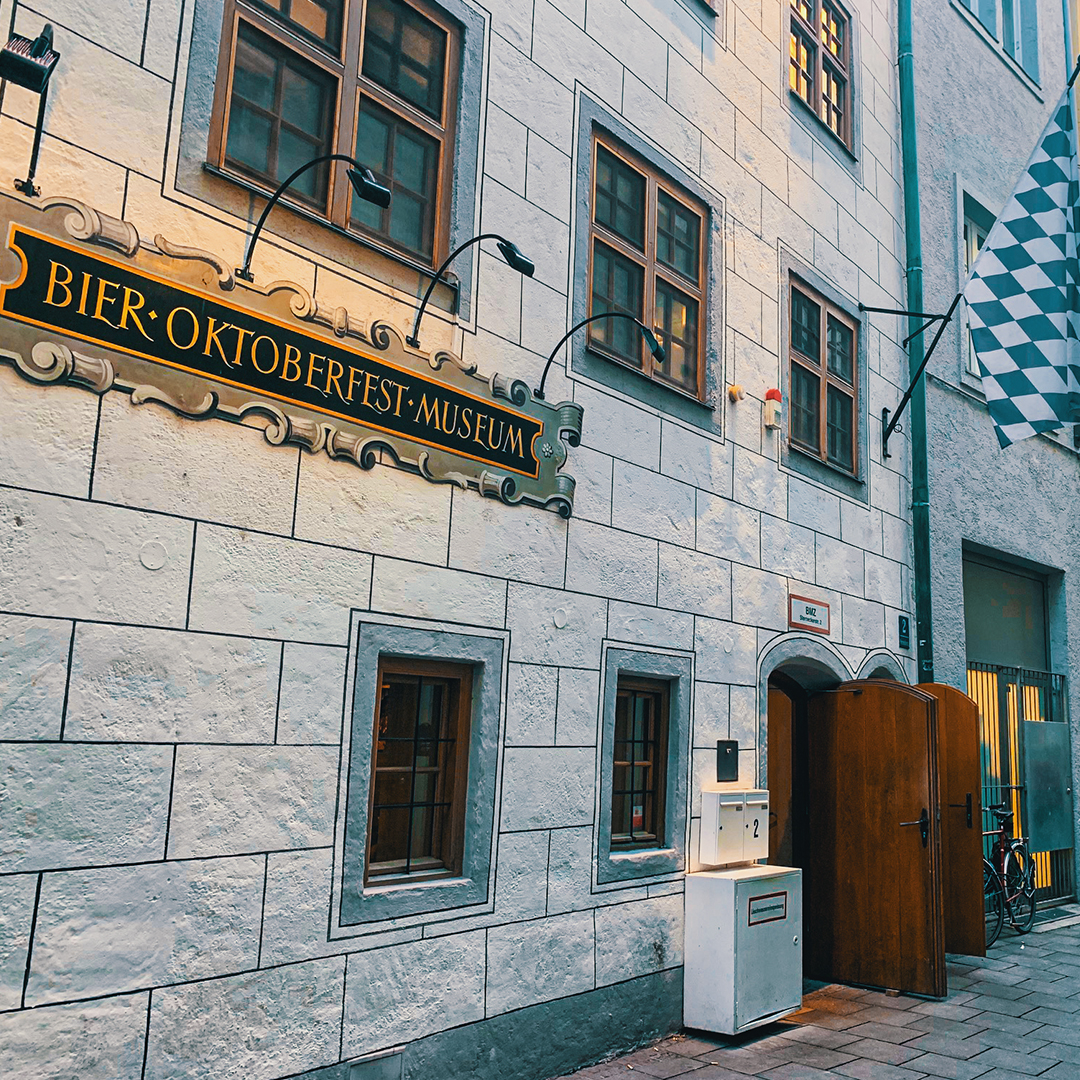 Visit the Beer Museum, for some crazy beer history
2. Visit The Neuschwanstein & Linderhof castle
3. Visit The Fairytale Village Of Oberammergau
4. Sit At A Beer-Garden
Wurzburg
If you haven't heard of Wurzburg, it's probably time to get it on your bucket list now! Wurzburg is one of those old-world charm cities whose pictures you often see when you look up Germany on Instagram or Pinterest. The city is really tiny and you can walk end to end on foot. There's plenty of gorgeous places to see here and stroll around the marketplace to immerse yourself in the local culture
Must-Do Experiences:
1. Visit The Wurzburg Residence Palace & Its Gardens
2. Walk The Old Main Bridge
3. Trek Up To Marienberg Fortress For A Gorgeous City View
Frankfurt
Frankfurt is the financial capital of Germany and what I observed and felt when I visited her as my third city after Munich and Wurzburg was a drastic transformation. In terms of people, the cafes, the architecture, the food and basically everything. And to be honest, not as much to my liking. Being a bigger city, Frankfurt attracts a lot of expats and immigrants and the restaurants and cafes too serve very International food, mainly Lebanese, Indian or Mediterranean. And if I am traveling to Germany, I would want to feel like I am in Germany! Having said that, there are a number of attractions the city has to offer. These are a must-visit if you are visiting Frankfurt
Must-Do Experiences:
1. Walk Around The Romer Platz City Centre
2. Visit The Love Lock Bridge – Eiserner Steg
3. Sit At The Opera House For A Coffee
4. Spend Your Evening By The Main River
5. Take A Stroll Across The City At Night
And if you're in Frankfurt, then just at an hour's drive away is a little town called Heidelberg. They have preserved their old-world charm, making it a great place to visit. Heidelberg is filled with narrow cobbled streets and baroque colorful houses. Visit here, if you're in search for history and old-world charm.
Must-Do Experiences: (Heidelberg)
1. Walk The Old Town
2. Sit By A Local Cafe For Those Touristy Feels
3. Visit The Schloss Heidelberg
*Note: Also, Gelato is a big deal all across Europe and if you're visiting in the summer months just like me, then make it a point to grab one at any of the street-side cafes. They come in amazing flavours and just at €1.50 everywhere! Try the coffee or butterscotch flavors, they are my favourites! Also, if you've stayed on to read up until here, then consider this gelato a treat from me :P

This article is a sponsored post, written in association with Thomas Cook India and German National Tourist Office, India